So I have had about a month to try out my new parts on my Ibis Mojo test bike. I had to wait until the trails dried out, and the snow banks shrunk down enough to go out and play. It has been a long winter here in Colorado, and I had not been riding my usual trails since mid December. I was going stir crazy, as the only places I could bike ride were the roads and silly gravel paths. I was jonesing for some rock gardens.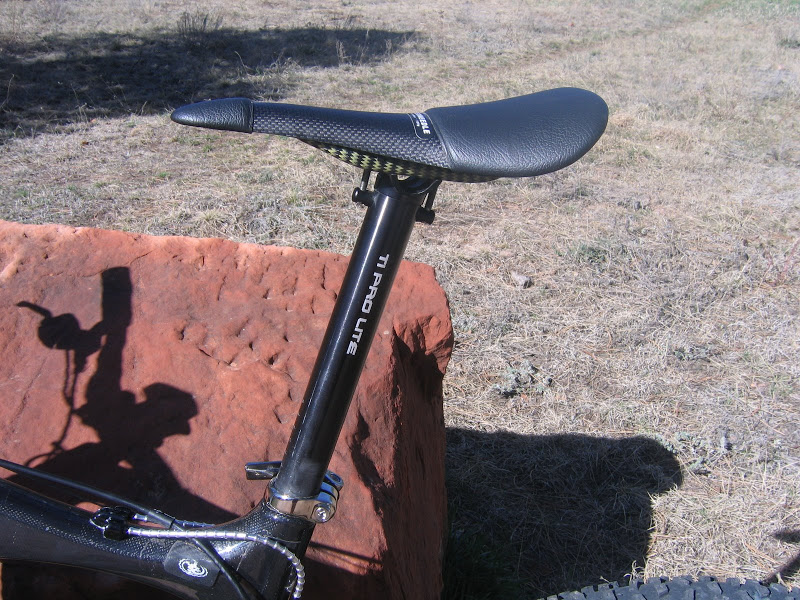 Tune Speedneedle Marathon Saddle
The first time I picked the saddle up I thought something must be wrong, as it just doesn't weigh anything. It was a mere 98.8 grams, which is incredibly light. It is a nice piece of work, although it is a bit strange looking. It's comprised of a carbon shell, with leather covered foam padding sections on the rear third and front quarter of the saddle. The middle portion is nothing but the carbon shell. The rails are carbon that is covered with a Kevlar blend for reinforcement. I placed it into the KCNC Ti Pro seatpost, and it clamped nice and tight, and the Kevlar seemed to have some slight give in its surface, so the KCNC clamp system got a good bite. My first impression was that the seat was pretty comfortable, and I was not prepared for that, as I had expected it to be a bit worse.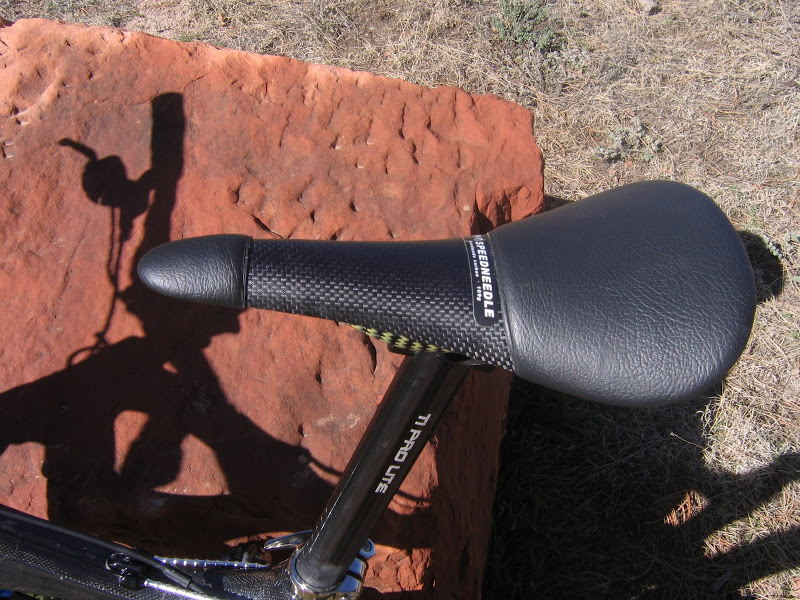 When you get your butt on the sweet spot of the saddle, it's amazingly comfortable. Moving around on the saddle was nice. I felt like you glided around on the seat, not in a slippery way, but in a silky way. It seemed to force you right back onto the proper spot when you got a bit off center, right back onto your butt bone. The first time I was bouncing along a rocky section while seated it was still comfortable. It is a narrow enough saddle that it didn't get in my while I was standing for pedaling, nor doing technical moves. The first time I lowered the seatpost for some downhilling through some fun nasty rock gardens, I found that the edges are pretty hard, and it hurt slight when it banged into my inner thigh. It was not painful, but it was not pleasant. On occasion, I found that the nose of the saddle would catch on my Lycra shorts, but that happens sometimes with most saddles. I started to notice I was using different body English with the saddle when on technical downhills. It was also hard to lean the bike up against non soft objects, because the saddle is hard around the edges. That's a pretty silly issue though, just something I noticed.
Final conclusions
I found the Tune Speedneedle Marathon to be a very comfortable saddle, especially considering its light weight and design. I have ridden 3+ hour days on it mountain biking and have not had a comfort issue. The only problem I have is that the sides are a bit hard, and when getting back on the saddle it feels pretty rough when it rubs against your inner thigh, although after a while my inner thighs have gotten used to it. The saddle's nose can also catch on your shorts sometimes. A great place to save weight, and I recommended it.