Sram Attack Grip Shifts – Mini Review
I have never used a grip shift so this was a new experience for me. Ak first the idea of having the little idiot shifting number windows seemed very silly, but I kind of like it now. I had always taken them off of all my other bikes if at all possible, to save weight of course! Of course they were integrated into the shifter this time.
The rear shifting didn't seem all that different to me. It was nice to not have to reach or use your fingers or thumbs to shift, just a small wrist movement and you were good to go. Roll down for easier gears and up for harder gears. I still want to roll up to get an easier gear occasionally but its pretty rare but a bit funny. Oops! Wrong direction.
The front shifter is where this system really shines. On all systems I have used before (except for the old world non indexed shifting, remember that stuff!) you can sometimes have a bit of trouble getting it to upshift or you get a bit of rubbing in the front or rear. Now you can shift to 2 or 2.25 or 2.5 or 2.75 instead of the usual just plain 2 on trigger shifters or XTR Dual Control. So after upshifting using say 2.5 you can rollback to 2 or 2.2.5, how cool is that. Makes upshifting much quicker and easier. Perhaps you are on the easier gears in the rear and you move down the cogset and you get just a bit of rub, well upshift to 2.5 and it goes away. Now you can do the up shift with triggers but as soon as you take your finger off its back to normal.
Sram specs:
Name: Attack Twist Shifter
Compatibility: 2:1 Shimano rear derailleurs, SRAM or Shimano front derailleurs
Technology: SRS
Speed: 9 or 8 Index
Material: 50 mm "Shorty" with lightweight Grilon® painted silver finish & "Amy" reduced diameter grip cover for smaller hands
Weight: 195 g
Conclusion:
Great light weight shifter with flawless shifting. The ability to choose micro gears for front shifting is the best part of these shifters.
"Highly Recommended"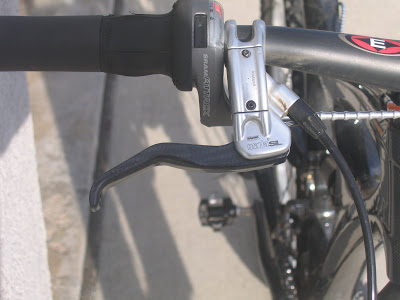 Magura Marta SL – Mini Review
These always looked like the coolest brakes on the market with those boss looking carbon levers and the beautiful German engineering of the entire package. And now you can get them in silver, red and gold. I would have gotten them in gold but since I got them in a great deal from my buddy Tim at my LBS I took the default silver. Oh well. Of course where Magura hit the real nail on the head was becoming the brake company with the lightest brakes on the market, the Marta SL.
I was truly amazed after I got them on the bike and I went for my first ride and found how powerful these brakes are. The seemed scary strong, especially when compared to my 2006 XTR's. I did not have any horror stories with the installation, they went on without any issues and the front didn't require any shims until the brakes had been on the bike for a couple of weeks. They don't seem to feather as nicely compared to XTR. I liked being able to feather the brakes when bouncing through the rough and technical stuff. But I got used to it and appreciated the ability to power my way through things with these powerhouse brakes. These brakes can stop you on anything and thats putting it mildly.
One note is that the system does not seem to like the Alligator Serrated rotors. I am doing some further testing but I had to revert to the Marta SL rotor due to front end chatter. Might just be me?
Magura Specs:
Marta SL
Lightest XC disc brake available
* 324 grams including rotor
* Carbon-fiber lever blade
* Radial master cylinder
w/ integrated reservoir
* Automatic pad wear w/ lever
reach adjustment
* Pre-bled and ready to mount
* SL 180 rotor option
* Available in Silver, Red, and Gold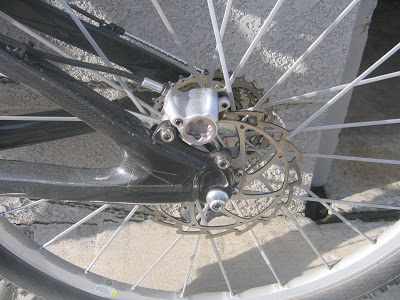 Conclusions: Super light (the lightest), beautifully engineered and very powerful brake system, you can't feather them as nicely compared to XTR (assume the Avids also?), but boy do they stop yah!
"Highly Recommended"
Ibis Weight Loss Program – part 2
I wasn't sure where the next spot was to lose some weight on my bike? Wheelsets or brakes? I wanted some new light brakes and was interested in either the Magura Marta SL, Avid Juicy Ultimate or the Formula Oro Puro. All of them are very light and also very expensive. I was talking with my LBS and he said he was going to switch out his old Marta SL brakes and that I could get them for a song. I jumped on that deal, Thanks Tim! Since I was dropping my XTR Dual Control system I needed a new shifter and decided to go with the Sram Attacks Grip shift.
I was not able to weigh some of the new parts cause I didn't have a accurate scale at my LBS so things are a bit approximate until I can tear it all down for a reweigh of individual parts.
Since Part 1 I got different shifters, brakes, headset expander and grips, new tires and reverted to more durable and heavier Stans rim strips. For a weight weenie I have pretty heavy tires and pedals plus I could go with a lighter wheelset. Doing some changes there could save around 335+ grams or .75 lbs. Here is the current weight: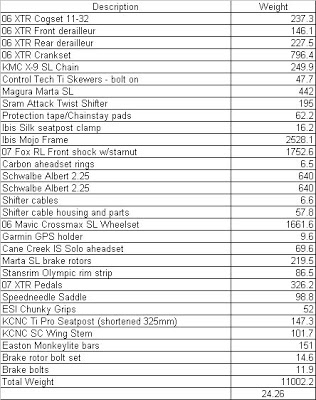 I might end up going back to the Eclipse tubeless system since it saves 65 grams, but I found that on the front tire the glue for the foam strip had come unglued. The Stans rim strips are much more durable and reusable. You need to be very careful when changing the tire since you can tear the Eclipse foam strip and need to replace it with a new one. Albeit I only change tires twice a year so its not a huge inconvenience but it is a pain and costs about $7 for each strip.