The Show
Well I just got back from a couple of days in Vegas for the annual Interbike show. I am exhausted. This was my first time going to the show. I was originally going under the guise of my company 'Grams Light Bikes' but the folks over at Mtbr.com wanted me to to some daily coverage for them as a 'Working Media'. For me it felt more like the wounded media! The show was at two venues, the outdoor demo portion was at Bootleg canyon up at Boulder City and the indoor portion was at the Sands convention center just off the strip. Their was so many bikes, bikes parts, accessories, energy stuff, etc that I had a tough time getting to every booth at each venue. And boy oh boy was Vegas expensive! Every time you turned around it was $10 for that $30 for that, it just added up! The days of the free shrimp fest are long gone. I was out there with my family and except for a few sites its not that much of a family friendly place. As you walk through a casino with kids in tow you can't stray to far outside certain sections of some casinos and you cannot stop for more then a few moments before being asked to move along by security. The kids liked the Treasure Island show which was fun, its a 'clash between a group of beautiful, tempting sirens and a band of renegade pirates' it certainly had some meaning behind the Sirens Cove! We stayed at Harrahs. It was close but it was still a walk to get to the Sands. The demo days shuttle bus took off from the Sands. In fact everything is a walk at Vegas. You would look over and think oh thats just down the street, so you be walking and walking and thinking man are we there yet? Big place.

Anyway back to the Interbike.
Sands Convention Center Show
Ashima
Ashima is a small company from Taiwan with some pretty cool products. For the weight weenie (count me in) they have an extremely light disc rotor. Here is the weights on the 160 and 190(?) sizes. Pretty tricked out! Thats the lightest on the market, it beats the Alligator Serrated by 6+ grams. Time to do some testing! I caused a scarcity issue when I got people psyched up for the Alligator rotors and these appear to be more tricked! Wayne the rep was a great Brit thats now living in Taiwan. I am working with him to get some products for testing. Their product will be distributed in the US by JB Imports.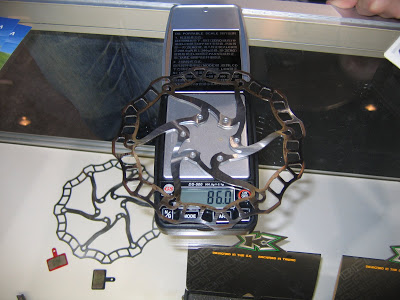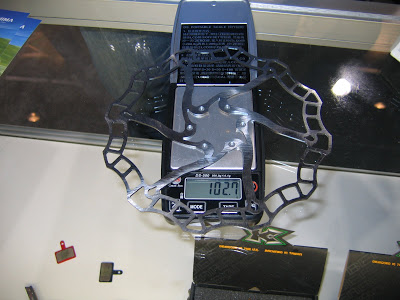 They also make a couple of interesting brake pads. They have a multi-compound disc pad (organic, semi-metallic and sintered) that I can't wait to test. In addition they have V-brake pads that has a 4 function braking surface. Pretty cool stuff.
So my wish list is the rotors in 160/180 and the new disc pads.
KCNC
I had a nice long talk with Jacky from KCNC. He showed the whole slew of great light weight bike parts that they make. They do all of their own CNC work themselves in house and its some pretty sweet work. You can really tell how much they care about squeezing the most out of a part. The cogsets are a piece of artwork and engineering. They are made of 3 parts for a 9 speed: a 4 Al outer cogset, a 3 Scandium middle cogset and a 2 Ti inner cogset. When the larger Al cogs wearout you can just replace that portion of the cogset and not the entire cogset. Cool!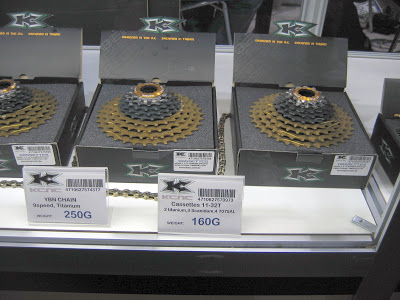 The V-Brakes are just plain stunning. Its amazing how much CNC went into this set. Can't wait to try this set out on my hardtail! They have made some improvements over their first version of them and so far the feedback has been good.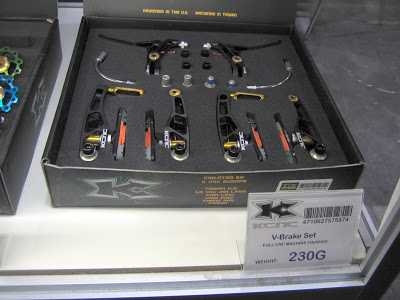 They also have some light stems (the SC Wing is my fave), light seatposts (Ti Pro), light cranksets (really want to try the K-Type XC1 at 728g), some trick bar ends, light seatpost clamps, etc. I am looking forward to doing both distribution and retailing of their parts to the US since they are somewhat scare.
So my wish list is the K-Type XC1 crankset!
Ibis Cycles
The Ibis Mojo gets a new lightweight version this year named the Mojo SL. It is very tricked out and is a very trim 22 lbs (their suggested weight), pretty incredible for a 5.5 inch travel bike. I did get to weigh the frame and it came in at tad over 5.1 lbs (with the Mojo seat clamp instead of the Silk seat clamp) which is close to a .6 lb less then my existing Mojo. Amazing! I spoke with Hans Heim about the bike and found out that he went to my web site www.gramslightbikes.com as a barometer and crosscheck to make sure that he was choosing the proper lightweight components for the Mojo SL build. That was a very cool compliment. Thanks! The Mojo SL comes with a couple of different builds with the WTF being the Mack Daddy 22 lb build. Hans had a fun time playing with part selections to get the bike as light as possible. I can personally squeeze some more weight out of the bike myself if I get my hands on one, so please send one my direction for my greedy weight weenie hands. Talk about a bike that caters to my nick name 'Gram'!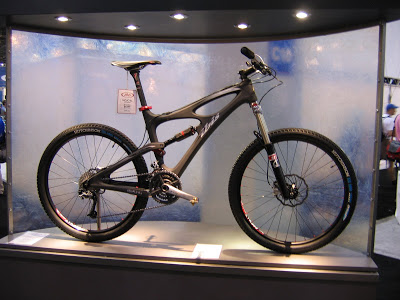 Mojo SL Frameset:
Carbon fiber head cups
Carbon main pivot tube
Carbon fiber and steel dropouts
Carbon fiber seat tube insert
DT Swiss Carbon rear shock
Ti bolts
Ti upper shock pin
New carbon fiber frame – ultra high modulus fiber
New rubberized finish, just like coating on a hockey stick
Lower link trimmed by 12 grams
WTF build:
XTR drivetrain with the new XTR Shadow rear derailleur
Marta SL 180/160 brakes
Stans ZTR 355 rims with American classic hubs
Manitou Minute MRD 130 MM front shock (3.2lbs?)
Ibis Stem (Ti bolts in future)
Hutchinson Piranha 2.0 tubeless tires
Selle San Marco Caymano C saddle
Easton MonkeyLite XC bars
Easton EC90 Zero seatpost
New lighter seatpost clamp
Another brand new frame is the Tranny hardtail. This is one very cool and innovative frame. The frame can be broken apart just behind the seat tube so that the rear triangle can be detached. You have a carbon fiber frame that can be a geared hardtail, a singlespeed hardtail and a travel bike in any combination you might want. The lower detachment point has about 5/8 inch of play to set your chain length for single speed mode. When the frame is broken apart for travel it can be placed in a small footprint box which is especially nice on airplane flights since you won't get charged for oversized baggage! That is cool.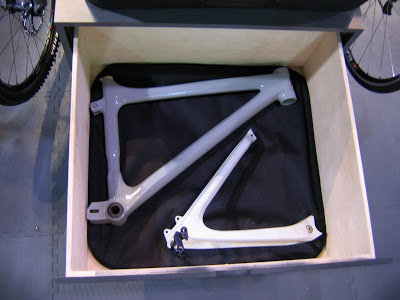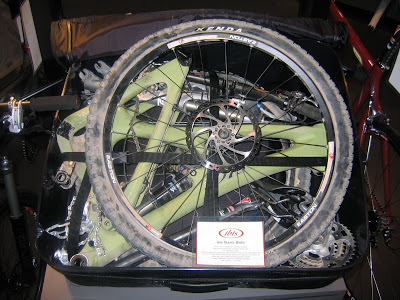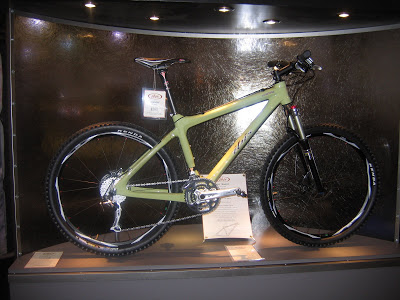 Nothing has changed much for the Silk road bike nor the original Mojo.
The new Lizardskins neoprene chainstay cover should be in Ibis's hands in about a months time. They got a bit delayed because they had to add the DWLink logo. Waiting with baited breathe.
Some bummers for us Ibis people is that protection tape most likely will not stick on the new rubberized finish. The new finish does appear to be durable since the test Tranny has the finish and after many months of severe abuse it seemed to only have a minor chip under the chainstay.
I had a nice conversation with Scott Nicol (aka Chuck Ibis) about the company. The Ibis brand started out in 1981 and lasted until the year 2000 when Scott sold the company. Unfortunately the new owners ran the company into bankruptcy after less then 2 years of ownership. Hans (bike vet of Specialized, Santa Cruz, Bontrager, etc) approached Scott about bringing back Ibis from the dead with a idea he had for some carbon fiber bikes. Well one thing led to another and Ibis was back.
Q: So whats it like doing the business the second time around?
A: A lot more fun, I am more mature, have more business savvy and spend a lot less time running the business, a lot less of the old days of 60-70 hour work weeks (young Tall Tom gets those instead), I get to do more of the 30 hour relaxing days now
Q: How did you run things different this time?
A: Most of Hans and ours time has been free, we have a low employee overhead and have kept debt as low a possible
Q: You are in a nice stable relationship with your significant other, does that help?
A: Yes, having a very stable and good relationship has been important and she can help pay the bills!
Q: Has there been a lot of QA and QC time for the bikes?
A: Yes, thousands and thousands of hours of cad cam time and a large capital investment for that time
Q: Are you starting to see a return on your investment?
A: Yes, things are slowly trickling in but it takes time
Q: So do you have lots of bikes
A: Yes, one of the perks of having the company, I get to satisfy my bike cravings
Q: OK, Can you get me a Mojo SL?
A: We'll see what we can do for yah, they're hard to get, I don't even have one yet
So I now want to have a Lizardskins neoprene chainstay cover, the lightened lower link, the Ti shock pin with it bolts and the new seatpost clamp. Of course I would like the Mojo SL frameset but its a a hunk of cash. Perhaps I can look into the DT Swiss Carbon rear shock and the Manitou fork?
Moots
Moots has been around for a long time (25 years now) and has continued to make some beautiful and well made Ti bikes. Their MOOTO-XZ was the first bike I got to ride at the outdoor demo and I gave it my 'Best ride of the show'. Of course I was not able to ride everything at the show since that would have been impossible but I did get a lot of rides for in for comparisons. The MOOTO-XZ is brand new for 2008. The bike was based off research and knowledge from their Zerkel model and the main designer was Brad Bingham. The bike rides on 29 inchers front and rear and has 4 inches of travel. The main triangle is Titanium while the rear is Aluminum. They have done some testing and having a rear Titanium triangle just didn't work as well as Aluminum. The ride of the MOOTO-XZ is just plain very sweet. Titanium has a great 'Silky' feel to it if done properly and this bike has tons of 'Silkiness'. The 29 inch wheels just fly along the trail and absorb bumps like crazy. I really like the long wheelbase with the large wheels and how it worked going down the steeps. It also climbed real well and I never noticed any lose of traction, it just seemed to stick like glue. Overall this is a wonderful package and felt more like a 5.5 inch travel bike to me then a 4 inch and it might be due to the large 29 inchers? Its a beautiful frame with the typical perfect Moots Ti welds. Lots of Ti for the eyes, Ti frame, Ti seatpost and Ti stem. Very sweet. I am going to try and get a long term test ride down here in Colorado Springs on my terrain. Then I can do a long review on MTBR forum since I am now a Pro Reviewer for them. Maybe I even can get a magazine to want the review!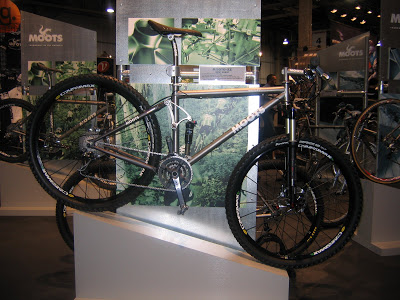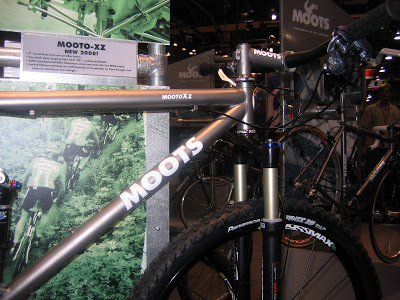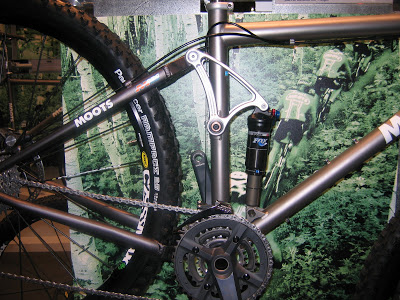 I contacted Moots and they are going to loon into getting me a bike to test! Cool.
Tire Balls
The was one of the weirder offering that I saw at Interbike. Tire Balls are these small 2 inch x 1 inch inflated plastic cells that are inflated in then inserted into the tire. The number of cells is dependent on the tire size. If one cell gets punctured you still have the rest of the cells that make up for its loss. You can run low pressure in any conditions. I did not get a chance to ride the setup buts it sounds interesting. They have been using the product in the offroad Motorcycle and ATV markets with lots of success. The harder you hit something the more progressive the pressure becomes in the tire so it might work nice for jumping and freeriding.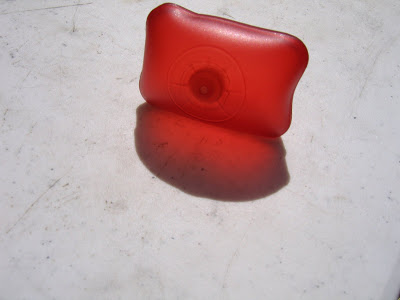 Maxxis Tires
Maxxis Tires has some great new offerings and and some size changes in their existing range. The new additions are the Ardent, Ridgeline and the Monorail. The Ardent is a aggressive tread design made for all mountain and downhill type riding and covers the gamut of sizes 2.25, 2.4 and a monsterous 2.6.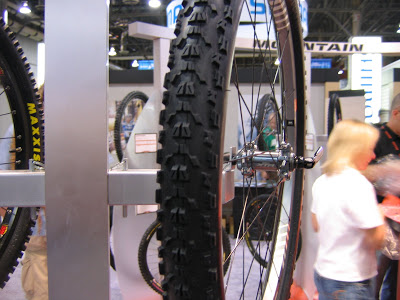 The Monorail is a fast and light racing tire weighing in at a trim 535 grams for a 2.1, it has an interesting collection of micro knobs down the center. The Ridgeline is a hard pack tire with a very round profile. One of my favorite tires on the loose rocky dry conditions of Colorado has always been the Advantage. It spins great and has incredible traction, but it only was available in 2.1 and a large 2.4 (closer to a 2.5). They now have a 2.25 size at 660 grams which it a great compromise between the small 2.1 cross country and the all mountain 2.4. I can't wait to try it out. They have also added a Tubeless LUST (lightweight ultimate sidewall technology) in a 2.1 for the Advantage.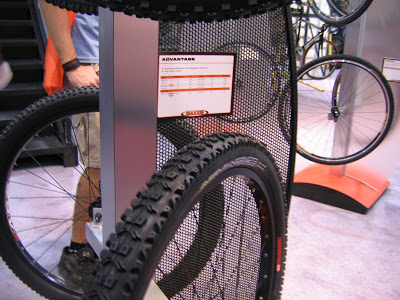 DT Swiss
DT Swiss had some pretty sweet parts. This XRC 1250 wheelset with a carbon rim was the Cats Meow. Very pretty and very light at 1250g. I saw them out in the sun at the outdoor demo and they really are beautiful looking. Not sure about how durable or beefy they might be, but they sure are sweet.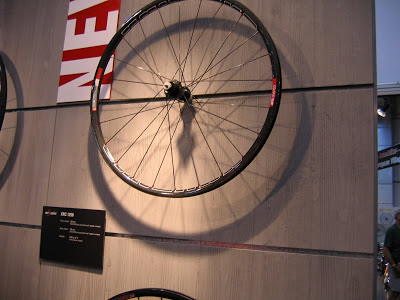 The XR Carbon (aka the SSD Carbon) is a very light weight carbon rear shock (140-165g) that is used on the Ibis Mojo SL. There is some incredible machining that was done every where on this shock, even the little adjustment wheel. Very nice and a bit pricey like everything from DT Swiss.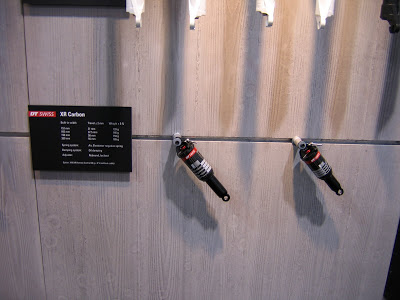 DT Swiss recently aquired the UK firm Pace shocks. How their shocks fit into the picture is unknown, I am sure some of their engineering will end up within the DT Swiss team? Their current forks are made in Switzerland in-house (I was mistaken and thought they were Pace forks, oops!). Shown are the EXC which means Enduro X-Cross Carbon (150mm/1590g) and the XMC which means X-Mountain Carbon (100mm/1510g and 130mm/1570g). Not pictured is the XRC which means X-Cross Country Carbon (80mm/1380g and 100mm/1380g). Very pretty forks. The weights seem to be a bit generous to me? I would have checked the weights since I had my scale with me but the forks were attached to the display.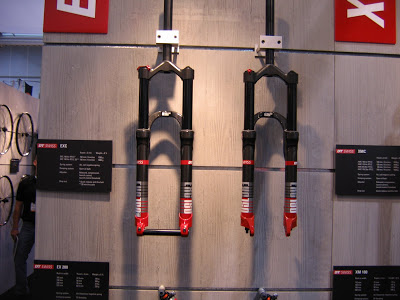 My wish list is the XR Carbon rear shock, the XMC 130 fork and the XRC 1250 wheelset.
Magura and Syntace
There were a couple of new things from Magura world. They have some great world class brakes, like the Marta SL and some well engineered shocks. The new brakes are Louise BAT and the Louise Carbon. I wish they made something in the 140mm range for forks. Thats a great untapped market for the older rider (well not that old) that doesn't do any freeriding and does more then cross country. The 2 new forks are the Durin (100mm/1480g,80mm/1450g) and the Laurin (130-100mm/1910g, 110mm/1740g, 80mm/1685g). They are beefy well built shocks.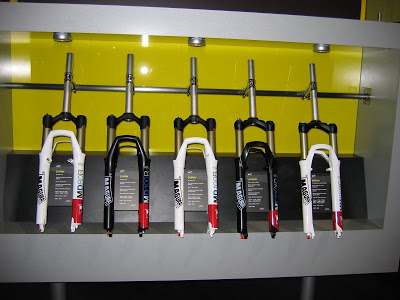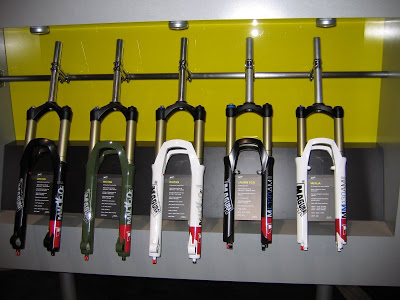 The very pricey Syntace Torque Tool 1-20 is one great product . I am working on getting the Magura rep to get me one to test. I have so many little bolts that need just the proper amount of torque. Don't want to break any Ti or AL bolts or harm any expensive carbon parts. This kind of tool is becoming a must.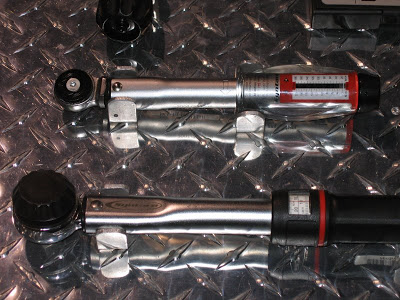 My wish list is the Syntace Torque Tool 1-20.
Ventanna
Ventanna always has some great beefy bikes. Still all American made with very beautiful welds. The build they had on the La Bruja was very nice looking.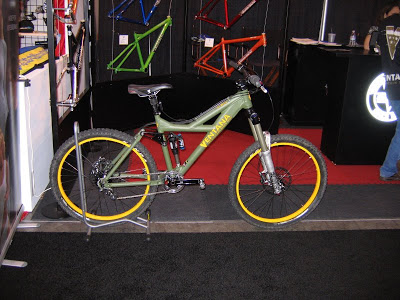 The Salt and El Ciclon having always been a fave of a lot of people. Again very nice welds.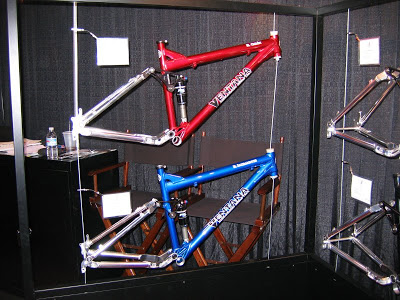 Misc. Stuff
Garmin had some new toys for bike computers. The have the new 605 and 705, which are color version of the 205 and 305. Another new toy is needed! Ugh. They also have mapping abilities so that you can have a street or topo map as you ride. In addition its easier to get your coordinates. The only thing it didn't sound like they fixed is that you can't save a lap if you forgot to archive to your home computer, you still have to delete it to get a fresh one started. I need to ask for an enhancement request for a software update?
On my wish list is the 705!

I never saw this cool tool from Ritchey called the Torqkey. Its a 4mm allen that has a preset torque thats just right for setting bolts (usually Ti) on seatposts, stems and other lightweight fragile parts. Very cool, need to get me one of those!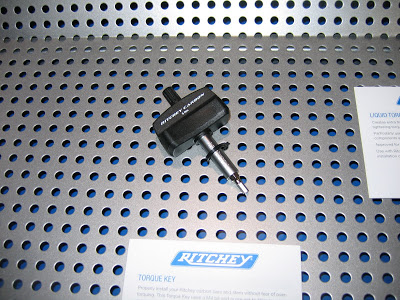 Cranks Bros had some new very trick wheelsets on display. They are going to come in 4 models, a 19mm XC, a 21mm AM and 23 mm Freeride and Downhill. The rims are very interesting since they have no spoke holes. The rims have a Y shaped cross section and the inner rim has has some drilled out holes that except small cylinders in which the spokes get attached. The spokes themselves are 2 piece design. One piece attaches to the rim using the cylinders and the other piece (its elongated spoke nipple) attaches to hub flange and they thread together at their midpoints. Adjustment is done with a normal spoke wrench on the nipple and spokes can be replaced without removing the tire. It will interesting to see the durability of the midpoint threading design since I am always banging rocks and branches into my spokes. Inherently the rim design is tubeless ready. They quick releases are an interesting spilt design for the levers. For example you use 5 lbs of closure on the first one and then 5 lbs for the second one. Should make for easier and more secure closure. No weights were given since they are still in development but they should be competitive with the Mavix and XTR wheelsets and they should be released early next year.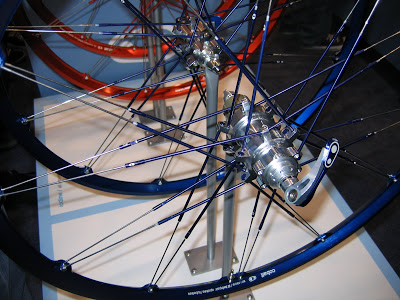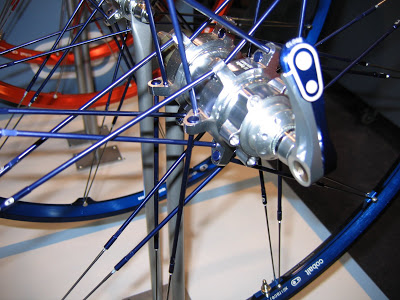 Specialized Carbon Stumpjumper. Yes they did let me into the booth since I was press! This is a pretty sweet bike, wonder how it rides? I was never a fan of the brain technology even though they have worked out some kinks in the system . I rode a Epic for a year so I do know the system pretty well. They do have more control over things now that they have their own shocks (not sure if they or someone else actually make them).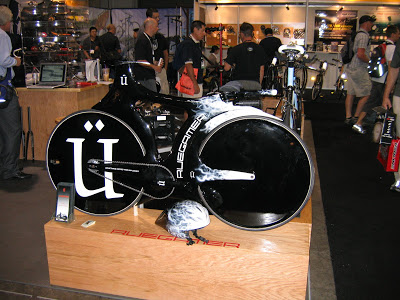 A very wild mesh frameset by Delta 7. Its called the Arantix and the frame made from IsoTruss. The IsoTruss frame uses an open lattice carbon fiber structural design. Pretty wild looking. It would certainly turn some heads when you are out on a ride. Wonder how it rides? What happens on a muddy ride, does it fill it up? It is supposed to light (less material obviously), greater stiffness and resilience (tougher in a crash) and can be tuned (direction specific design). And it looks cool. It thought at first glance it was some sort of wire mesh until you see it up close.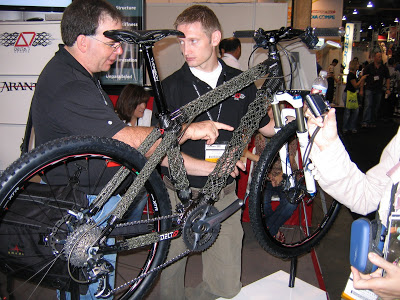 The Schwalbe's Furious Fred's don't have much tread depth but they sure are light, much more of a hardpack tire for sure. The Racing Ralphs next to them have a new side know called the U-Block that are supposed to help with cornering. I love my Alberts! But man oh man are they the toughest beads to get on a rim. Its can take forever to get one on. My fingers get weak after strangling one on. Doing a Maxxis tire takes 30 seconds and no effort.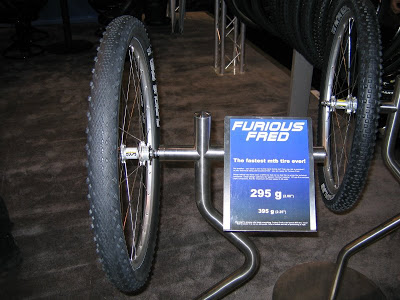 The Industry 9 wheelsets looked very sweet. The hubs and their spokes are very trick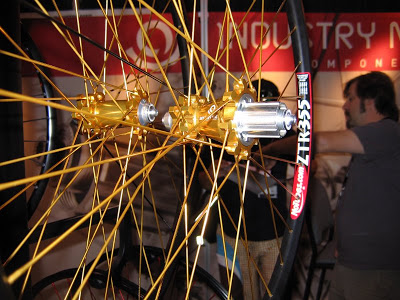 I demoed one of the Iron Horse MKIII's. It had a very nice ride, very much like my Ibis Mojo (not quite but close!) probably due to the DWLink suspension that they both share.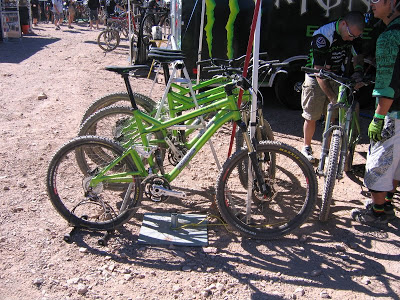 The Sweetskinz stuff looked very cool, my 5 year old would love these tires! Not sure how they ride as a tire but they are lookers!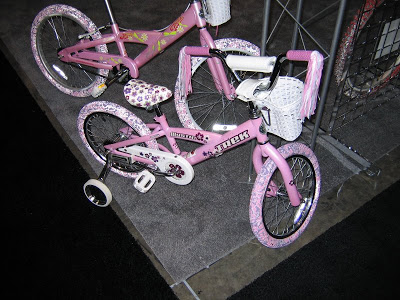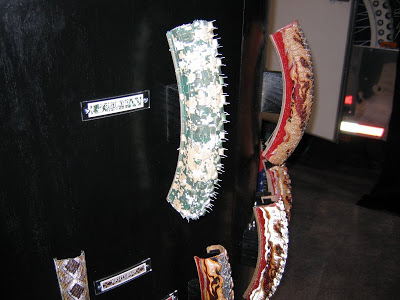 The Shimano XTR Shadow is very trick, very expensive and very light. I want one! I am always having issues with hitting the cable fixing bolt on my current XTR and then the shifting goes from bad to worse when the cable totally pops out. The new shadow design has the cable fixing bolt back on the rear of the unit. Nothing much else is new in the Shimano world. The XT also gets the Shadow treatment. I didn't spend to much time at their booth, not enough time.
Wish list is the XTR Shadow!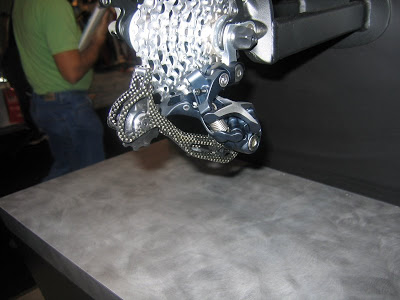 Show me your Shadow!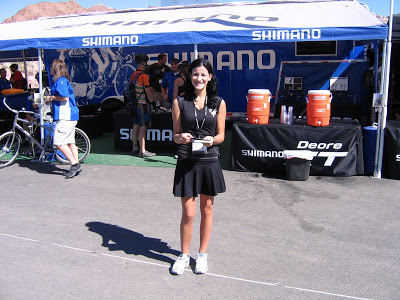 Azonic girl. Would you try out their helmet headphone?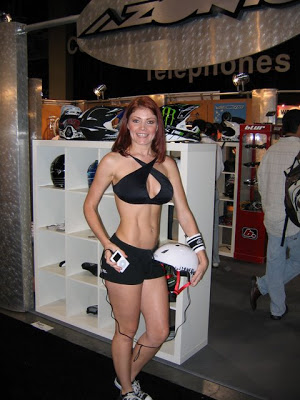 Celeb John Tomac showing one of his bikes to the Interbike TV crew.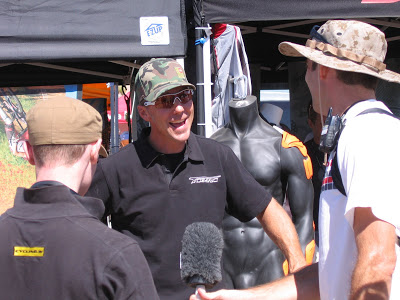 Fizik was giving away some Italian Gelato all day at the outdoor demo, thanks guys!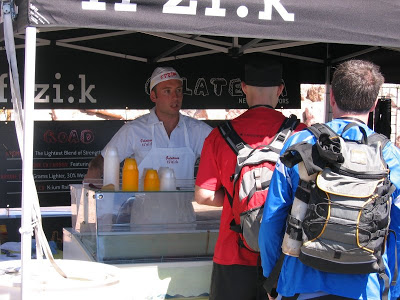 Celeb Greg Lemond signing autographs. Greg, so how is Floyd?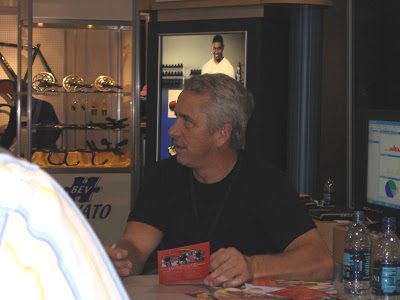 Celeb Deadly Nedly Overend, showing his Carbon Stumpy to the Interbike TV guys.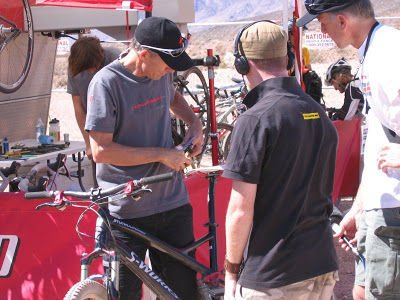 Another Celeb was Phil Liggett that I hung out with as a press junkie. Very nice guy. Kept bumping into him throughout the show. I would pass by and yell hey Phil! Hehehe. Fun! Met him with some Brits in the Press room on the first day at the Sands. I was having immense issue getting connected to the WiFi, never did get it to work, ugh!
I also hung out with Alison Dunlap at the Maxxis booth one day and when she was signing autographs with the Luna chicks. She is a local rider here in Colorado Springs and I know her and her husband (Greg Frozley). A great couple and 2 world class riders.