The Magura Thor is a 7 inch Post Mount fork. It excepts only a 180mm or 203mm rotor size. A direct mounted PM caliper will mate with an 180mm rotor and with an adapter it could be increased to a 203mm rotor.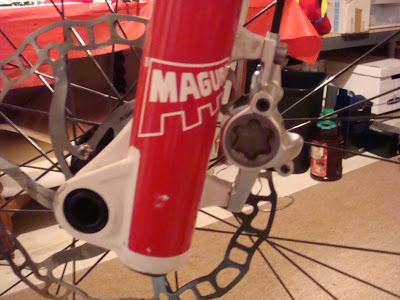 Marta SL PM caliper on the Thor with an Ashima 180mm rotor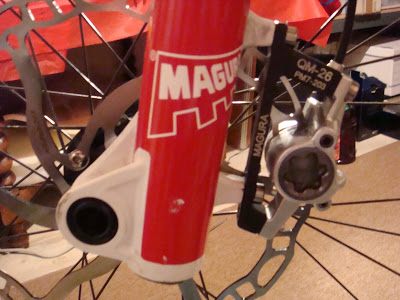 Marta SL PM caliper with adapter on the Thor with an Ashima 203mm rotor

Issues can arise if you have an older caliper that was meant for a 6 inch IS fork. My older Marta SL was a 160mm IS caliper. I added an PM 180mm adapter (Magura's adapter #3) so that it would work with a 6 inch PM fork. The only way to adapt a IS caliper to a PM fork was to move up one rotor size, hence the 180mm adapter. Magura was also sending out the IS caliper with the #3 PM adapter as their PM 180mm version caliper.
When this IS/PM adapter kit was added to a 7 inch PM fork with a 180MM rotor the caliper extended out past the rotor so that the pads were above the rotor surface. I bought a new version of the Marta SL PM caliper which mated perfectly with a 180mm rotor on the Thor.
When I had to switch back to the Manitou 6 inch PM fork for my test using the new Marta PM caliper I had to move down to a 160mm size, the PM caliper and 180mm would not mate. To be able to use a 180mm rotor on the Manitou. I had to get another adapter, the Magura QM-26. The QM-26 also allows me to use a 203mm rotor on the Thor.
I experimented to see if I could use a 203mm rotor with the IS/PM caliper kit work on the Thor, but it appeared to not match up, there was around 1/4 inch or more of a space needed to keep the 203mm rotor from rubbing. Last I recall speaking with Magura the choices to make the IS/PM caliper work on the Thor were to change to a new PM caliper or try and use spacers with a 203mm rotor.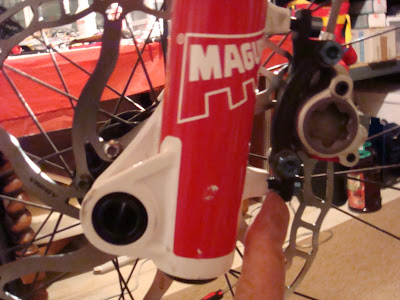 Magura's IS/PM 180mm caliper kit on the Manitou with 203mm rotor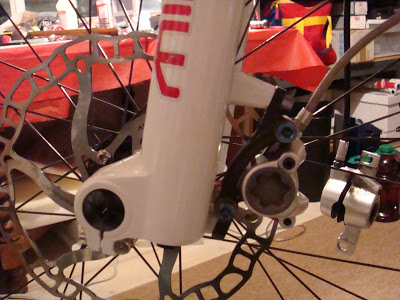 Magura's IS/PM 180mm caliper kit on the Manitou with 180mm rotor