I have been riding the new KCNC Ti Pro Lite seatpost for over 5 months now, and not only is it a nice looking seatpost, but it is one of the best lightweight seatposts currently on the market.
My older KCNC Ti Pro Lite seatpost was starting to show its age, and I was having a difficult time discerning the height markings on the seatpost that I used for terrain adjustments. The seatpost was still functioning properly after many years of use, and except for the occasional squeak (fixed by a drop of lube on the bolts) it has never given me any issues, so I can vouch for its durability.
"Old age isn't so bad when you consider the alternative"
Earlier in the year, I got an email that the KCNC Ti Pro Lite was now available in colors! How cool was that. It used to come in basic black with an option for colored yokes, which was sort of boring. They now come in full Red, Blue and Gold in 27.2×400, 30.9×400 and 31.6×400 sizes.
The KCNC Ti Pro Lite is a pretty basic seatpost, and is comprised of a Scandium tube (an Aluminum alloy in which Scandium has been added) and an Aluminum yoke saddle clamp system with Titanium bolts.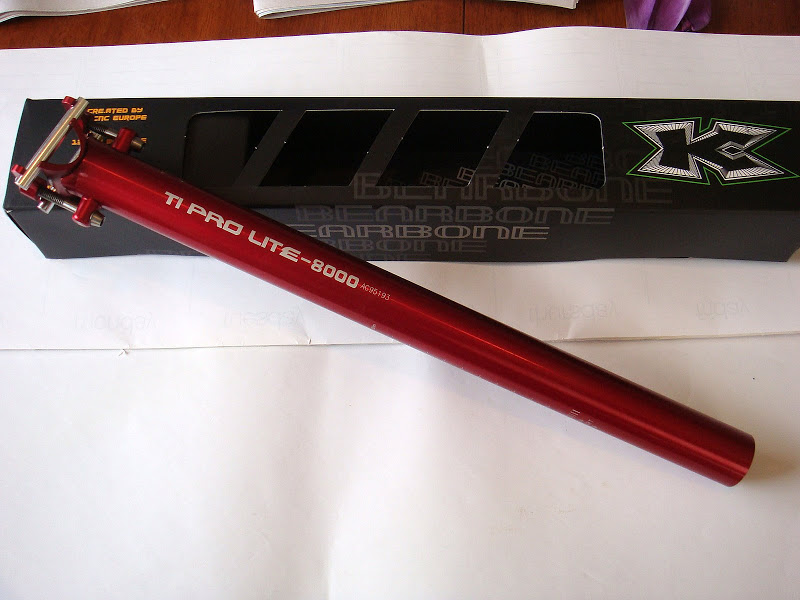 Scandium is a chemical element with symbol Sc, and atomic number 21. It is a silvery-white metallic transition metal, discovered in 1879 by Lars Fredrik Nilson and his team. He named it Scandium, from the Latin Scandia meaning "Scandinavia".
Scandium Chemistry 101:
Symbol: Sc
Atomic Number: 21
Group: Transition Metal
Atomic weight: 44.9559
Density @ 293 K: 3.0 g/cm3
State (s, l, g): solid
Melting point: 1812.2 K
Boiling point: 3021 K
Shells: 2,8,9,2
Electron configuration: [Ar] 3d1 4s2
Crystal structure: Hexagonal

During the Cold War, the Russians were the first to use Scandium with Aluminum alloys, and it was used for military endeavors such as the fins on ballistic missiles (for blasting through polar ice) and MiG fighter jets. Scandium is used as a grain refining additive for Aluminum. It enhances malleability, strength, integrity of welds, resistance to recrystallization and fatigue life of the aluminum. For bicycling applications a thinner walled and lighter tubing can be used. Most of the Scandium used in the US goes into high-intensity lights. Scandium is quite expensive, costing in the neighborhood of $120 per gram ($55,000 per pound).
"Cocaine is like really evil coffee"
My test stead Ibis Mojo takes a 31.6 seatpost, and it is accessorized in Red, so I had an easy choice to test, Red!

Thanks to Jason at FairWheel Bikes for helping out with the review. Fairwheel Bikes out of Tucson Arizona not only carries some of the most tricked out weight weenie parts in the country, they are also the US KCNC distributor.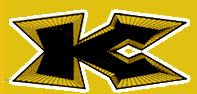 KCNC themselves is based out of Chunghua Taiwan, and have a decade of engineering experience making some very innovative CNC bicycle parts. Ken Chang the leader and chief engineer of the company spent many years working with Aluminum and Titanium for some of the largest bicycle manufacturers in the industry, and that experience shows in the fabrication of their products.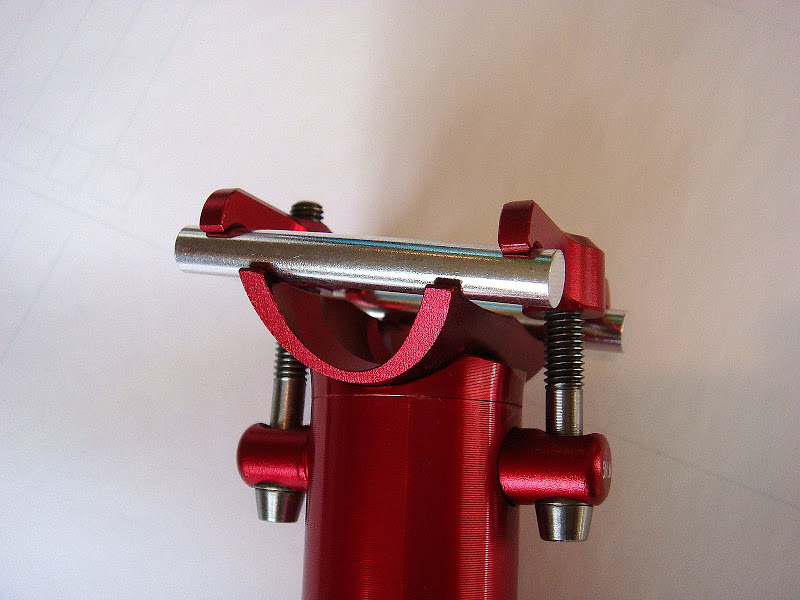 The basic yoke system (rail support, yoke, bolts and connecting rod) is the same that KCNC has used for years, but the bolts have been beefed up a bit, which had been a complaint by some users whom were breaking them on very rare occasions. I am glad I never had the issue with a bolt breaking on me in my many years of service with the Ti Pro Lite seatpost, that would have been a bummer. I think it might have been more to do with properly torquing the bolt then anything, but that is a guess. The old bolts were a M5 size, while the news ones are M6 and have a slightly larger head. This basic yoke system is ubiquitous with all the lightweight seatpost manufacturers, no matter where they are sourced or produced.

It is the small details to attention that sets the KCNC products apart from their competitors, and their tricked out CNC work on their bicycle parts is very innovative and technical. They are always striving to save weight wherever possible, and the unique hollowed out connecting pin on the seatpost yoke system really displays their creative artwork.

Installation was straight forward and even seemed easier than I remembered it? I saved the current seat angle, so I wouldn't have to spend any time doing tuning, which can be a lot of work with that type of yoke system. You have to loosen one bolt and tighten on the other, back and forth until angle and saddle are snug. You might have to be careful when using this type of system with some carbon or more fragile rails as they could be damaged, and some irregular rails might have fit issues with the tight fit into the rail support. The amount of surface area with the yoke system that contacts the rail is very small, so this could exacerbate the interface problems.

I didn't bother cutting the seatpost this time, since I wanted to see how it worked as a full unit. I am not sure if the extra length helps or if the seatpost has been slightly redesigned internally, but it felt stiffer while riding than my older one. I also think that the slightly larger bolts help just a tad with any flex issues (a seat of the pants feel). The larger bolts have also meant that I have had no squeaking bolt issues (until the other day) after nearly 5 months of use. The smaller bolts required more tender loving care and maintenance.
"I wish I had someone I could really respect. Hey, look at the cans on that bimbo!"
The weight saving on my current bike by cutting the seatpost would not be very much anyway (or is the anyweigh). I have been making my 5.5 inch full suspension weight weenie bike a bit more All Mountain these days, and depending on my current fluctuating build my Ibis Mojo can vary anywhere from 23-26 lbs! The 31.6mm x 400mm weighed in at 166.9 grams, which makes it one of the lightest seatposts on the market.
Measured Specs:
Length: 390mm or 15.5 inch
Post: 125 grams
Rail Support: 11.2 grams
Yokes: 2 @ 5.8grams
Bolt: M6x45 5.4 grams
Bolt: M6x35 4.4 grams
Connecting Rod: 9.1 grams
Total weight: 166.9 grams
So far, the seatpost height markings have not been worn as much as my older Ti Pro Lite, and I am not sure if it is better marking method, or that they are on the back of the seatpost?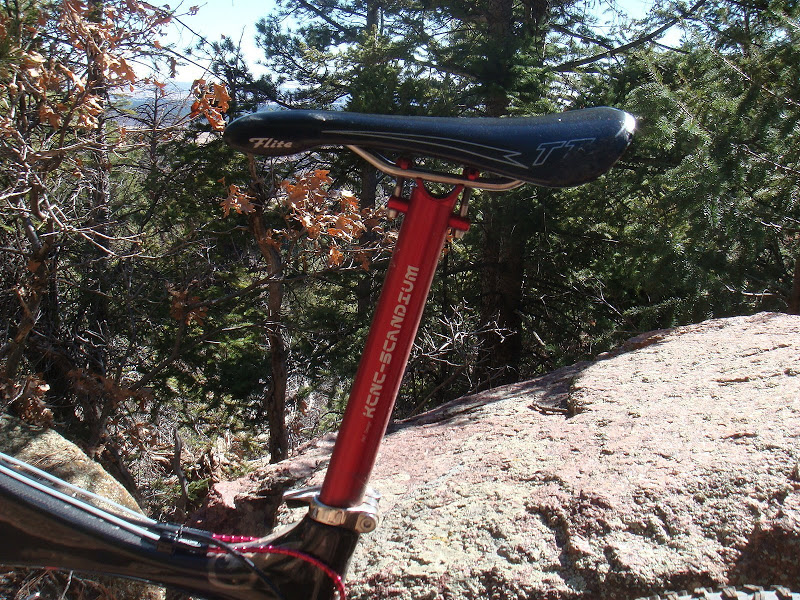 Bottom Line:
In the 5 months of use the newer KCNC Ti Pro Lite seatpost has not given me any issues, and it should have even better durability than its already durable predecessor . The larger bolts (M6 vs M5) have helped keep the yoke system squeak free, have less flex and should prevent any of the reported bolt breakage issues from occurring. I did not do any empirical tests, but the new seatpost also feels slightly stiffer.
The new KCNC Ti Pro Lite seatpost is a winner, its lightweight, durable, slightly stiffer, has larger bolts and comes in colors. The yoke system can be a pain to use and might not be the best system for heavier riders or downhillers.
Strengths:
-Durable
-Colors
-Larger bolts
-Lightweight
Weaknesses:
-Yoke system
KCNC Ti-Pro Specs:
Tube material – Scandium T7
Yoke system material – 7075 Aluminum
Bolts – Ti 6V-4Al, size M6x45 and M6x35
Colors – Red, Blue and Gold
Sizes – 27.2×400, 30.9×400 and 31.6×400
Weight – 166.9 grams (verified)
MSRP – $125