I have been using the American Classic All Mountain wheelset for over 6 months now, and it is not only sweet looking, but it has proven to be bombproof, and has some innovative and interesting features.
American Classic All Mountain
The AC All Mountain are available in both a 26 inch and 29 inch size on a 28mm wide 32 hole rim, and only come in White with some simple but nice looking graphics. The wheels come outfitted with black 14/15 gauge aluminum spokes with silver aluminum nipples in a 3 cross pattern. The hubs come in a wide variety of options.
Front hub options:
Disc 130 100mm
15mm Thru Axle Disc 100mm
20mm Thru Axle Disc 110mm
Rear hub options:
Disc 225 135mm
All Mountain Disc 135 135mm (12mm axle)
Downhill Disc 150 150mm (12mm axle).
All the hubs use the ubiquitous 6 bolt IS interface. I tested the 15mm Thru Axle Disc 100mm front and Disc 225 135mm rear on my usual Ibis Mojo Steed.


American Classic History
American Class was founded over 27 years by Bill Shook, and they have become an industry leader in the wheel and component design arena since their inception. While road racing back in the 70's, Bill found that the American market was lacking in durable, lightweight and well made bicycle equipment (namely rims, wheels and tires). After a successful road racing career, Bill received a master's degree in mechanical engineering from Ohio State University. With his new found engineering know how, and a head full of dreams and ideas he founded American Classic. Since then the company has created many products, including seatposts, rims, hubs and wheelsets for road and mountain biking, and everything in between. They continue to be at the forefront of innovation and engineering in the bicycle wheel world, and have many patents and new products as a barometer of that expertise.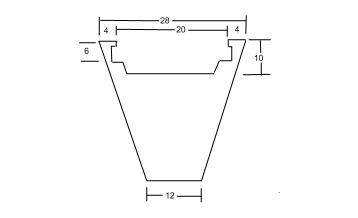 Features
Rims
The 32 hole rims have a tall wedge shape to themselves, which greatly increases their strength. The rims are 28mm wide, and are 26mm tall and 12mm wide at their base.

I really liked the white color of the rims, as they tended to blend with most forks, and showed dirt a lot less than the typical black rims.
Valve Identification
They have one white spoke (the rest is black) which points to the valve hole, so no more wondering where the valve is at when you need to check your tire pressure or fill your tires. I can't count how many times I have to do the old twirl the tire until I see the valve stem.
15mm Thru Axle Disc 100mm
The front is a 15mm specific hub, which is new to their product line. Like many other wheel and fork companies, they have joined onto the 15mm bandwagon. Although I wasn't able to weigh the hub by itself, when I examined the 15mm hub at Interbike last year it was very light and was supposed to weigh around 116 grams.
The hub uses 17mm axle and 17mm bearings with double seals, and is forged out of one piece of aluminum. I found the hub to be a very stout and durable, and they were always ready for rolling along the trail.
Rollin', rollin', rollin'
Though the streams are swollen
Keep them dogies rollin'
Rawhide!
Rain and wind and weather
Hell-bent for leather
Wishin' my gal was by my side.
All the things I'm missin',
Good vittles, love, and kissin',
Are waiting at the end of my ride
Disc 225 135mm
The rear hub uses a patented six pawl cam, and 24 ratchet teeth for engagement with the pawls. To be exact, the six pawl cam actuated engagement system consists of six double-tipped pawls, which engage in unison with 12 of the 24 ratchet teeth on the cassette. Whoa!

The Disc 225 has been in their product line for many years, and weighs in at 225 grams (not verified). The hub has a 17mm axle, and a one piece forged 7075 aluminum cassette body. One new feature on the rear hub is steel inserts/attachments on the aluminum cassette body to prevent galling and tearing of the cassette body. Aluminum cassette bodies are lightweight, but are soft, so they are prone to damage from a cassette's interaction during drivetrain use. Bill Shook came up with a brilliant idea to add a couple of steel inserts on the splines, so that the tougher steel can take the abuse, and you still get the lightweight of the mostly aluminum cassette body.
On the left is an aluminum cassette body and the gouging damage that occurs through normal usage, while on the right is the newer steel faced American Classic aluminum cassette body, notice the significantly less damage that has occurred:

The steel face design is very innovative, and will not only increase the longevity of the cassette body, but it will keep the tolerances tight with better drivetrain performance. The Disc 225 has been reliable (one minor tightening required), and stiff, although it would have been nice to have a bolt on 10mm instead of the wimpy QR's. The hub was extremely quiet, and I hardly ever noticed that they were buzzing along while riding.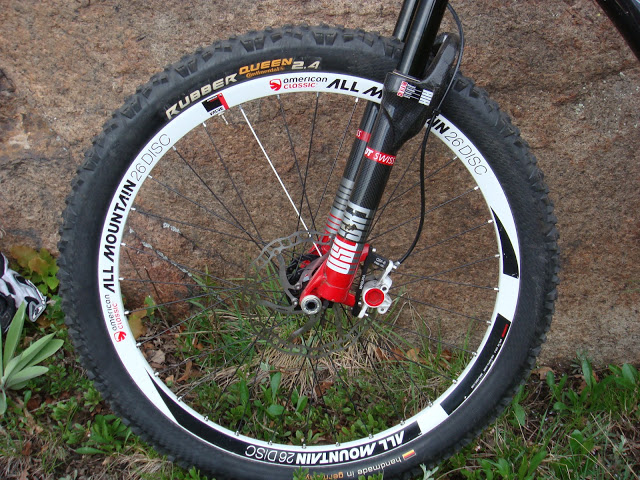 Impressions
The wheelset spent a lot of time in very rocky areas, and they had some good up close and personal time with some rock gardens. I never really noticed any flex issues, they just seemed to plow through most anything without much of a whimper. Fast or slow, stop or go, they acted exactly the same. Dropping off ledges and small jumps was no problem, but I can't comment on anything that I would consider 'hucking' since I don't do that. During normal trail use, they had admirable rolling resistance, and I only noticed the extra weight on butt smooth trails, and that was really only in comparison to my weight weenie set.
They were light enough that they accelerated nicely, and without much effort. They still had a bit of resiliency to themselves and had a nice feel, and didn't have that dead feeling that some downhill wheelsets can have. They steered responsively and with good precision, with greatly aided with handling. When needed, they could be cranked over at any angle and railed to your heart's content.
Measured Specs
AC AM front 881.8 grams
AC AM rear 997.7 grams
Total 1879.5 grams
I tried quite a few tires with the wheelset, and during that time I converted the rims to tubeless mode using one of NoTubes rim strips. Most tires fit just fine, but on occasion some tires didn't seem to want to fully inflate and would stay under sized, especially in their width. UST tires seemed to be the most problematic.
Over the 6 months of heavy use, I have had to do some minor tightening twice on both hubs. The rims have stayed reasonably true, enough so, that I haven't bothered to adjust them as yet.
Bottomline
The American Classic All Mountain wheelset is a fine product that nicely cusps between the cross country and all mountain worlds. It is durable, moderately light, accelerates nicely, and still has enough resiliency to give it a lively feel. The steel facing on the aluminum cassette body is an innovative feature that will increase that life of the body and keep the drivetrain snug. Their new foray into the 15mm front hubs have been successful and lightweight, while their old workhorse rear hub is quiet as a mouse.
Strengths
-Steel face on cassette body
-White spoke pointing to valve
-Lightweight (for all mountain)
-Quiet rear hub
Weaknesses
-No option for 10mm bolt on
-Some tires have fitment issues

Value Rating: 4 Flamin' Chili Peppers

Overall Rating: 4 Flamin' Chili Peppers


AC Specifications
Discipline – MTB Cross Country, All Mountain
Rim sizes – 26 and 29 inch
Weight – Front 900/956 gr Rear 1010/1064 gr Pair 1910/2020 gr
Front Hub – 32 hole: Front Disc 130 100mm, 15mm/20mm Thru Axle Disc 100mm/110mm
Rear Hub – 32 hole: Disc 225 135mm, All Mountain Disc 135 135mm, Downhill Disc 150 150mm
Bearings – 6803C3 Stainless Steel
Spokes – AC 14/15 Gauge Spokes Black
Pattern – 3 Cross Front and Rear
Nipples – AC Aluminum Nipples Silver
Brake Interface – 6 Bolt International Standard
Look/Color – AC Crest White
MSRP – $789.95
AC All Mountain url: http://www.amclassic.com/products/mtbwheels/allmountaindisc.php