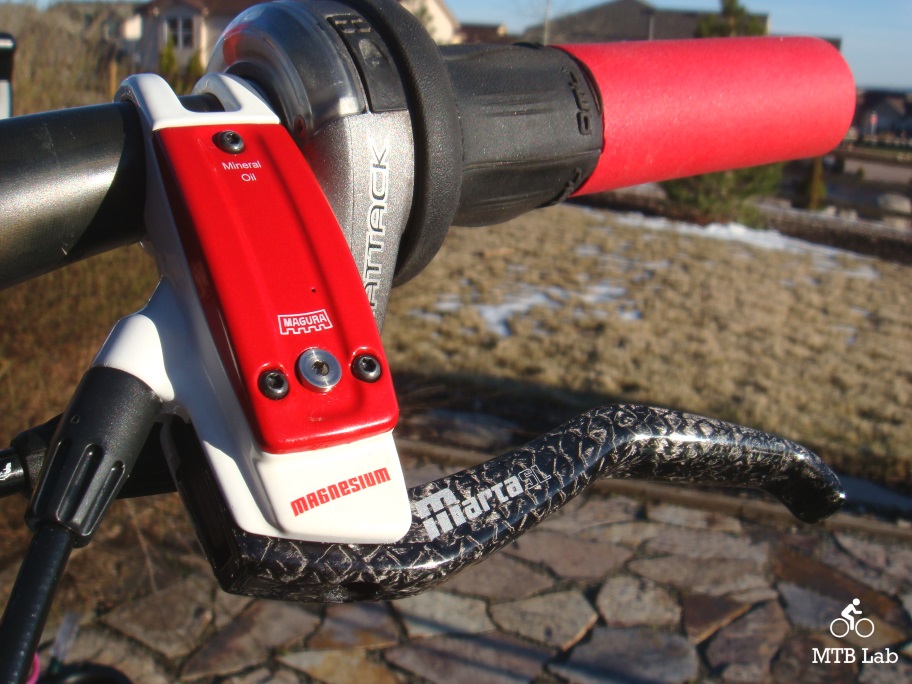 I have been using Magura Marta SL brakes for many years and had always been satisfied with the brakes, but I always wanted a tad more power and modulation. Magura revamped the Marta line in 2009 and then sweetened the pot with a lighter version using forged magnesium. The new brakes have met my expectations and then some!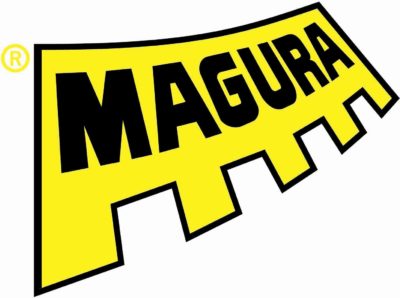 Marta SL Magnesium
Magura updated the Marta lineup with some innovations for 2009. The upgrades include a redesigned caliper and reservoir body, a better lever pivot, and the use of the larger Louise pads. The new reservoir body contains a new bleeding system that is drastically easier to use.
Which brings us to the Mags, their latest tweak on the Marta SL. The Mags come with a titanium hardware, a unique paint job (white/red), a magnesium reservoir body and an aluminum caliper. The rotors are sold separately in 160, 180 and 203 sizes in either the default SL Wavy, Drilled SL or Venti rotors.

Magura was originally going to have a full magnesium set, but due to some tooling issues they have stuck with an aluminum caliper, so the weight wasn't quite at their projected project weight. The weight weenie crowd was surprisingly up in arms over the lack of a full magnesium brake for Magura's lightweight flagship and benchmark model. Hopefully, they can overcome the issues and release a magnesium caliper sometime soon.
I love the smell of napalm in the morning…Smelled like…victory.

Magnesium 101
Symbol: Mg
Atomic Number: 12
Group: Alkali Earth Metal
Atomic weight: 24.305
Density @ 293 K: 1.738 g/cm3
State (s, l, g): solid
Melting point: 923 K
Boiling point: 1363 K
Shells: 2,8,2
Electron configuration: [Ne] 3s2
Crystal Structure: Hexagonal
Magnesium is a chemical element with the symbol Mg, and atomic number 12. It is a fairly strong, silvery-white, light-weight metal, and was first produced in England by Sir Humphry Davy in 1808. The name originates from the Greek word for a district in Thessaly called Magnesia.
With a density of only two-thirds of aluminum, it has countless applications in cases where weight reducing is important. It tarnishes when exposed to air, and is protected from air and water by a thin layer of oxide, which is fairly impermeable and hard to remove. Magnesium is a highly flammable metal, but while it is easy to ignite when powdered or shaved into thin strips, it's hard to ignite en masse or bulk. Burning or molten magnesium metal reacts violently with water, since it creates hydrogen gas, so if your brakes spontaneous combust throw sand on them!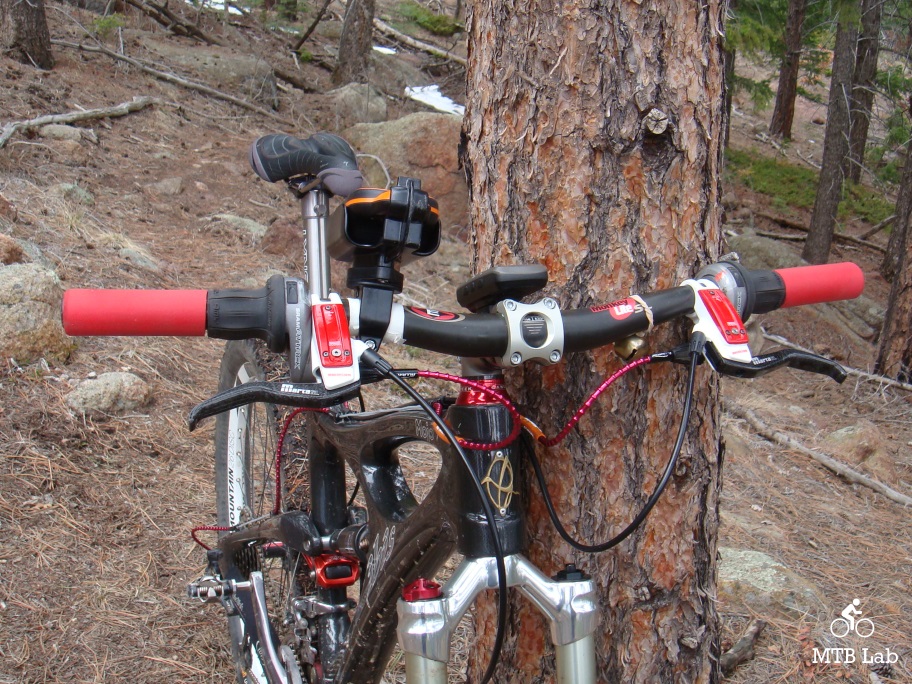 Installation
Installing the Mags on the handlebars was a pain since they don't use a split clamp, so it necessitates taking off the grips and the shifters. Trigger finger shifters can be installed on either side of the brakes (dual dock), but I use twist grips, so they were attached in the usual inboard manner.
The new bleeding system called "Easy Bleed Technology" or EBT has drastically changed for the better, which is nice since Magura Marta's are notorious for needing regular bleeding, although, after my initial installation, I haven't required one. The new port on top of the lever reservoir makes bleeding a much easier task.


Basic bleed instructions: tilt the upper reservoir slightly down from level, unscrew the top port bolt, insert a syringe, unscrew the caliper bolt, screw on a second brake fluid filled syringe into caliper port, and push the brake fluid using that bottom syringe into the top syringe, then pull and push the fluid between the syringe's until bubbles are gone.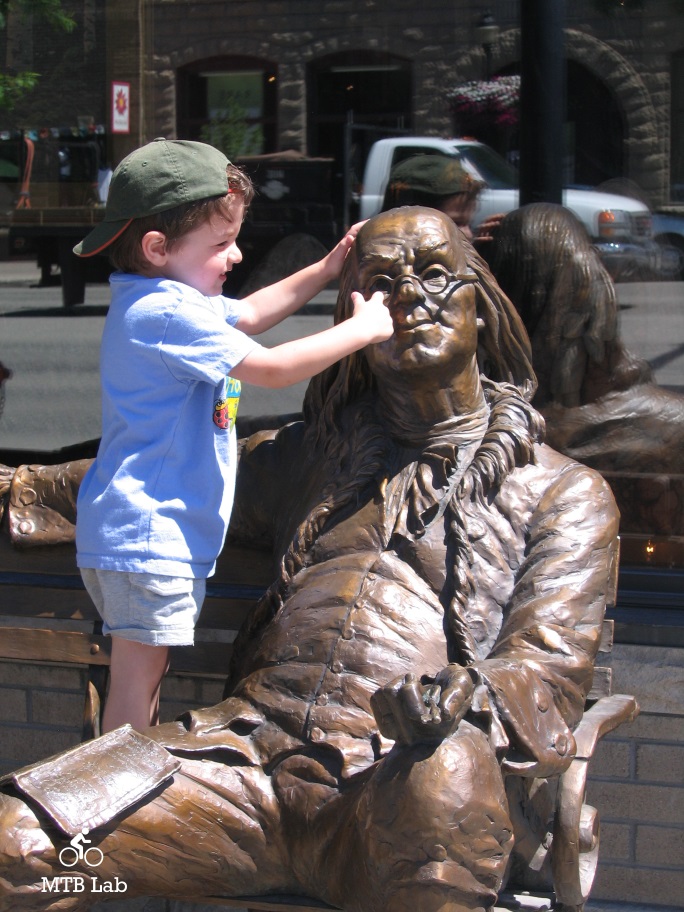 The new bleed port made doing a bleed almost pleasant, notice I said almost because any system is a bit of a chore, but this new system is a highly engineered marvel in comparison to the old method. Bleeding brakes are like a poke in the eye!
When I shortened the units to fit my bike, I followed the directions correctly for the rear brake, and I cut the rear line and was I able to connect it back up without doing anything else. Just make sure that you keep the cut line elevated, and don't try and make any drastic changes to things as you progress. Somehow I got some air into the brakes (I made changes as I went) when I did the front line, and I had to bleed it, so I got a first-hand experience with the newer method, and it was enjoyable and easier for brake bleeding. Again simple is as simple does!
Technical Features
The redesigned reservoir body has many features, including the EBT bleeding system, a new pivot system for the carbon lever, and of course, it is made from forged magnesium, except for the composite reservoir cap. It uses an open hydraulic disc brake system with completely integrated reservoir and is filled with Magura's Royal Blood mineral oil brake fluid. The carbon lever now uses stitched carbon fiber, for greater stiffness.
The redesigned caliper is one piece monoblock aluminum for maximum stiffness and uses injected molded composite pistons for less heat transfer to the brake fluid. The dual pistons are also magnetized so that no clips are required to hold the pads in place. Instead of the usual powder coating, the caliper and reservoir bodies are painted with a nice white and red color. They come with their 6.1 Performance Series pad (maximum power), but you can also get their 6.2 Endurance version (longevity). The rotors which are sold separately, come in the ubiquitous 6 bolt IS in 160, 180, and 203mm sizes, in their default SL Wavy (lightweight), the Drilled SL (mud and cooling holes) or the Ventidisk (All Mountain). The calipers are post mount, but Magura has an entire slew of adapters to fit most any bike or fork.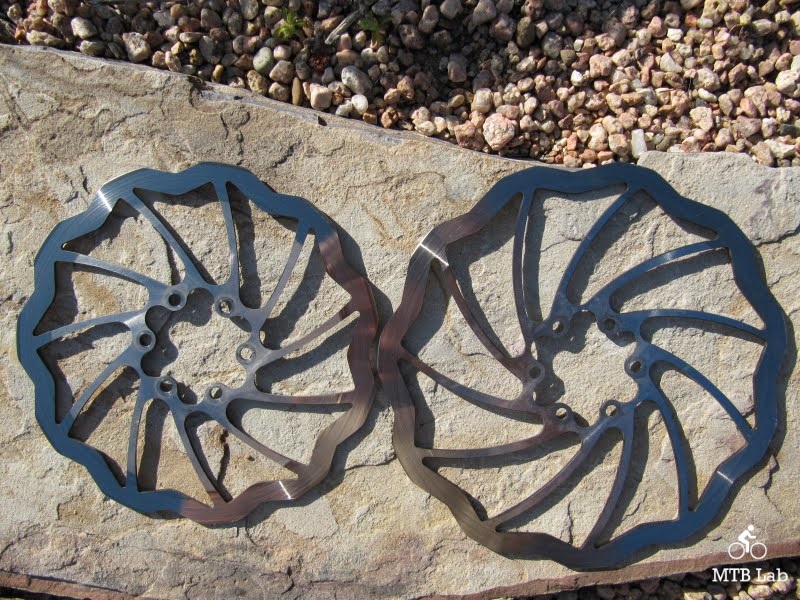 Measured Specs:
front brake

uncut (64 inch hose) – 219.3 grams
160 rotors – 111.2 grams
total w/ 160's – 330.5 grams

rear brake

uncut (64 inch hose) – 218.4 grams
160 rotor – 111.0 grams
total w/ 160's – 329.4 grams
Impressions
The Mags were used on my primary steed the Ibis Mojo, in any sort of terrain that Colorado can throw at you. The testing terrain is predominantly loose rocky conditions, with many sections of long steep downhills, rock gardens, and ugly loose gravel. I could cross compare the brakes against a 2008 set of Marta SL's and some new Hayes Stroker Grams. The Mags were equipped primarily with the SL Wavy rotors, but the Ashima AiRotors were also used regularly, and I used 160/160, 180/160 and 203/160 combinations.
The power difference between the 2008 and 2009 is significant, although it still doesn't approach the power of some of its competitors. Using a 160 in front on the newer brakes feels like an 180 of its predecessor, and modulation has also greatly increased. The redesigned calipers, lever, and reservoir body, along with the slightly larger Louise pads (more surface area) have made a wholesale difference in the functionality and characteristics of the Marta's. The Louise pads will not fit the older version of the Marta's.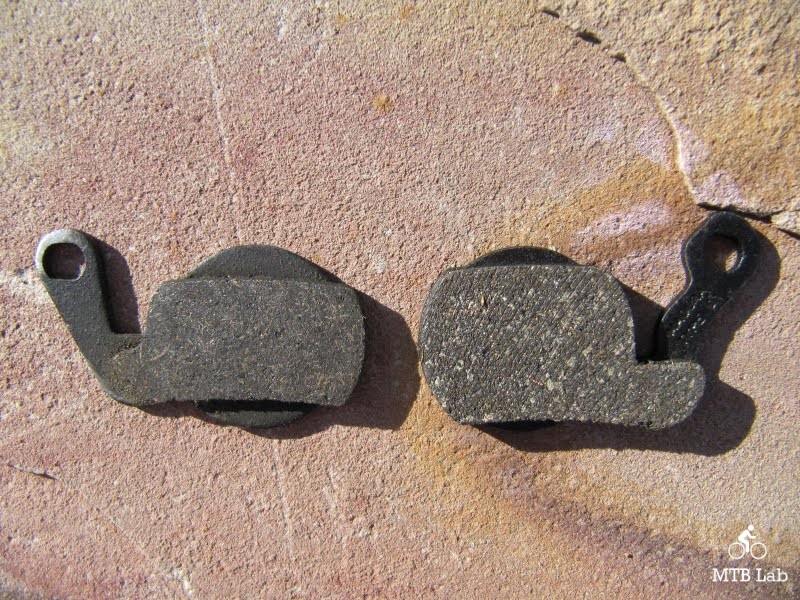 The Mags just have a more robust feel to them, and the levers felt snappier and more solid, albeit a bit firm in the hand. The reach adjustment is done with a small Allen wrench (2.5mm) in a small recess in the front of the lever. The redesigned lever itself has a much better pivot with less stiction, giving a more powerful feel throughout the lever stroke. I like the shape and feel to the lever, it makes for nice one or two finger usage.
The Mags perform quite well in almost any terrain, and they have excellent modulation, allowing beautiful feathering of the brakes. I loved how the brakes could be used in technical sections and in rock gardens, it was really easy to do a dab of brakes or grab a big handful of them, and they would do so without any compromises or complaints. On long downhill's they performed decently, but once the brakes got pretty warm they got a tad of fade to them, but it was much better than its predecessor. A larger rotor size combination such as 180/160 or 203/160 helped a lot with the fade issue, and I also found that the Ashima AiRotors really assisted since they have an extremely high tolerance to fading (caveat: after market rotors can void a warranty).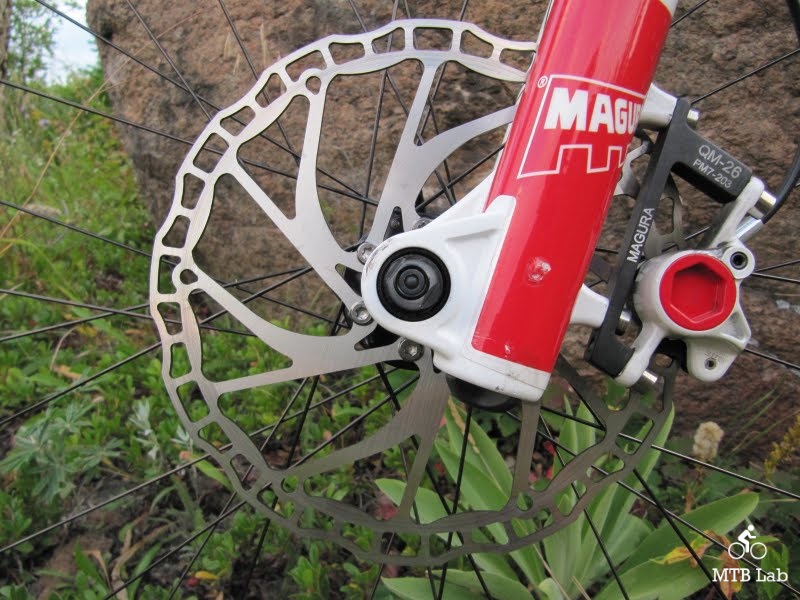 Although they were mostly a quiet brake, the pads needed to be taken out on an occasional basis and sanded, else they tended to squeak on long downhills. They performed admirably in the wet, and mud, and dried out quickly when they got soaked.
One of my favorite things I like about the Mags is the sweet red and white paint job, which not only looks good, but the white helps show off the already gorgeous carbon levers. It also blends well with a whole slew of white forks and wheelsets.
As usual, thanks to Justin for helping me out when I needed anything for the test! You dah man!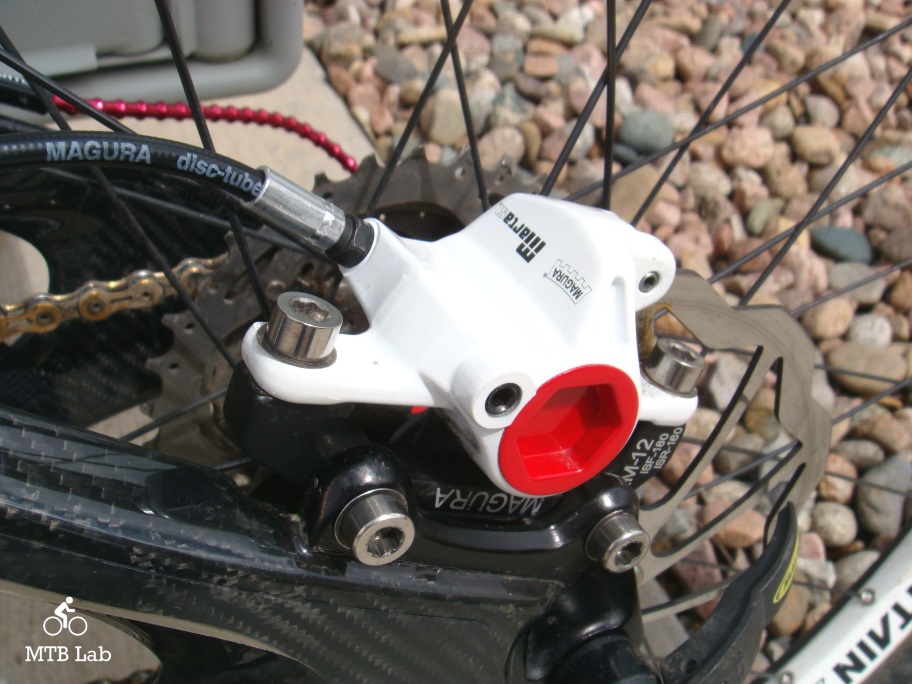 Bottom Line
The Mags are a highly engineered German marvel, they have excellent modulation, good power, are lightweight and are gorgeous looking. If bleeding is required the new EBT system is much easier to use.
They can be slightly susceptible to some fade on extremely long, and steep downhills, but larger rotors help alleviate much of that issue. I liked the feel of the brake, but some may find it to firm, and the reach adjustment is difficult. I do wish they had released a full magnesium set!
The newly upgraded Marta is a huge step forward, and the Mag version tweak is another sweet brake from Magura!
Strengths
Lightweight
Excellent modulation
Good power
Gorgeous
Weaknesses
Slightly susceptible to fade
Firm feel
Reach adjustment difficult
Not fully magnesium
No split clamp system
MSRP: $368