Magura has been very busy developing, designing and testing (lab and field) their new Storm SL and Storm rotors, in conjunction with their MISSION PERFORMANCE campaign to develop the best disc brake in the world (stronger, lighter, ingenious). The Storm SL and Storm are pretty sweet rotors, and the SL version is my current favorite rotor for my Magura brakes, as its lightweight, while still retaining excellent braking characteristics.
The Louise Carbon and all the Marta series, except for the Marta FR come spec'ed with the Storm SL, while the Marta FR, Louise Bat, and Julie HP come with the Storm. Any of their brakes can use the Storm SL or Storm rotor, except for the Gustav (about to be discontinued). The Storm SL comes in 140mm, 160mm, 180mm and 203mm sizes, while the Storm has 160mm, 180mm and 203mm, all with the ubiquitous IS 6 holes (centerlock adapter is available). Although I wouldn't use one, it's nice that Magura is releasing their first 140mm rotor, which is also a testament to how much better the new rotors are, since their previous statements eluded to poor function and safety in that size. The Storm SL and the Storm, are replacing their old SL Wavy and Drilled SL respectively.
Technology
The steel rotors are 2mm thick for strength and rigidity, and the Storm has a larger braking zone, for stability, power and reduced pad wear, while the Storm SL has larger and an increased number of perforations for weight savings and feel. Extensive finite element analysis was performed, for optimized geometry and modulation, for better heat absorption and its dispersion (heat management), braking power, stiffness, durability and weight savings, without warping, noise and juddering issues.
This might end up as the shortest review I have ever completed, since all of mine tend to be long winded and overly technical!
Impressions
I tested the Storm SL and Storm on the new Magura Marta FR brake, and the Storm on Magura Louise Carbon, both were installed on my Yeti ASR 7 All Mountain rig. Both brakes were fitted with Magura's Performance pads, which I think work the best on the open slotted Storm SL. It is a personal preference, and either pad, the 6.1 Performance Series pad (maximum power) or the 6.2 Endurance version (longevity) work just fine with both models. The rotors were tossed into lots of extreme technical terrain and long steep downhills, requiring precise braking control, power and fade resistance, allowing repeatable patterns to be established for a baseline. I tend to ride the brakes pretty heavily, so I create lots of heat and torture from near constant feathering and usage, though I still scrub enormous amounts speed when it's required.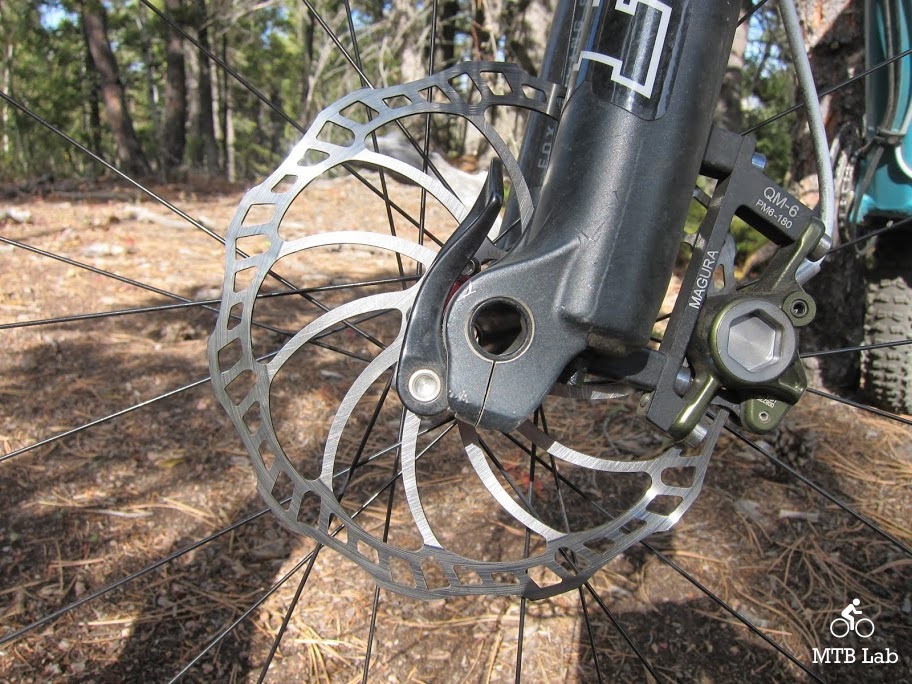 Storm SL
The Storm SL has a great bite to themselves, with good fade resistance and cooling power, though a slight loss of power compared to the Storm, which have a greater braking surface due to fewer cutouts. The bite can be felt as a nice tactile feel in the lever, and gives rise to fantastic precision and control. The Storm SL has been fairly quiet, though they do make a slight ticking noise from the interaction of the cutouts and pads, much like the Ashima AiRotors, but to a lessor degree. They dried out quickly when wet (rain or snow), and quietly squeaked until they came up to temperature. The open slots of the Storm SL give the ability to do some nice feathering, which is useful in slow technical terrain, or when some speed needs to be drawn down with a small dab of the lever. On long extremely steep downhills, more throttling and hand strength with the levers was required to keep the speed down, but they never felt as though they were fading or were weak.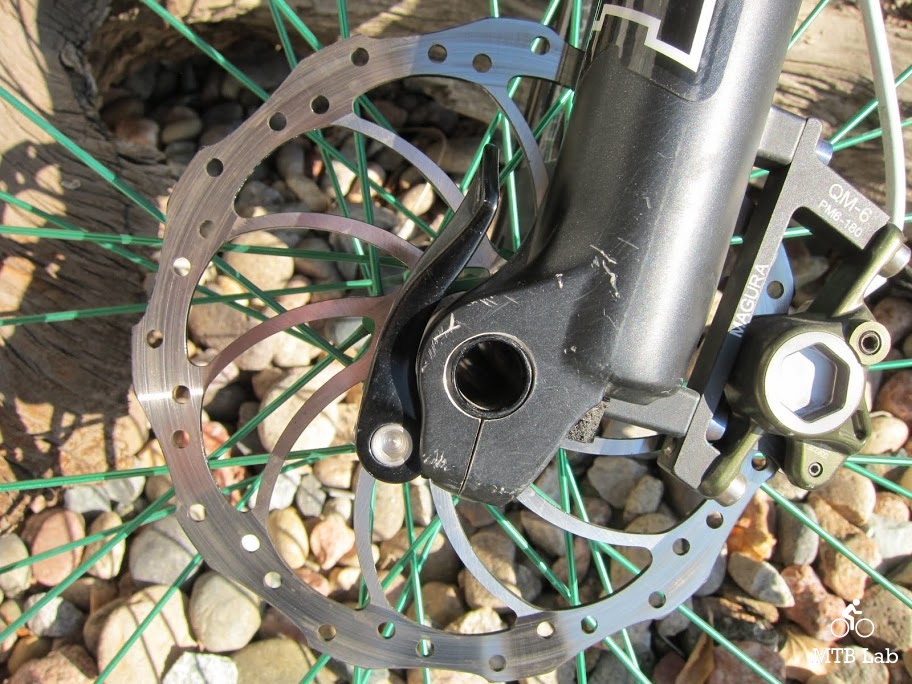 Storm
I think the Storm felt slightly grabby to me at slow speeds, though it was in direct comparison to the feathering characteristics of the Storm SL, and it was easy remedied by hand control. When you need to grab a hand full of brake, they were more powerful, and were usually silent, no matter hard you pulled or how steep and long the downhills were. I did find that they sometimes started to squeal, and a good brake pad cleaning and sanding tended to alleviate the issue. They were very durable, and vastly increased the pad's longevity. When they got wet, they took a bit longer to dry and quiet down than the Storm SL, but they still created massive power reserves even when drenched. The Storm provides excellent fade resistance, and never belayed a loss of composure on any terrain, they were powerful suckers!
Measured Specs:
Storm SL
160mm – 92 grams
180mm – 114.2 grams
Storm
160mm – 114.1 grams
180mm – 139.8 grams
SL Wavy (old rotors – Marta Spec)
160mm 102.8 grams
180mm 126.4 grams
Drilled SL (old rotors – Louise Spec)
160mm 132.6 grams
180mm 153.3 grams
Bottom Line
The Storm SL is a supremely wonderful rotor, that have some excellent characteristics, such as feathering, modulation, fade resistance, lightweight, and they look pretty cool! The additional control they offered in technical terrain was greatly appreciated, which was noted on steep rollers and rock ramps, where they tended not to lock up easily. Like any of the cutout rotor types, they do wear pads quicker, and make a slight tick noise, albeit it's subtle.
The Storm is a great rotor, that is powerful, fade resistant and lighter than its predecessor. They can skate down any terrain, no matter how steep or long, and never suffer any weaknesses nor do they judder, though on occasion they squealed.
Magura has done a great job with these new rotors, and they are highly engineered products, and are a vast improvement on their predecessor's.
MSRP: Storm SL $30 – Storm $25
Magura Company Specs
Storm SL
Diameter: 203, 180, 160, 140 (NEW!) mm
Weight: 15% less than predecessor (From 147g/0.32 lbs. (203mm) to 75g/0.16lbs. (140mm)
Compatibility: all disc brake models except Gustav M
Material: high performance steel
Mounting: IS 6-hole version, Centerlock compatible in conjunction with new Centerlock adapter (available in August 2010)
Storm
Diameter: 203, 180, 160 mm
Weight: 15% less than predecessor (From 177g/0.39 lbs. (203mm) to 114g/0.25lbs. (160mm)
Compatibility: all disc brake models except Gustav M
Material: high performance steel
Mounting: IS 6-hole version, Centerlock compatible in conjunction with new Centerlock adapter (available in August 2010)