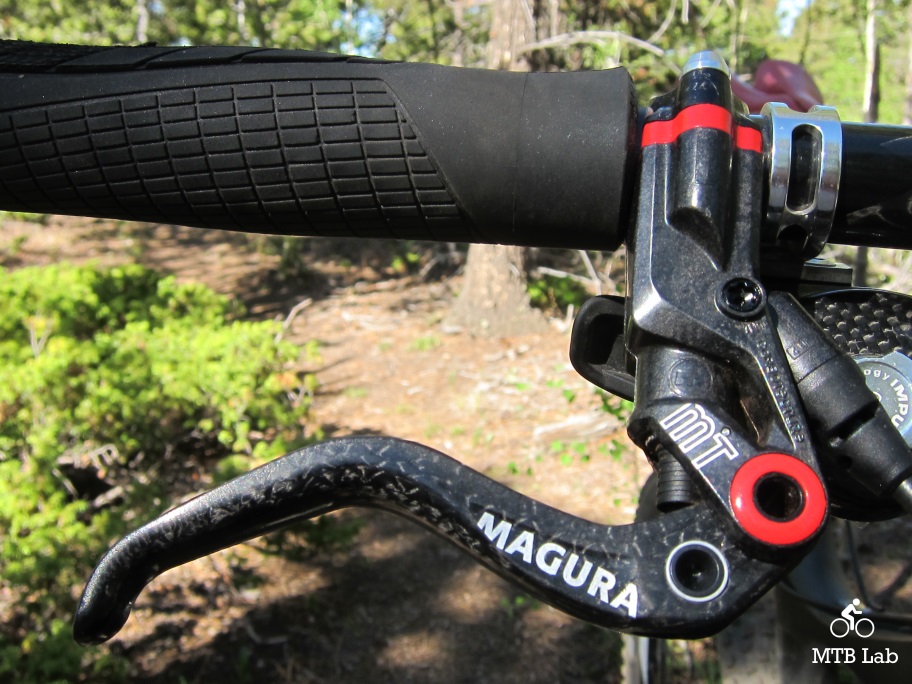 Magura stunning new MT8 brake is incredibly lightweight (278g w/ 160mm rotor), with great modulation, excellent power, and resistance to heat, drag and squeal, which all combine to make it stand out in terms of performance. The high-tech works of art use some amazingly innovative production techniques and materials to create a light and strong brake for any type of riding, from cross-country to downhill, and it transcends being categorized within any riding style.
I have always been a big fan of Magura brakes, but they really stepped up to the plate and hit a grand slam with the MT series, and they're superb, and highly engineered marvels. Magura spent a lot of time, effort, and money to create the MT or Mission Team line of brakes, and although they used their extensive know-how and expertise in brake technology, they seemed to have followed the old German proverb "Don't throw the baby out with the bathwater" (das Kind mit dem Bade ausschütten). They performed extensive testing on the major brake components, and although each part can stand on its own merit, together they are a symphony of synchronicity! They came up with something called the Performance Faktor, which is a mathematical formula devised by Magura's design team over two years ago, where the performance is equal to deceleration and modulation plus thermal stability, divided by mass and multiplied by ergonomics (that's a mouth full).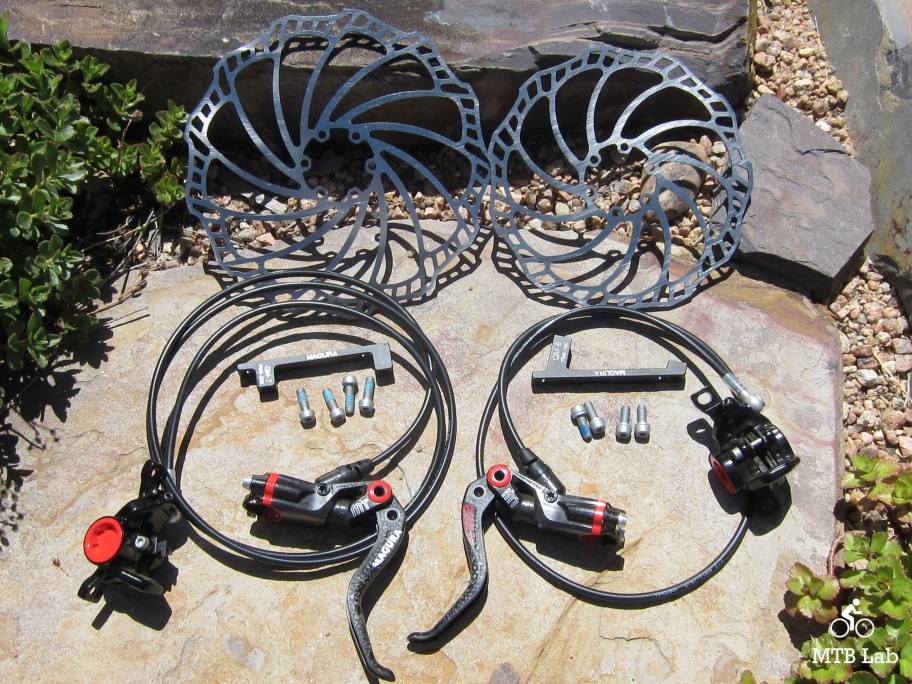 Features
The brakes use an open hydraulic system, using their Royal Blood mineral oil for hydraulic fluid, with an integrated all carbon reservoir, carbon levers and clamp, one-piece alloy caliper, and forged aluminum fitting bolts that have a special anti-corrosion coating. They include the trick Storm SL rotors (refer to Storm review), which are available in 140, 160, 180 and 203mm sizes (6 bolt or Centerlock adapter), with a wide assortment of adapters for attachment to any bike and fork.
The reservoir is created by injecting their proprietary Carbotecture material, which is comprised of mid-length carbon fibers in a thermoplastic matrix, into a mold. The fibers are aligned to optimize strength and lightness, in what they call their Carboflow Process, which uses extreme heat and high pressure. The mold work is so precise and exacting that it requires no post machine processing. The flip-flop designed Carbotecture SL body attaches to the bar with a split handlebar Carbolay clamp, which weighs a mere 2 grams. The body uses their EBT or easy bleed technology, set up in a mirror imaged dual-port manner for the flip-flop system so that they can be set on either side of the bars. The ergonomic carbon lever is made with their Carbolay technology and uses a trick and light hollow-pivot to attach to the body, and rotates on buttery smooth composite bushings.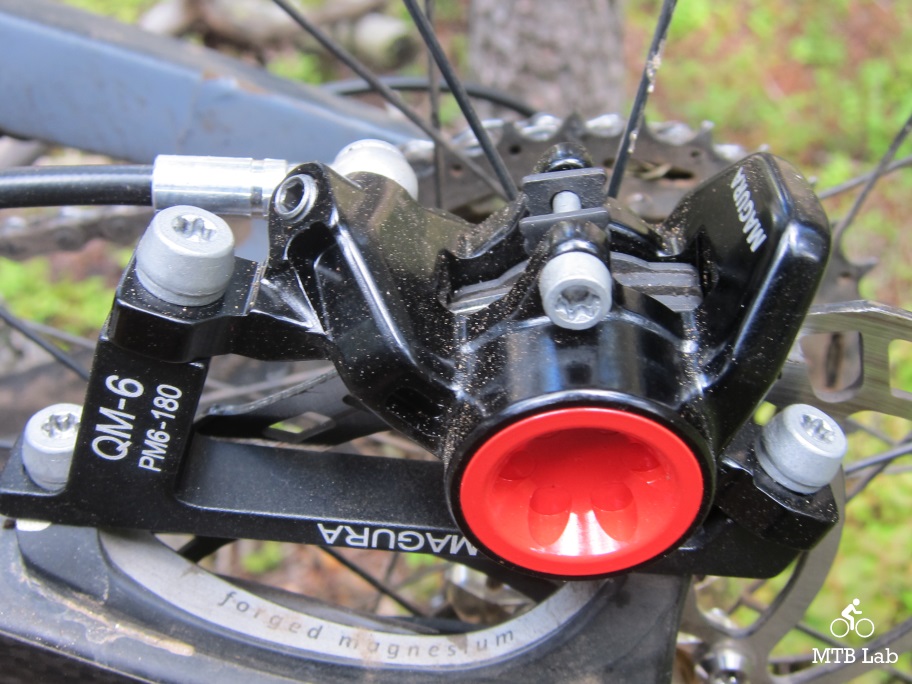 The forged single-piece aluminum caliper uses a double arch design, just like their forks, and the shape optimizes the caliper's strength in the direction that encounters the largest load forces, and they also absorb heat and dissipate it away from the main body. The upper or front fin does the oil transfer between the sides of the caliper, which should provide an additional cooling of the fluid? Their stiffening effect means that the calipers can be machined further, to remove any unnecessary material for a significant weight saving. The caliper uses top-loading pads, for what they call EPR or easy pad replacement, so the wheel doesn't need to be removed for changes. The caliper has PM mounts, an adjustable hose fitting, and uses two Duroplastic injection molded composite pistons for less heat transfer to the brake fluid, and the pistons have an embedded magnet for brake pad attachment. The organic pads come in two models, the default 7.1 semi-metallic performance version for maximum power, or the optional 7.2 endurance version for longevity.
The top of the line MT8's is part of their MT brake family, which also includes the MT6, MT4, and MT2 ($369, $269, $174, $104 respectively). The entire brake family shares the same basic technology, with some subtle tweaks and lighter materials for the upper-level models. They all have a carbon master body with the flip-flop design, an alloy double arch caliper with top loading pads, and the dual EBT ports for bleeding. The MT6 uses the Carbotecture SL and Storm SL rotor (same as MT8) but has an aluminum lever and handlebar bar clamp, and the caliper has less machining and larger cooling fins. The MT4 uses the Storm rotor and has a Carbotecture fiberglass and carbon composite reservoir body, an alloy lever with their BAT (Bite Adjust Technology). Lastly, the MT2 uses the Carbotecture fiberglass carbon composite body, and an alloy lever, and an excellent price point.
| Description | MT8 | MT6 | MT4 | MT2 |
| --- | --- | --- | --- | --- |
| Master Body | Carbotecture SL | Carbotecture SL | Carbotecture | Carbotecture |
| Lever | Carbolay | Alloy | Alloy | Alloy |
| Split Clamp | Carbolay | Alloy | Alloy | Alloy |
| Pivot | Hollow | Hollow | Normal | Normal |
| Weight w/ 160mm rotor | 278 grams | 310 grams | 320 grams | 335 grams |
| Price | $369 | $269 | $174 | $104 |
| Rotor Size | 140-203mm | 160-203mm | 160-203mm | 160-203mm |
| Rotor Model | Storm SL | Storm SL | Storm | Storm |

Installation
The brakes come with full-length lines, so they need to be cut to size, dependent on user preference and bike geometry. I prefer my brakes set up in moto style, with the front brake on the right side, and the flip-flop clamp design and dual bleed port make for easy placement on either side of the bars. Undo the barrel nuts on the clamp, and place the reservoir in the desired location on the inside or outside of the shifter pods on the handlebars. Put the clamp on, with the thicker part at the top, and thread and carefully tighten the fragile alloy nuts to their proper specs. The caliper setup was easy due to the pivoting banjo, which made adjusting the hose angle for varying frame geometry and hose routing requirements a snap. If desired, an optional SRAM shifter compatible 'ShiftMix' clamp can be ordered.
I measured the desired hose length and cut them with a sharp set of cutters. Holding the cut section up high to prevent any errant air bubbles, I slid on the sleeve nut followed by the olive and tapped in the hose insert with a plastic mallet and finally threaded the sleeve nut into the brake lever, tightening with the proper torque. Neither brake leaked after the hose shortening, nor did they require any bleeding. The EBT (Easy Bleed Technology) system uses a port on top of the reservoir for bleeding and is easy to use. Although, bleeding brakes are still like getting poked in the eye, and my preference is noncompliance. Basic bleed instructions: level reservoir 15 degrees upward, unscrew the port bolt, screw on the upper syringe, unscrew caliper bolt, screw on a filled lower syringe, push fluid from bottom to top, cycling until bubbles are gone. I worked (ok, mostly I watched) with Jude, Magura USA's brake guru extraordinaire, at their Sedona Press Camp to bleed a pair, and it was a straightforward and effortless affair, and the EBT system an effective feature.
I didn't do much breaking in and did a bunch of good stoppers on the pavement to bed the pads in and get the rotors dusted properly. My usual scenario is to take them up in the steep and deep, and let them break in by torture!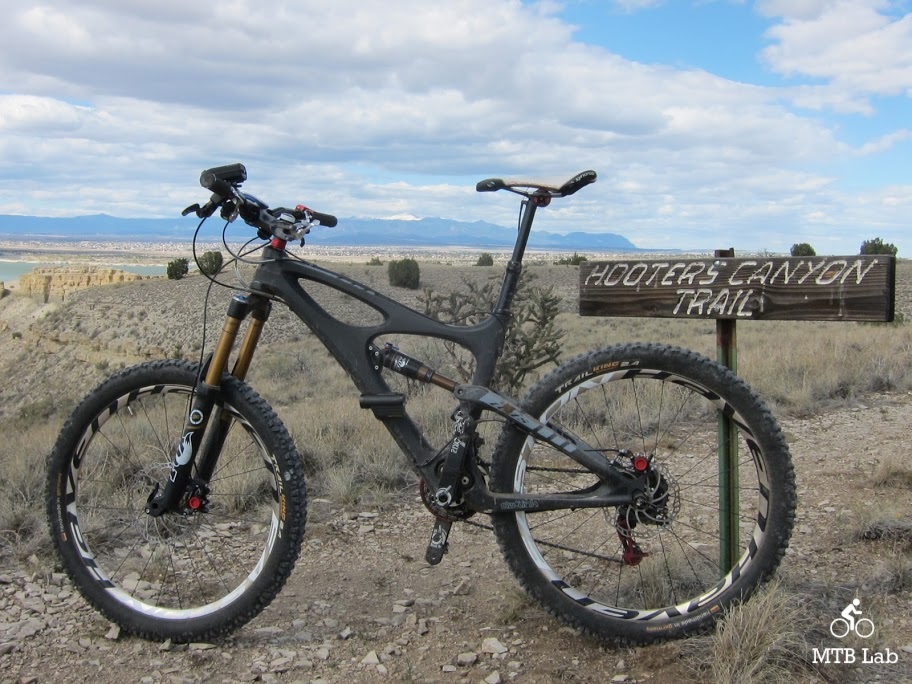 Impressions
For the entire testing period, I used the MT8's in a 203/180 combination, on my loyal steed, the impeccable Ibis Mojo HD. The local Colorado terrain is predominantly rocky conditions, with many sections of long steep downhills, rock gardens and slabs, and ugly loose gravel and rocks. I weigh in at 155 lbs, ride with a light touch, and love to use the brakes. I habitually prefer All Mountain riding and frequent extremely technical terrain, that requires precise maneuvering, split-second timing, and nerves of steel and a big dash of lunacy.
The MT8's are impressively powerful and strong, with a solid, authoritative feel at the lever, and the rotors spin drag free through the calipers, and everything is deadly quiet. In direct comparison to the Louise, and some other monster brakes, they offer slightly less power, but have better modulation, with excellent communication between the lever and ground. One of the hallmarks of this brake is their control factor, as they offer excellent ride and lever feel, and small lever movements give rise to fine toothed speed adjustments. Increasing the rotor size to a 203/180 combination produces some outstanding strength, and moves them up in the power battlefield. I think they are gorgeous looking, albeit they have a slick Germanic engineering theme about themselves, and don't look like their boxy predecessors.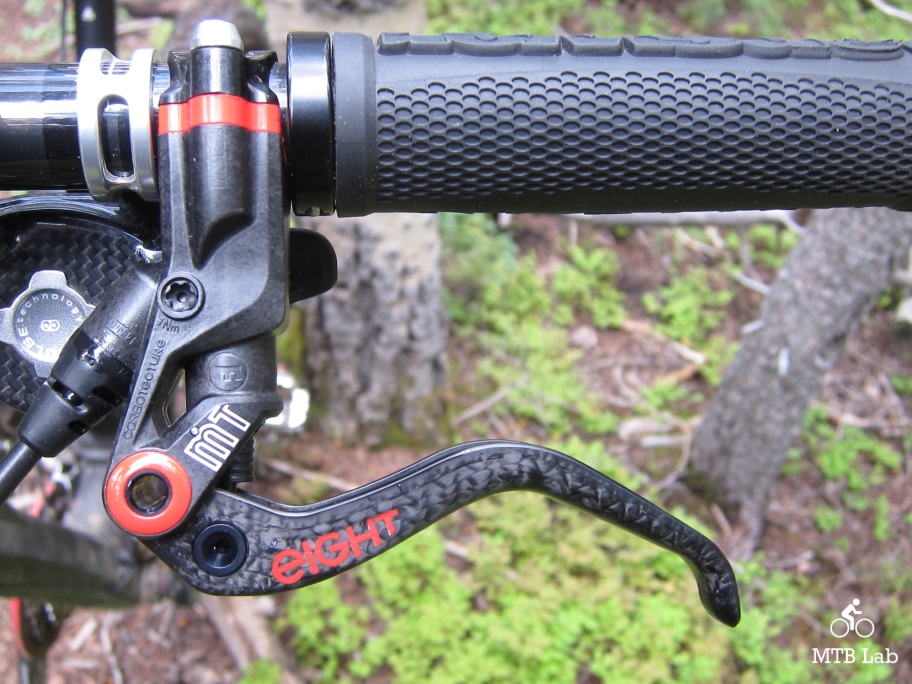 Magura worked extensively on the ergonomics of the MT lever shape, and they spent enormous amounts of time and research perfecting their engineering, using public interaction, and input from a Professor of Ergonomics at Stuttgart University (Dr. Heinz Doofenshmirtz). I have always liked the shape of Magura's levers, and the MT levers crank up everything by a big notch, with an outstanding and highly tactile feel, and superb ergonomics. They are wide, comfortable, with a nice notch for one or two-finger usage, and the pleasing and functional shape helped decrease hand fatigue, especially during prolonged use, like on long downhills. The stiff lever allows a concise and firm pull and is greatly helped by a lack of any slop in the pivot and reservoir body interface. The lever only has reach adjustment, which is altered with a Torx wrench inserted into its front by the pivot, allowing a closer or farther feel, and with a different angle.
Their tactile sense is superb, allowing the system to feel like an extension of your hand, and you can figuratively feel a pebble on the ground when braking. The more technical and gnarly the terrain and conditions are, the more comfortable and functional the brakes felt, and they offered fine adjustment of speed with concise lever pulls. They thrived when doing high-precision moves and maneuvers, whether on mild or heinous terrain, with excellent feedback and response, giving rise to an innate sense of security and control. These light brakes are pretty amazing, and I have taken them down some ugly steep gnar, where many brakes fade and scream with misery, and they just kept quietly plugging away. I loved how you could grab the brakes wherever you wanted, and they would haul your speed quickly down, though they could be a touch grabby if got too heavy handed, which can be a common trait of many strong and powerful brakes. Grab a huge handful of the brake and it was easy to do a stoppie, even in the middle of a rock garden. Pulling the lever with a measured feathering worked just fine, and it allowed the modulation to excel, and if a wheel lock up happened, a minute pressure release at the lever had the spinning along again. Even when cranking down steep terrain that is littered with loose chunky material, the brakes retain excellent composure, with good feedback, modulation, and control, without unwanted lockups.
Theyre extremely quiet, and their muted usage was a major highlight, as I enjoyed not having a set of brakes squealing while I was riding down a trail. I didn't hear the usual wispy chatter that the Storm SL rotor cutouts can make on some of the other Magura brakes, which was a welcome change; it was there but was very subdued, and you had to listen
re extremely quiet, and their muted usage was a major highlight, as I enjoyed not having a set of brakes squealing while I was riding down a trail. I didn't hear the usual wispy chatter that the Storm SL rotor cutouts can make on some of the other Magura brakes, which was a welcome change; it was there but was very subdued, and you had to listen for it. Sometimes if they were wet and cold, had dirty pads or rotors, they might make some noise, but after a few good stabs with the lever, they were silent again. Even when getting them extremely hot on long steep downhill's, they were fade free and resisted heat buildup, and made no scraping or overheating noises, and their performance and lack of noise were outstanding. "Silent but deadly!" A lot of the quietness is due to a couple of features and design aspects of the caliper system, that all work in synergy to keep them silent. The Duroplastic pistons, which absorb less heat than metal, have a special coating, which prevents them from sticking in the cylinder, and reduces friction and stiction. The caliper itself runs significantly cooler by the combination of using organic pads, the composite pistons, and the double arch, which acted as cooling fins.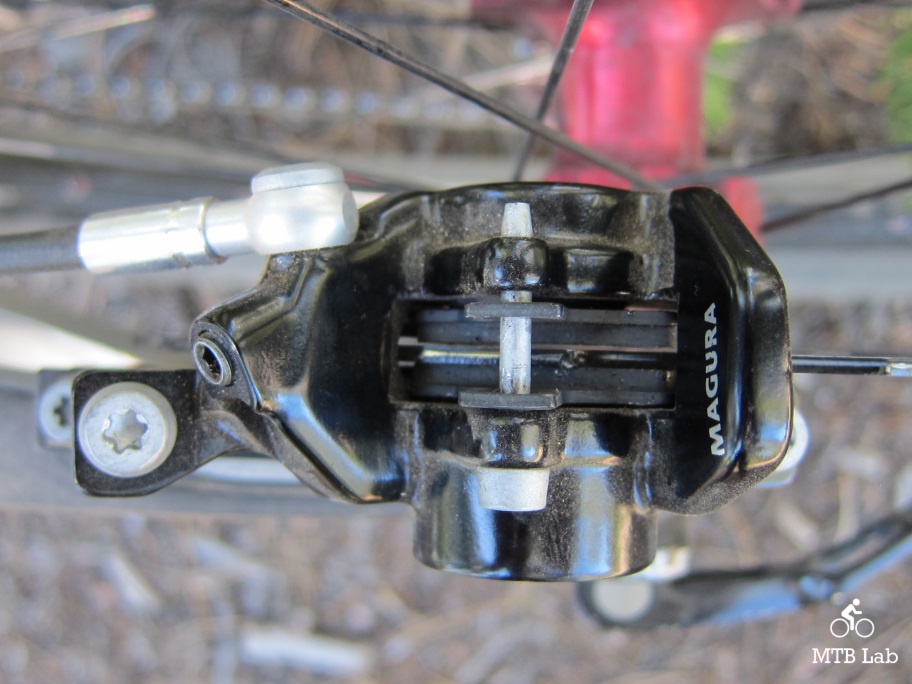 I never felt any pad rubbing nor drag from the caliper and rotors, and they always flowed freely, regardless of how heavily they were being used. Due to the offset pistons giving toe-in as the lever is applied, the pads realign themselves with the rotor, so their spacing seems to remain proper, regardless of pad and rotor wear, rotor warping and heating, etc. When it comes time to replace or clean the pads, the top-loading pads are simple to remove, and don't require a wheel removal. Simply remove the retaining screw, grab the tabs on the pads and pull them out, insert a new pair, letting the magnets on the caliper's piston hold them in place, and then replace the screw. After pad replacement, they aligned in just fine, and if they were installed a bit cockeyed, a good jab from the lever set them in properly.
It's nice that all the bolts (except for the bleed port) use a T25 Torx head, so only one tool was required for the brakes and rotors. I didn't have any issue with stripping the alloy Torx heads, especially the large caliper ones, but you do need to be cautious, especially on the clamp, and a light hand tightening and finishing off with the torque wrench is the best approach. I never experienced any slippage in the lever clamp, but I could see where they might happen in some bars, though clamping with the proper torque seemed to alleviate any problems for me. The entire clamp system is an oddity, and perhaps not the most robust or carefully thought out, in my opinion. It uses a double-ended bolt or hanger bolt (machine threads on one end and wood threads on the other), in which one end attached to the reservoir body (wood threads), and the other end (machine threads) accepts a Torx headed aluminum barrel nut or sex bolt, which is what actually snug's the clamp down. The alloy barrel nut is fragile, and you need to use caution when tightening it down, else the head can get stripped or sheared off, although I never experienced that problem.
Measured Specs:
Front (cut 32″ ) – 178.6 grams
Rear (cut 57″) – 191.1 grams
Bolts (alloy) – 2 @ 3.9 grams
Storm SL 203mm – 147.6 grams
Storm SL 180mm – 114.2 grams
Storm SL 160mm – 92 grams
QM7 (6″ PM 203 adapter) – 22.9 grams
QM6 (6″ PM 180 adapter) – 23.4 grams
Total Front (brake, 203mm rotor, 4 bolts, adapter) – 356.9 grams
Total Rear (brake, 180mm rotor, 4 bolts, adapter) – 336.5 grams

Bottom Line
The Magura MT8 brakes are supremely functional, feature laden and highly engineered, and everything single piece of the brake is pure bling. The lightness is a component of an entire slew of innovative technologies, from the carbon lever, reservoir, and clamp, to the sculptured caliper, and the special alloy bolts. The brakes have a superb tactile feel, which gives rise to an incredible touch, control, and communication, and your hands become 'One' with the ground/bike interface. The MT8's offer great modulation, excellent power and heat resistance, and the rotors spin drag free through the calipers. The caliper's design makes them the quietest brake I have ridden, and even getting them extremely hot on long steep downhills never changed their silent characteristic. One of the best parts of the brakes is that the MT8's design and technology have trickled down to the lower levels. Outside of some heavier parts and carbon changes, all the brakes are the same, making for an excellent price-point range ($369 – $104).
Like anything with an expensive carbon lever that sticks out, I might be worried about breakage, but after multiple crashes (some slow and some fast) I haven't had any issue, and the alloy clamp barrel does need to be tightened with caution. They aren't the most powerful brake on the market, but they more than make up for any deficit, with other remarkable and useful traits.
In a nutshell, they are strong, light, quiet, fade free and powerful, modulate well, and have a superb tactile feel from the ergonomic brake lever down into the ground. They are the epitome of German perfection!
Strengths
Uber Light
Powerful
Deadly quiet
Excellent tactile feel
Great modulation
Top loading pads
Anti-Features: squeal, heat, drag
Weaknesses
Expensive – MSRP: $369
Questionable crash worthiness of lever?
Clamp barrel nut fragility
Slight gabbiness under hard pulls
MT8 Specs:
Full carbon master cylinder
Carbotecture SL body
Carbolay lever blade
Carbolay clamp
Alloy fittings
Anti-Feature: squeal, heat, drag
Feel Safety-Ergonomics
EBT (Easy Bleed Technology)
EPR (easy pad replacement)
Weight From 279 g/0.61 lbs. onwards incl. 160 mm Storm SL-Rotor
Colors: Brake lever and caliper in a cool black body with red special
Guarantee: 5-year leakproof warranty after online registration on magura.com