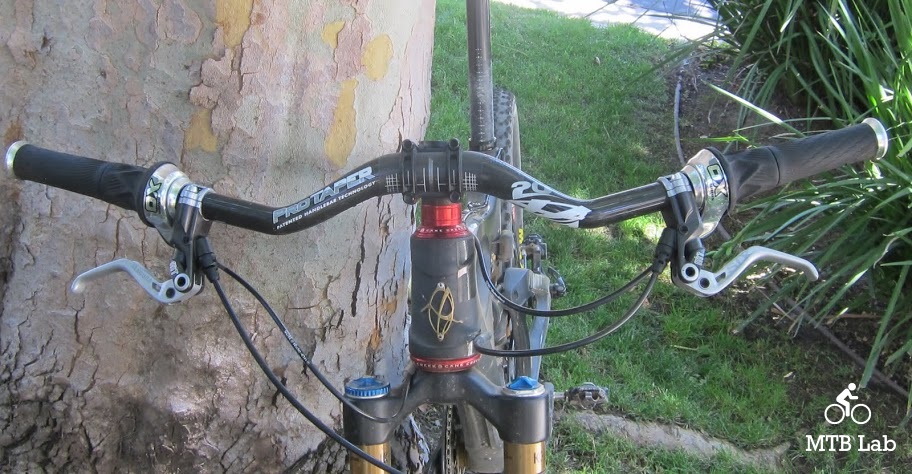 The handlebars are an excellent set of alternative carbon bars, which are light, strong, with an amazing resiliency and feel, and have an optimal width, rise, and sweep. The idea behind the 20/20 is to reduce strain and increase comfort during ultra long rides. It was created in collaboration with Single Speed Champion Evan Plews, and was part of their Hayes Test Program (HTP), and was meant for epic endurance racers and those who spend long days in the saddle. The geometry of the 20/20 is a combination of the classic Bullmoose and Mustache handlebar designs, and is unique, but shares some commonality with the other alt bars on the market.
The Answer Carbon 720 Enduro 20/20 handlebars have a 20º back sweep and 20mm rise and 720mm width, a 31.8mm clamping diameter, and are made from unidirectional Carbon Fiber with a 12 outer layer construction. The bars use their ProTaper technology, which adds material at the clamp and riser for strength and stiffness (the stress areas), and decreases it elsewhere for lightness, and it uses internal and external tapered walls to accomplish those goals. The stem clamp section has a trick "Grip Grit" taped layer for anti-slippage. It comes
in a basic black color with white/silver graphics, and weighs 220 grams and retails for $180.
Measured Specs:
Weight – 217  grams
Width – 718 mm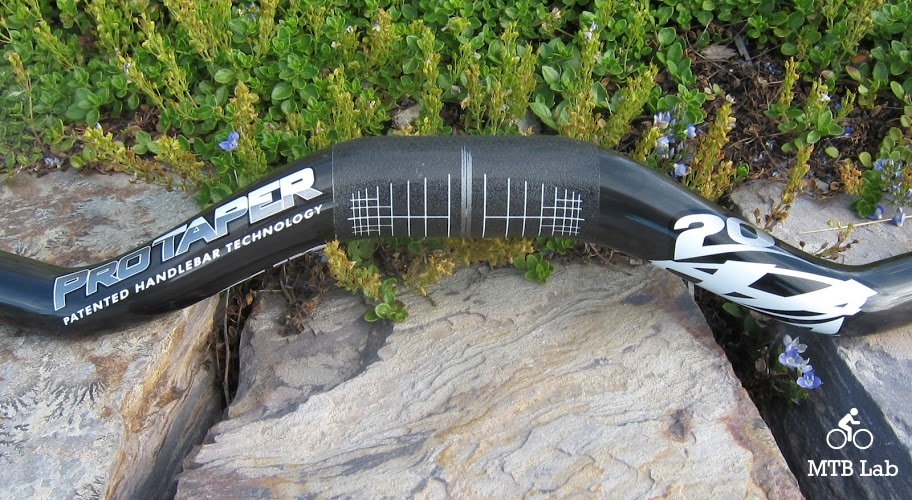 Impressions
Many moons ago Tom Ritchey designed the wild Bullmoose handlebars, which were a one-piece bar and stem system. The broad back sweep of the bars mimicked our wrist geometry, and nowadays quite a few titanium bike component manufacturers are creating some interesting blends of this same Bullmoose design. You can get an appreciation of how are wrists are naturally canted, by just grabbing a pen or pencil in each hand, and bend over slightly and reach forward (like on a bike), and the objects will point downward and outward at a prominent angle.
The 20/20 design matches up with this body and wrist geometry, which helps lessen the hand and arm strain and fatigue, and increase comfort along with lowering mass to keep the body centered over the wheels. The vogue of going back to bars with a larger sweep came from the desires of the single-speed community, who we all know is a bunch of diehard, voracious, interesting, and idiosyncratic set of riders. I still recall the silly skinny 0º sweep of my old school bars that made your hands fall asleep. Although the current 5º to 8º sweep standard is much better, I still prefer at least 12º  for better comfort and ergonomics.
On the first usage, the bars felt odd, since my brain wasn't used to the layout, but that was very short-lived, and I became quickly became accustomed to them.  The 20/20 bars are very comfortable, and the sweep and rise just feel right while riding. Once you place your hands on the grips and settle into the cockpit, the ergonomics feels like it was tailor-made for your hands and arms. Everything drops into place like a comfy chair.  "Bring out… The Comfy Chair!" The ergonomics are especially noticeable on long rides and on vicious climbs, where the bars allow lots of leverage and power to be applied to the bike. The synergy of the bar's design saves energy, lessens fatigue and makes for a more enjoyable riding experience. The bars work excellently on
the flats and excel on climbs since they place you into a power position. They function just fine on the typical downhill's that are usually encountered, but they are awkward and disconcerting when tossed into heinously steep terrain. When it comes down to it, these are XC bars that are meant for comfort and epic days in the saddle, not full-on AM riding, although I did my fair share of that with the bars. The bar's 720mm width was ideal, as it was enough to apply leverage while cornering and climbing, but it wasn't unwieldy, or difficult to squeeze between tight trees. They are stiff and tough, with a perfect amount of carbon resiliency, which helps take the rough edges off the terrain.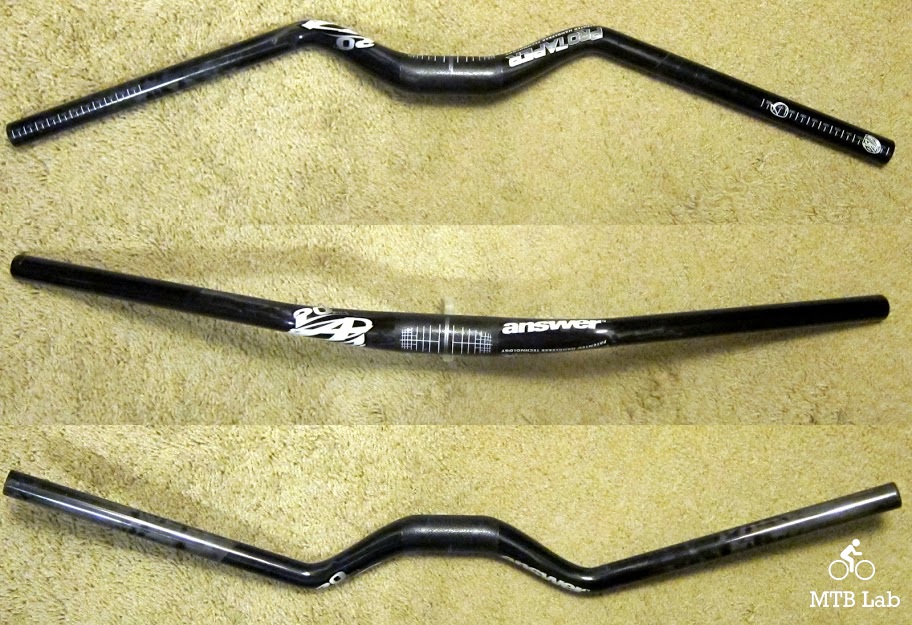 They were easy to install, and the grip tape section where the stem attaches, made slippage nonexistent. I ended up angling them slightly downward using the grid alignment marks as reference, but that was my preference with my stem, bike and body geometry. The bars are reversible, with one installation direction being dropped and the other risen. On my Ibis Mojo HD, I had a tall headset stack on the steerer along with a big tall fork, so I went droopy to keep me lowered over the front end. Because of the sweep and rise of the bars, you might need to swap out stems and alter the stack of the headset spacers to get a proper fit.  Since the swoop forward before their rearward sweep creates a neutral offset, they most likely won't require a stem change. Attaching things to the bars such as lights, GPS computers, phones, and video cameras can be tough since the bars quickly bend back and forth around the stem, and there isn't much room and straightness to clamp anything onto, so it might take some ingenuity to get them placed correctly.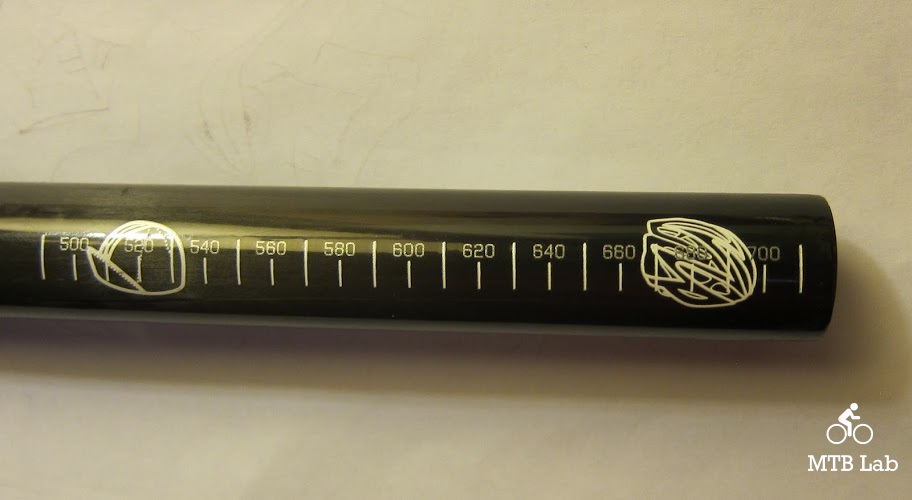 If you want to alter the width of the bars, they have 10mm incremental marks on the ends to make it easier to cut them to the desired length. In a great sign of humor, the graphics show where the hipsters and XC types should cut the bars.
The 20/20 bars aren't cheap at $180, but they are lighter and wider than the competition and offer incredible stiffness, superior resiliency, and durability. Some other brands out there include the On-One's Mary, Soma Clarence, Ragley Carnegie, and an entire slew of very expensive custom titanium manufacturers.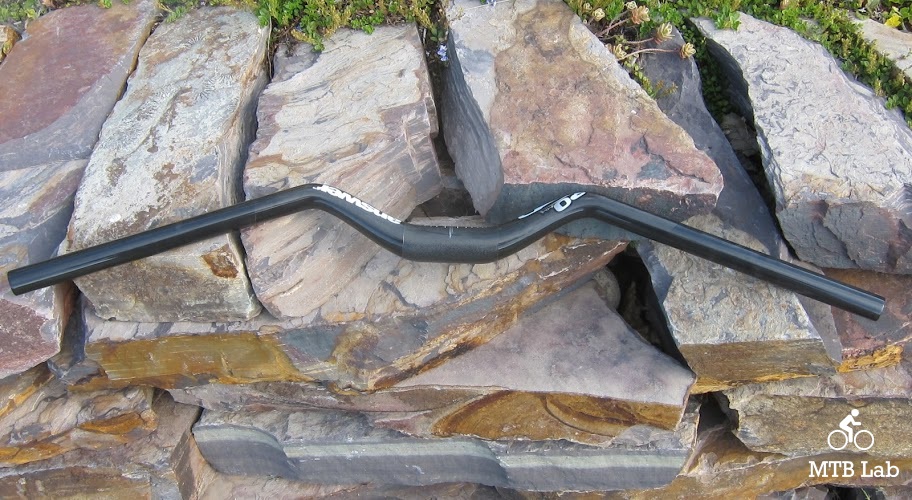 Bottom Line
The Carbon 720 Enduro 20/20 handlebars are an excellent set of handlebars, which are stiff, yet retain a nice amount of carbon resiliency, and have an ergonomic bend of 20º back sweep and 20mm rise/drop for comfort and reduced strain. The 720mm of width is optimal for most trail conditions that will be encountered, especially when dealing with tight trees. The synergy of the wild bends and ideal width provides a natural hand and wrist alignment at the grips, which makes them excel on long rides and steep climbs. I think these bars would be perfect for any rider who has wrist issues, competes in endurance races, rides exceptionally long distances or just wants a more comfortable hand position, and these suckers would be marvelous on a big tall 29er.
Pros
Comfortable
Reduced strain and lessened fatigue
Powerful climbers
Stiff, tough and resilient carbon
Cons
Not their best in steep downhill's (they're XC bars)
Lights, cameras, and GPS units can be too problematic to install
Expensive
Carbon 720 Enduro 20/20 Specs:
MSRP: $180
Width 720mm
Weight 220g (+/- 10g)
Clamp diameter 31.8mm
Rise 20mm
Up Sweep None
Back Sweep 20°
Material Carbon with unidirectional 12 outer layer
Graphics White/Silver
ProTAPER® Patented Technology – Lighter, stiffer, stronger
Reversible
Lowers center of mass
Reduces Triceps fatigue
Developed with Evan Plews / SS National champ