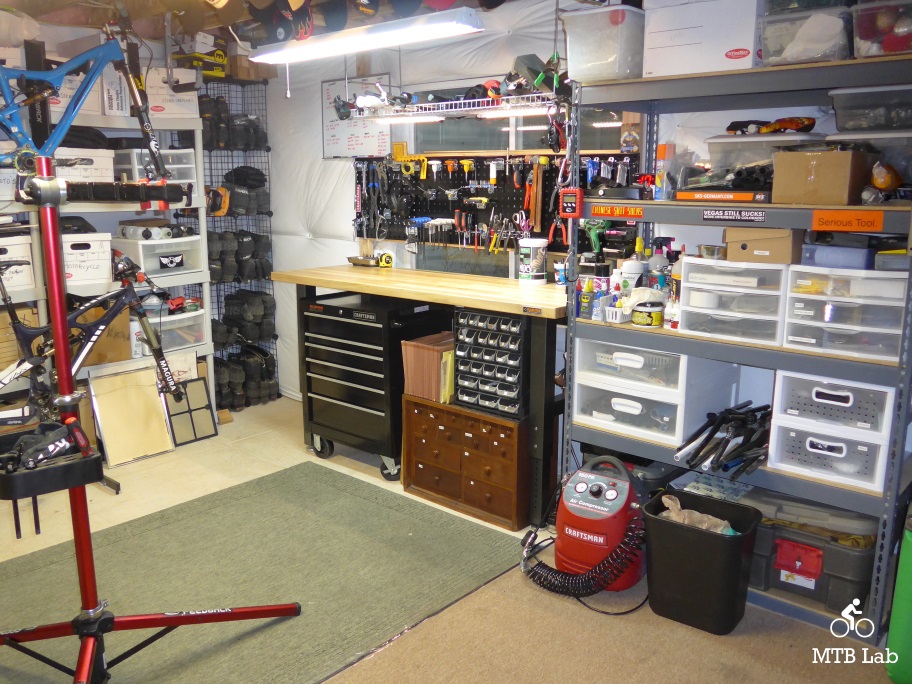 Once you start to accumulate bikes and have been riding for awhile, you usually start to become your mechanic doing the primary care on your bikes. You end up doing the work out of necessity, pleasure and for cost benefits, and who better to take care of your baby than yourself. Having a functional space to do your work is important, and it needs to be comfortable and roomy enough to perform the maintenance. The floor space (square footage) must include enough room to maneuver the bikes around, and incorporate bike stands to hold them during maintenance, storage for parts and tools, and a workbench for staging. Depending on your skill set and needs, you might do most of the work yourself and just leave the most difficult tasks to your LBS mechanics (aka the professionals).
My home bike shop is located down in the large storage room in the basement. It is roomy and comfortable, and warm in the winter, cool in the summer, and I can get the room dirty if I want. Depending on where you live, you might be able to use a portion of your garage as the workshop, but it's not an option for me due to the arctic-like temperatures throughout the wintertime.
Lighting
First and foremost for the shop, it needs good lighting, and I'll repeat that again, it needs good lighting. If you can't see what you're doing it's tough to perform any maintenance, and your performance will suffer, as will the quality of the work. In my shop, I have two double 48″ fluorescent lights on either side of the central work area, one bright LED bulb that's centered in the room and finally two short LED light strips that are situated directly over my workbench. Electrical outlets and power strips with load protectors are useful for power tools, additional lighting, and other uses.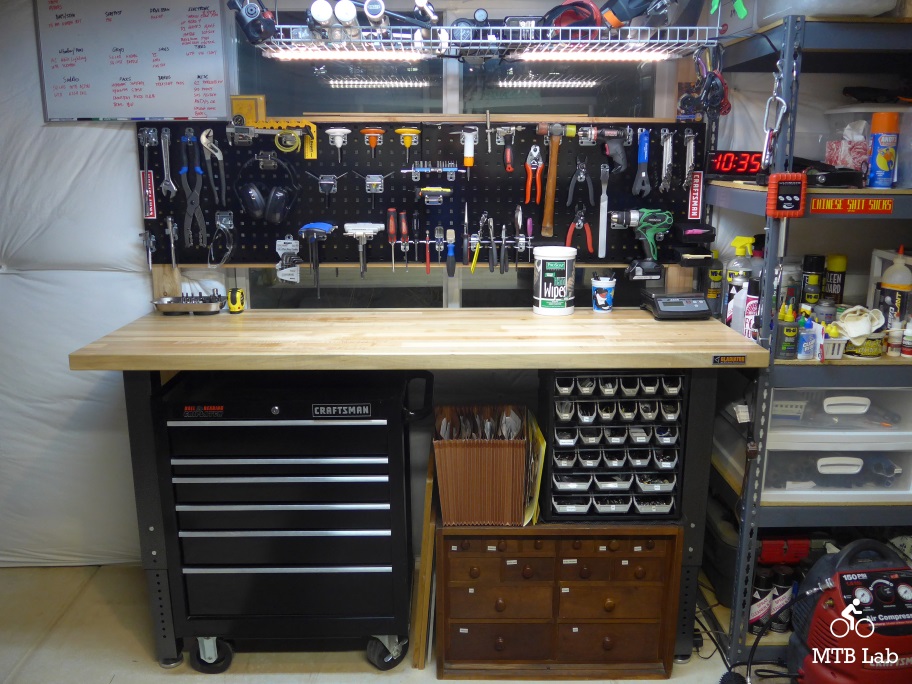 Workbench
You need a sturdy workbench with enough useful space for your work, and it can be a simple handmade unit, a kit or a more professional grade model. You can make it yourself out of 2×4's and plywood or MDF panels or anything that would function as a good tabletop. Most home improvement stores such as Lowes and Home Depot sell kits and economy and professional workbenches, and Sears sells several varieties of the more upscale professional versions. You can spend anywhere from $70 to $400 for the workbenches, with the fancier ones being sturdier, more rugged and adjustable, and have beautiful wood tops. Attaching it to the wall will significantly increase stability, though it usually doesn't need with heavier professional grade models. I went full bore and got a fancy Gladiator 6 foot long adjustable height workbench with a maple top that weighs in at a massive 125 lbs. You can fine-tune the height in 1″ increments to give you a table surface that is 28″ to 42″ tall,  with a top area of 2′ deep and 6′ wide.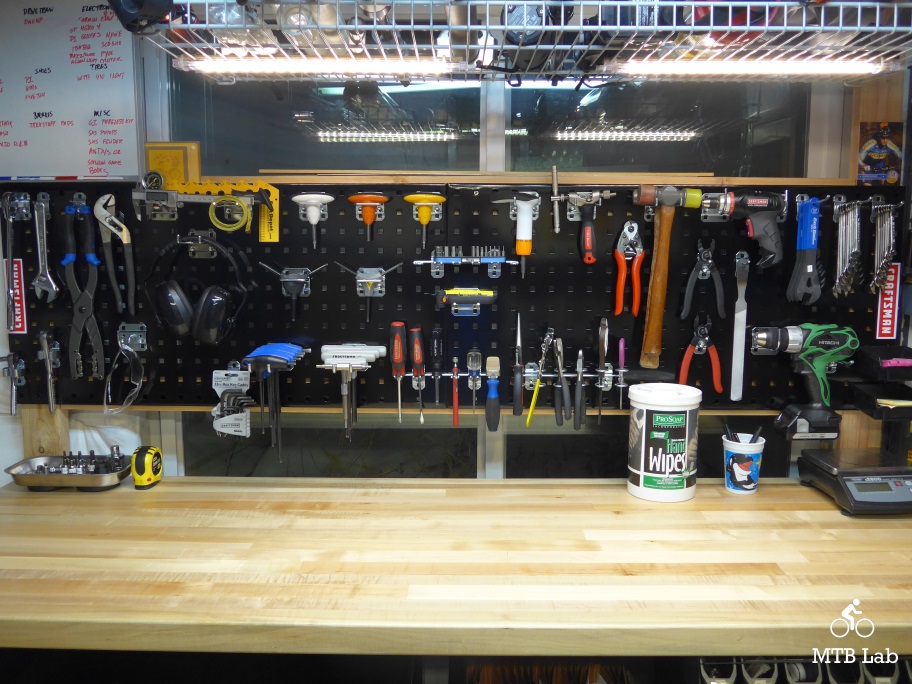 Pegboard
A pegboard is a useful item to have over your workbench since it aids in organizing the tools and helps keep them out of the way when working on things. There is a large variety of pegboard systems on the market, from the simple pressed wood versions with round holes to metal ones with square slots. You can pick up 4′ x 8′ sheet of the wooden ones at a home improvement store or get a metal one at someplace like Sears. I got a metal one, which is sturdier, have magnetic capabilities, and I could screw down the tool hooks to prevent them from lifting. A small magnetic tray on the tabletop is handy to keep track of sockets and other small metal tools and parts.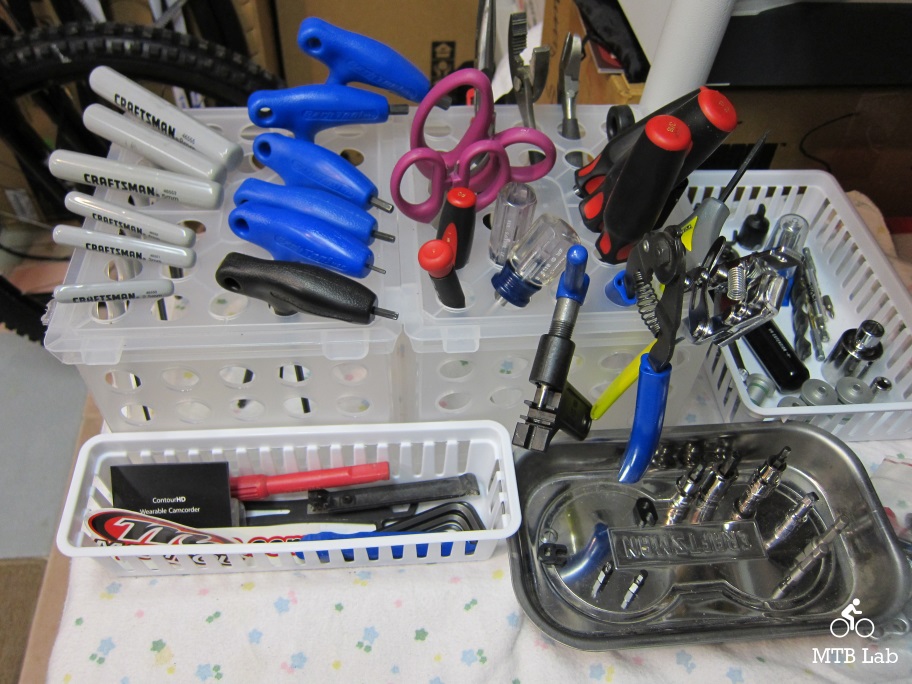 In the past, I didn't have enough wall space for a pegboard, so I turned CD and DVD table top holders upside down and used the small bottom holes for tool placement.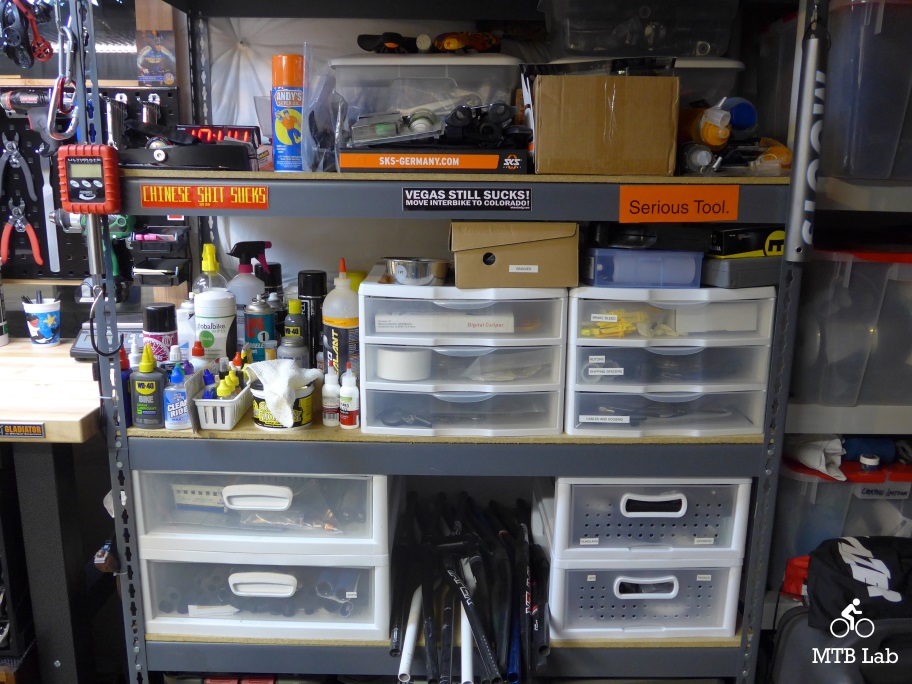 Storage
You can store additional tools under the workbench in a fancy metal tool chest with multiple drawers though they can cost quite a bit of money, anywhere from $100 to $500 each. I grabbed my expensive six drawer Sears tool chest from the garage for the shop and replaced it with a cheaper one. For regular parts, gear and tools you can use plastic storage containers, which you can get at almost any department store, and Rubbermaid and Sterilite make a host of boxes and drawers that will work. You might need additional shelving units to hold the containers and drawers, and you can purchase ready made units from home improvement store or make them yourself.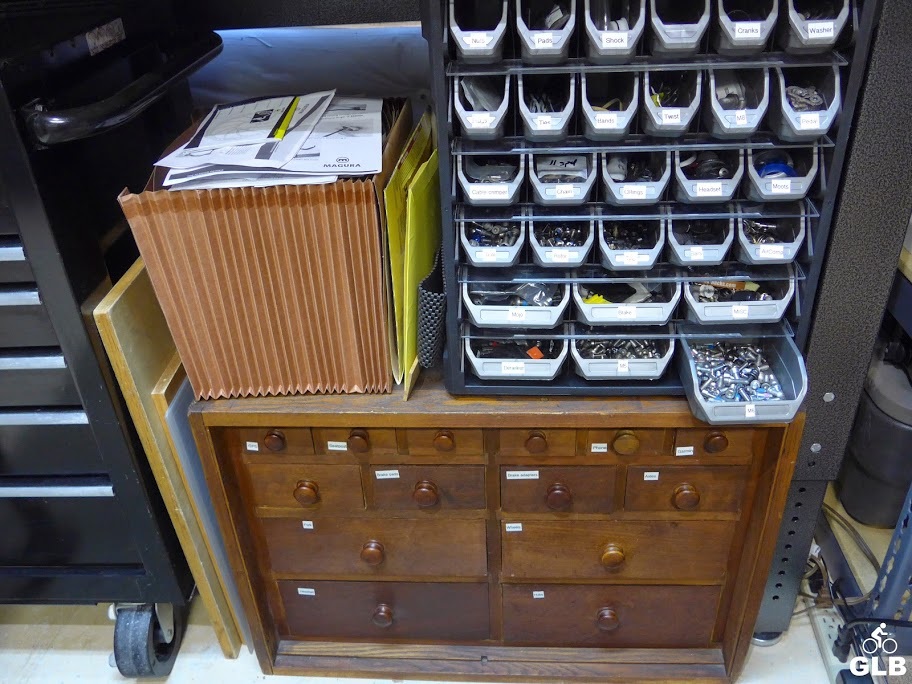 A small parts multi-drawer system is handy to hold all the little items, such as bolts and other sundry items. Even though many of the drawers and containers are clear so you can see the things, I ended up getting a labeling machine to help alleviate any confusion. I labeled most everything, so it's easier to locate items, and it catered to my compulsive tendencies.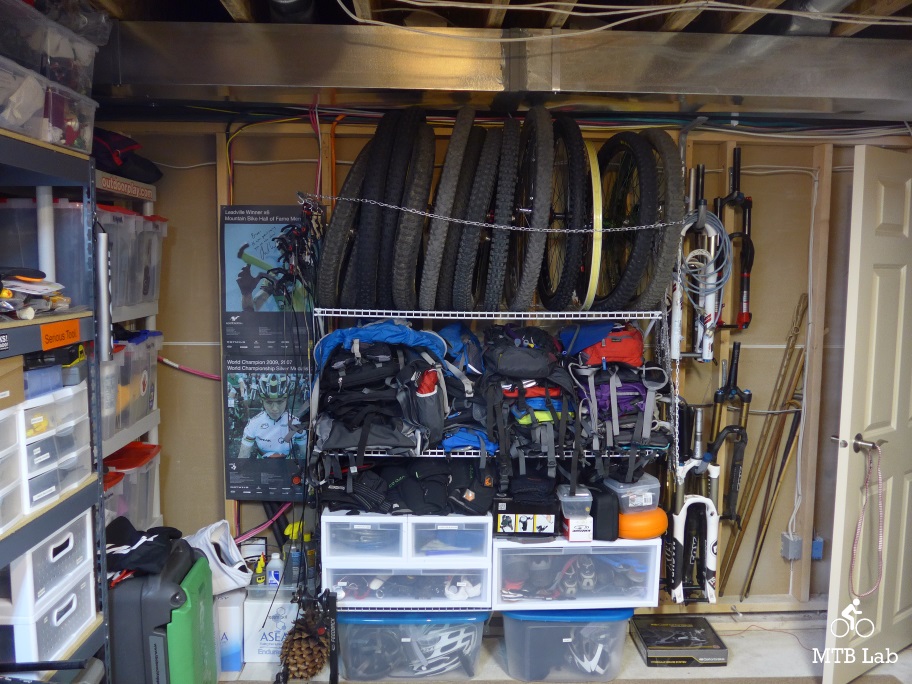 I also built up some wire shelving units to hold articles and containers that weren't especially heavy, and it made a perfect place to stack up wheels and rims and tires. I added hooks on some walls studs to hold forks since their length made it difficult to store them in most common locations. You can also get ladder and yard tool hooks and hang up wheels and tires. In addition to the wall units, I have a hanging wire shelf situated directly over the workbench to hold long tools, bike fenders and other unwieldy items that I might need for maintenance work. The position was handy for attaching LED strips, so I had adequate lighting over the bench.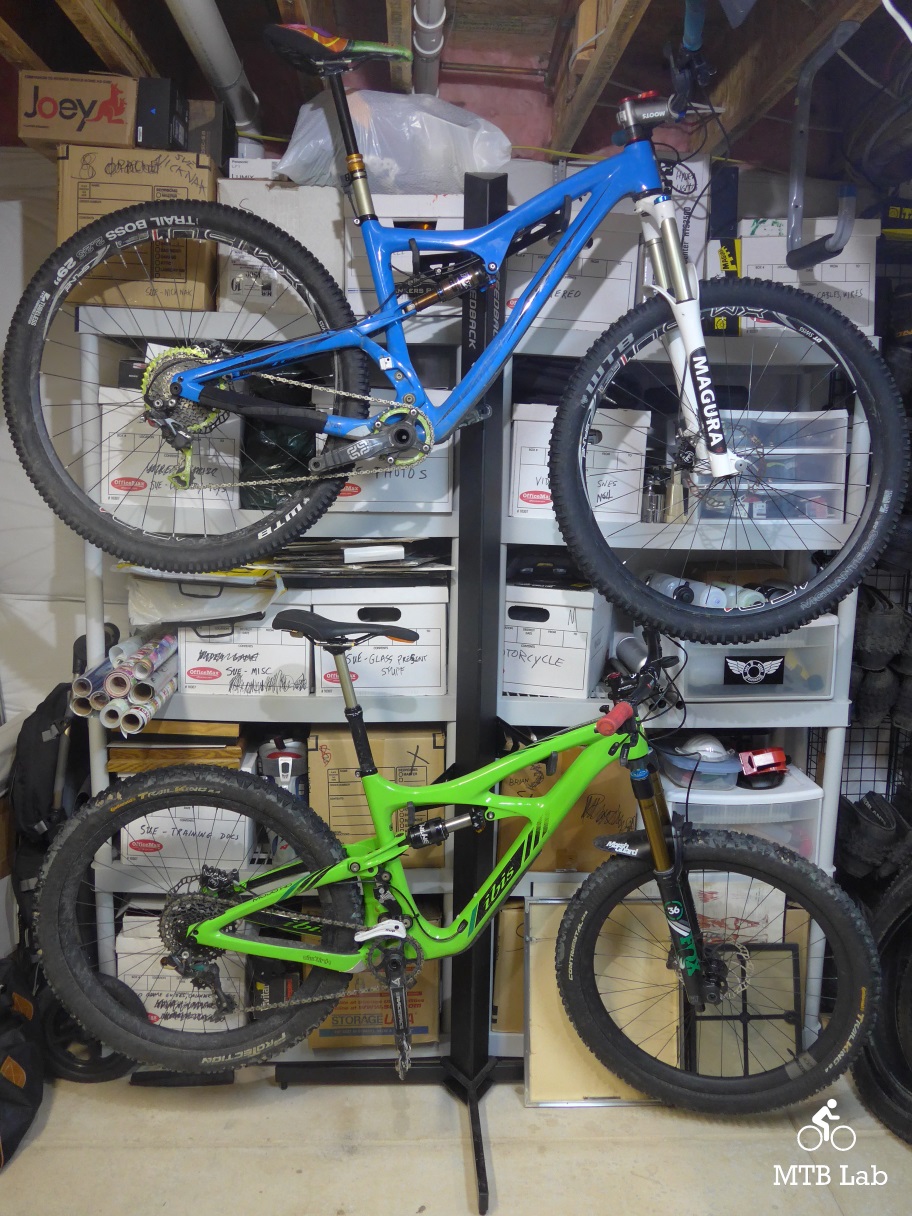 Bike Storage
For bike storage, simple vinyl covered hooks are available from many stores that easily screw into a wall or ceiling to hang your bikes out of the way. I use the Feedback Sports Velo Cache bicycle storage stand to hold my bikes and its sturdy and well made. The stand comes with 3 or 4 legs (I am using the sturdy four legs) and uses adjustable height dual rubberized arms to hold the bike. Also, I use Feedback's RAKK floor storage stand which holds the bikes rear wheel, making it handy for some repairs and propping the bike up.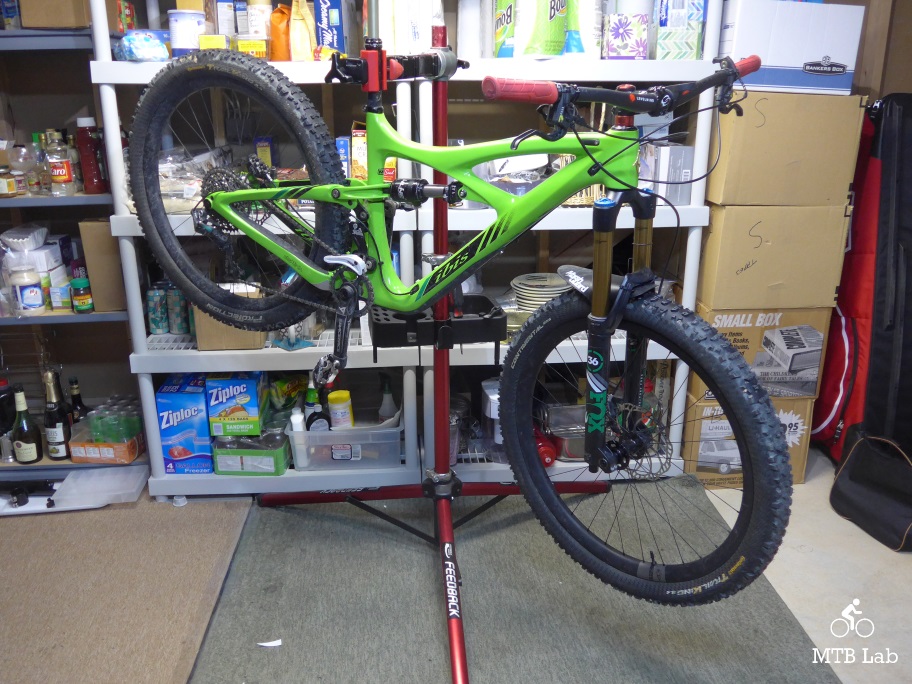 Miscellaneous
Depending on your requirements and the shop's location, carpeting and floor mats for comfort and cleanup purposes are nicer than bare floors or concrete.
Lastly, a functional work stand is required, and you can choose from a slew companies that make great products. The preeminent vendors being Parks Tools and Feedback Sports, and you'll end up spending $150-$350. I happen to use the Feedback Sports Pro Elite and its been my weapon of choice for over five years now.