Gravity has been the downhill, freeride and dirt jumping product suite for FSA for nine years now. My buddy Joel Richardson is now the brand manager for Gravity and he has pushed them towards the Tail, Enduro, and All Mountain world. For this year, Gravity is releasing an affordable Trail and Enduro component group, which includes handlebars, stems, seatposts, cranks and a unique chainguard. The new Grid group is made with a lightweight aluminum alloy that is strong and has an excellent price point due to the cost effectiveness of utilizing an alloy for the material basis.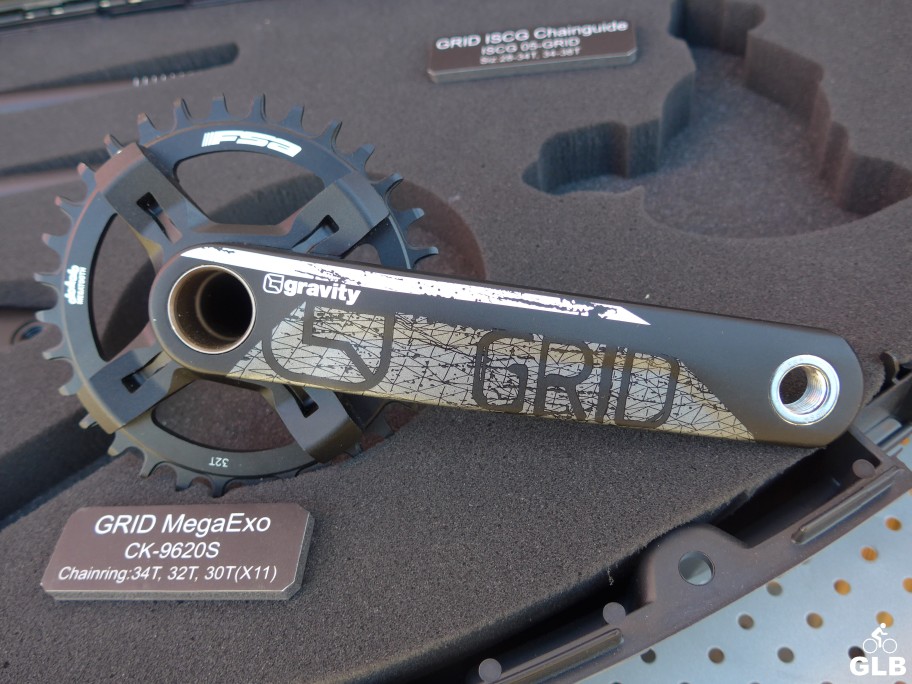 Grid Cranks
The
cranks use a hollow forging aluminum technology in which they manipulate a single block of aluminum to yield an arm with a greater strength to weight ratio. They utilize their megatooth narrow wide chainrings, and the tooth design has an innovative design to keep the teeth working properly even after significant wearing. The cranks come in 1x (30, 32, 340) and 2x (38/24, 36/22) and weigh between 760 to 780 grams and retails for $249.
Crank Specs:
6066 hollow forged aluminum
lengths – 170mm and 175mm
chainline – 48.5mm (2x) or 50mm (1x)
2x chainring sizes – 38/24T and 36/22T
1x – 34, 32, 30T
weight – 784g (2x) and 759g (1x)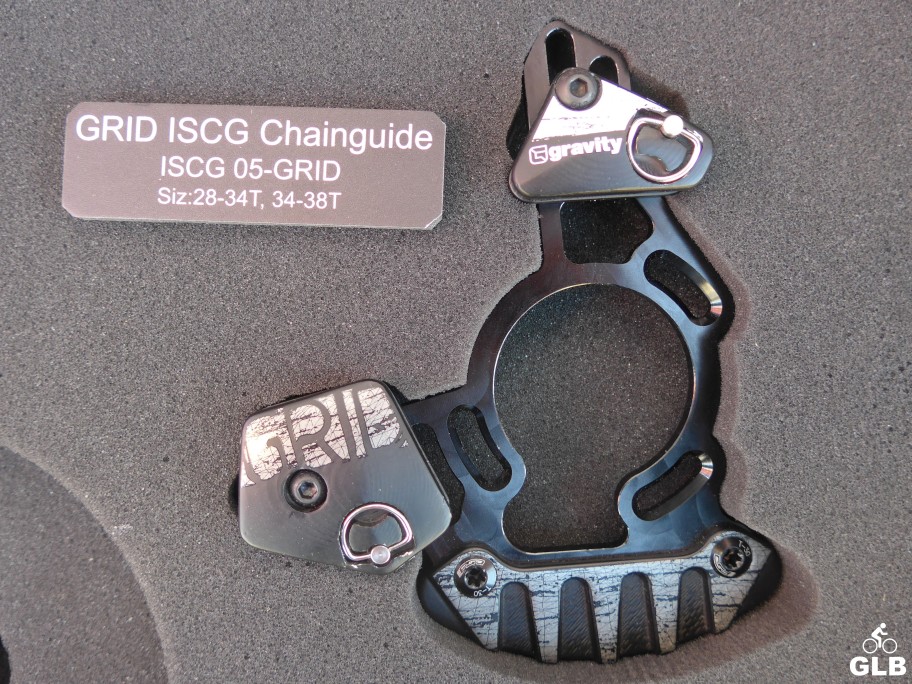 Grid Chainguide
The chainguide utilizes a unique tool-free design in which the upper and lower guide swing away from the body for easy crank removal, so your personalized setup isn't altered. The CNC aluminum backing is thick and stout for increased durability and zero flex. It has modular polycarbonate guides and bashguard; the latter being replaceable, and the design looks like an old style Jeep grill. It comes in a decently light 160gand retail for $109.
Specs:
ISCG 05 compatible and adaptable to threaded bottom brackets
4 piece modular design
CNC aluminum backing plate and modular polycarbonate guides and bashguard (replaceable)
Tool-free swing away guides with quick release pins
sizes – 28-34T and 34-38T
weight – 160g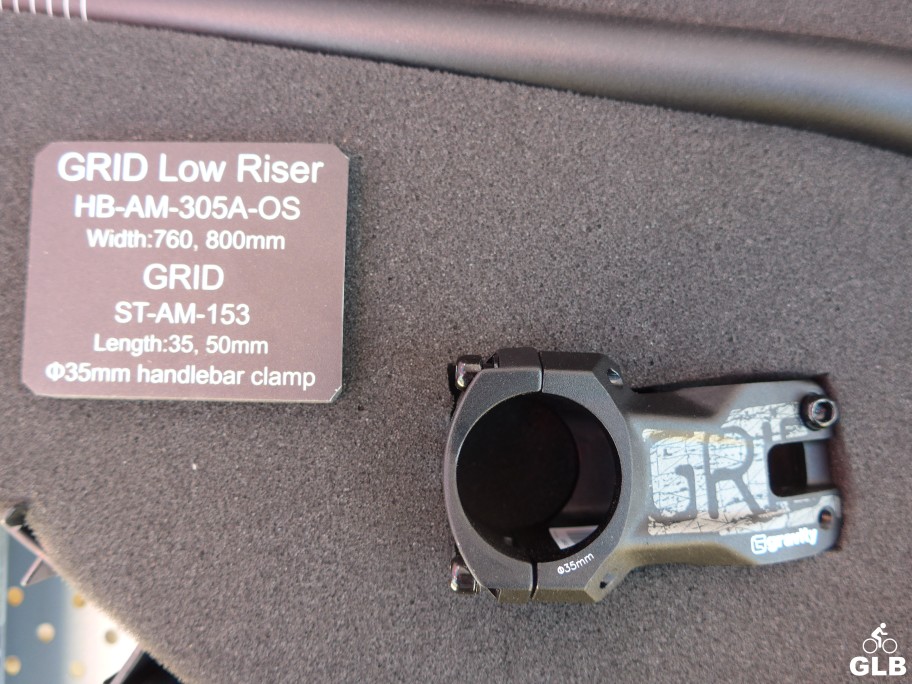 Grid Stem
The stem is 3D forged and CNC machined and has a 'No Gap' 4 bolt 6061 aluminum faceplate. It comes in 35mm and 50mm lengths with a 6-degree rise and a 35mm handlebar clamp size. The 35mm size weighs in at 135 grams and retail for $69.
Specs:
3D forged then CNC machined
4 bolt 6061 faceplate with 'No Gap' design
sizes – 6 degree rise and 35mm and 50mm lengths
40mm stack height and 35mm clamp
weight – 135g (35mm)
Grid Handlebars
The bars use a double butted and tapered 6061/T6 aluminum construction. They come in 760mm and 800mm widths with a 20mm rise and 8-degree backsweep and 5-degree upsweep with a 35mm bar diameter. The 760mm weighs 305 grams and retail for $59.
Specs:
double butted and tapered AL6061/T6
widths – 760mm and 800mm
2omm rise, 8 backsweep and 5 upsweep
weight – 305g (760mm)