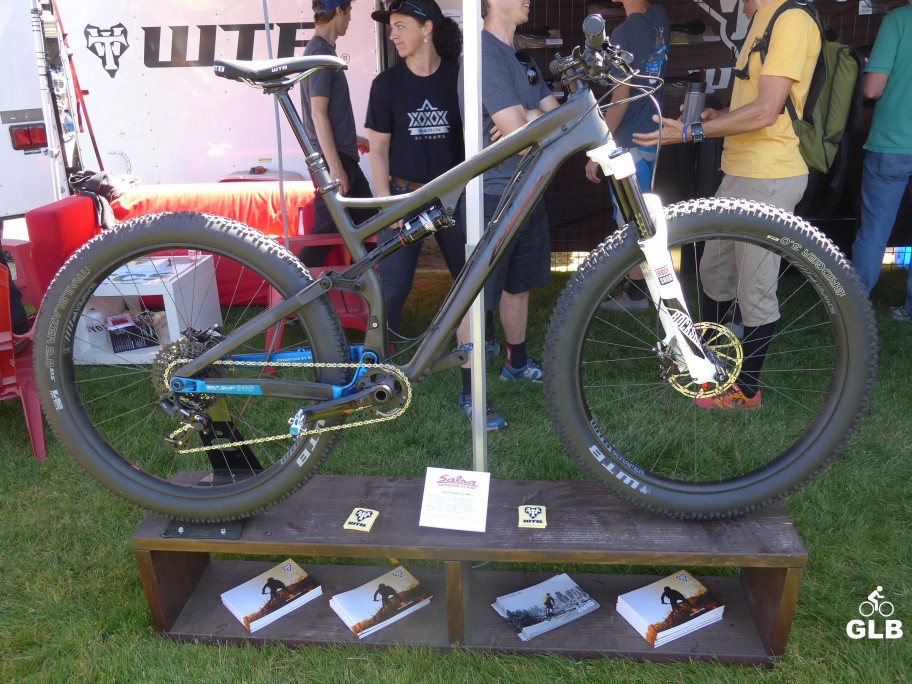 WTB was showing off their new semi wide rims and mid-fat 27.5+ tires and a low-profile tread pattern tire. The semi wide rims include the trick Scrapper i45 and the asymmetric Asym i29 and i35 rims. The tires being released include the mid-fat 27.5+ Bridger 3.0 and Trailblazer 2.8, and the low-profile tread Riddler. They had a prototype Salsa 27.5+ bike on display at the booth that was equipped with their Scrapper i45 and the Trailblazer 2.8 in the rear and Bridger 3.0 in the front.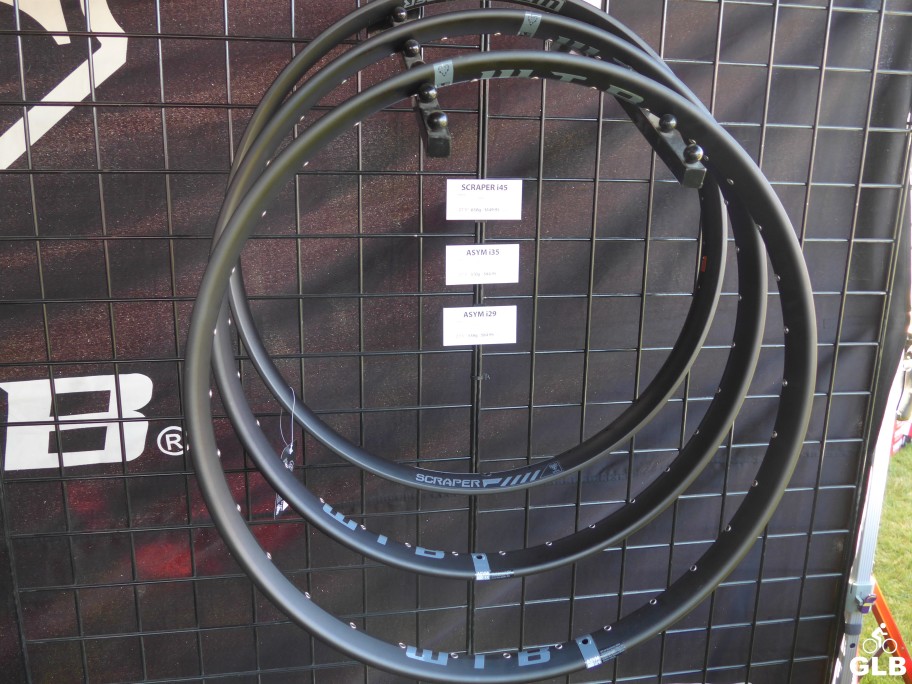 Scrapper i45, Asym i29 and Asym i35 Rims
The WTB Asym i29 and i35 rims feature an asymmetric offset (aka Asym) that evenly distributes spoke tension and alleviates the need for dishing during build up. Utilizing WTB's high-end WT69 Alloy offering, the rims are intended for All Mountain and Enduro usage. They'll be available in 27.5" and 29" wheel sizes, the i29 27.5" weighs 512g and the i35 27.5" is 560g, and they'll retail for ­­$84.95 and $89.95 respectively.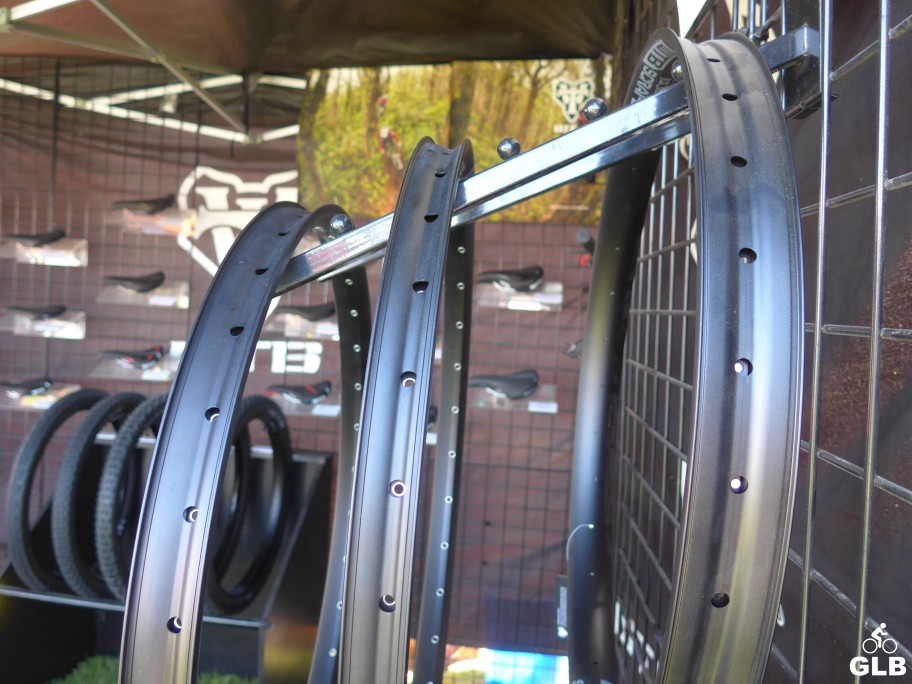 The wider Scraper i45 aluminum rim comes in 27.5″ and 29″ sizes, and has a 45mm inner and 49mm outer width, and weighs 650g and 695g (27.5/29) and retails for $149.95. The Scraper rim has their TCS inner rim profile, 4D angled drilling, welded construction and is made from WTB's WT69 Alloy.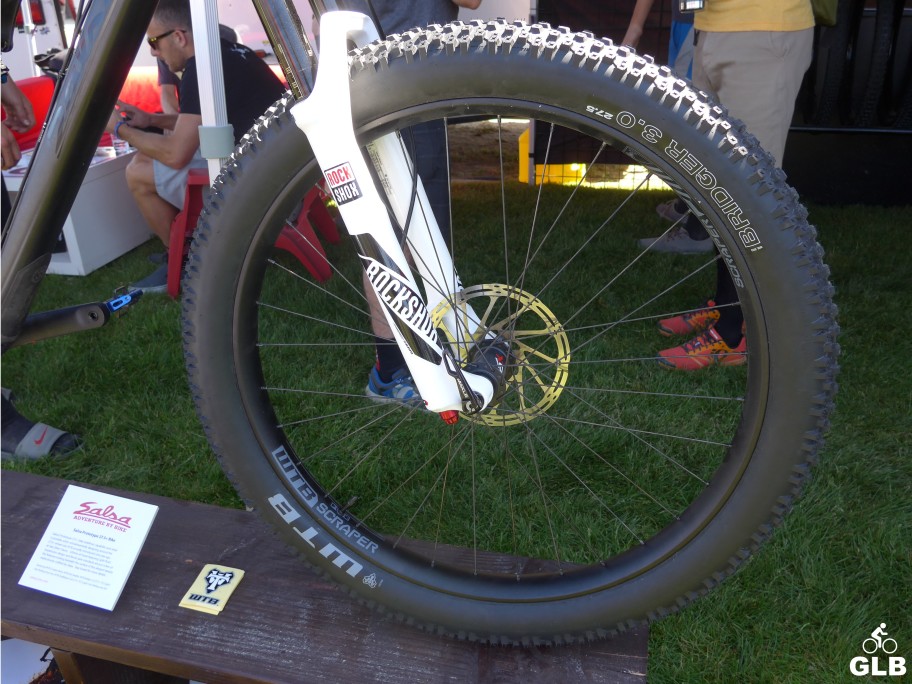 Bridger 3.0 27.5+ Tire
The WTB Bridger 3.0 is a new 27.5+ that measures in at substantial 27.5″ x 3″. Unlike their 27.5+ brethren the 2.8″ WTB Trailblazer, these beast won't fit into normal 29er frames though forks are being released now, and I assume frames will follow shortly. The Bridger 3.0 27.5+ tires will be available in two versions, the TCS Tough: High Grip and the TCS Light: Fast Rolling. The TCS Tough features their two-ply Enduro Casing and a tacky compound and is intended for front use or in terrain where high traction is paramount. The TCS Light model comes with a light one-ply sealant optimized casing and firmer tread compound optimized for rear use. The TCS Light weighs 1235g and retails $67.95 while the TCS Tough comes in at 1510g and retails for $76.95.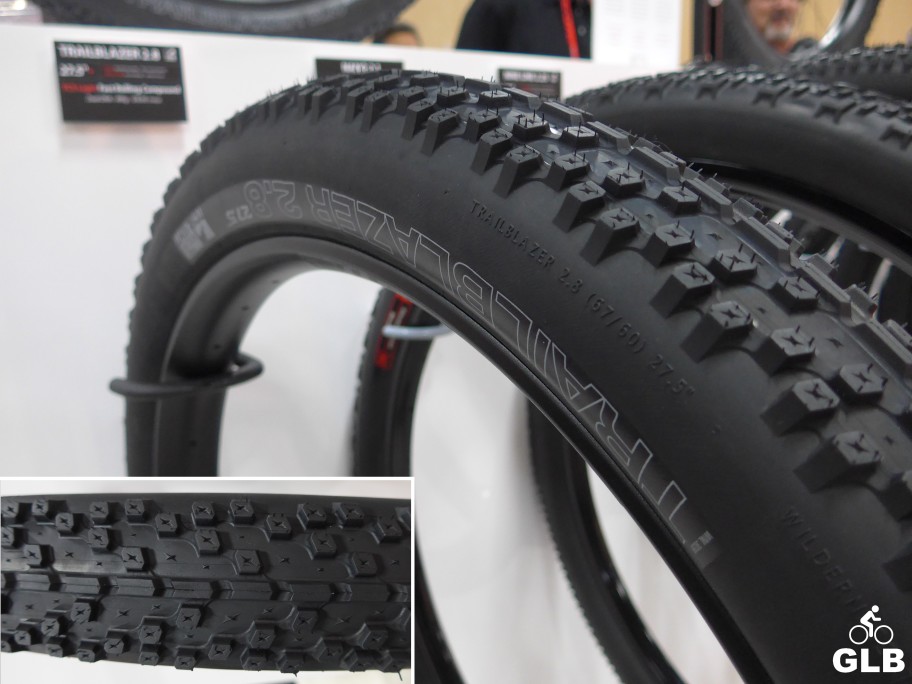 Trail Blazer 2.8 27.5+ Tire
The Trail Blazer 2.8 is a 27.5+ that was first shown at Interbike show. It measures a reasonable fat 27.5″ x 2.8″ and might fit within the confines of some normal 29er bike frames and forks. The tire measures about .5″ shorter than a normal 29″ setup (28.6″ tall), so depending on the width of the dropout in the rear it should fit many frames. The Trail Blazer uses their TCS Light sidewall and Dual DNA compound, weighs 895 grams and will fit rims widths between 23mm to 45mm, and retails for $76.95.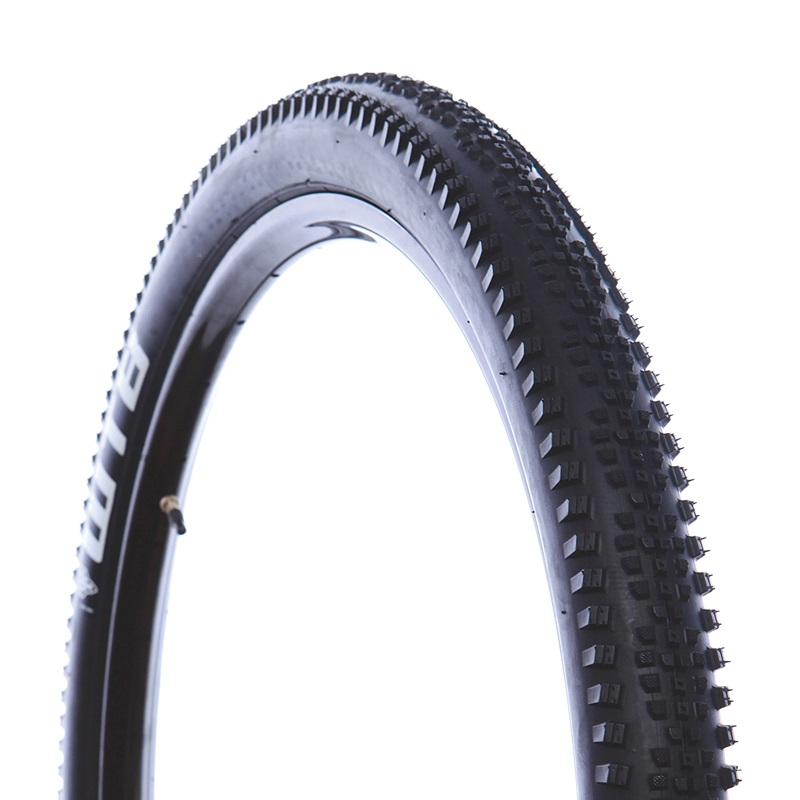 Riddler 27.5 Tire
Just announced was the Riddler low-profile tread pattern tire, which comes in a 27.5″ x 2.4″ size and was named after the UBI (United Bicycle Institute) Professor, Nathan Riddle. It had a fast rolling center tread pattern and large side knobs for high-speed cornering traction and is intended for rear use. It comes in TCS Tough and TCS Light versions. The TCS Tough weighs 868g and costs $67.95, while the TCS Light is 1108g and retails for $76.95.