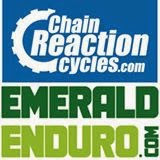 CHAIN REACTION CYCLES EMERALD ENDURO
Round 2 – 24 May 2015 – County Wicklow, Ireland
The Emerald Enduro World Series wrapped up today with Irishman Greg Callaghan winning the men's race and British superstar Tracy Moseley winning the women's. The fans were thick along the course cheering, yelling and clanking their cowbells for the racers. The race had seven stages with one technical rocky stage and lots of rolling terrains that was physically taxing with lots of pedaling involved.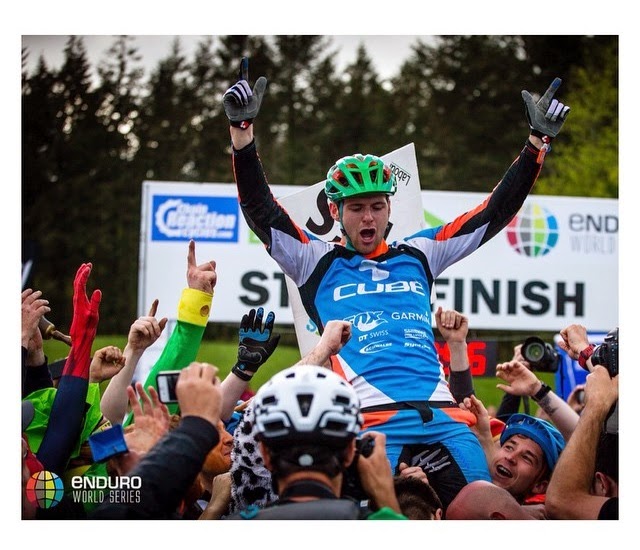 Pro Men
Irish home country boy, Greg Callaghan of Dublin Ireland, won the Emerald Enduro World Series, followed by Justin Leov of New Zealand and American Richie Rude in 3rd place. Fabien Barel had been doing well, but on stage 4 he finished 217th after his tire popped of the rim though he still finished a respectable 20th place. The overall point standings after two rounds leave Jerome Clementz in front of Greg Callaghan, closely followed by Justin Leov.
Greg Callaghan 27:43.82
Justin Leov 27:59.73
Richie Rude 28:02.22
Martin Maes 28:07.14
Florian Nicolai 28:15.36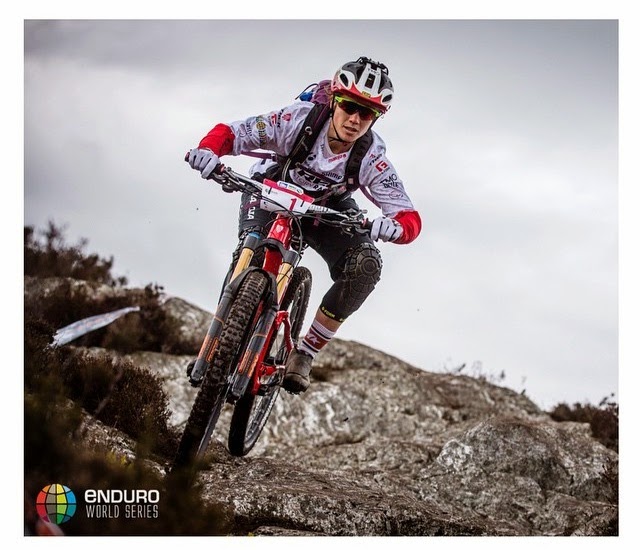 Pro Women
British rider Tracy Moseley handily won the Emerald Enduro World Series over Anne Caroline Chausson of France. The two are tied up for the championship.
Tracy Moseley 32:17.57
Anne Caroline Chausson 32:46.04
Cecile Ravanel 33:06.02
Anneke Beerten 33:48.52
Isabeau Courdurier 34:13.77
Pro Men Top Twenty Full Results
| Pos | Name | Country | Time | Behind | Team | Stage 1 | Stage 2 | Stage 3 | Stage 4 | Stage 5 | Stage 6 | Stage 7 |
| --- | --- | --- | --- | --- | --- | --- | --- | --- | --- | --- | --- | --- |
| 1st | Greg CALLAGHAN | IRL | 27:43.82 | | Cube Action Team | 3:27.69 (3rd) | 5:26.58 (1st) | 3:54.28 (4th) | 3:22.94 (2nd) | 3:53.86 (1st) | 3:40.11 (2nd) | 3:58.36 (1st) |
| 2nd | Justin LEOV | NZL | 27:59.73 | +0:15.91 | Trek Factory Racing Enduro Team | 3:26.14 (2nd) | 5:28.20 (4th) | 3:51.06 (1st) | 3:19.72 (1st) | 4:01.67 (8th) | 3:47.62 (7th) | 4:05.32 (8th) |
| 3rd | Richie RUDE | USA | 28:02.22 | +0:18.40 | Yeti / Fox Shox Factory Race Team | 3:29.09 (6th) | 5:34.17 (8th) | 3:54.37 (5th) | 3:23.12 (4th) | 4:02.04 (9th) | 3:39.31 (1st) | 4:00.12 (2nd) |
| 4th | Martin MAES | BEL | 28:07.14 | +0:23.32 | GT Factory Racing | 3:28.75 (5th) | 5:32.75 (6th) | 3:53.50 (3rd) | 3:23.50 (6th) | 3:57.19 (2nd) | 3:46.61 (6th) | 4:04.84 (6th) |
| 5th | Florian NICOLAI | FRA | 28:15.36 | +0:31.54 | Rocky Mountain Urge BP Rally Team | 3:28.43 (4th) | 5:39.54 (18th) | 3:54.46 (6th) | 3:23.11 (3rd) | 4:01.15 (6th) | 3:43.37 (4th) | 4:05.30 (7th) |
| 6th | Damien OTON | FRA | 28:32.58 | +0:48.76 | Devinci/Alltricks.com Enduro Racing | 3:34.17 (15th) | 5:32.39 (5th) | 4:05.12 (21st) | 3:24.12 (7th) | 4:02.50 (10th) | 3:48.93 (9th) | 4:05.35 (9th) |
| 7th | Rene WILDHABER | SUI | 28:38.02 | +0:54.20 | Trek Factory Racing Enduro Team | 3:36.94 (20th) | 5:32.87 (7th) | 3:57.03 (9th) | 3:25.92 (8th) | 4:05.75 (17th) | 3:51.72 (15th) | 4:07.79 (14th) |
| 8th | Jerome CLEMENTZ | FRA | 28:40.49 | +0:56.67 | Cannondale Overmountain Team | 3:32.07 (10th) | 5:38.10 (15th) | 4:02.36 (15th) | 3:26.29 (9th) | 4:03.76 (12th) | 3:50.58 (13th) | 4:07.33 (13th) |
| 9th | Jesse MELAMED | CAN | 28:41.24 | +0:57.42 | Rocky Mountain Urge BP Rally Team | 3:33.18 (12th) | 5:37.83 (12th) | 4:03.50 (18th) | 3:27.16 (10th) | 4:00.36 (4th) | 3:45.89 (5th) | 4:13.32 (22nd) |
| 10th | Dan ATHERTON | GBR | 28:44.50 | +1:00.68 | GT Factory Racing | 3:34.43 (16th=) | 5:38.09 (14th) | 3:58.80 (11th) | 3:31.54 (23rd) | 4:05.32 (16th) | 3:51.81 (16th) | 4:04.51 (5th) |
| 11th | Mark SCOTT | GBR | 28:45.44 | +1:01.62 | Wideopen Magazine/Nukeproof/Fox Head | 3:40.76 (27th) | 5:34.32 (9th) | 3:55.10 (7th) | 3:27.69 (12th) | 4:03.66 (11th) | 3:54.11 (19th) | 4:09.80 (17th) |
| 12th | Joe BARNES | GBR | 28:46.57 | +1:02.75 | Canyon Factory Enduro Team | 3:30.52 (7th) | 5:26.70 (2nd) | 3:53.16 (2nd) | 3:23.19 (5th) | 4:01.28 (7th) | 4:18.25 (98th) | 4:13.47 (23rd) |
| 13th | Nico LAU | FRA | 28:49.90 | +1:06.08 | Cube Action Team | 3:30.92 (9th) | 5:41.44 (21st) | 4:02.53 (17th) | 3:27.61 (11th) | 4:04.63 (14th) | 3:51.19 (14th) | 4:11.58 (20th) |
| 14th | Josh CARLSON | AUS | 28:52.54 | +1:08.72 | Giant Factory Off-Road Team | 3:48.43 (48th) | 5:36.67 (10th) | 3:55.14 (8th) | 3:31.18 (21st) | 4:05.07 (15th) | 3:53.04 (17th) | 4:03.01 (3rd) |
| 15th | Yoann BARELLI | FRA | 28:53.36 | +1:09.54 | Giant Factory Off-Road Team | 3:33.90 (14th) | 5:41.10 (20th) | 4:02.37 (16th) | 3:28.10 (14th) | 4:06.75 (21st) | 3:50.34 (12th) | 4:10.80 (18th) |
| 16th | Marco OSBORNE | USA | 29:04.59 | +1:20.77 | Cannondale Overmountain Team | 3:33.67 (13th) | 5:38.75 (16th) | 4:01.04 (13th) | 3:28.40 (16th) | 4:05.97 (18th) | 3:58.04 (28th) | 4:18.72 (33rd) |
| 17th | Joseph NATION | NZL | 29:05.69 | +1:21.87 | Endura Bergamont Factory Team | 3:34.43 (16th=) | 5:38.01 (13th) | 3:59.82 (12th) | 3:28.89 (17th) | 4:11.88 (29th) | 3:57.27 (27th) | 4:15.39 (25th) |
| 18th | Bryan REGNIER | FRA | 29:15.35 | +1:31.53 | YT industries, Troy Lee Design, SRAM | 3:30.68 (8th) | 5:39.88 (19th) | 4:10.06 (32nd) | 3:30.27 (19th) | 4:13.16 (32nd) | 3:53.43 (18th) | 4:17.87 (30th) |
| 19th | Jose BORGES | POR | 29:16.18 | +1:32.36 | Bikezone | 3:39.47 (24th) | 5:37.23 (11th) | 4:02.07 (14th) | 3:27.82 (13th) | 4:06.52 (20th) | 4:13.75 (86th) | 4:09.32 (16th) |
| 20th | Fabien BAREL | FRA | 29:17.15 | +1:33.33 | Canyon Factory Enduro Team | 3:25.71 (1st) | 5:27.74 (3rd) | 3:57.48 (10th) | 4:43.91 (217th) | 3:59.04 (3rd) | 3:40.12 (3rd) | 4:03.15 (4th) |
Pro Women Top Twenty Full Results
| Pos | Name | Country | Time | Behind | Team | Stage 1 | Stage 2 | Stage 3 | Stage 4 | Stage 5 | Stage 6 | Stage 7 |
| --- | --- | --- | --- | --- | --- | --- | --- | --- | --- | --- | --- | --- |
| 1st | Tracy MOSELEY | GBR | 32:17.57 | | Trek Factory Racing Enduro Team | 4:00.11 (1st) | 6:16.72 (1st) | 4:27.28 (1st) | 3:50.48 (1st) | 4:34.09 (1st) | 4:20.96 (2nd) | 4:47.93 (1st) |
| 2nd | Anne Caroline CHAUSSON | FRA | 32:46.04 | +0:28.47 | Ibis Cycles Enduro Race Team | 4:04.24 (2nd) | 6:25.59 (2nd) | 4:36.31 (2nd) | 3:54.16 (2nd) | 4:35.17 (2nd) | 4:20.76 (1st) | 4:49.81 (3rd) |
| 3rd | Cecile RAVANEL | FRA | 33:06.02 | +0:48.45 | Commençal Vallnord Enduro | 4:11.31 (3rd) | 6:28.87 (3rd) | 4:37.58 (3rd) | 3:57.82 (4th) | 4:35.87 (3rd) | 4:25.72 (3rd) | 4:48.85 (2nd) |
| 4th | Anneke BEERTEN | NED | 33:48.52 | +1:30.95 | Specialized Racing | 4:27.74 (11th) | 6:31.37 (4th) | 4:40.82 (4th) | 3:56.24 (3rd) | 4:40.16 (5th) | 4:34.70 (6th) | 4:57.49 (4th) |
| 5th | Isabeau COURDURIER | FRA | 34:13.77 | +1:56.20 | Rocky Mountain Urge BP Rally Team | 4:19.31 (5th) | 6:47.20 (6th) | 4:50.01 (5th) | 4:04.00 (5th) | 4:39.47 (4th) | 4:28.73 (4th) | 5:05.05 (5th) |
| 6th | Meggie BICHARD | GBR | 34:43.91 | +2:26.34 | Specialized NZ / Trail Addition | 4:17.30 (4th) | 6:40.91 (5th) | 5:12.64 (16th) | 4:05.47 (6th) | 4:47.05 (6th) | 4:33.25 (5th) | 5:07.29 (7th) |
| 7th | Anita GEHRIG | SUI | 35:01.67 | +2:44.10 | Ibis Cycles Enduro Race Team | 4:24.14 (6th) | 6:56.17 (9th) | 4:55.74 (7th) | 4:06.49 (7th) | 4:52.23 (10th) | 4:36.47 (7th) | 5:10.43 (8th) |
| 8th | Carrie POOLE | GBR | 35:18.44 | +3:00.87 | Flare Clothing Co./ Bike Rehab | 4:26.83 (10th) | 6:56.28 (10th) | 5:02.16 (12th) | 4:10.22 (11th) | 4:51.88 (9th) | 4:45.75 (10th) | 5:05.32 (6th) |
| 9th | Katy WINTON | GBR | 35:21.79 | +3:04.22 | Endura Bergamont Factory Team | 4:26.77 (9th) | 6:57.96 (12th) | 4:57.47 (9th) | 4:10.71 (12th) | 4:50.73 (8th) | 4:45.12 (9th) | 5:13.03 (10th) |
| 10th | Raewyn MORRISON | NZL | 35:32.97 | +3:15.40 | | 4:24.61 (7th) | 6:56.16 (8th) | 5:00.61 (10th) | 4:08.03 (8th) | 4:55.17 (11th) | 4:49.12 (12th) | 5:19.27 (12th) |
| 11th | Lorraine TRUONG | SUI | 35:36.50 | +3:18.93 | BMC Factory Trailcrew | 4:25.13 (8th) | 7:04.29 (14th) | 5:04.00 (13th) | 4:14.79 (14th) | 4:49.26 (7th) | 4:47.53 (11th) | 5:11.50 (9th) |
| 12th | Carolin GEHRIG | SUI | 35:36.52 | +3:18.95 | Ibis Cycles Enduro Race Team | 4:28.75 (13th) | 6:51.64 (7th) | 4:57.46 (8th) | 4:09.62 (9th) | 5:09.35 (18th) | 4:41.54 (8th) | 5:18.16 (11th) |
| 13th | Ines THOMA | GER | 35:50.68 | +3:33.11 | Canyon Factory Enduro Team | 4:28.16 (12th) | 6:56.76 (11th) | 4:54.32 (6th) | 4:10.96 (13th) | 5:07.00 (16th) | 4:51.88 (13th) | 5:21.60 (13th) |
| 14th | Kelli EMMETT | USA | 36:19.10 | +4:01.53 | Juliana SRAM | 4:39.64 (15th) | 7:03.04 (13th) | 5:00.83 (11th) | 4:10.18 (10th) | 5:01.09 (13th) | 4:53.08 (14th) | 5:31.24 (19th) |
| 15th | Anka MARTIN | NZL | 36:45.67 | +4:28.10 | Juliana SRAM | 4:37.42 (14th) | 7:17.24 (16th) | 5:06.67 (14th) | 4:21.84 (19th) | 4:59.07 (12th) | 4:55.59 (15th) | 5:27.84 (17th) |
| 16th | Pauline DIEFFENTHALER | FRA | 36:53.85 | +4:36.28 | Cannondale Overmountain Team | 4:47.41 (17th) | 7:08.93 (15th) | 5:09.05 (15th) | 4:18.67 (17th) | 5:02.01 (14th) | 5:04.53 (20th) | 5:23.25 (14th) |
| 17th | Julia HOFMANN | GER | 37:33.05 | +5:15.48 | Marin/SR Suntour Enduro Team | 4:51.40 (19th) | 7:29.85 (20th) | 5:19.99 (20th) | 4:17.68 (15th) | 5:06.01 (15th) | 4:59.60 (17th) | 5:28.52 (18th) |
| 18th | Rachael WALKER | GBR | 37:40.74 | +5:23.17 | Hope Factory Racing | 4:57.22 (22nd) | 7:25.02 (18th) | 5:16.06 (18th) | 4:23.13 (21st) | 5:10.25 (19th) | 5:02.87 (19th) | 5:26.19 (15th) |
| 19th | Mary MONCORGE | FRA | 38:01.57 | +5:44.00 | Ibis Cycles Enduro Race Team | 5:08.62 (30th) | 7:17.71 (17th) | 5:26.65 (25th) | 4:23.94 (24th) | 5:08.34 (17th) | 4:59.00 (16th) | 5:37.31 (20th) |
| 20th | Franziska MEYER | GER | 38:07.91 | +5:50.34 | Nicolai Factory Racing | 4:47.14 (16th) | 7:29.53 (19th) | 5:13.13 (17th) | 4:25.94 (25th) | 5:20.81 (29th) | 5:04.62 (21st) | 5:46.74 (25th) |