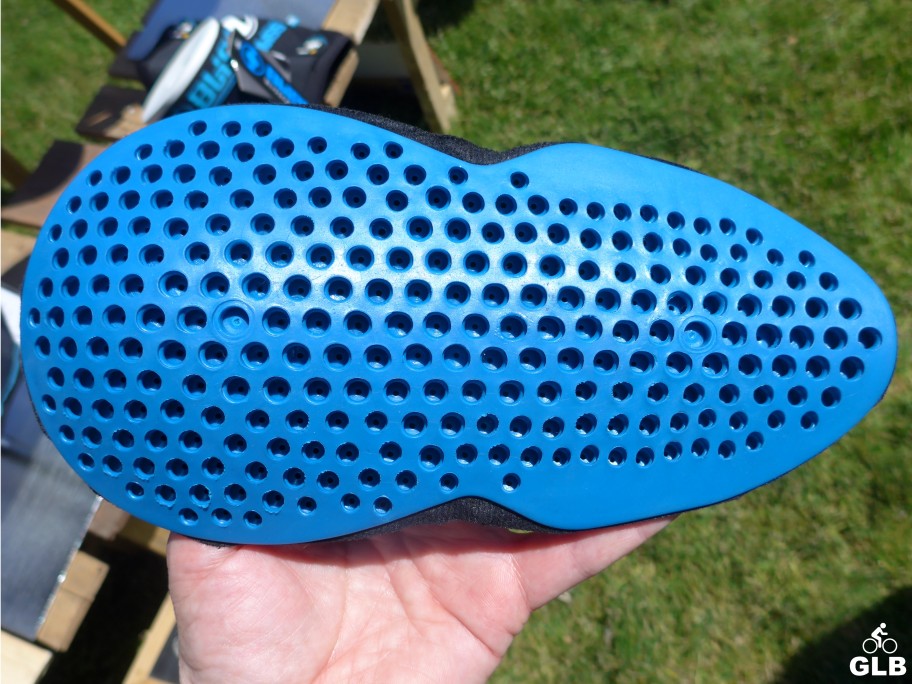 Bliss has been in Europe for a couple of years now, and Sea Otter was their first foray into the US market. Bliss uses Armourgel a silicon-based product, which is a flexible energy absorbing system that can be incorporated directly into apparel and armor, so the protection can be worn close to the body and is comfortable and breathable. Armourgel combines a re-entrant geometry with a revolutionary material that stiffens on impact to provide protection. Like many of the energy absorbing armor products, in the event of an impact, the active system changes, absorbing and spreading the load, and afterward the material returns to its soft, flexible state.
They had some interesting products on display including the intriguing minimalist knee and elbow pads, and two versions of their body vests. They also had a backpack with integrated protection and some more downhill oriented armor.
---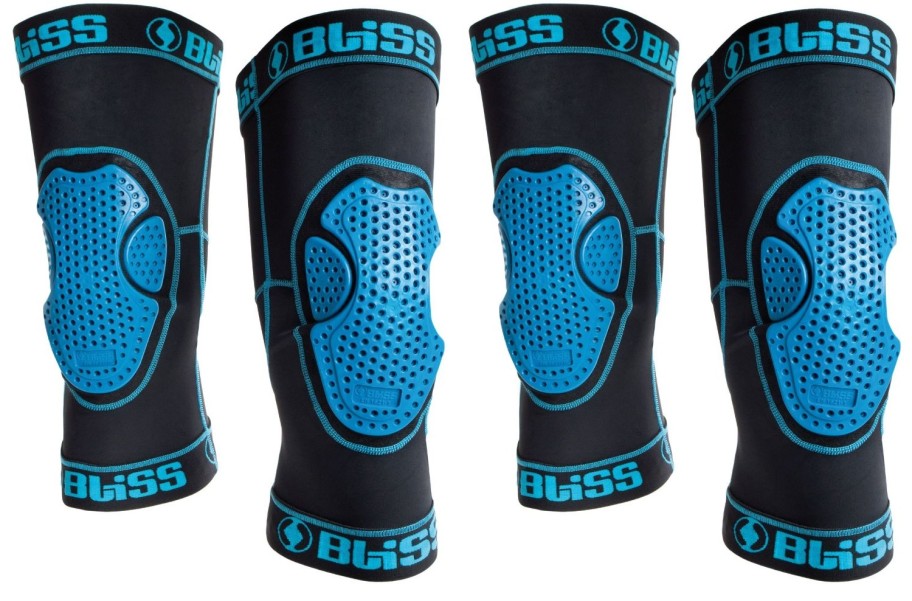 Bliss ARG Minimalist Knee and Elbow Pad
I like the look and feel of the ARG minimalist knee and elbow pads, as they look comfortable, light and cool. In addition to the flexible ARG material, they have an extra layer of Kevlar to help increase the durability of the pad. They have an ergonomic cut and utilize an elastic Velcro strap and are CE EN1621-1 certified. I think these will be the ideal armor for Enduro and All Mountain riding and will provide comfort for spinning and normal riding while still offering protection during impacts.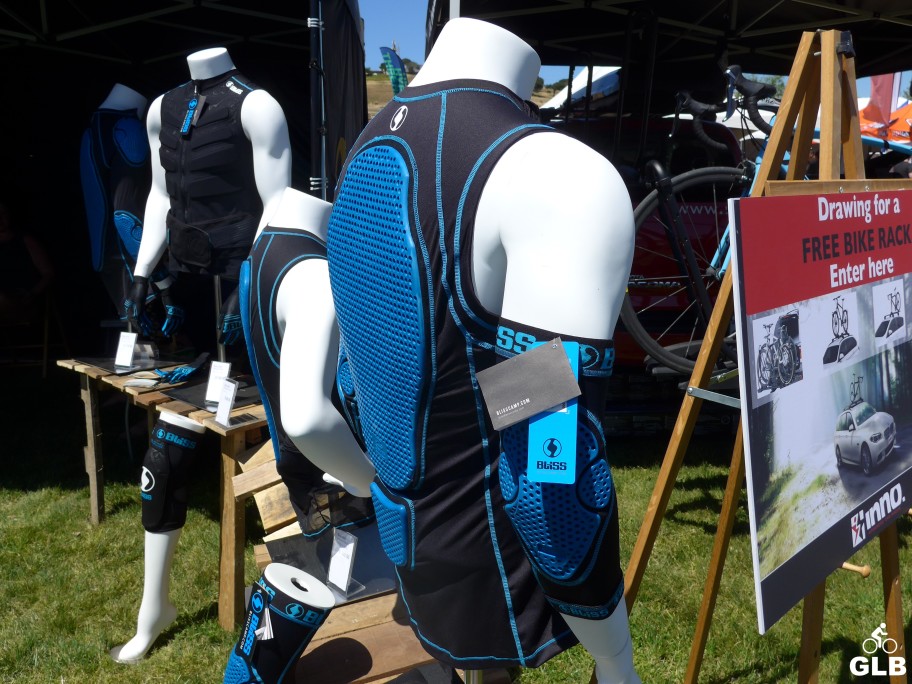 Bliss ARG Vertical LD Vest
The ARG Vertical LD Vest is their classic body armor vest and utilizes light and breathable mesh, including a super-thin and flexible ARG spine padding. It's designed to be worn above a base layer, and it has EVA foam chest pads for additional protection. It has a front zipper and removable waist belt for a more secure and customized fit. The Armourgel back protector is CE-certified to EN1621-2.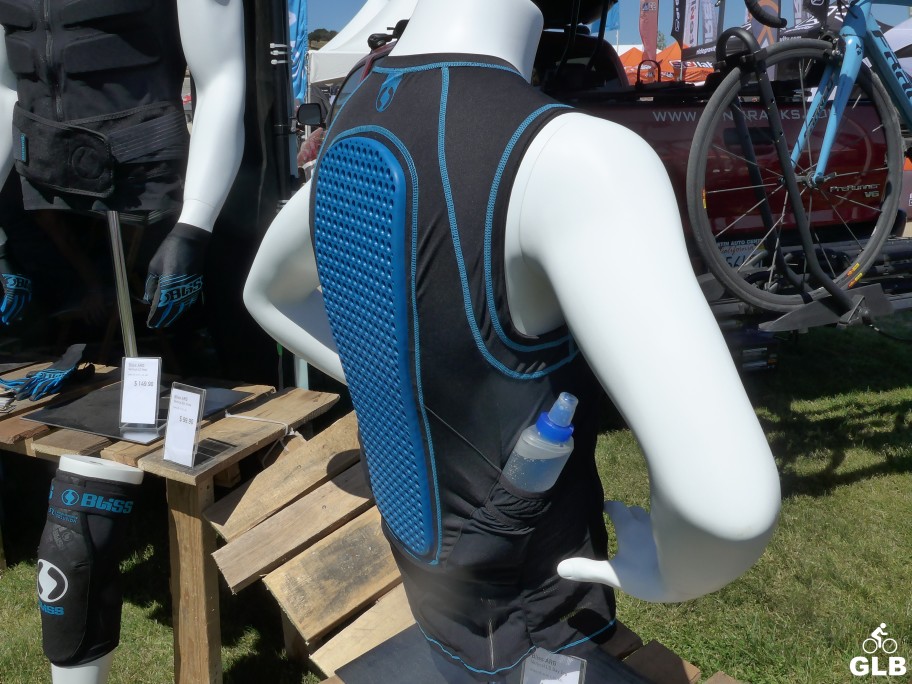 Bliss ARG Vertical LD Day Top
The ARG Vertical LD Day Top is much like its brethren the LD Vest. It's slightly simpler with shorter protection along the spine, but it includes two side pockets with some Hydrapak Softflask's. It uses the Armourgel spine padding, side zippers and a quick drying and breathable, eco-friendly fabric with coconut shell fibers.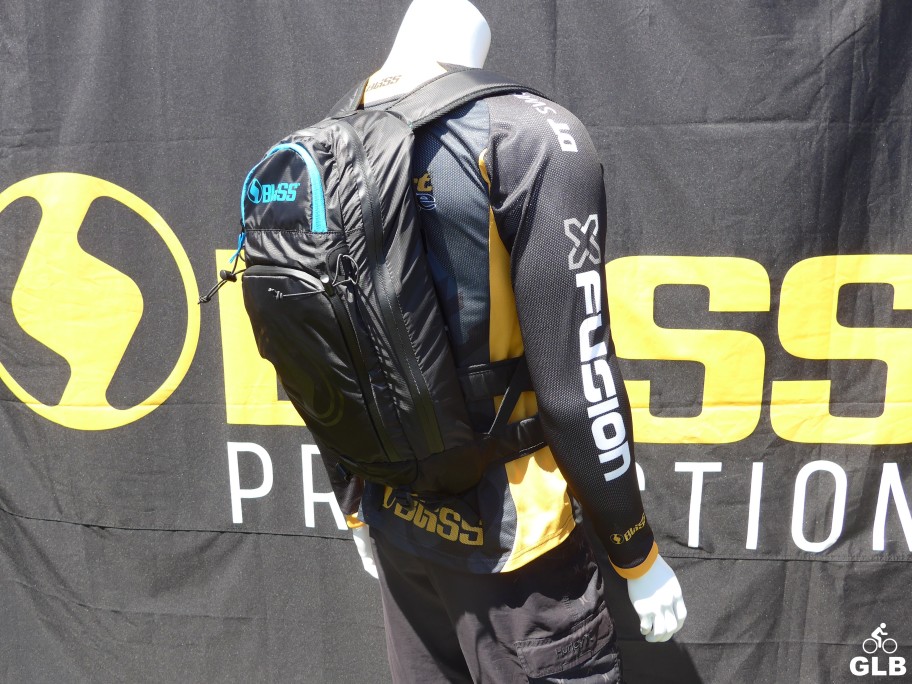 Bliss ARG Vertical LD 12L Backpack
The ARG Vertical LD Backpack has an integrated but removable ARG spine shield for protection during a crash. The special perforation of all ARG pads combined with a custom build back offers excellent breathability and sets new standards for protection backpacks.
The anatomic cut of the mesh shoulder straps, mesh waist belt with hip flaps and sternum strap keeps things secure and stable. The pack has two different compartments, and the main one has enough space for most of your gear along with a hydration reservoir. The pack can accommodate full face or normal helmets, and has loops on the bottom for knee and elbow pads. The 12-liter volume makes for an ideal pack for almost any adventure or race.