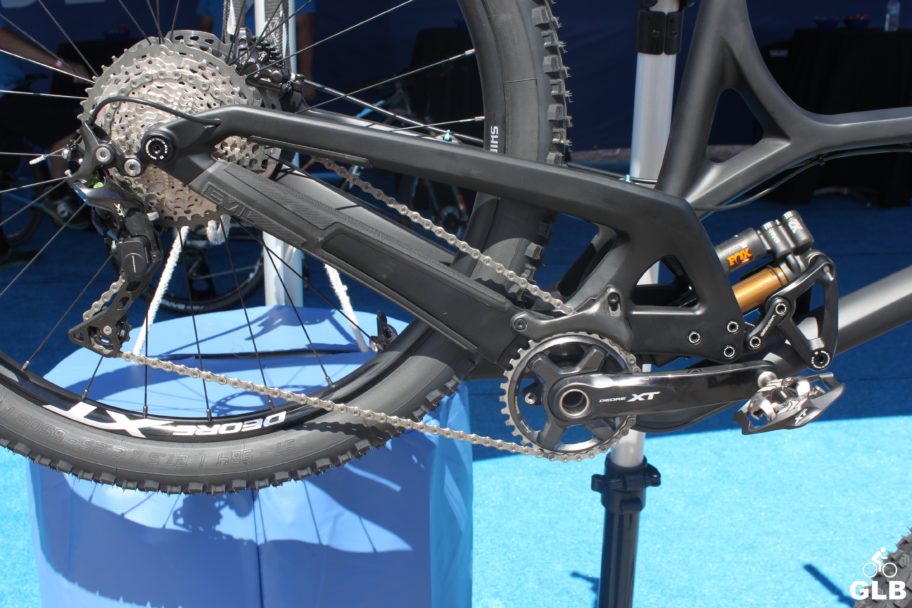 Shimano Deore XT M8000 11-speed
Earlier this year the new Deore XT 11-speed group was announced, and it got the trickle down effect of their top of the line XTR 11-speed group. The best news of this product release was the availability of a true wider-range 1x specific cassette. The new XT 11-speed drivetrain gets two cassettes (11-40T and 11-42T), 1×11, 2×11 and 3×11 cranksets, a Shadow RD derailleur and RapidFire Trigger shifter. Also, the XT pedals get a wider platform for improved stability. Interbike was the first time I got some up close and personal use of the drivetrain.
Grams Thoughts => The XT 11-speed drivetrain shifted as smooth as silk without any hesitation in that crucial last couple of upper cogs, and it was easy to sweep through large swaths of gears with an easy thumb push. Up and down through the gears went without a hitch or glitch. The triggers had a nice tactile and ergonomic feel, and I didn't feel any binding as the cable slid in the housing.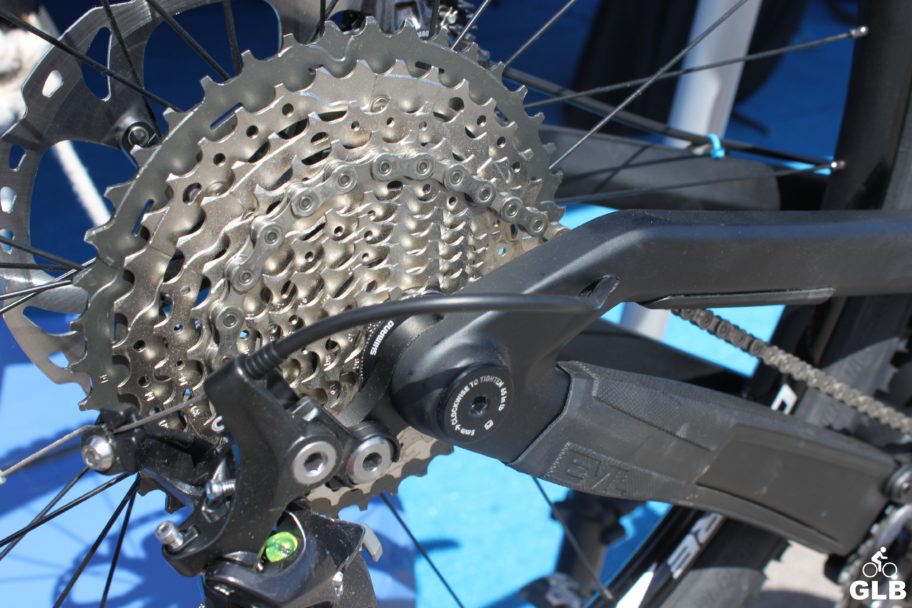 XT Cassette
The new XT M8000 11-speed cassette comes in two configurations, an 11-40T and 11-42T. The 11-40T was optimized for 2×11 and 3×11 M8000 drivetrains while the 11-42T is meant for the 1×11. The cassette is built with an interesting combination of materials, Aluminum for the large 40T and 42T cog, durable steel for the rest of the cogs and a lightweight Aluminum spider. The cassettes use their Rhythm Step progression for optimal shifting:
11-13-15-17-19-21-24-27-31-35-40
11-13-15-17-19-21-24-28-32-37-42
As a side note, the XT M8000 group uses the Sil-Tec coated Ultegra 6800 11-speed chain (CN-HG600 $40).
MSRP – $140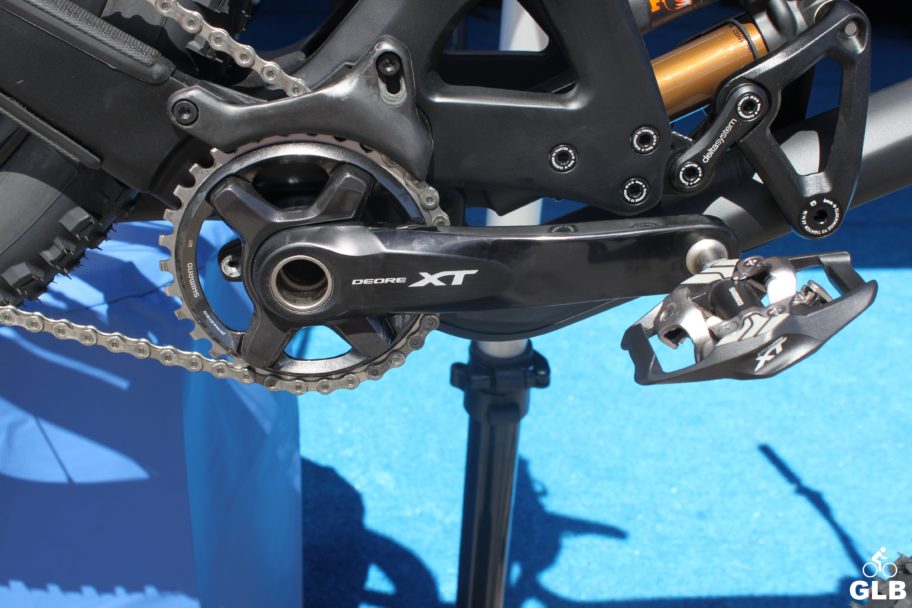 XT Cranks
The new XT M8000 Hollowtech II cranks come in three configurations, the 1×11 (30T, 32T, and 34T), 2×11 ( 34-24T, 36-26T, 38-28T) and 3×11 (40-30-22T). The 1×11 uses their Dynamic Chain Engagement (DCE) tooth profile that increases chain retention force by 150%, for a drastic reduction in dropped chains. And the use of Stainless steel chain ring teeth provides long life and lasting chain retention. They also have new threaded and press-fit bottom brackets that utilize smaller bearings and have improved seals, a lighter weight, and improved durability.
MSRP (BB optional) – 1x – $180 (no chainring – $80) , 2x -$280, 3x – $300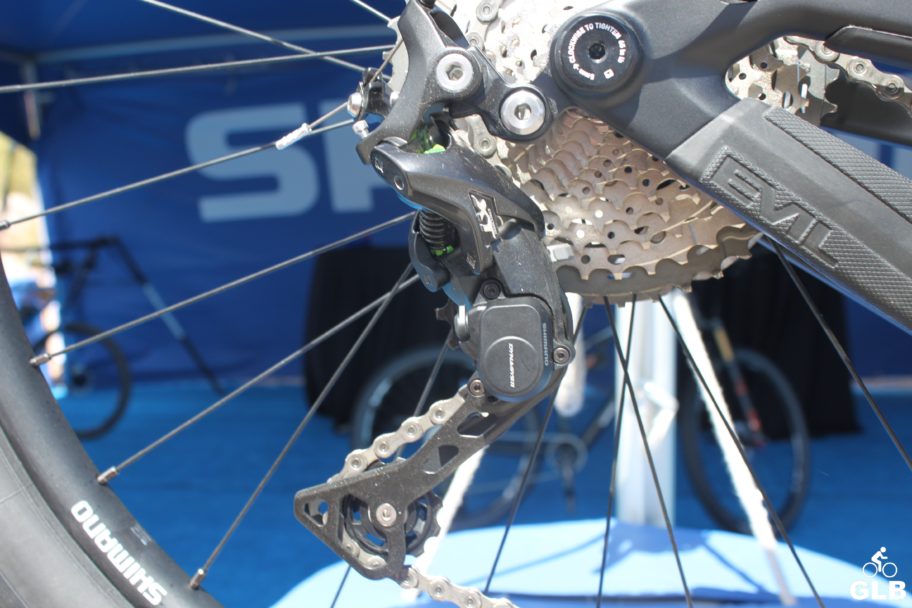 XT Rear Derailleurs
The new XT M8000 11-speed rear derailleur features their Shadow RD + technology and comes in two models, the medium cage GS for 1×11 and 2×11 setups and the long cage SGS for 3×11. It features high-efficiency pulleys with taller teeth for improved shifting, is direct mount compatible, has a lower profile to prevent trail encounters and has the capabilities to adjust externally the clutch tension (very cool). All the new design alterations reduce the shifting effort and improve driving and shifting stability.
MSRP – $120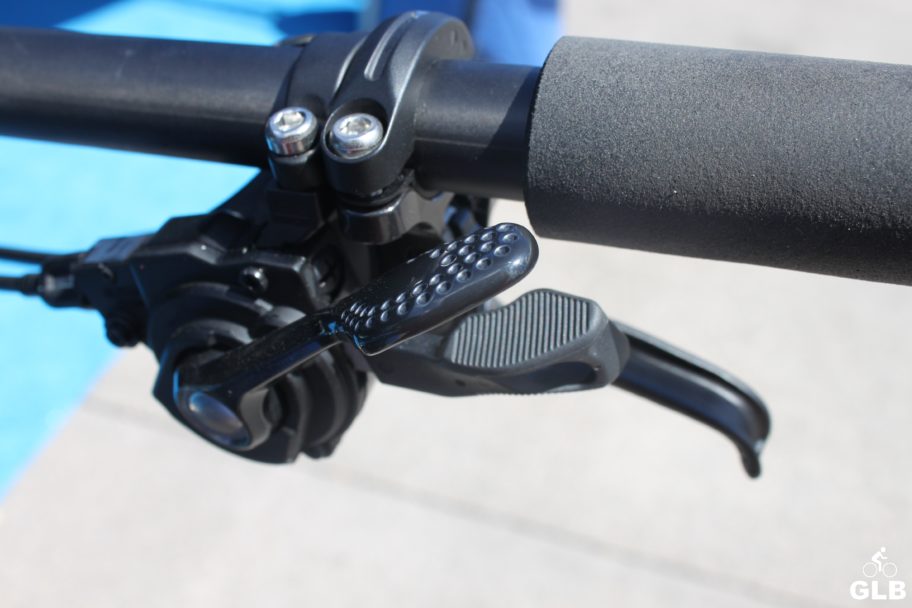 XT Shifters
The new XT M8000 11-speed RapidFire Trigger shifter comes in bar clamp, I-Spec II and older I-Spec B options to cover the gamut of attachment requirements. The levers have a 20% lower shift effort and an improved vivid index mechanism, and the paddles have improved ergonomics and are textured for better grip and less slip. For smoother shifting, they use their new Optislick cable that utilizes hyper low-friction coating technology (that's a mouth full). The shifter feature two-way release shifting so you can shift the upper lever with either your thumb or index finger and the Multi-release functionality lets you shift through multiple gears with a single lever sweep.
MSRP – $75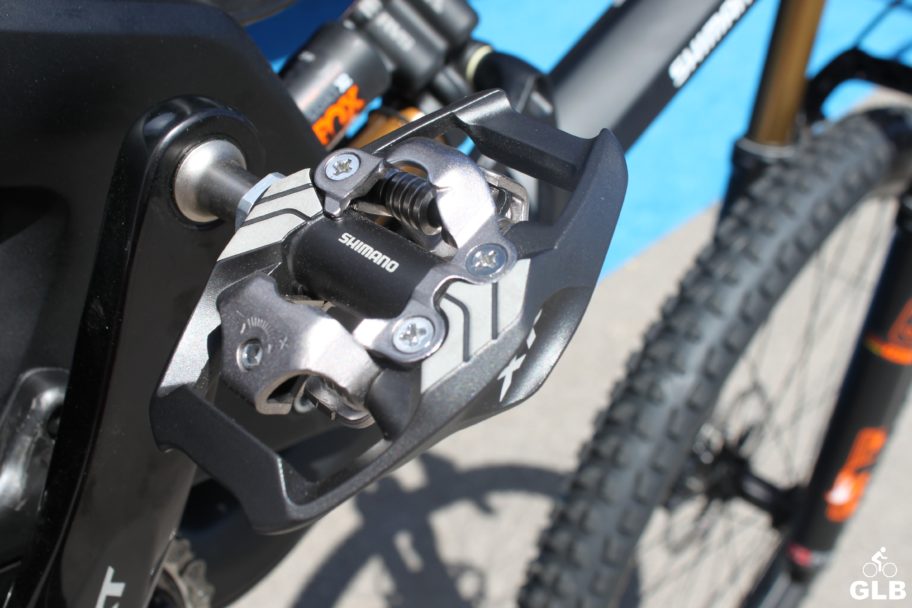 XT Pedals
The XT pedals come in two versions, the normal bodied Race (PD-M8000) and the Trail (PD-M8020), which has an integrated wrap around bash guard. The pedals get some subtle, but highly functional upgrades, the most significant is a wider platform; the Race is increased by 2.8mm and the trail by 3mm. Also, the platform itself has been lowered by .5mm. All of these changes help increase stability and contact area, creating an efficiency improvement of  7.7% on the Race and 11.7% on the Trail.
"With increased stability and contact area over the previous generation, power, control and confidence are improved."
MSRP – Race and Trail $120