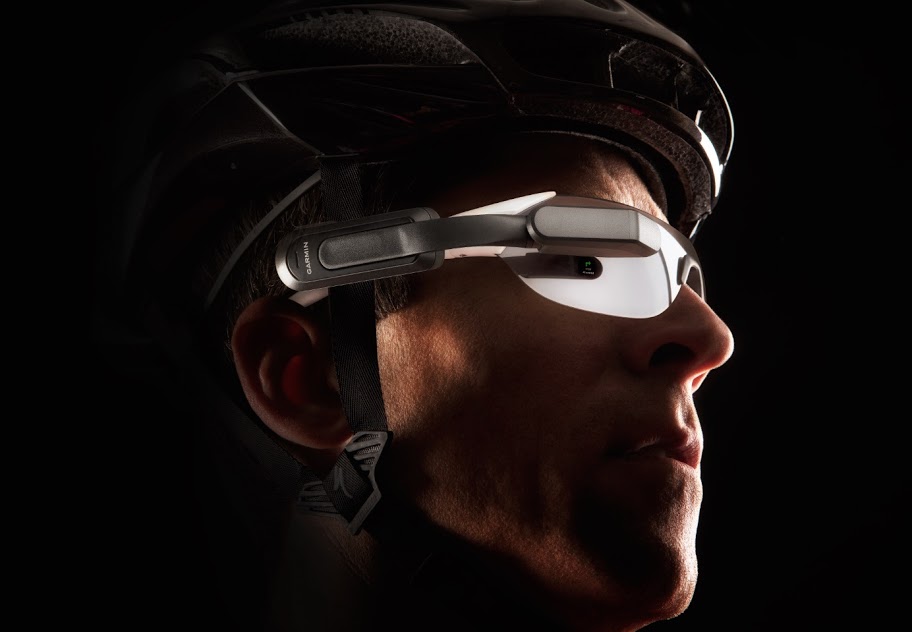 Garmin Varia Vision
The new Garmin Varia Vision is an in-sight display system that provides a cyclist key data from a compatible Garmin devices, including performance data, incoming smart notifications and more. The Varia Vision is an attachment that mounts to existing sunglasses while the current heads up displays (HUD) such as Recon Jet and Kopin Solos utilize proprietary sunglasses frame and lens.
It's compatible with the Edge 1000 and Edge 520 bike computers, retails for $399 and weighs one ounce and mounts to a rider's sunglasses on either arm. Also, it interfaces with the Garmin's Varia rearview radar system, alerting the rider of approaching vehicles and can give turn-by-turn directions to a destination. It communicates with the Garmin devices via ANT+ and provides the general data, such as HR, speed, ride time, power, etc. Also, it can sync to a smartphone via Bluetooth for alerts about incoming calls and texts. Features include an ambient light sensor and color display, eight hours battery life, glove friendly side swipe touch panel and customizable data displays.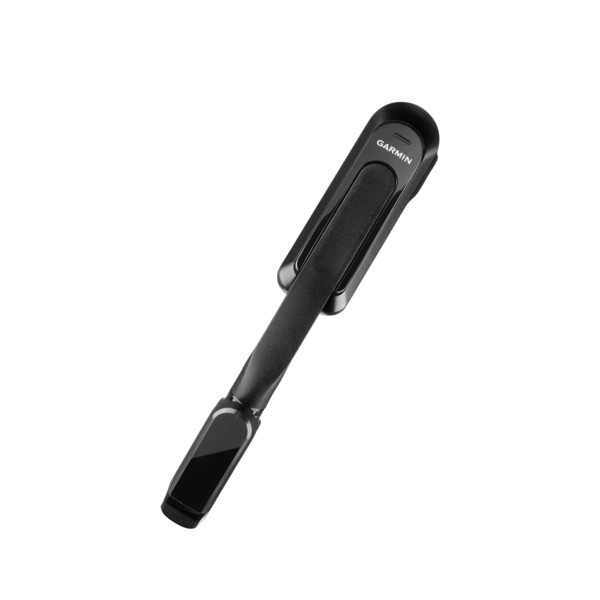 Specs
Featherweight device easily attaches to either side of your favorite sunglasses to put ride information right in your line of sight
Displays performance data, directions and more from compatible Edge cycling devices
Pairs with Varia rearview radar to notify of vehicles approaching from behind
Provides vibration alerts for key performance, direction, radar and call/text prompts
Convenient touch panel eases transitions between data screens, even if wearing gloves
Dimensions: 2.4" x 0.77" x 0.78" (60.0 mm x 19.7 mm x 19.8 mm)
Weight: 1.0 oz (28 g)
Display resolution: 428 x 240 pixels
Battery life: 8 hours
ANT+® connectivity: Yes
Water rating: IPX7
Mounting: Ambidextrous
Touch Panel: Yes
Sensors: Ambient light and accelerometer

Press Release
OLATHE, Kan.– Garmin International Inc., a unit of Garmin Ltd. (NASDAQ: GRMN), today announced the Varia Vision, an in-sight display that helps enhance cyclists' road awareness by putting information in their line of sight. Varia Vision's versatile mounting attaches to cyclists' sunglasses and displays key data from a compatible device, including performance data, turn-by-turn directions, incoming smart notifications and more. When paired with the first-of-its-kind Varia rearview radar system Varia Vision warns users of traffic approaching from behind. Varia Vision is being announced in conjunction with the Consumer Electronics Show in Las Vegas and will be showcased at their Garmin booth.
"We're extremely excited to announce the next device in our line of innovative Varia cycling awareness products – the Varia Vision in-sight display," said Dan Bartel, Garmin vice president of worldwide sales. "Cyclists can now easily view their data and receive alerts during a ride without needing to take their eyes off the road ahead."
Sleek Design
Featuring eight hours of always-on battery life and a glove and wet-weather friendly touch panel to rotate between data displays, Varia Vision makes it easier than ever for cyclists to keep focus while riding. Its adaptable mounting allow it to attach on either arm of the glasses with a fully adjustable arm and eyepiece for optimum display positioning. Varia Vision features a durable, weatherproof design while weighing approximately only one ounce (29.7 grams) for maximum comfort, and its integrated ambient light sensor and color display ensure readability in all conditions.
Connected Features
Connect Varia Vision with a compatible Edge device for integrated, customizable data screens to easily view performance stats and turn-by-turn prompts, including distance to turn plus street name and directional arrows. Varia Vision also connects with Varia rearview radar for in-ride, in-sight visibility of vehicles approaching from behind.
Vision also features vibration alerts for performance, navigation, or cycling awareness prompts, as well as incoming smart notifications allowing riders to receive alerts for incoming calls, texts and more without taking their eyes off the road.
Varia Vision in-sight display will begin shipping in Q1 and is available for $399.99.