Santa Cruz has just released a new bike called the Hightower, which is a replacement for the discontinued Tallboy LT, but has more lineage to their All Mountain Bronson. Santa Cruz is calling it a big bike for big rides that is long, low and slack. The bike has 135mm of VPP rear travel, a 67° head angle, 17.1″ chainstay and comes in either 29er or 27.5+ configurations and has an ability to change between the two wheel sizes with a few minor adjustments. The full carbon fiber frame weighs in at a respectable 5.88 lbs and will be available as a frameset and in several build kits. The bike is named after Eric Highlander (a.k.a. Hightower) whom is Santa Cruz's demo tour coordinator.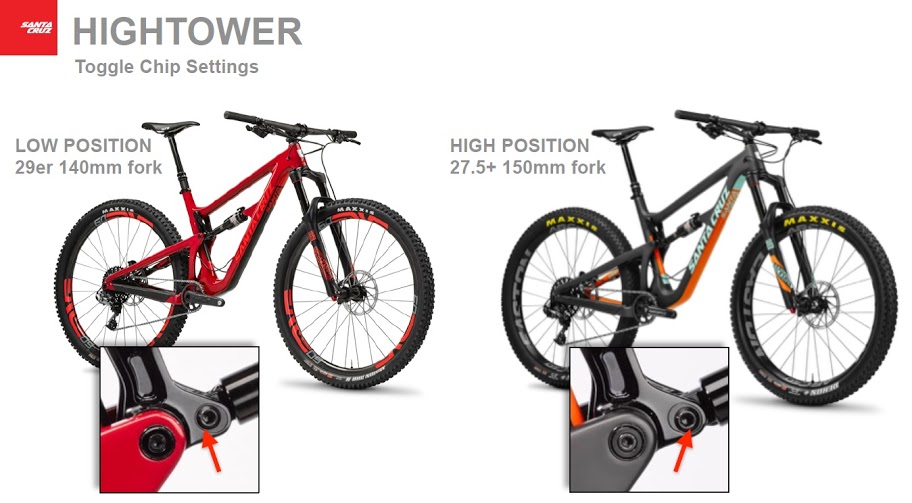 Switch – 29er or 27.5+
By altering a toggle chip on the rear shock and reconfiguring the forks travel (29er uses a 140mm fork and 27.5+ a 150mm) the geometry will not be overtly compromised when switching between the wheel sizes. The 27.5+ configuration was designed around a 2.8″ tire since Santa Cruz felt that width is the sweet spot for traction, flotation, control, and precision. The 27.5 x 2.8 tire isn't as tall as a 29 x 2.3 so the toggle switches high position increases the BB height and is additionally aided by the use of a 150mm fork.
Geometry
The 29er version has a slack 67 degree Head Angle and 17.12 inch chainstay, while the 27.5+ has a 66.8 HA and 17.06 chainstay. It's only 1x compatible and doesn't include any facility for a front derailleur, which helped them keep the chainstays as short as possible.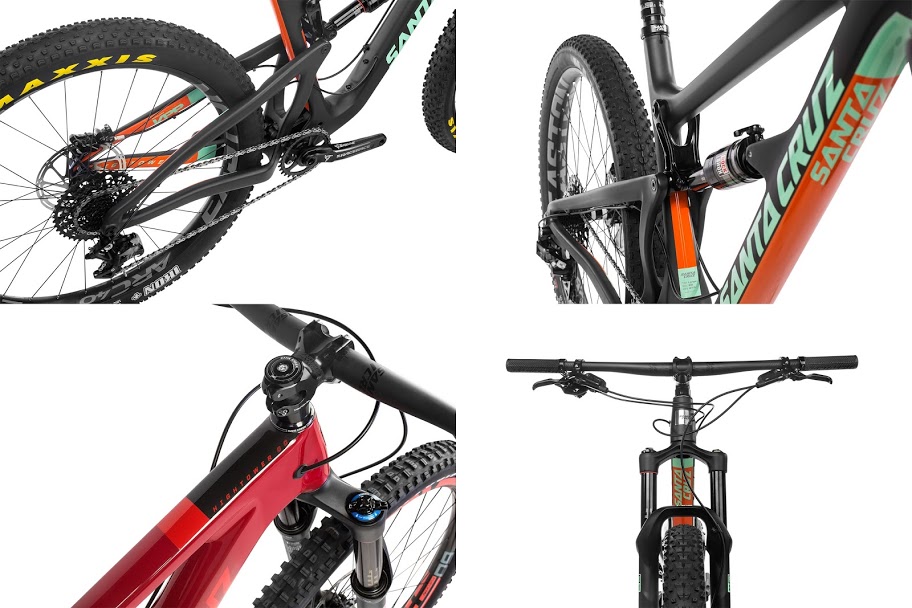 It has a 73mm thread bottom bracket with a ISCG-05 mount, a downtube and chainstay protector, a Boost 148mm rear spacing and internal cable ports for rear derailleur and dropper post.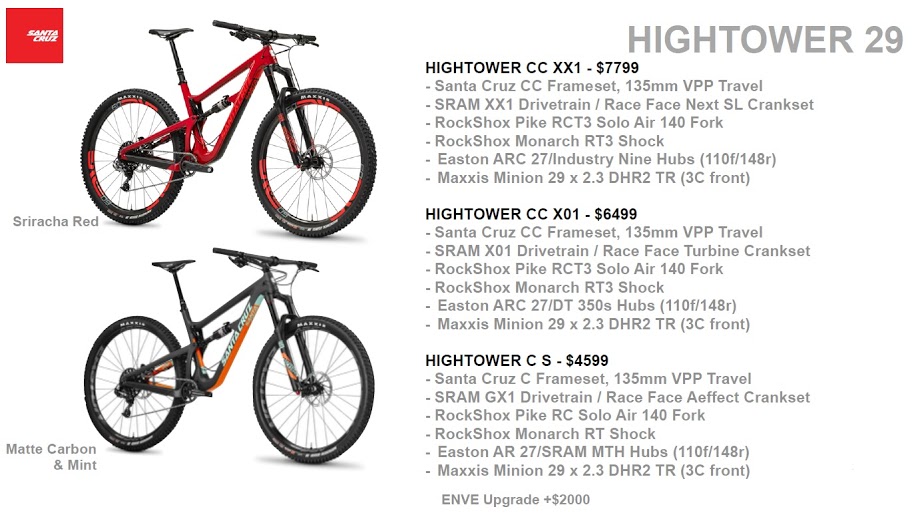 Frame and Kits
The bikes come in M, L and XL sizes, and Sriracha Red and Matte Carbon/Mint color schemes. It's available as a frameset for $2899 with a Monarch LT shock and three kits in either wheel size; the Hightower C S for $4599, the Hightower CC X01 for $6499 and the top of the line Hightower CC XX1 for $7799. They developed the price point 'C' model carbon frame and a high end 'CC' model, though the former only weighs 200 grams more.
The bike is available now at select Santa Cruz dealers.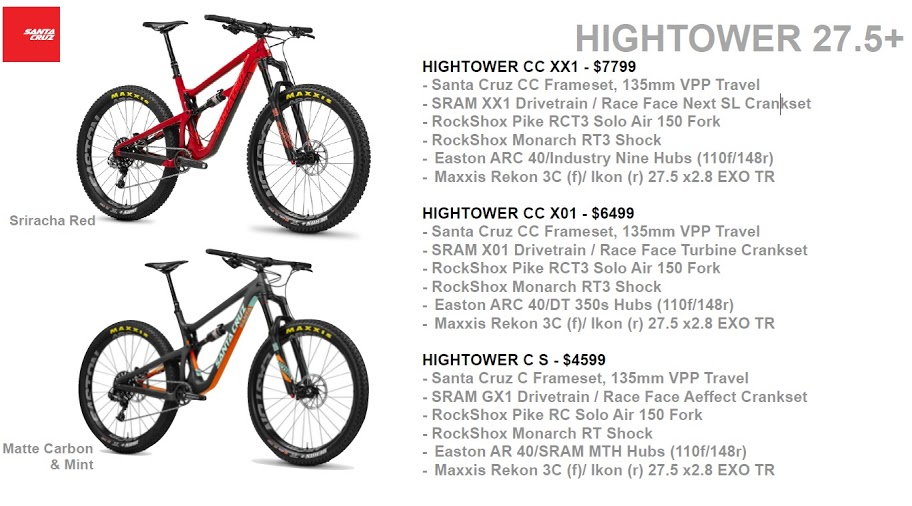 The 27.5+ kits come with the 2.8″ tires and 40mm wide rims and 150mm RockShox Pike forks.


Conclusions
I think the new Santa Cruz Hightower is a pretty darn cool bike, with a lot of excellent features and functions. Having the ability to switch between a 29er or 27.5+wheel size will be extremely useful in my opinion. The 27.5+ with the additional footprint will be helpful for the winter and other trail environments where traction is paramount while the 29er gives you those excellent big rolling characteristics for long days in the saddle and big adventures in the mountains. I like the 135mm travel, and I consider it an ideal sweet spot for a 29er. It provides lots of suspension for riding downhill and dealing with gnarlier terrain, yet will still retain good pedaling characteristics. Although the use of 2.8″ tires in the 27.5+ might seem like too much of a compromise, my personally testing suggest that the 2.8-2.9″ is a proper width, giving enough float and traction and still giving precise control.
The Hightower is going to be a real winner for them, and I'm looking forward to trying one out in the real world.