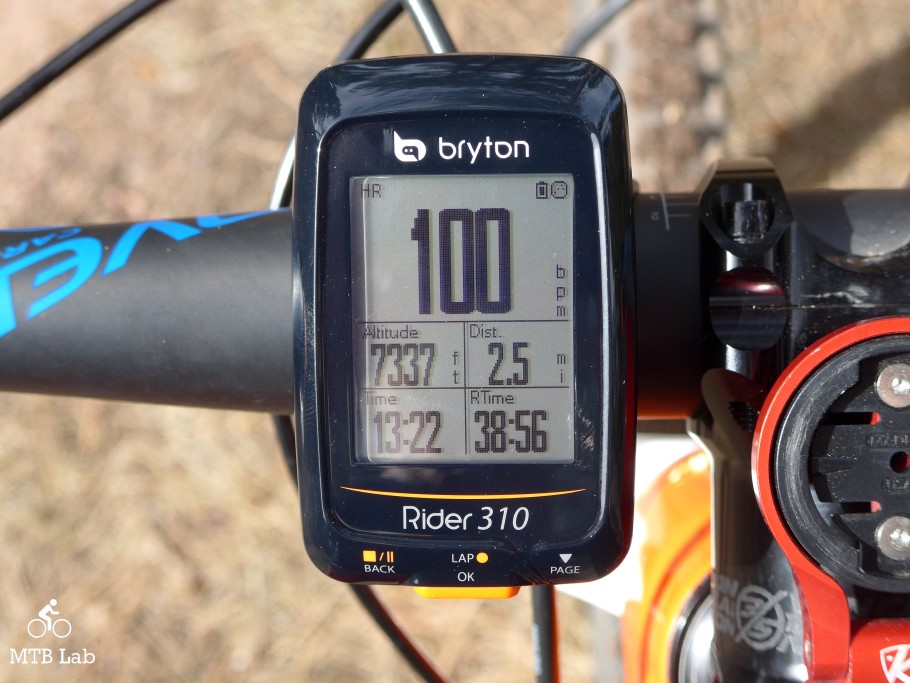 The Bryton Rider 310 is a light and compact GPS computer, that was made specifically for cycling. The $100 receiver is cost conscious but still offers excellent performance, and can track distance, speed, location and elevation using a sensitive GPS chipset and a barometric altimeter. The displayed data is highly configurable and has up to five scrollable data screens. Recorded data is easily downloaded to a PC using a USB cable, and the data can be analyzed with Bryton training software in addition to third party utilities.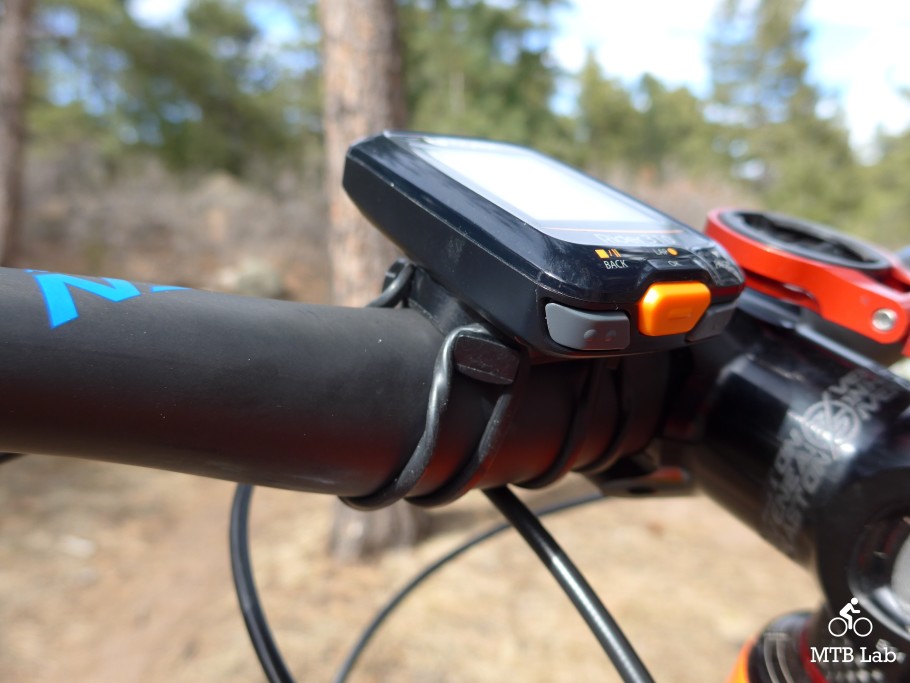 Features
The Rider 310 can synchronize wirelessly using the ANT+ network protocol and pair with compatible power meters, speed/cadence sensors and heart rate monitors. It also has Bluetooth capabilities for a smartphone but not for sensor pairings. The unit can store up to 300 hours of history, and has a 36-hour battery; the latter is greatly due to not having any mapping capabilities. The receiver comes in four versions, the primary 310E, the 310C with cadence sensor, the 310H with heart rate monitor and the 310T with heart rate monitor and cadence sensor. The receiver comes equipped with their proprietary mounting system for stem or handlebar attachment. All the receivers functions including on/off, start/pause/stop a ride and menu browsing and setup are interfaced from three user buttons.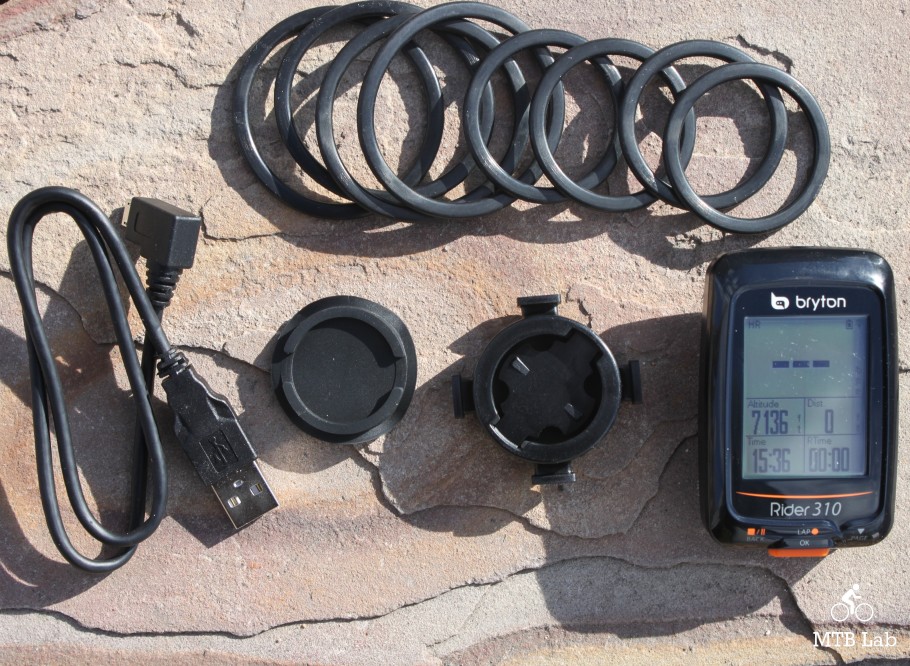 The 310E kit that I tested comes with the Rider 310, a USB connector, quick start manual, and their mount system with eight rubber attachment bands.
Specifications
High-sensitivity GPS receiver for fast positioning.
No speed sensor installation needed. Just power on and go.
IPX7 waterproof
Large and easy-to-read display
5 customizable data screen with maximum of 8 data per page
Built-in barometer for training with terrain
Bryton test preloaded to test your limits and train systematically.
Compatible with ANT+ Heart Rate monitor, speed, cadence sensors and power meter for advance training.
Anti-glare display for daytime and clear backlight for night rides.
Support for viewing stats on devices or uploading to Strava, Training Peaks, and Fit track.
One second recording
Measured Specs
Weight: 52.9 grams
Size: 71mm x 43 mm x 22 mm
Screen size: 27mm x 36mm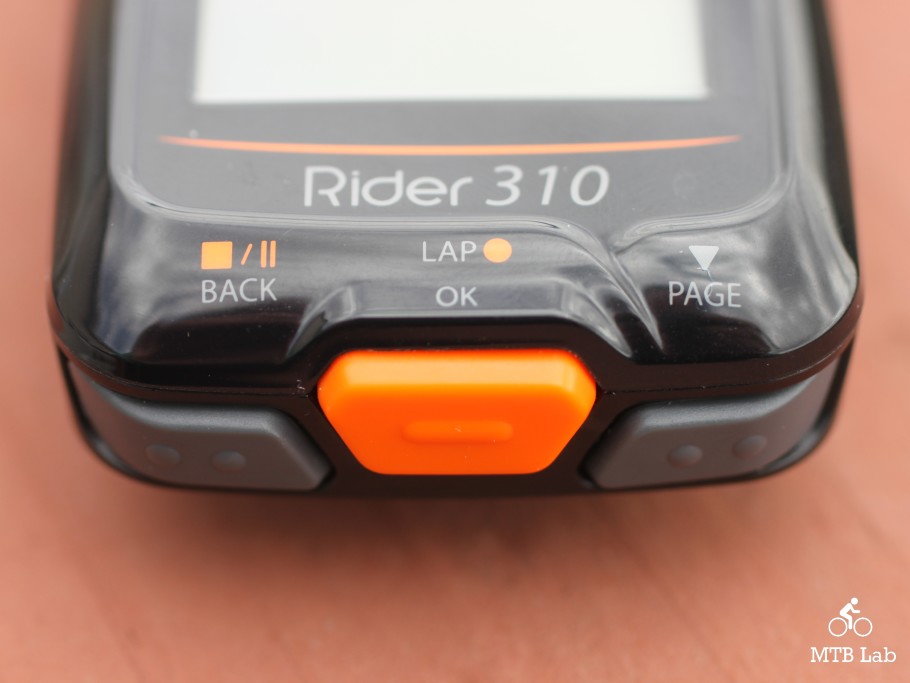 Set up
I turned the unit on, and it asked me my language and unit of measurement, and then it went and located the GPS satellites and was ready for a ride, making for an incredibility simple initial setup. If you don't do anything, it leaves default items on the screen that mostly pertain to the sensors it automatically pairs. You'll need to go to their website and download the user manual since the kit's included manual is only for initial start up and doesn't go in depth whatsoever. I also downloaded and installed their BrytonUpdate software which updates the software (latest firmware) and GPS data. The USB connector is located on the back of the unit, behind a small rubber cover.
When you go into the basic menu system, the screens are very intuitive, and the three multifunction buttons were easy to use and comprehended. The center large orange button turns the unit on and starts a ride and acts as the OK/Select button in the menus. The gray right-hand button only pages down through the menus and selections. The left hand one enters you into the main menu, backs up from a screen, and pauses and stops a ride and shuts off the computer. The only weird oddity is that there isn't an upwards option using any of the buttons, so you'll need just to page down using the right-hand button to get back to a top item on a screen.
After the initial configuration, you can set up the data fields that appear on the screen in any layout you desire. The data fields that can be chosen run the whole gamut of information from speed, distance, time, heart rate, etc. Some of the data fields are only pertinent to the optional input devices, such as power meter, heart rate monitor and speed/cadence sensor. A nice feature is having up to five pages of data screens with up to eight items each, so you put lower priority data on the other screens, and only access them if needed. The multiple page feature prevents cluttering up the screens with too much information, and the screens can easily be paged through using the down button while on a ride.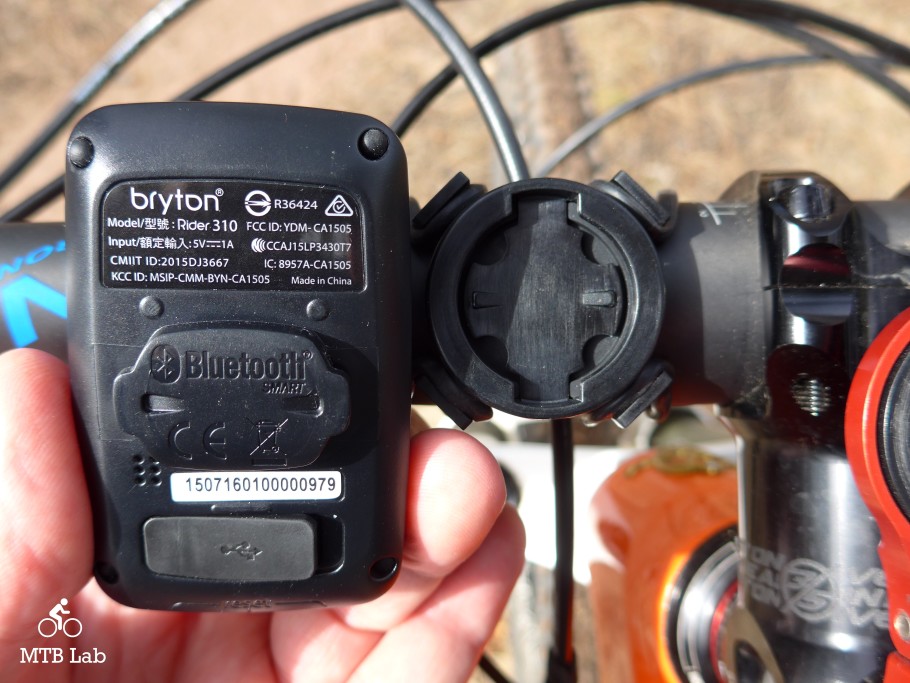 Installing their mount system was a breeze, and you simply place the new mount on your stem or bar, clip the rubber band on the mount's hook, wrap it around to the other side and hook it up. The industrial strength rubber band, come in 2 sizes, and there are quite a few extras in case they get old, broken or lost. To install the Rider 310, push the back tab into the mount's slot to engage it, and then rotate it 90 degrees. Although the wings on the 310 look like the Garmin system, they're a proprietary interface and won't work in the Garmin mounts, since the Bryton's tabs are thicker and not as wide. The Bryton mount system has been secure and stable, and the Rider 310 stayed in place on the nastiest rock gardens and abusive terrain I have tossed my bike into though I do wish it had a lanyard loop attachment to help protect the unit in the event of an accidental ejection.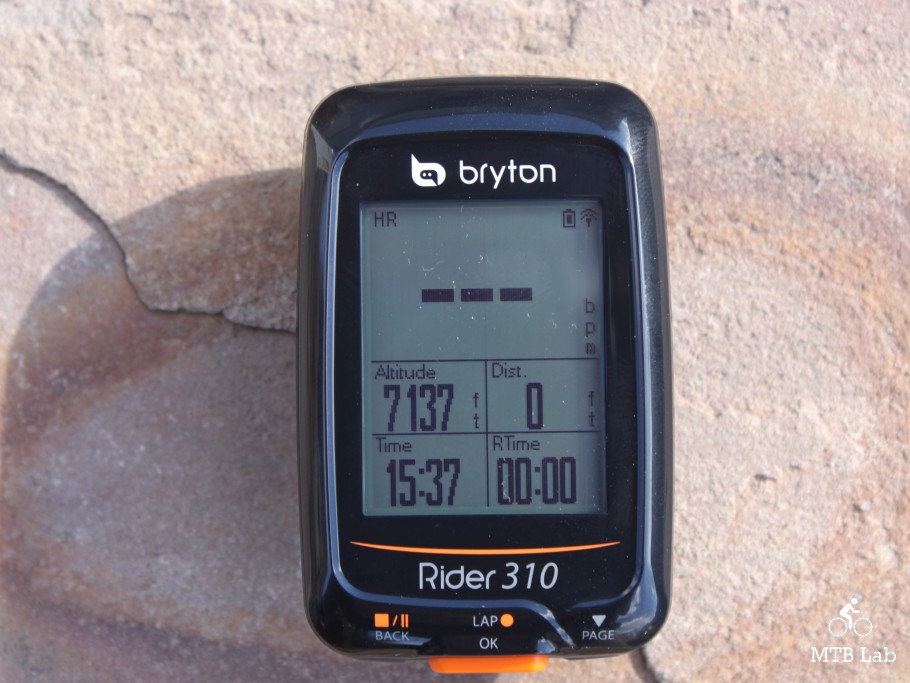 Initial Impressions
The Rider 310 is light (53 grams) and compact, and the 4.5mm/1.8″ diagonal LCD was sharp and easy to read, even in bright sunlight. It quickly acquired satellites and was ready to roll out for a ride with little fanfare. For personal preference I setup up three pages of data with the main one having HR, altitude, distance, time of day and ride time. Once you're used to the primitive though intuitive menu system, it was easy to change items as required. If needed, you can have up to five pages of data with up to eight data files, though it that starts to become overkill IMHO. The mounting system worked just fine and was stable and secure, though as I mentioned it needs a lanyard attachment for safety, and I'd prefer to use a handlebar mount for improved visibility.
I am looking forward to hammering out lots of trail time with the Rider 310 since it has everything I like in a GPS unit, minus any sort of map functionality. It tracks speed, distance, time, GPS position, elevation, ascent, and descent. It has a barometric altimeter, which is paramount for elevation accuracy. The resulting data seems to be accurate though I need to do some in-depth analysis to crosscheck things. I like that it has a 36-hour battery life though I haven't yet hit close to that, and after four rides of 11 hours, it still seems to have still lots of battery life. The menu system does show the percentage of memory used on one screen, but there doesn't appear to be any way to know the exact current battery level other than the tiny battery icon on the screens.
Comparing the Rider 310 against the comparable Garmin Edge 25, it's cheaper at $100 vs. $170, has a 36-hour battery life vs. 8 hours, and has a barometric altimeter, and has a power meter and temperature capabilities, all of which make it a performance oriented and affordable GPS Cycling computer.
For further information refer to brytonsport.com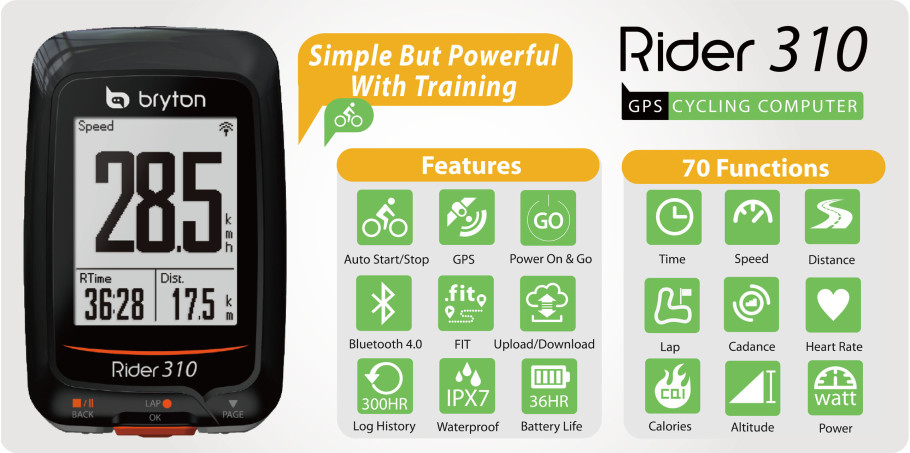 | | |
| --- | --- |
| Model | |
| Dimension | 45.1×69.5×17.3mm |
| Weight | 56 g |
| Waterproof | IPX7 |
| Display | 1.8″ Mono LCD |
| Touch Panel | |
| High-sensitivity GPS | v |
| Wireless interface | 2.4 GHz ANT+, Bluetooth Smart wireless technology |
| Bluetooth wireless technology | v |
| Stride Sensor | |
| Barometric altimeter | v |
| Functions | 70 |
| Battery hour | 36 |
| Support exercise type | Cycling |
| Lap history | 130 laps |
| Log history | 300 hours |
| Record POI | |
| Pre-loaded Bryton test | v |
| Pre-loaded Bryton workout | |
| One second recording | v |
| Compatible with power meter | v |
| Altitude / Slope / Temperture | v |
| Alerts | v |
| Vibration alert | |
| Number of customizable grid | 8 |
| Max data page | 7 |
| Training program | v |
| Road Explorer Map | |
| Adventurer Map | |
| Support bike number | 2 |
| Bike Mount | v |
| Auto sensor detection for data grid adjustments | v |
| ANT+ Heart Rate Monitor | Optional |
| ANT+ Cadence Sensor | Optional |
| ANT+ Speed and Cadence Dual sensor | Optional |
| Bryton APP | |
| FIT File Uploadable to Training Sites(Strava, Training Peaks….) | v |