OneUp Components is taking another bite into the extended range cassette set up with their new Shark 50T and 18T sprockets and derailleur cage system. The 1×11 11-50t Shark system will offer a whopping 455% range with a single 34T chainring though it's only compatible with the XT M8000 11-42T cassette and M9000/M8000 derailleurs.
Shark 50T Sprocket and Derailleur Cage
The Shark system comes on the heels of the recently announced Shimano 11-46t cassette and the rumored SRAM Eagle X01 1×12 10-50t system. For quite a while now they've had a 45T sprocket that works with the XTR and XT 11-40t cassettes and a 44T for the XX1/X01 cassettes, so the new Shark 50T brings things up a notch. The 50T set up will be an ideal candidate for long climbs on steep terrain and especially 29ers.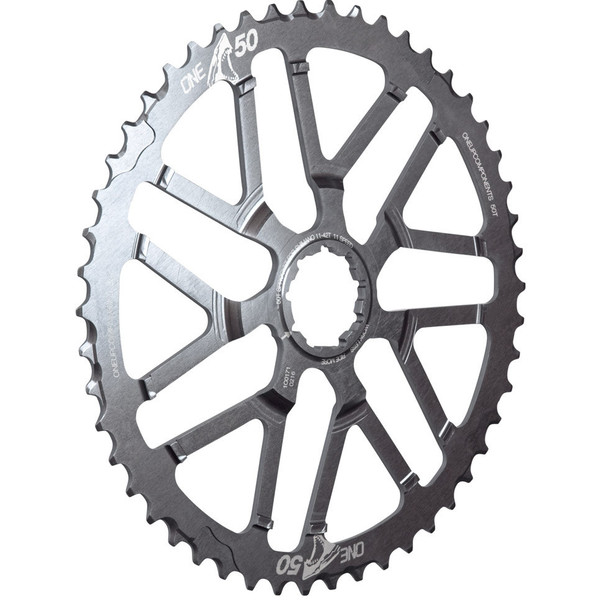 The Shark kit comes with a 7075-T6 aluminum 50T sprocket, and a Nickel plated hardened steel 18t steel sprocket and a 7075-T6 aluminum rear derailleur cage. This Shark kit will sell for $125 and comes in Green and Gray colors. The Shark kit is supposed to increase the cassettes weight by 80g and the derailleurs by 9g.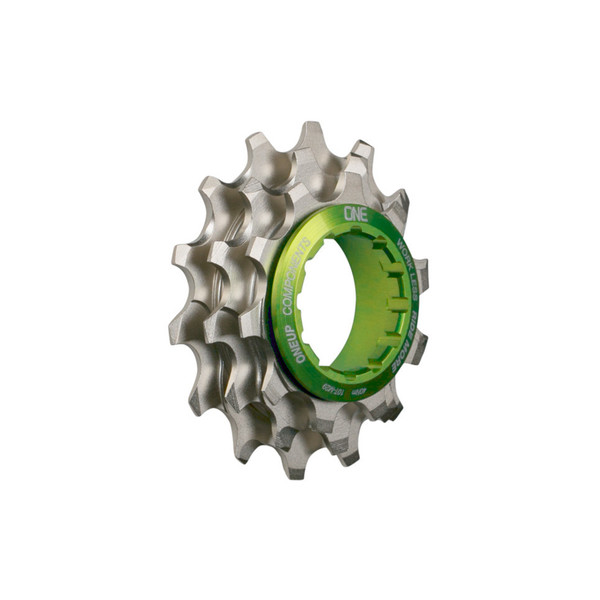 On top of all those changes, they also have the Shark 10T Sprocket Cluster for $45, which works with their new OneUp MiniDriver for $40 (or compatible freehub). The Shark 10T Sprocket Cluster kit includes a Nickel plated 10T – 12T CNC cluster, 14T and 15T sprockets and a Green lockring. Adding the 10T to the 50T system makes a 10-50t cassette with a massive 500% range.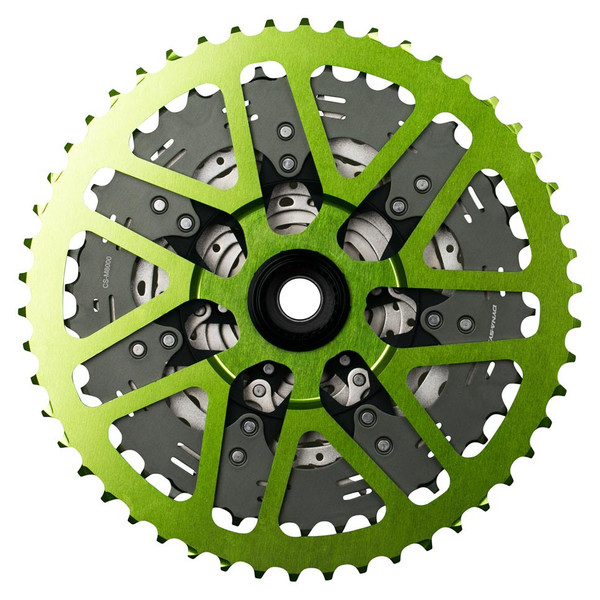 The installation is relatively straight forward, just mount the 50T first on the freehub body, reinstall all sprockets except the stock 17T and 19T sprockets, which are replaced by the 18T sprocket and an aluminum spacer. The cog alterations change the cassette progression to a wide 11-13-15-18-21-24-28-32-37-42-50.
The toughest job is swapping out the stock Shimano derailleur cage with the Shark Cage version. I have swapped in their RAD and RADr cage replacements on my Shimano derailleurs, and although somewhat time-consuming, it wasn't that big of a deal, and they have a handy video for in-depth guidance. You'll likely need to get a longer chain to fit the massive range of the new set up.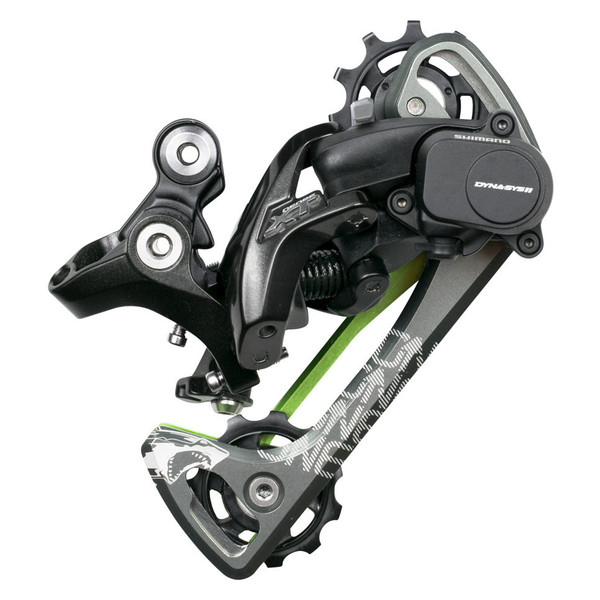 The 50T upgrade increases the stock Shimano 11 speed 11-42 cassette range by 19%, which is a pretty substantial chunk of granny gear power. The larger extended range of the 11-50t system will also let you increase the front 1x chainring from a 30 to 34T without losing any low-end range. The Shark Cage itself offers 50% more pulley offset than stock so that the chain wrap works correctly with the huge 50T sprocket.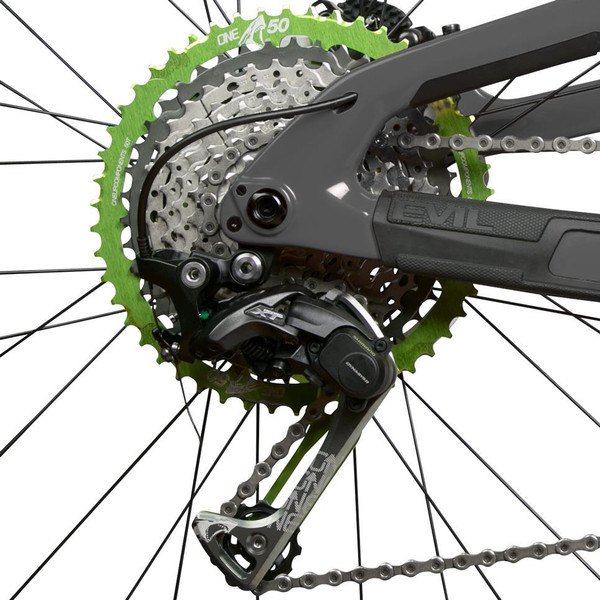 Specifications
Kit contains: 50T, 18T and Shark Cage
Uses standard freehub driver bodies (Not XD)
Cassette progression: 11-13-15-18-21-24-28-32-37-42-50
Sprocket Material: 7075-T6 Aluminum (50T and Cage), Nickel plated hardened steel (18T)
Weight: Cassette upgrade 80g, RD upgrade 9g
Compatibility: XT M8000 11-42T cassettes (For Shimano 11-40 use the OneUp 45T sprocket), Cage compatible with M9000/M8000 derailleurs (GS & SGS)Cassette range improvement: 19%
Color: Green, Grey (Matched to XTR)
MSRP: $125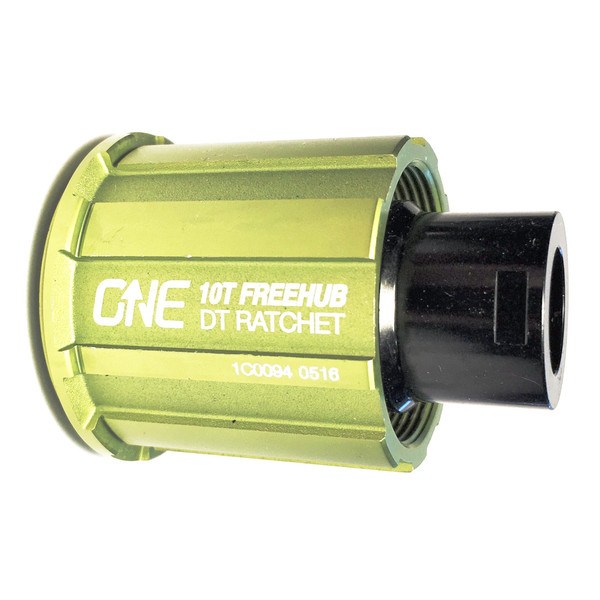 Minidriver Freehub
OneUp partnered with Hope Technology and designed a non-proprietary freehub body that accepts a 10T sprocket. The body is 4.5mm shorter that a standard Shimano version and it's currently available for Hope, Stan's and DT hubs, with more to come. This alteration overcomes the inherent limitations of the 11T configuration and gives access to inexpensive 10T based cassettes. ­
The MiniDriver and 10T upgrade increase the stock Shimano 11 speed cassette range by 10%. 
Specifications
Length: 4.5mm shorter that standard
Lockring Thread: M29
MSRP – $40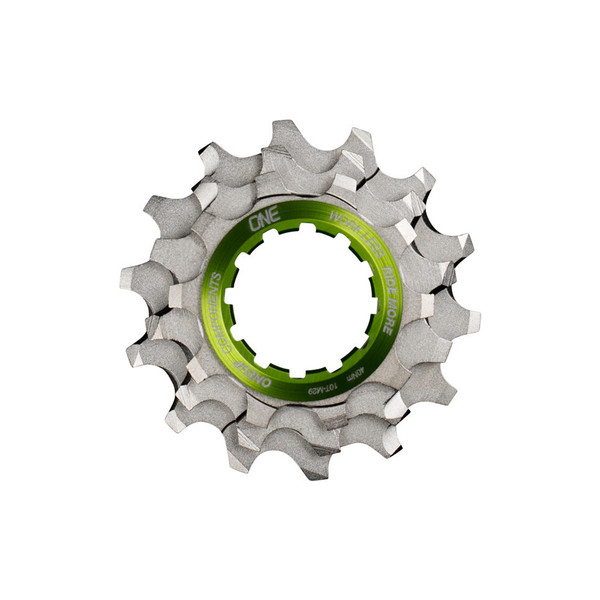 Shark 10T Cluster
The 10T Cluster kit includes a 10-12t cluster along with 14 and 15t cogs, allowing for combinations of 10-12-14 and 10-12-15 depending on which pairing cassette.
The 10T system is compatible with Shimano 11-speed XT and XTR (M8000/M9000) cassettes, so it covers the gamut of both 11-40 and 11-42. The 10T upgrade increases the stock Shimano 11-speed cassette range by 10% on the grunt low end of things and will help when using higher speeds. Also, it can be utilized with the OneUp Shimano 11-45 and Shark Shimano 11-50.
Specifications 
Cassette Progression:

10-12-14-17-19-21-24-27-31-35-40 (11-40 converted to 10-40)
10-12-14-17-19-21-24-28-32-37-42 (11-42 converted to 10-42)
10-12-15-18-21-24-27-31-25-40-45 (11-45 OneUp'd Shimano converted to 10-45)
10-12-15-18-21-24-28-32-37-42-50 (11-50 OneUp'd Shimano converted to 10-50)

Kit contains: 10T – 12T CNC cluster, 14T and 15T sprockets

10/12/14 Cluster is for 11-40T and 11-42T Shimano Cassettes
10/12/15 Cluster is for 11-45T and 11-50T OneUp'd Shimano Cassettes

Compatibility: Shimano 11-spd 11-40, 11-42, OneUp'd Shimano 11-45 and 11-50 cassettes
Freehub requirement: OneUp MiniDriver (or compatible)
Cassette range improvement: 10%
Converted weight change: 0g
Colour: Nickel Plated cluster with Green Lockring
MSRP $45