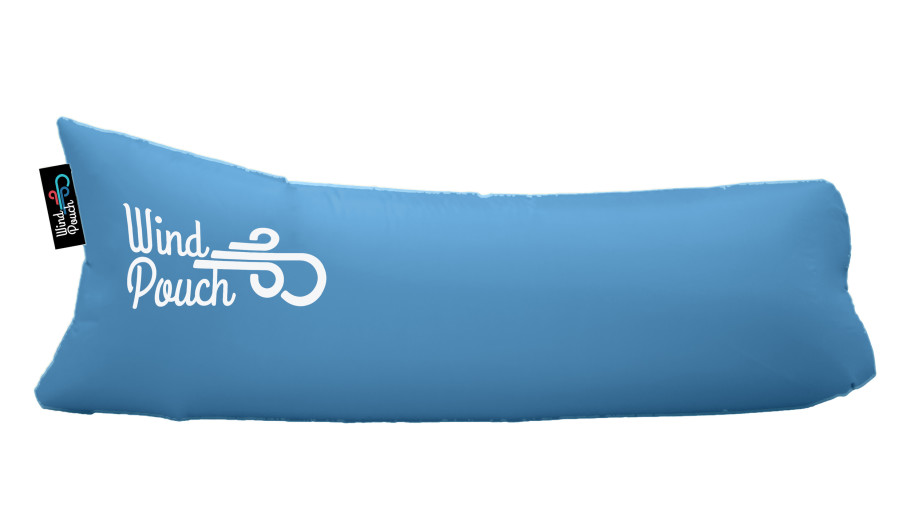 A ultra-comfy inflatable hammock with "No Strings Attached." The WindPouch is versatile, easy to use air-filled seat and recliner that inflate in seconds. Sit on it. Sleep on it. The WindPouch is designed to keep you comfortable for hours. We prefer to use WindPouch outdoors, but it works great inside, too!
At WindPouch, we're tired of being inside. That's why we've developed the ultimate go-anywhere, do-anything inflatable. WindPouch is designed to get you outside and keep you comfortable. Lightweight, absurdly simple to use and comfortable- WindPouch is ready whenever and wherever you are!
The WindPouch was designed with the end user in mind. The features that are included are:
Phone, Tablet and Bottle holder stitched to the side of the Pouch.
 Diamond Lattice Rip Stop Nylon carrying bag that is wind, water and dirt resistant.
 2 in 1 Carabiner and Bottle opener attached to carry bag for any situation.
Aluminum stake for grounding your WindPouch for the beach or park. A smile on your face.
 A smile on your face.
For further information refer to windpouch.com
Thoughts
The WindPouch looks like an excellent comfy chair. It's a hammock, beanbag and comfy couch all built into one versatile product. It's portable, lightweight, easy to inflate and can hold a prodigious amount of weight. The WindPouch would be the perfect item for just about anywhere, roads trips, hanging out after a mountain bike ride, visits to the park and beach, the backyard and some festival concerts. It looks extremely comfortable, weighs only 2.5 lbs and can be folded to the size of a backpacking pad. You don't have to pump air into it, and you just scoop up the air, and it's ready to use.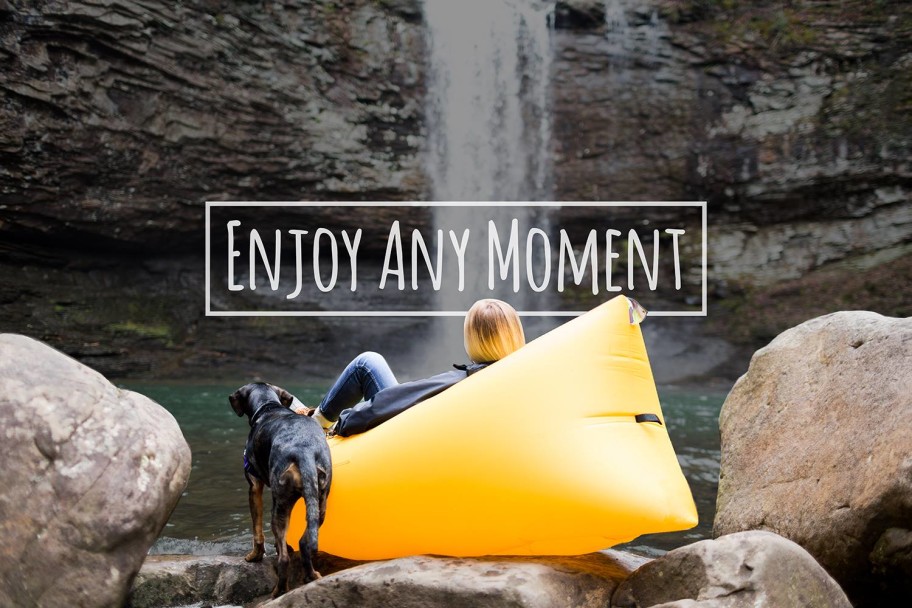 Specifications
Inflated Dimensions: 7.2 x 2.1 x 2.3 Feet or 86.4 x 25.2 x 27.6 inches
Packaged Dimensions: 14 x 7.2 x 4 Inches
Weight: 2.5 Pounds
Shipping Weight: 4.25 Pounds
Maximum Weight: 500 Pounds
Purchase it here:
FAQ
1. How durable is my WindPouch?
Our WindPouch is made with the 100% ripstop nylon (same as parachutes that are coated with Polyurethane. The polyurethane is applied to a single side of the base fabric; this makes the fabric water resistant, lightweight and flexible. This allows you to take your WindPouch through various terrains such as sandy beaches, grassy terrain, rocky roads and indoors!
2. How many days does it take to deliver my WindPouch?
Our warehouse is located in Atlanta Georgia. We ship domestically with UPS so delivery times will take 2-5 business days for delivery! We understand that you are eager to #enjoyanymoment so we will do our best to get your WindPouch delivered!
3. What are the Dimensions of the WindPouch?
The WindPouch when deflated and placed inside the carrying bag it has the dimensions of 14 x 7 x 3.5 inches. When fully inflated the WindPouch is 6.5 x 3.5 x 2.25 feet. Please keep in mind that the length, width and height will fluctuate depending on how you roll it up and how much air is in it!
3. How do you fill up the WindPouch?
WindPouch utilizes a simple 3 step process to fill:
Scoop Twice. Grab the end of your Wind Pouch and fill the first sleeve with air. Repeat with other.
Fold. Fold the flap to form a quick, leak-tight seal.
Relax. Kick it!
4. How long does the WindPouch last on a single fill?
This is a great question! On a single fill, the WindPouch will last from 5-6 hours with a tight seal. The beauty of our patented design is that refilling only takes a matter of seconds!
5. How does the WindPouch deflate?
As easily as it is inflated! Just unfold the mouthpiece and roll up from the other end! Please see our demonstration videos!
6. Can the Wind Pouch be used on water?
Absolutely! Our ripstop nylon six material is coated with Polyurethane and is water resistant. The WindPouch SHOULD NOT be used as a substitute safety flotation device. It is for leisure only and float at your risk!
7. What's the maximum weight capacity of the Wind Pouch?
The Wind Pouch can hold up to 450lbs or three adults!
8. How can I make sure the Wind Pouch doesn't blow away when I'm not on it, and the wind picks up? 
We here at WindPouch have included an aluminium stake with your carry bag that hooks directly onto your WindPouch so that it will never leave where you left it!
9. Is it possible to sleep on the Wind Pouch overnight?
Absolutely! We have designed the WindPouch to be so comfortable that you will likely trade your bed in for it.
10. How much does the WindPouch weigh?
The WindPouch weighs in at only 2.3 pounds. With the carrying case, it goes up to 2.8 pounds total!
10. What kind of material is the WindPouch made of?
Great Question! Our WindPouch is made from 100% ripstop nylon six that is recyclable. It is also coated with polyurethane that keeps the elements such as water, wind and dirt away.
11. How do I clean my WindPouch?
We understand that our WindPouch with travel to every continent (besides Antarctica) and go through the roughest terrains. That is what we made it for! For most cleaning solutions, inflating it and rinsing off outdoors with COLD water then drying out in the sun is sufficient. You may place in a washing machine on LOW TUMBLE and COLD RINSE for less than 20 minutes and hang dry. DO NOT PLACE IN DRYER, IT WILL MELT THE NYLON AND PLASTIC.
About WindPouch
On a cool, crisp day in the fall of 2015, George was walking around Atlanta's Piedmont Park, looking for a pair of trees to string up his favorite hammock and relax. No luck! All of the best hammock spots were taken. Feeling defeated, George rolled out a beach towel on the ground and laid down. After only a few minutes wrestling into different positions, his back was aching. This wasn't the relaxing afternoon he had in mind! Why wasn't there a better way?
Enter WindPouch. George wanted something durable and lightweight like his trusty hammock, but even more comfortable and easier to use. No poles, no strings, no hassle. From these thoughts, George eventually created the WindPouch – the revolutionary, inflatable outdoor lounger. WindPouch is a highly durable, waterproof ripstop nylon sleeve that takes only seconds to inflate, fold, seal and enjoy. Perfect for camping, hiking, the beach, pool, park and more. WindPouch goes wherever you go!
Purchase it here: