Wolf Tooth Components have been creating durable stainless steel chainrings in 104 BCD sizes, and they're now producing direct mount steel rings for SRAM cranks, utilizing the same 6mm dishing. The stainless steel chainrings will come in 24, 26, 28, and 30 tooth configurations with a 49mm chainline and will retail for $99.95. They use 416 stainless steel which has been heat-treated for hardness and strength, making them last five times longer than their alloy counterparts. Wolf Tooth's Drop-Stop wide/narrow tooth profile offers the ultimate chain retention and mud shedding capabilities.
As a bonus, you can purchase a matching alloy bash ring to protect you precious chainrings. They'll come in two sizes, one that covers the 24 to 26 chainring range and one for 28 to 30 range, and they directly bolt onto the steel chainrings. They're made of 7075-T6 aluminum, come in Silver and Black colors and retail for $45.95 and include attachment bolts.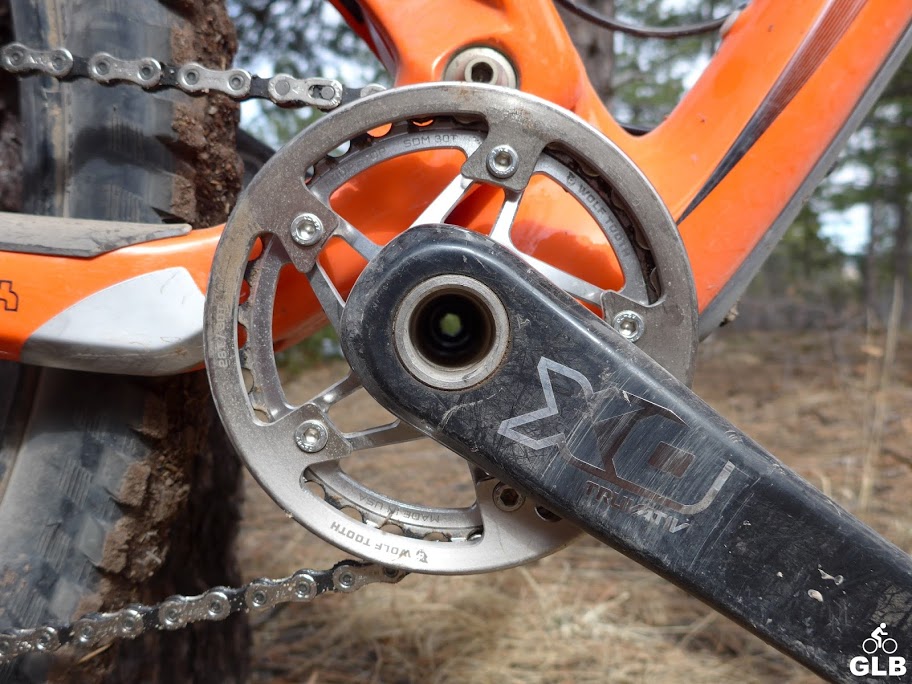 Impressions
I built up a 30-tooth steel chainring with the larger integrated alloy bash ring on an older carbon SRAM X0 crankset. The X0 crank arms are no longer nice looking due to foot scuffs, but they work perfect and have plenty of life left in them. Attaching the direct mount chainrings to the back of spider is dead simple using SRAM's three bolt attachment system and its splined interface, and it offers a secure and stable platform. I next bolted on the alloy bash ring to the chainring using the five Wolf Tooth supplied bolts. The steel chainring and its accompanying bash ring are a thing of beauty and blend well together, offering a lovely line, and a swooping turbine spoke effect.
During my first couple of rides, I didn't feel any difference between how the steel chainring and my usual alloy ones operated. I started to notice differences after some big miles were put on the drivetrain system or perhaps I should state the lack of anything happening in regards to the steel chainring since they never degraded in their performance. I am a torque monster and put a lot of abuse onto a drivetrain system, and alloy chainring teeth quickly wear and stop offering the same exact carrying capabilities and smoothness of the chain as it wraps around the chainring. These capabilities are what translates into performance and power transfer that is channeled into the cassette and rear wheel for traction and control. You can hear it as more noise and stress on the alloy chainring, almost like it's screaming with pain during the chain transitions over the teeth. The steel teeth, on the other hand, continued to offer the same performance from day to day and never showed any apparent degradation and loss in performance.
I haven't had enough long term use to see if they'll last five times longer than their alloy counterparts, but they certainly provided me with the same performance since I first installed them. Also, I also think they'll make the chain last a tad longer since the teeth offer a more stable platform? It's a joy to have the same silky smoothness from the chainring as you pedal along, mile after mile, without any apparent alteration in performance.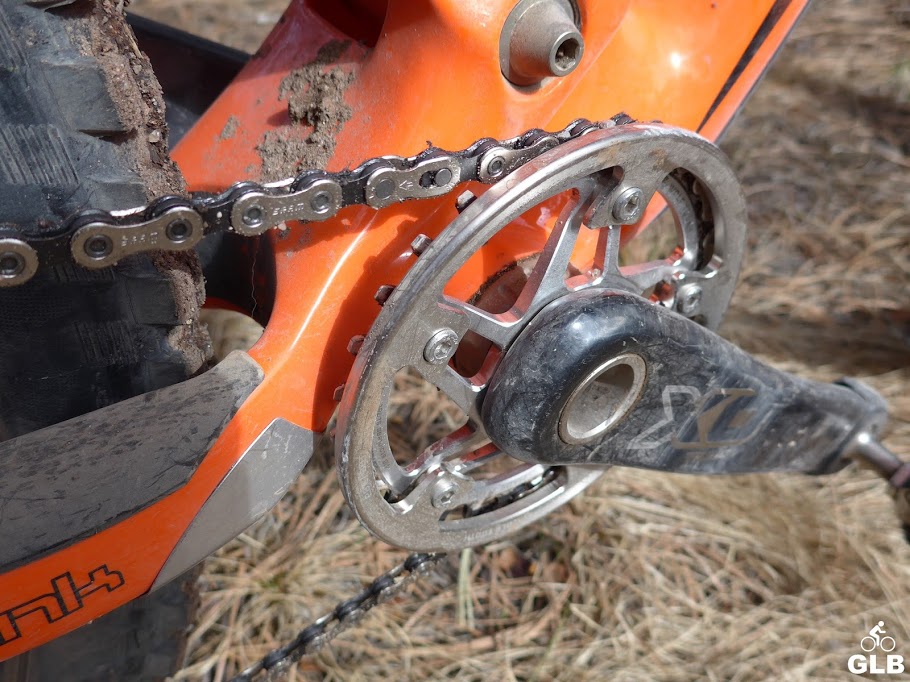 Bottom Line
The Wolf Tooth Steel Drop-Stop Chainrings for the SRAM direct mount system are strong beasts that are tough and durable. The craftsmanship of their products is outstanding, and they have some superb engineering design, and CNC work.
The long wearing Wolf Tooth steel chainrings and their companion alloy bash ring are gorgeous looking and will outlast any alloy chainring many times over. From day 1, the steel chainring teeth have continued to provide the same performance and power transfer to the rear end without any discernible degradation, making for an equitable long-term investment.
For further information refer to wolftoothcomponents.com
Specs
Design and manufactured in the Minneapolis, MN USA
Wolf Tooth's patent pending Drop-Stop wide/narrow tooth profile for the ultimate chain retention and mud shedding ability
Material – hardened and electropolished 416 stainless steel.
Colors – silver
Chainline – 49mm when used on mountain bike cranksets and 44-45mm when used on CX/Road cranksets
Weight – 24T= 106g, 26T= 123g, 28T= 137g, 30T=155g
These direct mount chainrings will replace your existing chainring and spider, which is attached via 3 bolts on the back side of the spider near the spindle. – These are 6mm offset direct mount chainrings to fit SRAM cranks
For 1×9, 1×10, or 1×11 drivetrains
They fit on SRAM cranksets with removable spiders that are either GXP, Long Spindle BB30 or any Road/CX crankset

Models include but are not limited to: S2200, S2210, X9, X0, X01, XX1, X1 1400, SRAM Road/CX, Truvativ AKA Cranksets (GXP version), and newer S1400 (or X7) .