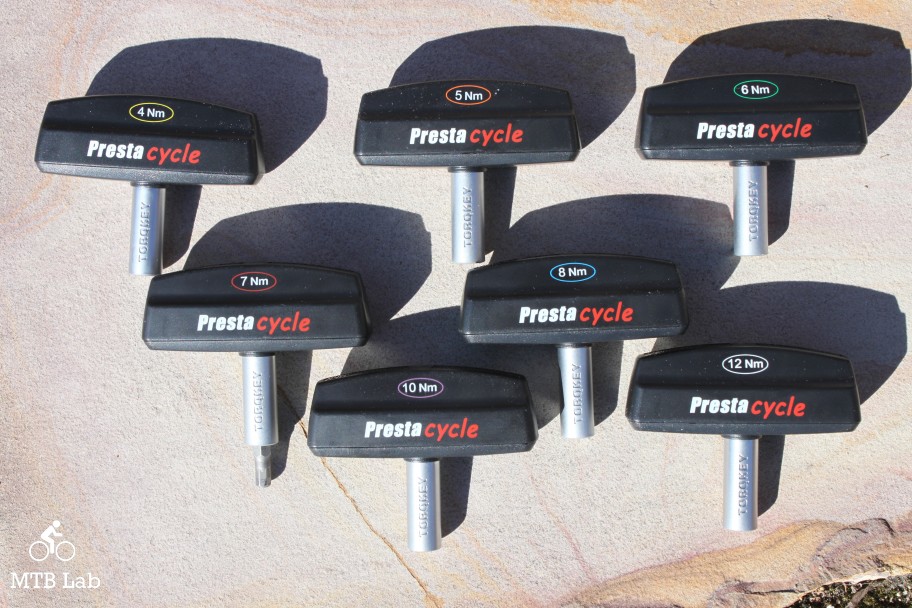 The Prestacycle Torqkey T-Handle tool uses a built in cam-over torque limiting clutch, to prevent you from applying too much torque to fasteners, which reduces damage to components and frames, and allows tightening to exact manufacturer specifications. The T-Handle's come in 4Nm, 5Nm, 6Nm, 7Nm, 8Nm, 10Nm and 12Nm settings and retail for $15 each or $23 with a 2o hex bit set. They also sell kits, including a three piece 4-6Nm with 20 bits for $50 and the full seven piece 4-12Nm with 20 hex bits for $100.
Why Use Torque Wrenches?
When tightening a fastener to a component using the Torqkey T-Handle, it will click when it reaches the specific torque, and any further application of force does nothing other than cause more clicking noises, as the torque limiter prevents any additional torque application. When using a regular long armed torque wrench the user needs to be careful with the acceleration and force being applied to the lever arm, as well not continuing once the specified torque is reached, all of which can cause over tightening issues. The Torqkey T-Handle takes the guess work out of applying too much or too little torque, and in low-torque applications, such as the assembly and adjustment of stems, handlebars, brakes, seatposts, etc., it allows precise and accurate tightening.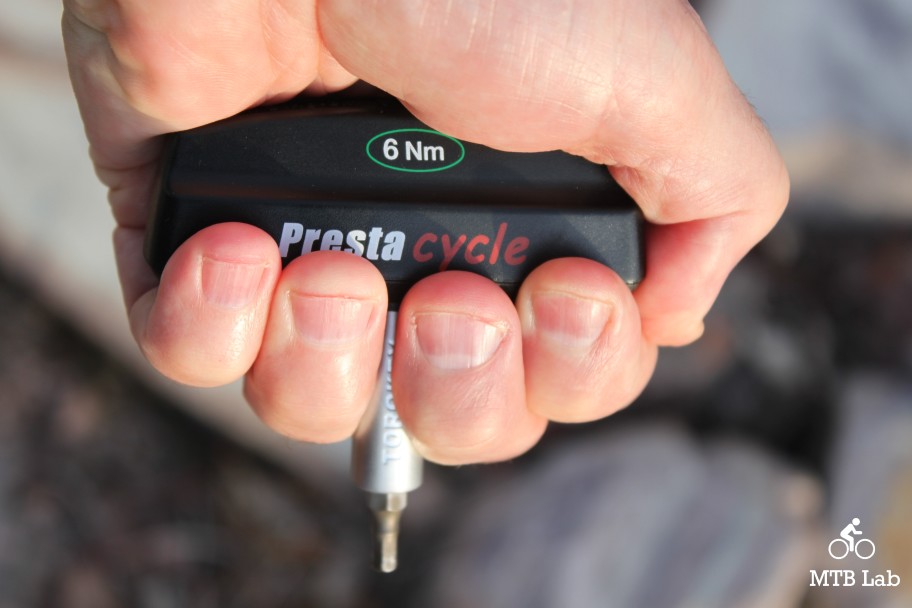 Impressions
I think that having some torque wrench is a necessary tool for the home and shop mechanic, especially when dealing with lightweight and fragile frames and components, and materials such as carbon fiber and titanium. Tightening fasteners to components without a torque wrench relies on an innate 'feel' and wizardry that the correct torque has been applied, and it's more of a guesstimate than anything else. The Prestacycle Torqkey effortlessly gives you the calibrated torque to the fastener you are tightening, and once it reaches that setting, you can't apply additional force, as the torque limiting clutch prevents any more tightening. The tool is only meant for regular right hand or clockwise tightening and isn't to be used to break loose fasteners though I always use the Torqkey for final application and assembly scenarios. The tool has a nice ergonomic feel in the hand, with a big and rectangular shape, and works the best by fitting it between your middle fingers, and cupped in your palm. The shank is magnetized, and the tip has a socket to hold generic hex bits.
Each of the different torque versions of the Torqkey T-Handle's is color coded and numbered on each side of the handles body for easy identification. I found the numbering was more than adequate and never paid attention to the colored circles.
Specs
Provides 20 degrees overrun when maximum torque is reached
Color-coded tension markings on both sides
Torque value accurate to + / – 8%
Overrun provides user with unmistakable feedback when torque value is reached
12mm wide Zinc shaft has 50% thicker walls; stronger than other Torque tools
Polymer T-Handle ergonomically designed for comfortable four-finger and palm grip
Torque accuracy lifecycle exceeds 5000 cycles
Magnetic 1/4″ hex bit retention makes bit changes easy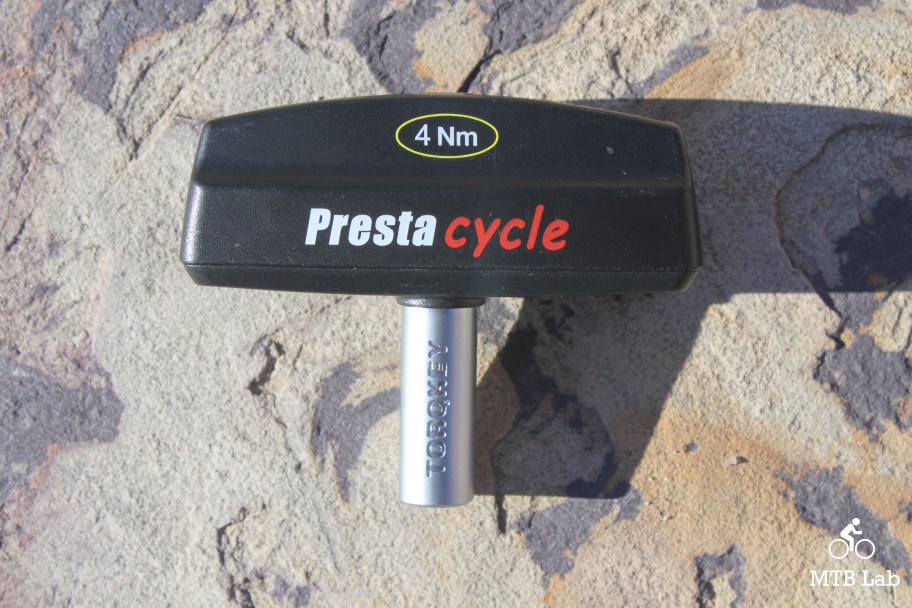 Bottom Line
The Prestacycle TorqKey T-Handle Torque-Limiting Bits Tool is an incredibly useful shop item, allowing one to apply exact torque settings to fasteners during assembly and adjustment of frames and components. The tool is idiot-proof, and the smart torque limiter only allows the calibrated application of force and no more. It clicks when that setting is reached, and will keep clicking without letting any further torque to be applied. The TorqKey T-Handle is a well-made and robust tool that has a great ergonomic handle, and a useful magnetic shank for easy bit swap-outs, and is number and color coding for identification purposes. It's not meant for breaking or removing fasteners and only works for standard clockwise tightening.
The Prestacycle TorqKey T-Handle Torque-Limiting Bits Tool is a convenient, functional, tough, and accurate tool meant for low-torque applications and assembly of bike components and frames, especially with regards to precision carbon fiber and titanium parts.