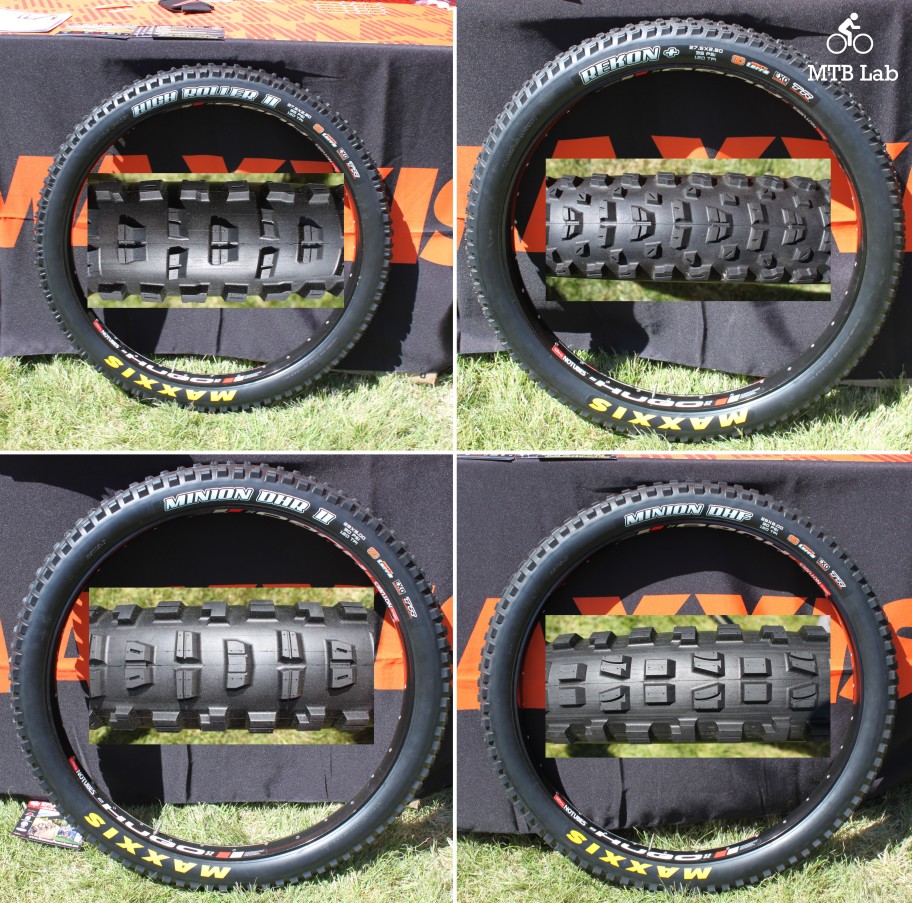 Day 2 at Sea Otter rolled around with some cooler weather, with glimpses of sun followed by bouts wind and clouds. Maxxis was displaying their new Plus sized Minion DHF, Minon DHR II, High Roller II and Rekon + tires, Light & Motion had new Seca 1800 and 2200 plus a tiny Imjin 800, Magura had the MT Trail Carbon brake system (4 pot front/2 pot rear), Manitou Hexlock SL thru axle, and Osprey Hydraulics reserviors.
Maxxis
Maxxis has a slew of Plus sized tires on display, including the Minion DHF, Minion DHR II, High Roller II and Rekon +. Except for the Rekon +, the other tires won't be available early fall. The Rekon + was their purpose built Plus sized tire and has a decently aggressive tread with good rolling capabilities. The Minion are huge and have monstrous knobs and seem more like a motocross tire than a Plus sized bicycle tire.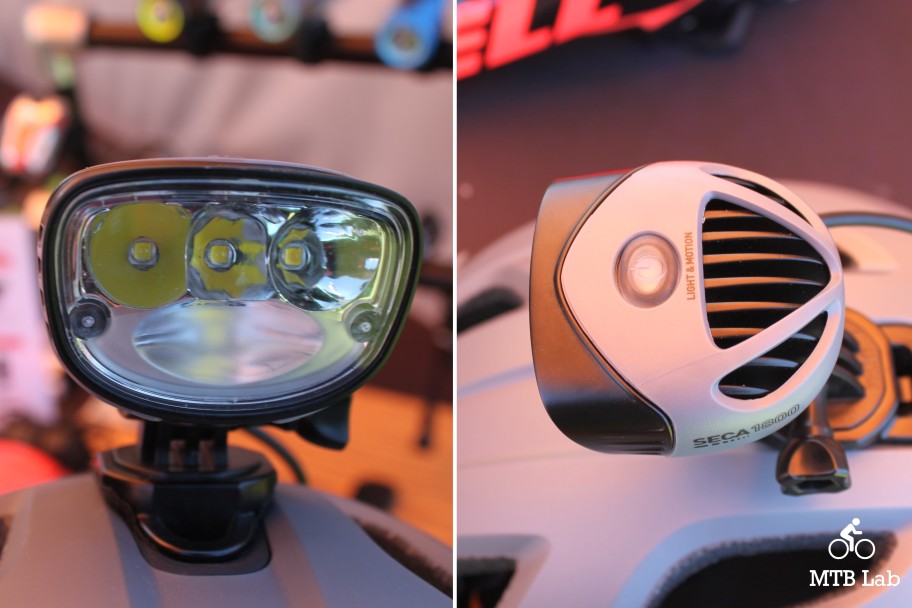 Light & Motion
Light & Motion tweaked their Seca lineup this year and now have a model 2200 and 1800. The control buttons have been raised and are more prominently, so they have a better tactile feel when being used with gloved hands. The Seca 1800 now has four light beams, with the lower one being more defused for better trail functionality. They also added the small Imjin, which has 800 lumens.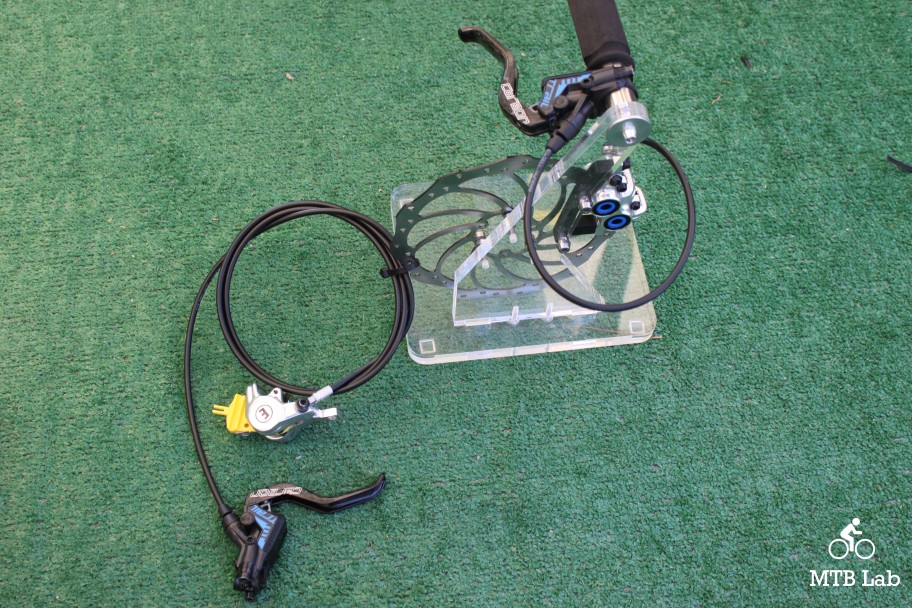 Magura
Magura introduced their new MT Trail Carbon brake system which uses a front with a 4-piston caliper and a rear 2-piston caliper. The system weighs 332 grams which are 15% lighter than the MT7 and only 5% heavier than the MT8. The weight is optimized thanks to their Carbolay carbon levers and Carbotecture SL brake lever housing. The MT Trail Carbon has a dark black carbon lever/master design and polished chrome on the brakes calipers. The Storm HC rotors are offered in 203/180/160 mm.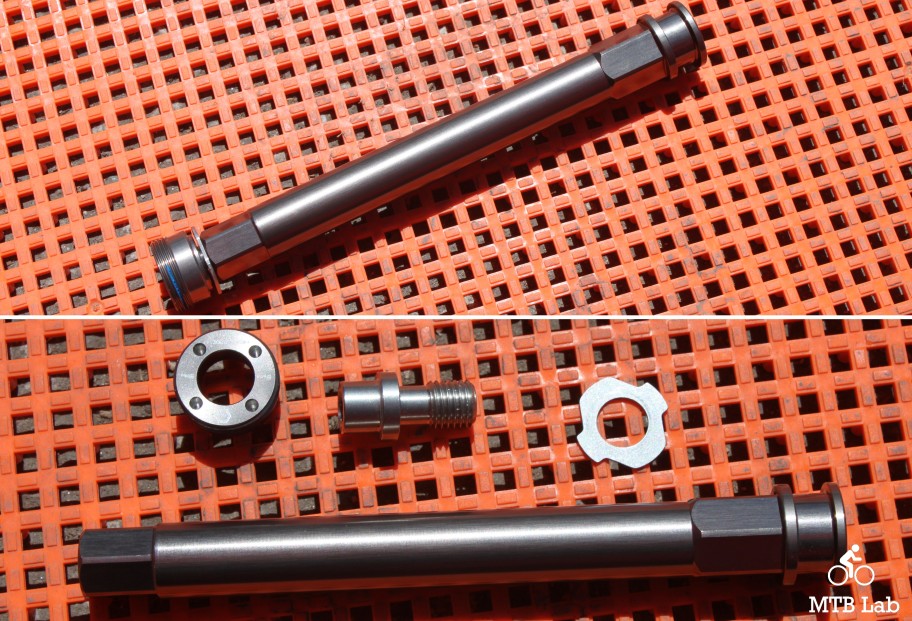 Manitou
Manitou has a new lightweight thru axle system for their forks called the Hexlock SL which saves 32 grams over the QR15 HEXLOCK which will come on the new forks but is available for aftermarket at $39.99.
Osprey
Osprey had their new Hydraulic reservoirs at the show, and they'll be for most of the summer 2016 packs. The Hydraulics LT version, available in 1.5L and 2.5 L volumes, includes twin baffles to stabilize water and maintain a flat profile. The Hydraulics model has a plastic stiffening plate on the back to help keep it from flopping around and additional rigidity to packs.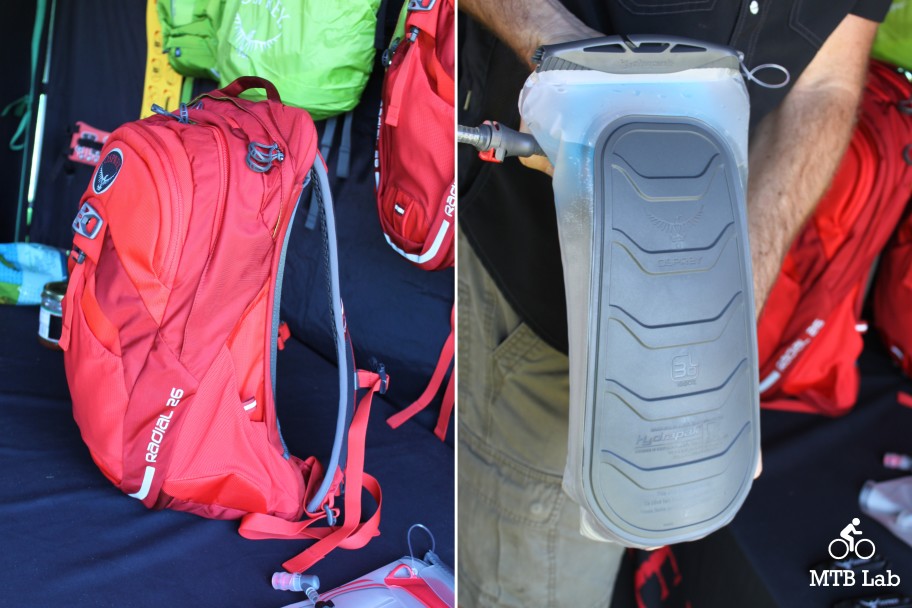 Osprey has upgraded their Radical 29 commuter pack with some new features, some pockets changes and it now stands up on its own.