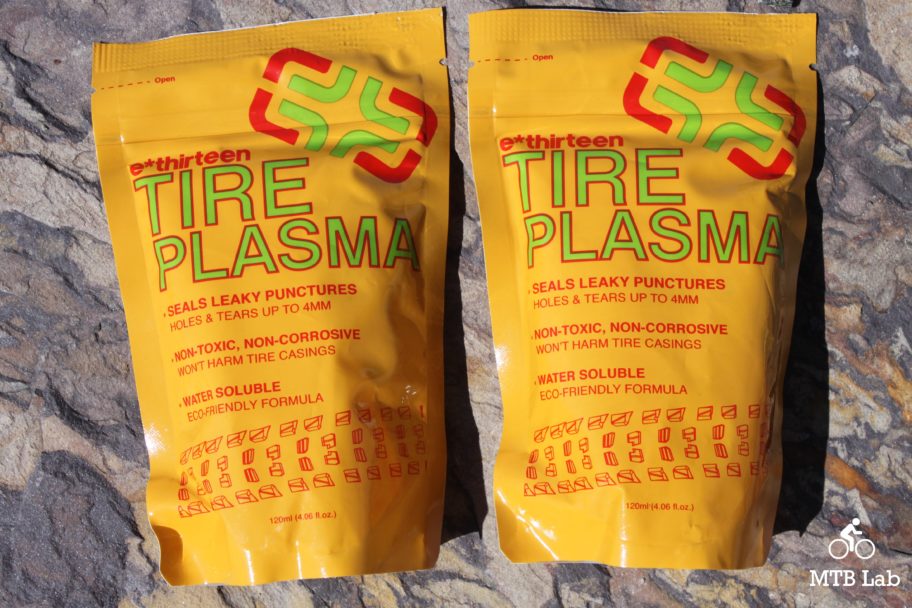 There are lots of bicycle tire sealants on the market today with many different ingredients and properties, but they all try and accomplish the same thing, seal tire punctures. The e*thirteen Tire Plasma sealant formula is completely water soluble, non-toxic, and non-corrosive, making for an environmentally and tire friendly product. It uses quick interlocking particles to fill in punctures and jumps into action and forms a strong bond within seconds, sealing up your tire when it gets poked and sliced. This acrylic resin compound cross-links with itself immediately when exposed to external air, and creates a secure and stable bond when you need it most. Like any sealant it does have it limits, in this case, it only seals up to 4mm holes and tears, so don't expect it to fill a gaping sidewall tear or wound.
It comes in a single serve 120ml pack for $4.95, a 1-liter bottle for $17.95, and a box with ten single serve 120ml packs for $39.50.
I tested out the single serve 120ml soft packet and had to approach using them a bit differently than the typical small or large sealant filling bottles. After removing the tubeless valve core it was obviously too difficult to pour directly from the packet, so I ended up using one of my old Stan's sealant bottles as the intermediary to accomplish that. I was testing with a 27.5+ sized tire, so I needed the full 120ml of sealant for the project and ended up using the small 60ml bottles twice to facilitate filling the Tire Plasma into the tubeless valve. I could have also used my Stan's injecting syringe and poured the sealant from the packet into it, but preferred the small bottles for ease of use.
I haven't opened up the tire to see if any sealant boogers have been produced if that will even occur with their formula? So far no issues with anything, though I haven't had any punctures as yet, the sealant has helped keep the tires sidewalls sealed tightly against the rim without any excess air leakage. It was nice to use Tire Plasma since I didn't feel like I was getting any nasty chemicals on my skin during the filling process, and I know that the tire casing and rims are not being damaged by the product.
Specs
Non-toxic
Non-corrosive
Water soluble
Quick interlocking particles
For further information hbythehive.com