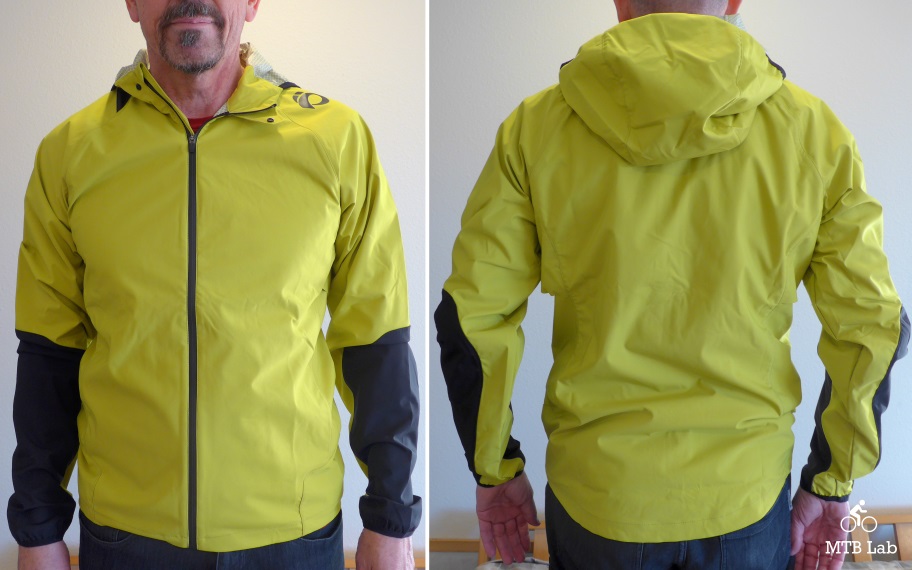 The Pearl Izumi MTB WRX jacket uses a DWR water resistant material and offers great wind and water protection, is lightweight and packable and has abrasion resistant arm guards. It has a full-length internal draft flap with a sealed zipper, an integrated hood that fits over a bike helmet and is compatible with most elbow pads. It uses a 100% polyester woven twill with a 2.5 layer charcoal membrane for fabric and doesn't have any taped seams, and has armpit and helmet vents. It comes in Tibetan Red, Citronelle (shown), and Black and retails for $175.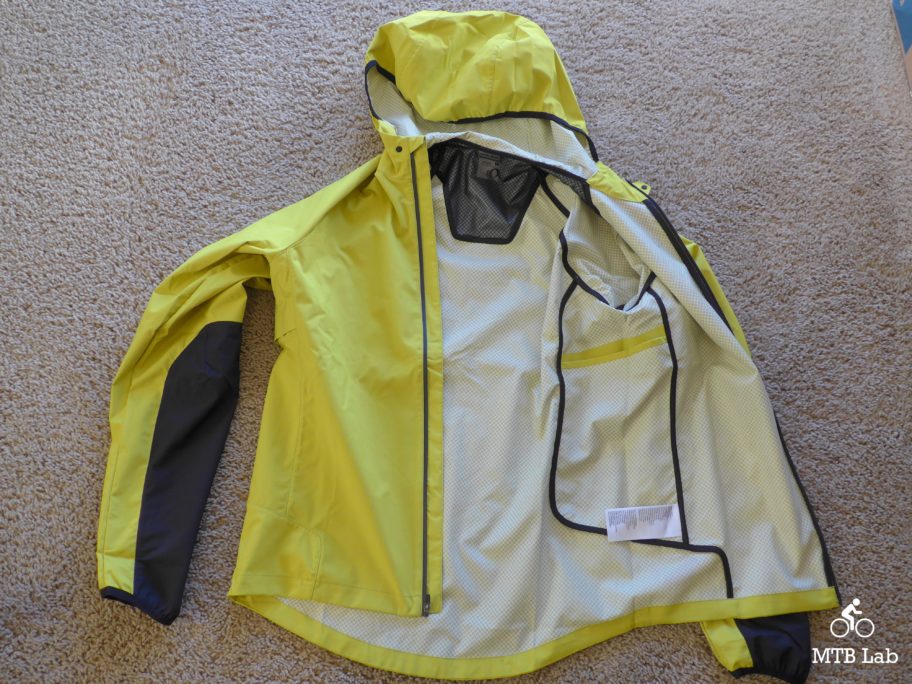 Impressions
The MTB WRX jacket has a semi-loose cut with just enough room to wear bulkier garments underneath when the conditions are cooler, though it's not what I would call a baggy fit and it offers up a snug enough design to not feel like it flops around needlessly. The length comes down to the belt level with a longer section at the back for decent rear coverage while bent over in a riding position. The arms have a nice long cut, which I greatly appreciated since I hate jackets with short arms. The arms utilize a simple elastic cuff which works perfectly with gloves and doesn't interfere with things and is comfortable. They added a small section of abrasion resistant material on the outer lower sleeves for durability and robustness, and it noticeably defends bashing against rocks, trees, and bushes. The jacket is made with a lightweight fabric but after 18 months of use it hasn't shown any signs of wear, and even after some nasty crashes I didn't get any tears or cuts, which I find pretty amazing.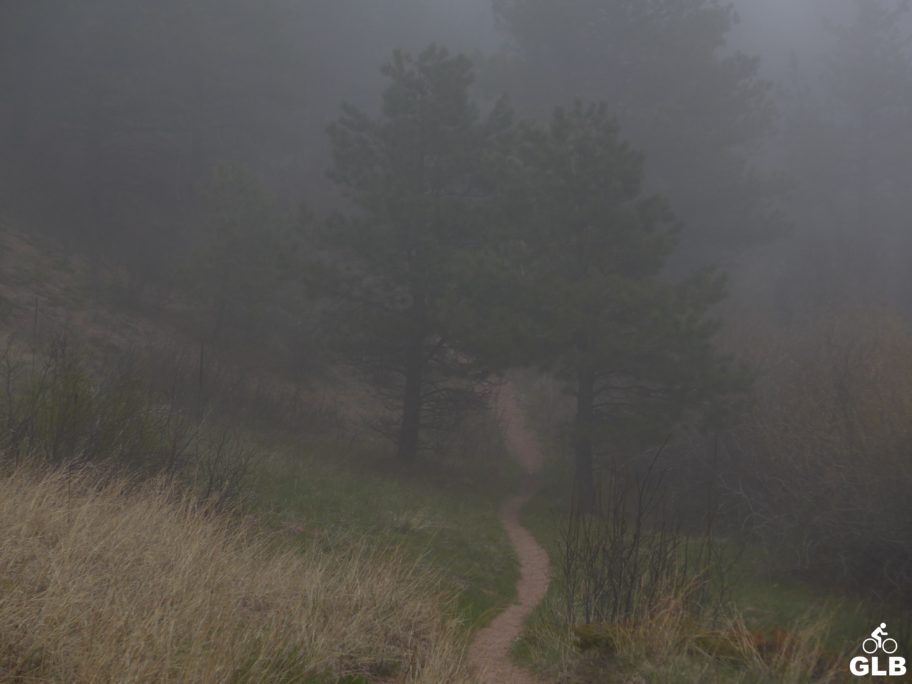 I have used the jacket in rain and snow storms, and the DWR water resistant material has beaded the water adequately on the surface without things becoming saturated internally. In light to moderate rain squalls, I stayed warm and dry and comfortable, but during massive deluges it overwhelms the jacket, and I ended up getting damp though I never got soaked.
I used it sometimes on cold days going downhill, and it helped block the wind and increased my comfort and warmth levels. On other days when it's chilly out or when you're out late in the evening, the jacket provides an extra layer of warmth and protection. I have worn my soft armor elbow pads under the jacket, and they fit just fine, and I didn't suffer any noticeable interference issues.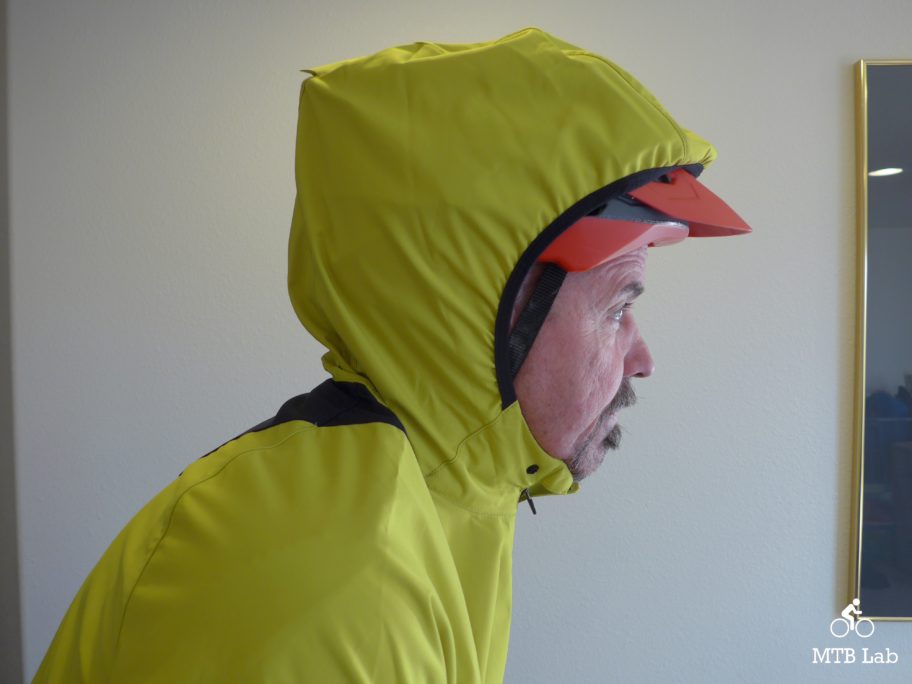 The integrated hood fit nicely over my helmet, and I was able to move and turn my head without any major issues, and it certainly added some warmth and protection when needed. It was easy to grab the hood and pull it over the helmet on the fly when necessary or toss it back off when done. I wasn't bothered by the hood flopping around on the jacket when I wasn't wearing it.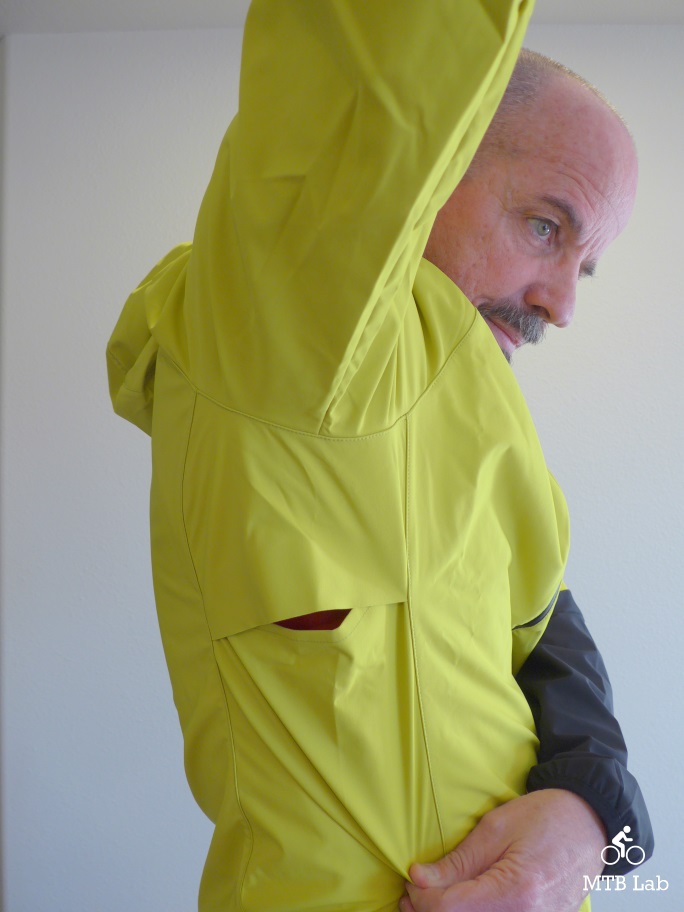 The jacket offers two armpits and one helmet vent to help expel heat and moisture and aid in ventilation, and it just uses an over flap of material for coverage.
While wearing the jacket in cooler weather and light rain, I did some long hard climbs, and between the vents and the breathability of the jacket, I didn't overheat or perspire heavily. Like any of the DWR jackets if you push them to their breathability and temperature and humidity limits you'll end update perspiring and get too warm, but as long as its not raining much or too cold, it's simple to take the jacket off and stow it away.
The jacket is lightweight and comes in at a feathery 277 grams (9.8 oz), and its compact size means it easy to stuff into a pack. The front zipper has a full-length internal draft flap to prevent air infiltration, though I did find the zipper to be too small and finely toothed and worried about its robustness.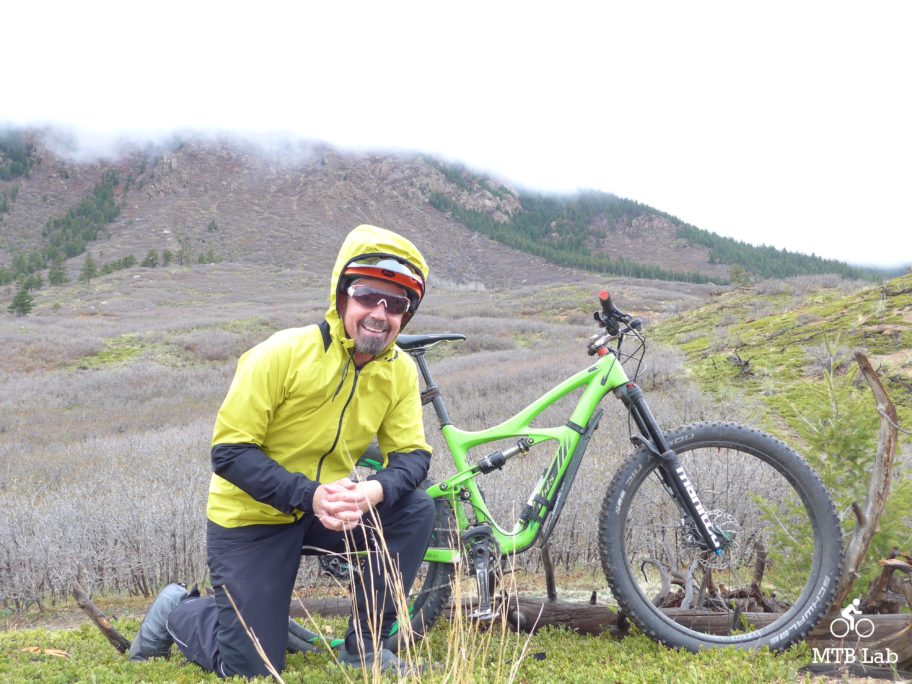 Final Thoughts
The Pearl Izumi MTB WRX Jacket is comfortable, lightweight, packable and straightforward. The jacket uses elastic arms cuffs and has no fancy ventilation systems, taping, pockets or anything extraneous. Though it's made with light fabric, I haven't had any wear or tear issues in its 18 months of use, even with occasional crashes, tree bashings, and pack abrasions. The DWR material is very breathable and works great in light to moderate rain, though heavy storms can overwhelm things.
It's just an excellent wind and water protection jacket that works, and its small and light enough to always bring with you on any cycling adventure.
Specs
MTB WxB fabric sets the benchmark in wind and water protection with abrasion resistance
Full-length internal draft flap with zipper garage seals in warmth
Elbow pad compatible fit
Hood that fits over a trail bike helmet
Armpit and hood vent
Extremely light and packable
Body: 100% polyester woven twill with a 2.5 layer charcoal membrane
Weight: 132 g/m2, Imported
MSRP – $175
For additional information pearlizumi.com