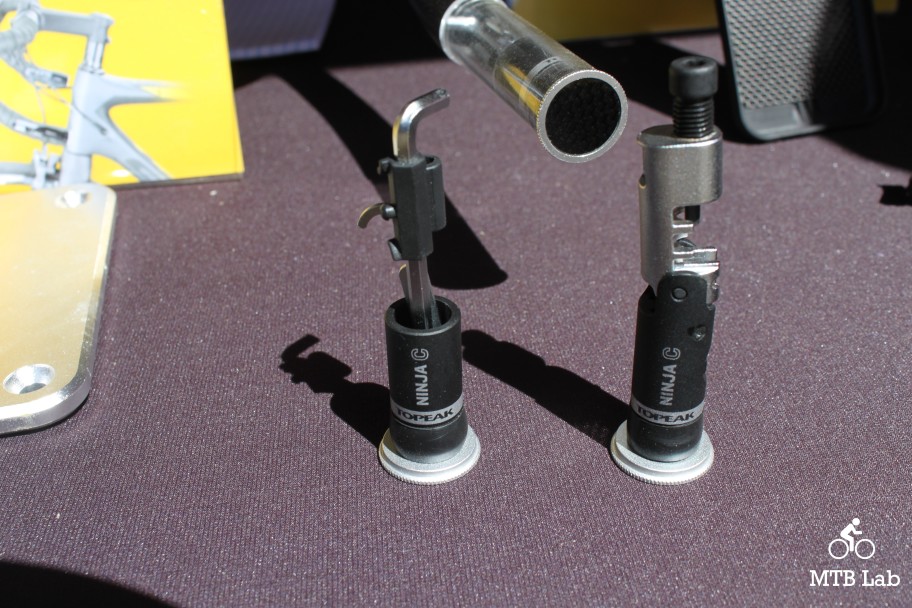 Topeak has a slew of new tools for this season including their new Ninja series that is compact and stealthy, and the Nano TorqBar torque limiter. They join the JoeBlow Dualie dual gauge floor pump which is perfect for fat and standard tires and the innovative JoeBlow Booster tubeless tire inflator.
Ninja C
The Ninja C chain tool replaces your end caps on your handlebars and fits up inside the recesses of the bars, hidden away until it's needed up. The 11-speed compatible chain tool has a chain pin compartment and a hardened steel chain hook, and a 4mm hex Allen wrench. It has a lightweight aluminum body, weighs 77 grams, and fits 16.5 – 20 bar tube diameters. This Ninja C is a cool item that places the rarely needed tool in a handy location, unobtrusive until you need a strong and well-made chain breaker.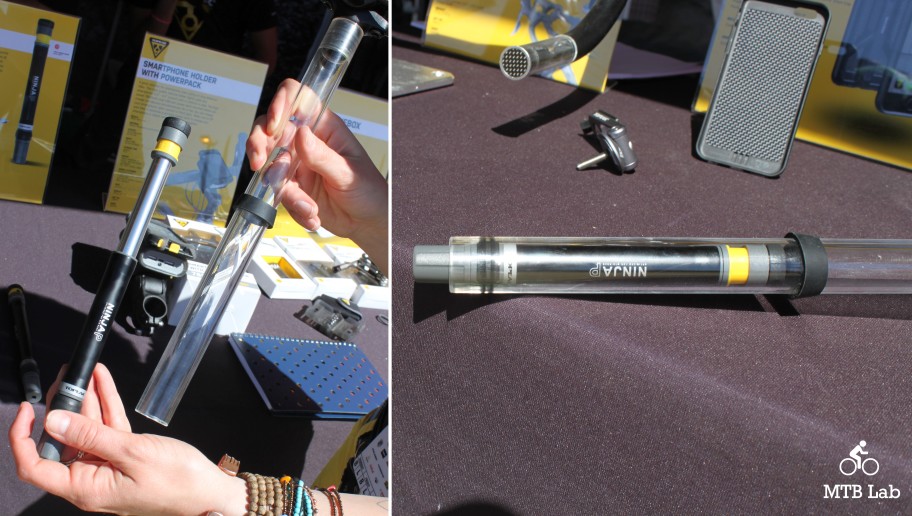 Ninja P
The Ninja P is a lightweight bike pump that hides inside your seatpost, so you don't need to carry a tool bag with a pump or attach one to your frame, yet it's still easily accessed when needed. Its rubber mounting ring secures the pump inside the post, and the included position indicators keep track of your seat height. The Presta-only head uses an aluminum barrel and alloy/plastic handle, weighs 62 grams and fits 27.2, 30.9 and 31.6mm diameter seatposts. The Ninja P is an innovative pump for anyone running standard seatposts, and it means you'll always have a pump on your bike for any emergency.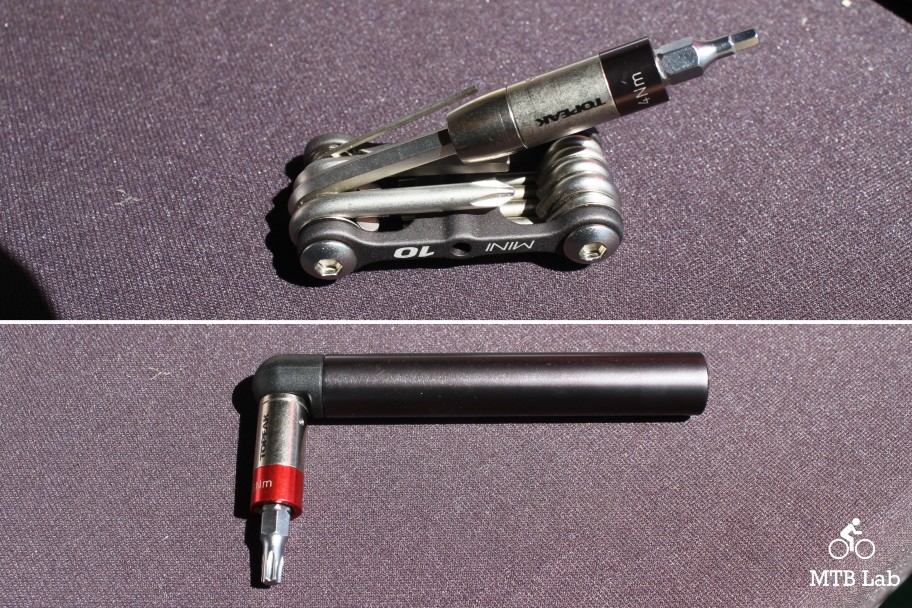 Nano TorqBar
The Nano TorqBar is a slim preset torque wrench which comes in that's a precision-crafted and high-quality tool for the shop, home, and trail use. Its advanced torque limit release design consistently applies precise torque values on component bolts for safety and prevents damage to expensive carbon parts. Includes the kits are either a 4Nm, 5Nm or 6Nm preset TorqBit and the five most popular tool bits (3/4/5mm hex & T20/T25 Torx). Two bits can be carried in the handle of the Nano TorqBar for immediate use and for even greater portability during rides. You can also buy TorqBit's separately, and it will attach to any 5mm mini-tool or Allen wrench.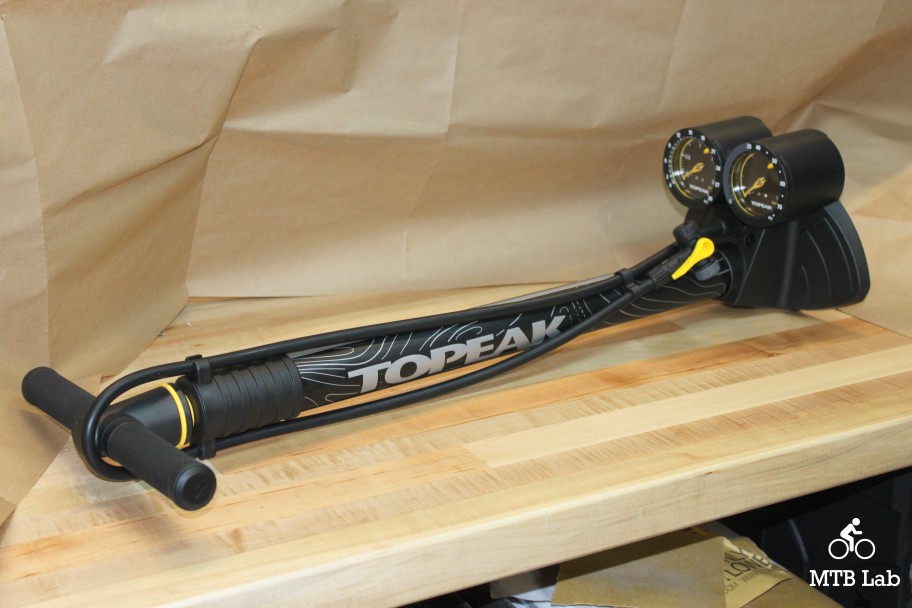 JoeBlow Dualie
The $70 Topeak JoeBlow Dualie is a great floor pump that is extremely well suited for inflating high-volume and low-pressure mountain bike tires. The oversized barrel creates up to double the amount of air for each stroke of the handle so that mountain bike tires can be quickly inflated or topped off.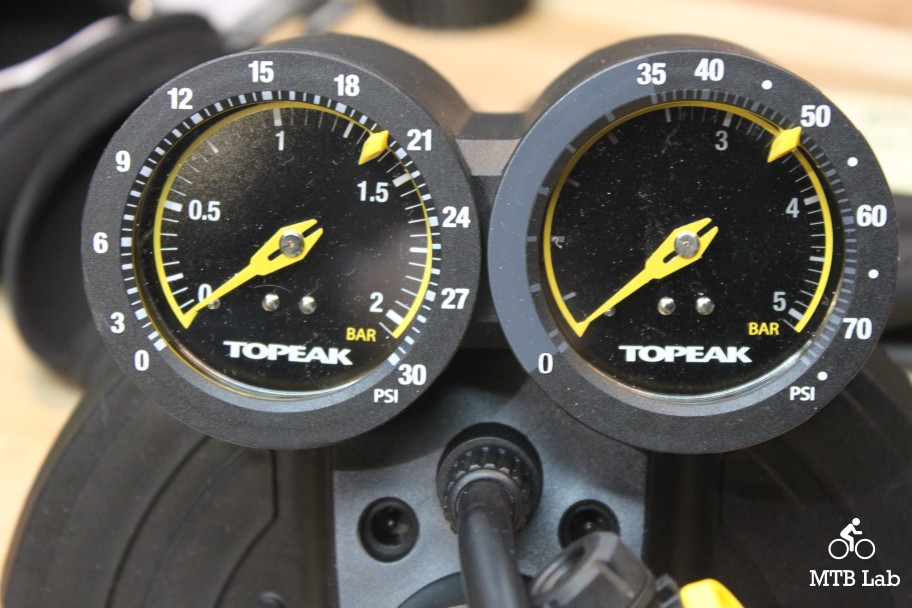 The large dual gauges are easy to read, and to have one for 0-30 psi for fat and Plus sized tires and a second for 0-75 psi for a standard mountain bike tires are very useful. The TwinHead has individual Schrader and Presta heads along with a handy air pressure release button.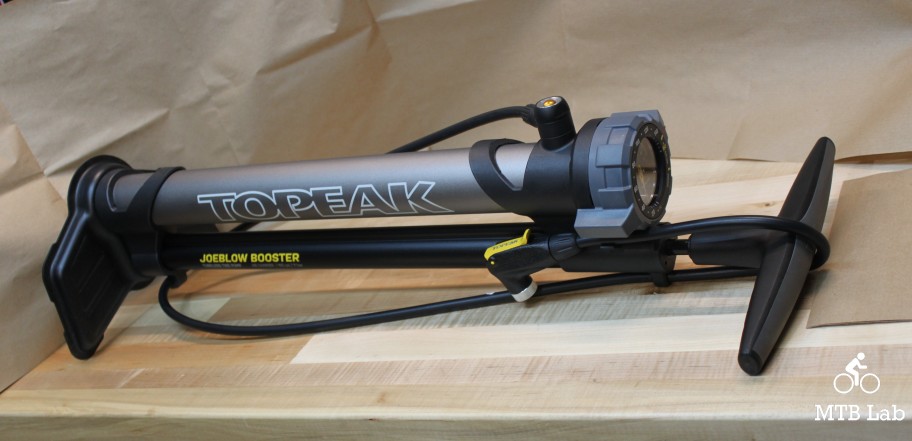 JoeBlow Booster
The JoeBlow Booster pump installs tubeless tires without the need for a compressor, making it ideal for in the field and at home use. The pump has an integrated large aluminum air chamber that stores an air charge of one liter up to 160psi to inflate the tubeless tire onto the wheels rim.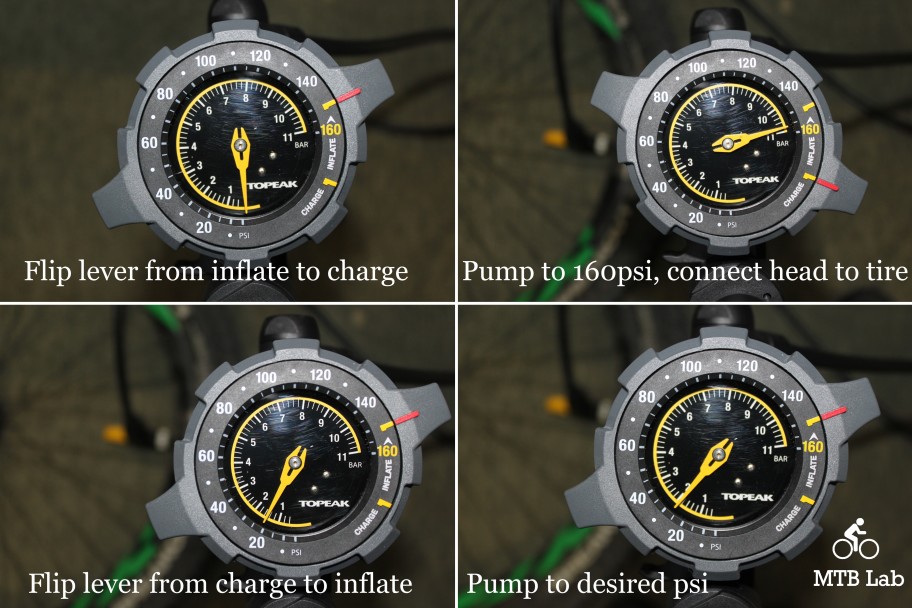 After pumping the chamber to 160psi, flip the switch from "CHARGE" to "INFLATE" and the tire will pop up into place, and you can then fine tune the final air pressure with additional strokes of the pump. Other features include a top-mounted gauge easy to read, an air release button, an extra-long hose and a stable base.
For further information www.topeak.com