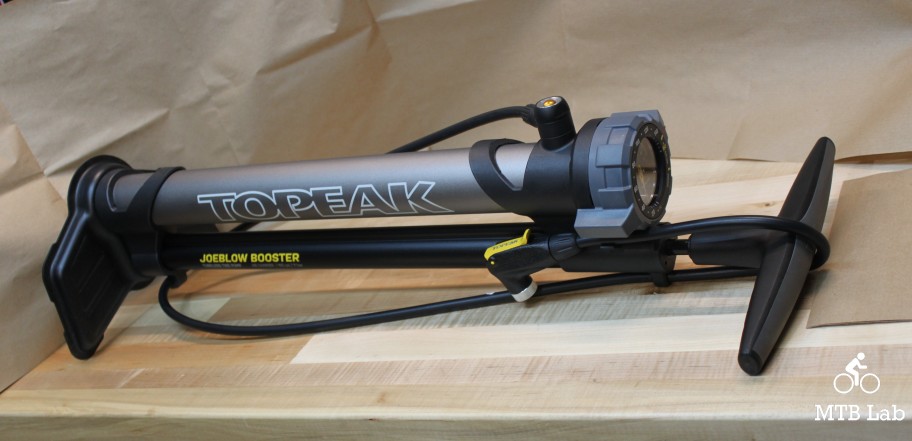 The JoeBlow Booster floor pump facilitates installing tubeless tires without the need for an air compressor, making it ideal for in the field and at home use. The pump has an integrated large aluminum high-pressure air chamber that stores an air charge of one liter up to 160 psi to quickly inflate a tubeless tire onto a bicycle wheel's rim.
[vimeo width="800″ height="450″]https://vimeo.com/168392292[/vimeo]
Booster tubeless tire filling steps:
Fill the main reservoir to its maximum or desired pressure while the top dial is in the "CHARGE" mode, attach the hose to a tubeless tire valve, flip the selector to "INFLATE" and the tire will quickly seal up onto the bead and rim. You can then fine tune the tires pressure with additional handle strokes or decrease the pressure with the air release button.
Features
The floor pump system consists of a standard anodized aluminum barrel with an oversized, padded Kraton handle for filling and the integrated large air reservoir, which has a 1-liter capacity and can be pressurized up to 160 psi (11 bar). On top of the chamber is an analog gauge that reads 0-160 psi with a two-position selector knob, and can be turned to either charge the reservoir or inflate a tire. The reservoir has an extra-long hose with their SmartHead valve attachment device along with an air release button just underneath the gauge. Everything is attached to a heavy steel base which offers a sturdy and stable platform. The JoeBlow Booster weighs in at a hefty 6.4 lbs (2.9 kg) and retails for $159.95.
Impressions
The JoeBlow Booster can be used as a tubeless tire inflator or as a regular floor pump, making it highly functional tool for any recreational and professional use. The pump is well made and is a pretty substantial piece of hardware, with tough overbuilt plastic parts interspersed with metal ones, especially the large high-pressure aluminum air chamber and the strong steel base. Most of the parts are user serviceable, including the SmartHead and internal pump portions, which will make for a long-lived product.
It's a relatively simple process to inflate a tubeless tire using the pump with the only differentiation being the final desired pressure for the air chamber. Since I tend to inflate large mountain bike tires, including Plus size and fat 29er tires, I always charge it to the maximum 160 psi so that tubeless tire will reach the highest final pressure possible when inflated. When inflating smaller diameter tires, charging the chamber to 120 psi will likely be more than adequate.
Inflation Steps
Disconnect the hose from the floor pumps dock hooks.
Turn the selector on the top gauge to "CHARGE".
Pump the handle until the desired pressure is reached. It took me 50-70 strokes to reach 160 psi.
Attach the SmartHead to the tubeless tire valve.
Turn the selector to "INFLATE" and the tire should pop up onto the bead and rim.
Top off the desired final tire pressure with more strokes of the handle or push the air release button to decrease the psi.
I did have a troublesome tire and had to inflate it once with the valve core removed to get the carcass pre-stretched and then I was able to re-inflate afterward without any issues. The selector had a distinct stop for each of the modes and was easy to read, though it was tough to move it without stepping on the base for leverage or using two hands.
The pump handle has a nice feel, and it was easy to stroke, though once you're beyond 120 psi in pressure when charging the air chamber, it gets pretty tough to fill it to the maximum of 160 psi. Since it took me around 60-70 pumps of the handle to get to 160 psi, the last 10-15 strokes required a big grunt of effort to finish off the charging. Having the easy to read pressure gauge up high on the pump was useful, and my old eyes enjoyed the large size of the numbers.
The extra-long hose was highly functional, letting you work with a tire from a distance or upon a stand or workbench, and once you're down with it, they have a nicely laid out set of hose dock hooks on the body to hold it in place. Their SmartHead automatically adjusts to fit Presta and Schrader valves when connected, though I admit I rarely used it on any Schrader tires since only my kid's bikes have them. The SmartHead was easy to push onto a Presta valve, though it was tough to flick the lock lever up with one hand to seal it for inflation. The air release button was large and had a functional indent making it easy to engage when dropping the pressure in a tire, and it allowed minute psi changes.
It worked just fine as a regular floor pump with the selector set in the inflate mode, and it offered lots of volume per stroke, making it ideal for most mountain bike tires. The air pressure gauges range it too broad to be accurate for low-pressure use, meaning Fat and Plus tires need a separate measuring device.
Besides the excellent portability of the Booster as a pseudo air compressor, it's quiet, which makes it ideal for home and apartment use where using a noisy compressor isn't possible or practical. I used mine several times late at night in the house and was able to inflate tubeless tires without waking up my family by running an electrically powered compressor. Needless to say, it's not as bourgeois or as handy as using my home compressor since it does take some effort to fill up the air chamber to the maximum air pressure, and it needs to be refilled again for the next use.
Bottom Line
The JoeBlow Booster bicycle floor pump lets you inflate a tubeless tire without the need for an air compressor. It can function as a tubeless tire inflator and a standard floor pump, and it's quiet and portable, making it ideal for home and field use. It's well built using premium parts and has a plethora of excellent features, including a heavy steel base, an extra-long hose, an easy to read air pressure gauge and an air release button. It has some minor nitpicks, such as the SmartHead is hard to engage, the air gauge range is too broad for low-pressure tires and the charge/inflate selector is stiff to rotate.
The JoeBlow Booster is a superb tool for any bike mechanic and it utilizes an integrated high-pressure air chamber to store one liter of air up to 160 psi to quickly inflate a tubeless tire, end of story.
Pros
Tubeless tire filling functionality

No air compressor required
Portability
Quiet

Air release button
Steel base
Extra-long hose
Dual functionality – tubeless tire filler and standard floor pump
Cons
Range of air gauge isn't useful for low-pressure tires – including Plus, Fat, and larger diameter models
SmartHead is finicky to lock down one handed
Flipping the selector from charge to inflate takes either two hands or a stepping on the base for stability
The 120 psi to 160 psi charging takes a lot of effort (common to any of these devices)
Purchase Here
Specs
For further information topeak.com
MSRP $159.95
Head SmartHead w/ x-long hose
Barrel Anodized aluminum w/large cylindrical aluminum chamber
Gauge 160 psi / 11 bar
Top mount analog
Pressure Tuning Air release button
Handle Oversize padded / Kraton
Base Steel
Added Features Hose dock
Size (L x W x H) 74 x 25 x 18.5 cm /
29.1" x 9.8" x 7.3"
Weight 2.9 kg / 6.4 lb