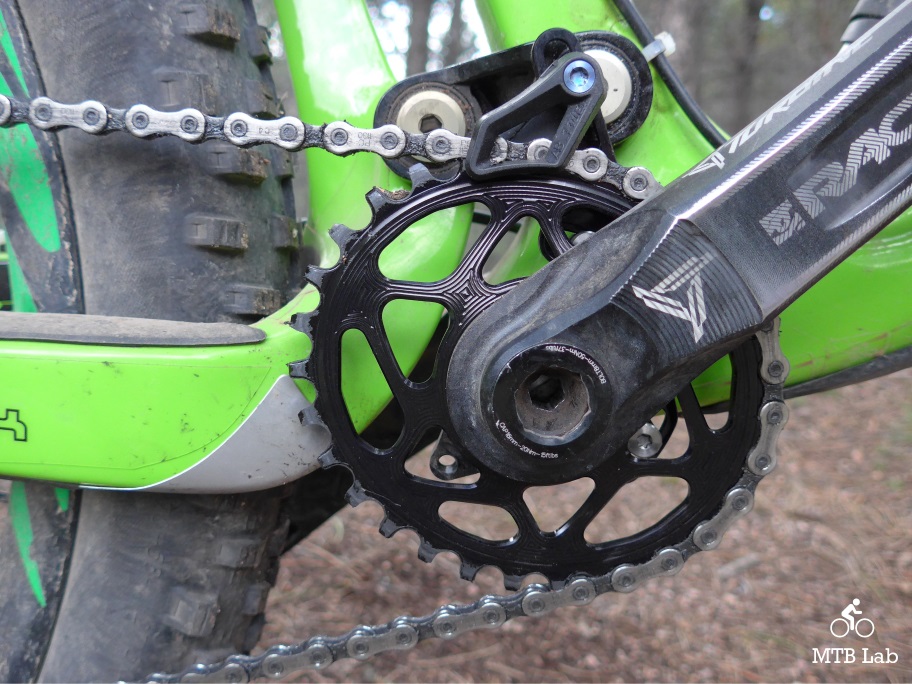 Absolute Black just introduced their Oval Guide, a chain guide that is specifically designed to work with oval chainrings, ensuring chain control at every angle of the cranks rotation. The Absolute Black Oval Chainrings are jeweled CNC artwork, and they utilize an innovative ovality and timing design that is unique to each particular chainrings size, offering the most efficient power transfer throughout your pedal strokes. I tested their oval product suite on my Ibis Mojo HD3 with a Race Face Cinch crankset, utilizing their Race Face Direct Mount Oval Chainring in a 30T size and the new Oval Guide chain guide in ISCG05 mount variation.
For further information refer to absoluteblack.cc
Absolute Black Oval Chainrings
The Oval or Elliptical chainrings shape provides an efficiency benefit and smoother power output throughout their pedaling stroke, and they offer improved traction and faster acceleration and reduced stress on the knees. During pedaling the radius of the oval chainring is constantly changing to help match your power output and natural leg kinesiology. They maximize the portion of the stroke where power is produced and minimize resistance where it isn't, providing an even cadence and smoother torque to the rear wheel thereby reducing spinouts and stalls on tough climbs, especially on loose terrain. Their narrow wide teeth profile uses a Special 3D teeth machining for the utmost in chain retention, chainring longevity and decreased noise.
Every company that makes oval chainrings has their particular shape and ovality design. Absolute Black utilizes a varying ovality of 10.2-14.4% and a timing of 110.5-116.3° after TDC (top dead center), all of which are dependent on the particular chainring size. The 1X Race Face direct mount oval chainring utilizes 7075-T6 aluminum and comes in 26T, 28T, 30T, 32T and 34T sizes and Black, Red and Green colors, and retail for $66. They also make oval chainrings for SRAM DM, e*thirteen DM, Cannondale DM, SLX M7000 XT m800, XTR M9000, 64 BCD and 104 BCD.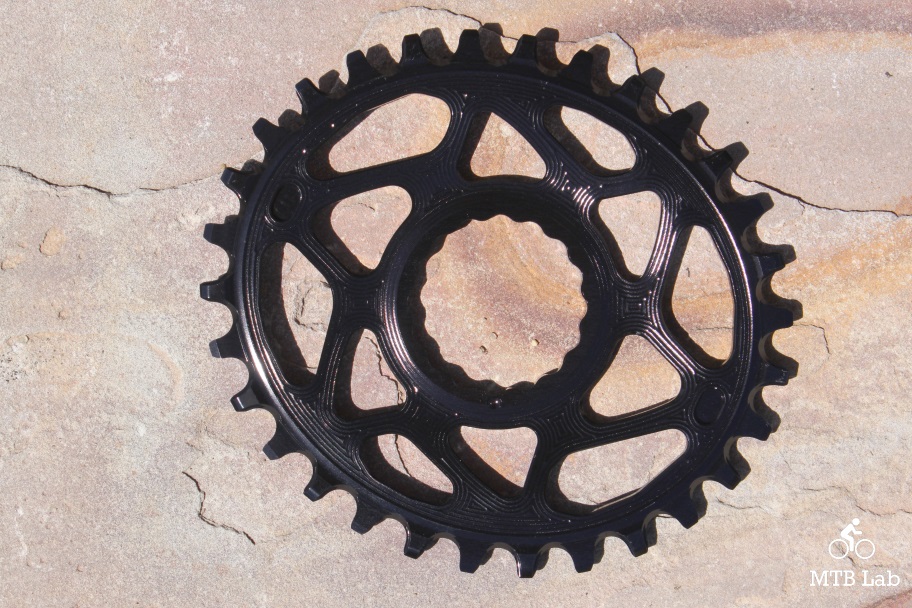 Installation
The Race Face direct mount interface allows you to connect the oval chainring in the neutral position and either 22.5° ahead or behind that point. This Optimum Chainring Adjustment makes for a customizable setup that other chainring types won't allow, though I haven't as yet tried the non-neutral positions. As with many direct mount system, you can attach smaller chainring sizes than could be installed on a standard spider on a crankset.
To install the chainring, remove the Race Face Cinch drive side crank arm with an 8mm hex wrench and using a Park Tools BBT-22 bottom bracket tool unscrew the lock ring on the crank arms backside that holds on the direct mount chainring. The Absolute Black chainring has a small indentation which you align with the center of the crank arm, which is the neutral default position. Engage the chainring its proper position and screw the lock ring down tightly with the BBT-22 tool and reattach the crank arm to the shaft.
Impressions
Initially, the oval chainring didn't feel much different than normal, other than an odd change in the rhythm of my spinning, call it a pulsing feeling. I did start to notice that I was riding faster and in lower gears on the flats and easier undulating terrain. It felt as though it was easier to hammer and I was riding at a somewhat faster clip. When it came time to stand up and crank hard on the pedals it seemed to require less effort, and I found myself doing so more often. After some time on the oval chainrings, I came to the conclusion they preferred a lower gearing and cadence, so I found myself shifting more often to stay in the sweet spot.
On long climbs, the oval chainring performed admirably, and I felt as though they shined on steep slow grinder climbs, offering excellent traction and smoother spinning. On technical maneuvers and spots that required you to make sudden bursts of speed, the Absolute Black oval chainrings worked like a charm, and I was able to crank up through stair steps and rocky sections with formidable ease. I have had issues with other manufacturers oval rings on techy terrain, in which they would occasionally give me problems and cause stall outs and create situations where I couldn't fully extract the power of the drivetrain. Things were exacerbated by catching the power spot of the oval chainring at the wrong location at the wrong time. I rarely had that issue with the Absolute Black oval rings, which I attribute to their ovality and timing, which vary with each particular chainring size.
Bottom Line
When comparing them against standard round chainrings, I found that I was faster in some terrain and a tad slower in others, so it's tough to nail down my overall tempo on an entire ride. It smooths out the pedal stroke overall, and my legs worked more efficiently throughout the whole cycle. There aren't any useless dead spots, and it utilized my legs natural strength curve. There wasn't an increase in the power I could generate, only how I was generating the power through the stroke cycle.
The Absolute Black Oval Chainring isn't a game changer, but it certainly smoothed my spinning and slightly increased my legs efficiency and decreased their fatigue. I noticed their usefulness and functionality when I was hammering hard on the pedals, especially when cranking up through a technical rocky or root-strewn trails. Oval rings offered improved traction and decreased rear wheel spins. Their shape, design, ovality, and timing is excellent and seems a notch better than the competition.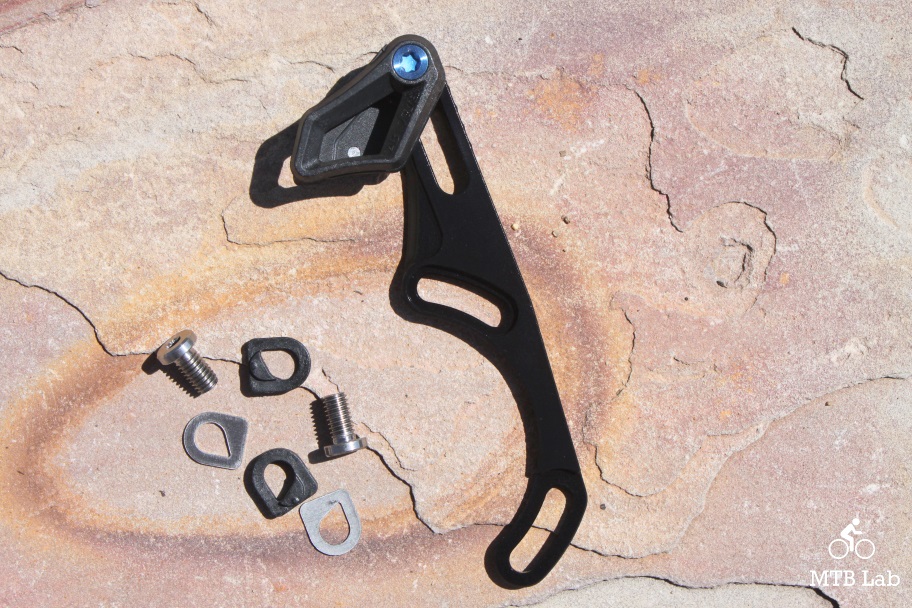 Absolute Black Oval Guide
The Absolute Black Oval Guide the only chain guide on the market that is specifically designed for oval chainrings, keeping your chain secure as the chainring radius oscillates up and down while pedaling. Even with chainrings that have the narrow wide teeth profile that offers excellent chain retention, sometimes things can go wrong, and a chain can come off. Whether it's due to riding on the rough and bumpy trails or when a chain gets jammed up with debris, a chain guide provides extra security to keep the things in place. The front part of the upper cage for the chain guide rotates by hand and offers a tool-free access to the chain, chainrings and crank arm. Just flip it out of the way, perform the required maintenance and flip it back down and you're ready to ride.
The Oval Guide can fit a 48-53mm chainline and 26-34T chainrings, and it utilizes a 7075 aluminum backplate, a polymer composite cage, and titanium bolts. The Oval Guide comes in four versions, the ISCG05 ($62.95), ISCG05-BSA ($59.95), S3/E-type ($50.95) and High Direct Mount ($65.95).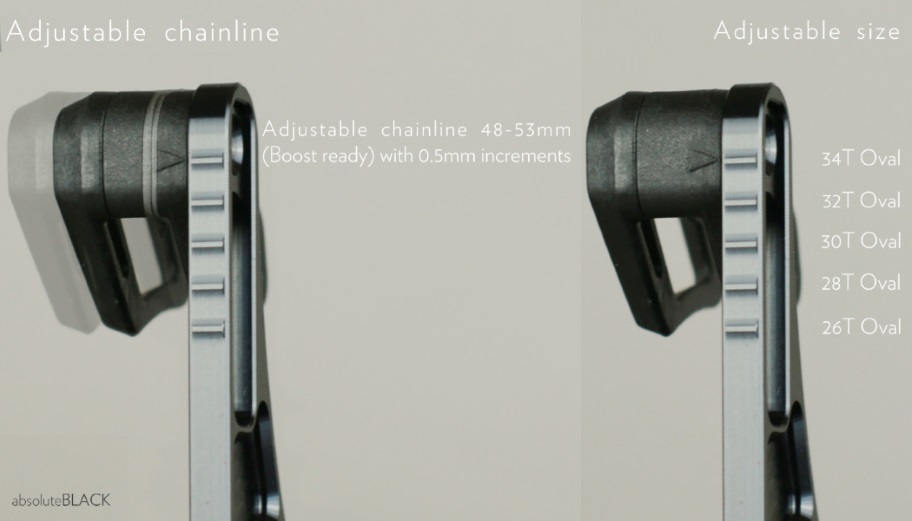 Installation
Connect the backplate onto the ISCG05 mount and lightly snug down things with their two supplied bolts. The chain guide can accommodate a 48-53mm chainline and comes with four spacers for adjustment, including 0.5, 1, 2 and 3.5mm thicknesses. I ended up using the plastic 2mm spacer for the proper chainline on my bike. The chain guide can accommodate oval chainrings from 26-34T in size and round chainrings from 28-36T. There are small raised markings on the top front of the backplate in which you align the chain guides arrow to match up with particular chainring size, and for my setup, it ended up in the middle position. Lastly, you rotate the backplate, until the cage's bolt is at 12'oclock and then tighten everything down.
Impressions
It was easy to setup and adjust the Oval Guide and its integrated cage, though the spacers were finicky to fit into to cage when setting the chainline. Once the chain guide was installed, it did its job without any issues, and the teeth of the oval chainring moved up and down without any interference problems. Flipping the front of the cage up out of the way for maintenance was simple, though I haven't needed to do very much.
The Absolute Black Oval Guide is an extremely light and small chain guide that is easy to mount and use, and works perfectly with the lopsided oval chainrings.