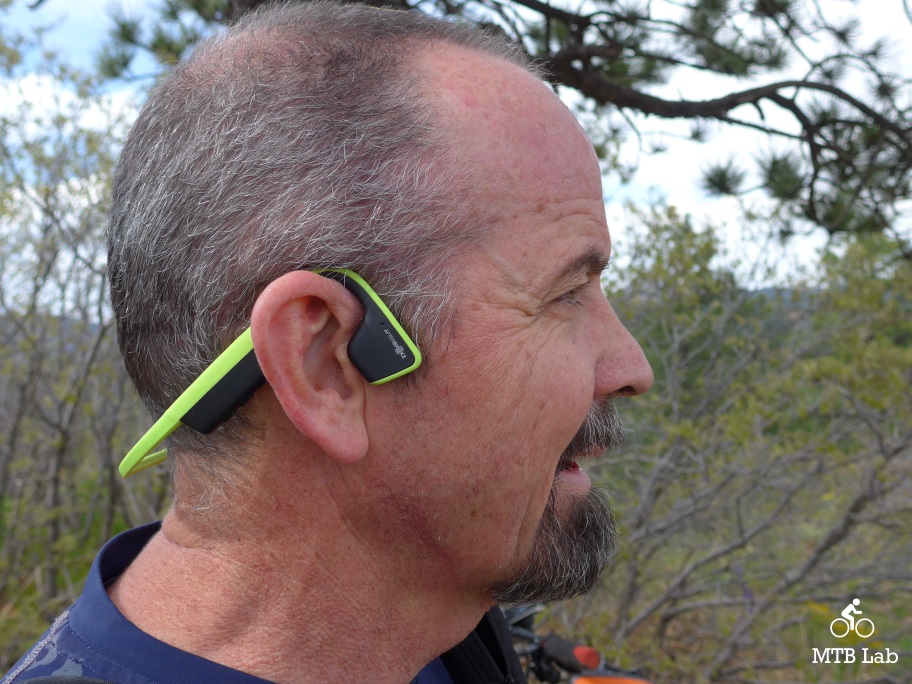 The AfterShokz Trekz Titanium headphone uses the bone conduction technology to transmit great fidelity sound through the listener's cheekbones to the inner ear, bypassing the eardrum completely along with a rubberized, thin and flexible titanium frame that offers extreme comfort, strength, and durability.
AfterShokz makes open ear sports headphones, which are lightweight, sweat and water resistant. Their design uses bone conduction technology, which allows the user to listen to music and still safely hears the external ambient noise. Headphones and earbuds block out most of the exterior noise from the world, which is fine when you are in a safe environment and just want to immerse yourself in your music. In the world of sports, whether it's running, hiking, walking, or biking, you need to pick up the ambient sounds and spatial cues in the world around you. For safety reasons, you want to be fully cognizant of your surroundings so you can hear cars, traffic, dogs, wild animals, and other trail and road users.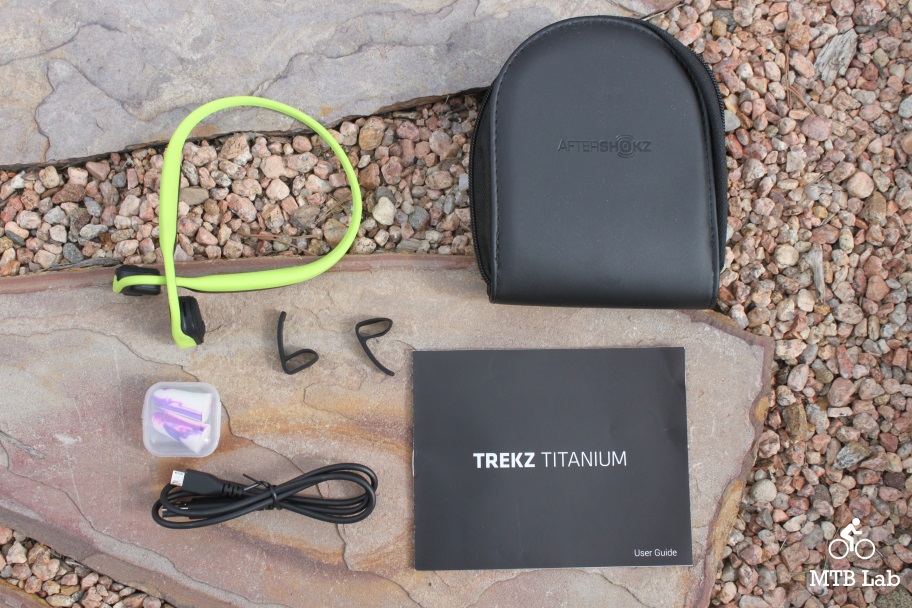 Features
The Trekz Titanium offers bone conduction technology, wireless Bluetooth V4.0 connection with hands-free call functions, is IP55 dust and sweat resistant, and has a six-hour listening time. They've upgraded the internals with audio enhancing PremiumPitch+ that optimizes the sound and LeakSlayer technology that decreases sound leakage. The kit comes with the Trekz Titanium headphone, a USB plug to charge the unit, earplugs for blocking out ambient noise (not for trail use), FitBands to help accommodate smaller heads, and a zippered protection case. It comes in Ocean (Blue/Black) and Ivy (Green/Black) colors and retails for $129.99.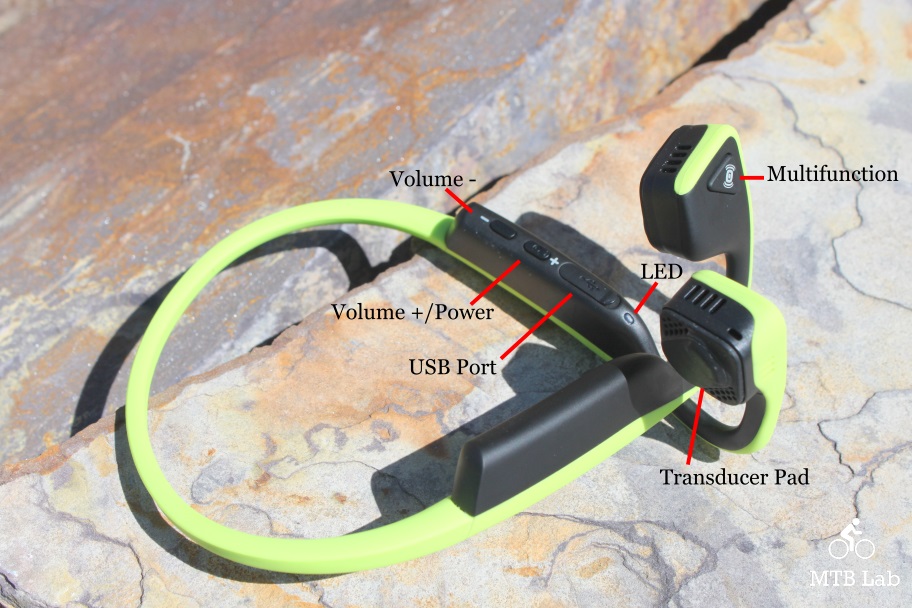 It also has a Micro-USB port to charge the lithium ion battery and a single LED indicator, and is operated using three buttons, a volume up/power button, a volume down button, and the multifunction button. It features dual noise-canceling microphones for calls and a voice prompt system for setup, pairing and calling assistance. The Trekz bone conduction transducer pads have a soft and pliable rubber interface, and it utilizes a flexible wrap-around titanium frame that is strong and durable.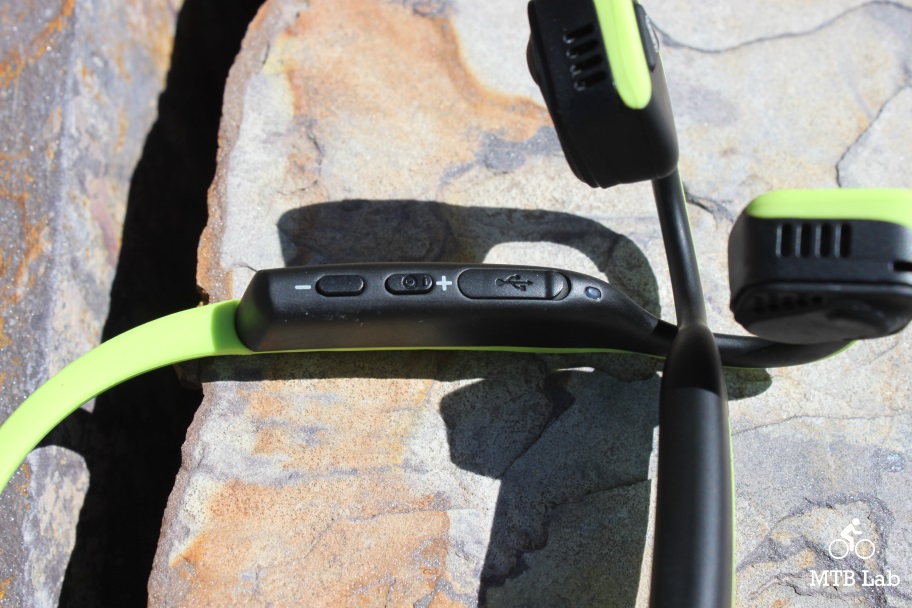 Using different combinations of the volume buttons, you can power the Trekz on and off, mute it, change the EQ setting, check the battery status and adjust volume. The Micro-USB charging port has a small protective coverage flap, and once the USB cable is connected to a computer or wall wart, it takes around 1.5-2 hours to charge. The single LED indicator signifies charging (red), charging complete (blue), pairing mode (flashes red/blue), an incoming call (flashes blue), and low battery (flashes red).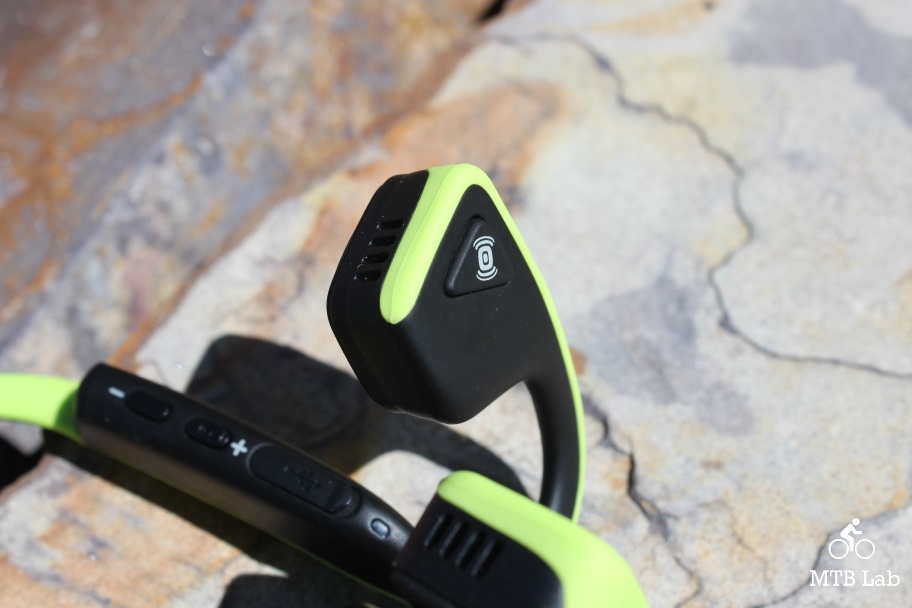 The multifunction button on the left-hand side of the Trekz lets you play/pause music, skip to the next song, answer/end a call, reject a call, voice dial, redial the last number and answer call waiting (either put current on hold or hang up on current). Various clicking combinations of the multi-button accomplish each of those functions.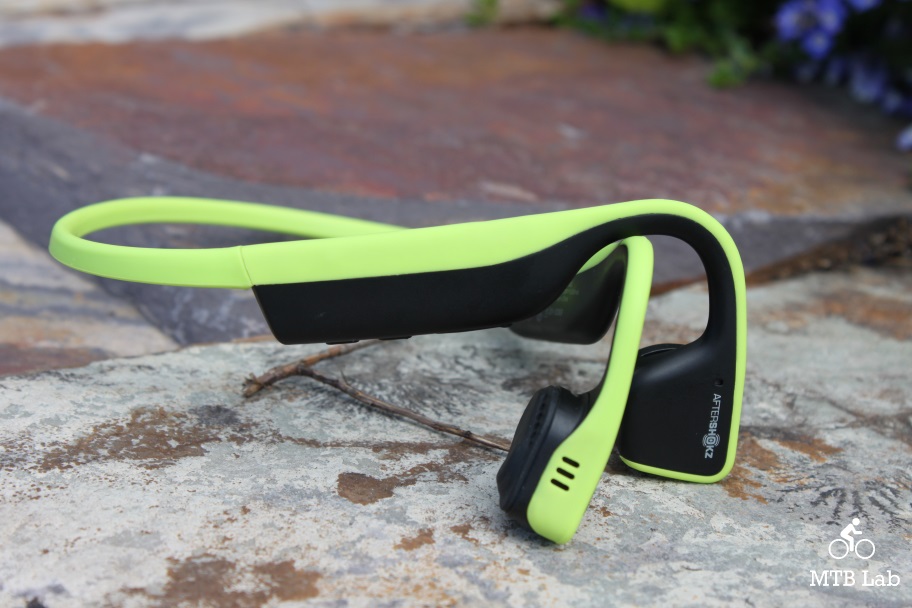 Impressions
The Trekz uses a rubberized, thin and flexible titanium frame that offers maximum comfort, portability, and bendability. I have previously tested their excellent Bluez 2 headphone (same technology), but its plastic band design could break and wear out over time, and this new titanium frame design will increase the headphones longevity, strength, and wearability. After my first couple of uses wearing the Trekz on rides, I noticed a significant improvement in comfort due to the flexibility and give in the frame by the ears. On top of the improved comfort, they fit better under a helmet and interfaced slightly better with sunglasses with the titanium frame.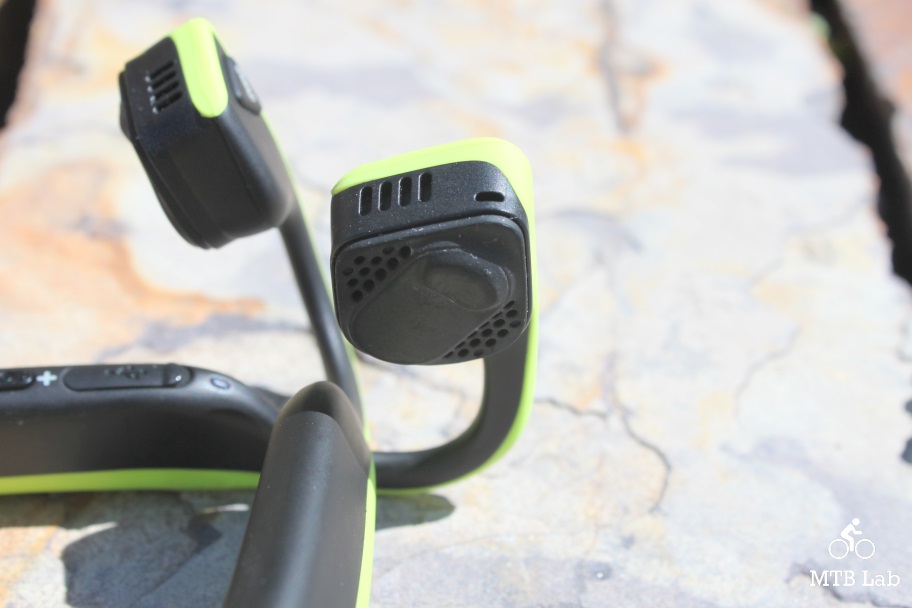 The bone conduction technology uses transducer pads to transmits sound by creating vibrations through the listener's cheekbones to the inner ear, bypassing the eardrum. To use the Trekz you spread the frame open and hook the headphones over your ears and place the transducer pads on your cheekbone, cradling them just in front of your ear. The music comes through loud and clear from the rubberized pads, and the fidelity is more than adequate, and it's improved from its predecessors, though obviously not on par with expensive high-end headphones or earbuds. I was surprised at the decent volume level and clarity of the music, and because of the design, I could easily hold a short conversation with someone, and hear my bike tires grinding along the trail and birds chirping in the background. Since the music gets piped directly to your inner ears, wind noise didn't alter the sound, which was a nice design aspect. The treble and bass were fine, though one odd sensation was that bass notes would sometimes vibrate on your cheekbone, I got over that tingling feeling pretty quickly and rarely noticed it much. They sounded the best at moderate listening volumes, especially since the vibrating bass notes issues weren't being exacerbated. I wondered if the transducers were maybe just acting like mini-speakers, so I stuck my fingers in my ears, and the sound didn't change much except for a slight loss of the treble, but it prominently showed that the bone conduction technology was doing its job.
I did like using the multifunction button for pausing music and skipping songs, and it was easy to reach up and click the button, though sometimes helmet straps would get in the way. I could take calls without any issues, and the conversation was decent for this type of interface. When a call comes in, you hit the multifunction button once to answer it, and when done, just hit the button again, and the music starts back up. It can do other calling functions like call waiting, voice dial and reject call, but I rarely used them since it was easier to stop and use the phone in a standard manner. Except for powering on the Trekz I rarely used the volume buttons and tended to set the volume before a ride using my phone as the interface.
The battery lasted me close to 6 hours, though I usually ended up charging it before it completely died, and recharging took a short 1.5 to 2 hours.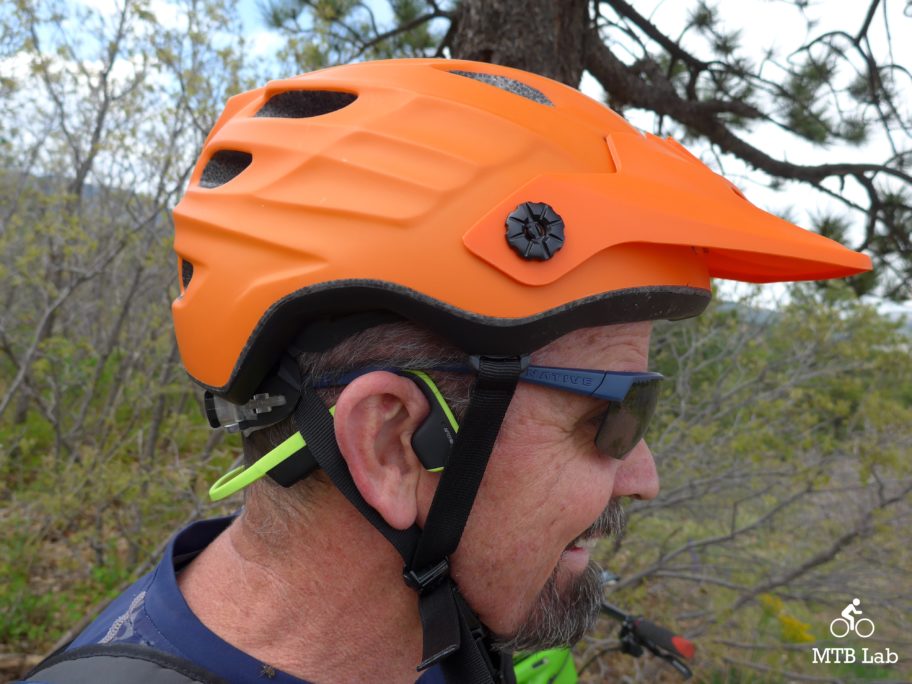 I didn't have any issues with wearing the headphones when using a bike helmet, even for extended periods of time. Sometimes the pressure from the helmet straps pushing on the cheekbones became tiring, so I'd just take a break from wearing them. Different brands and types of glasses/sunglasses and helmets might cause interfacing issues, and how tight or loose things work against each other, but I was able to maneuver things around to make the headphones fit properly. Depending on the sunglasses I was wearing, I might place their tips above, inside or outside the Trekz.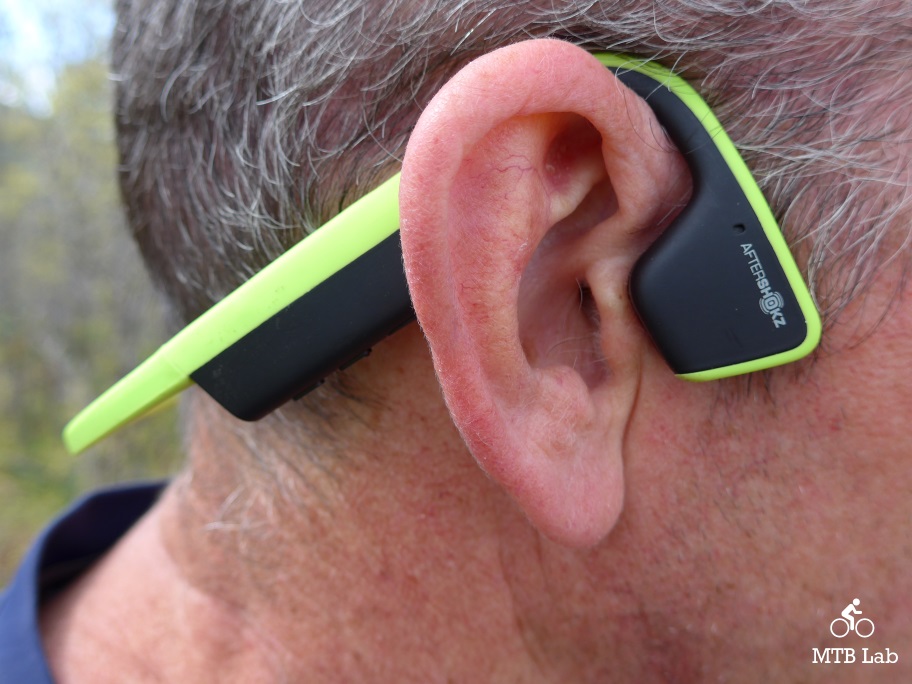 Bottom Line
The AfterShokz Trekz Titanium is an excellent open ear headphone for a sport-oriented user, and it utilizes the unique bone conductor technology, so you can hear the spatial cues and ambient noise of the external world and still enjoy listening to your music through your media device. The sound is transmitted through your cheekbones via rubberized transducer pads, which are soft, comfortable, and water and sweat resistant directly to your inner ear. It uses a rubberized, thin and flexible titanium frame that offers extreme comfort, strength, and durability. I didn't have any issues with wearing the headphones when using a bike helmet and sunglasses, even for extended periods of time, though depending on the helmet or sunglasses brand being worn interfacing issues may occur. The system wirelessly converse to a smartphone or media player via the Bluetooth V4 protocol and it has a three button interface to operate the power, volume levels, skip songs and deal with calls.
I love the Trekz Titanium headphones, especially for biking, since they're extremely comfy, let me listen to music with great fidelity while riding along the trail, and I can still converse with people and hear ambient and background sounds for the utmost in safety.
Strengths
Great fidelity and volume level
Flexible titanium frame – comfortable and durable
Acutely aware of outside noises – superb safety feature
Transducers are soft, comfortable and sweat resistant
Bone conduction technology
Easy to answer calls and skip songs
Weaknesses
Vibrations from bass notes and higher volumes might annoy some people
Not quite a high-end sound
Might have fit issues with some helmets and sunglasses
For further information refer to aftershokz.com
Purchase here