The new C-Quent rear shock from Cane Creek utilizes the technologies and expertise from their Double Barrel lineup and features a simpler tool-free interface and only has a Low-Speed Rebound adjuster and their Climb Switch for tuning options. The shock comes with a preset internal base tune from the factory, designed in close partnership with bike manufacturers. The C-Quent be an excellent user-friendly shock for the rider that want's the simplicity of minor tuning and still desires the benefits of their efficient Climb Switch feature.

Press Release
Fletcher, N.C. USA – Cane Creek Cycling Components is proud to announce they are now offering a new rear shock to meet the demand for simplicity coupled with Double Barrel performance. Currently available only through bike manufacturers, the C-Quent is Cane Creek's first Double Barrel shock built for the rider who prefers fewer tuning options and a tool-free interface. Cane Creek works closely with their OEM partners to determine a custom build that will provide optimum suspension performance. C-Quent has all of the capability that award-winning DB shocks are known for and comes pre-set with a custom tune. For minor adjustments, the C-Quent has a Low-Speed Rebound (LSR) adjuster and a Climb Switch.
The primary goal of the C-Quent is user-friendliness. Each shock has an internal base tune which Cane Creek engineers have developed with each bike manufacturer through extensive ride testing and ten well-defined clicks of LSR to provide meaningful adjustment without risk of going too far. Cane Creek's uber-adjustable Double Barrel shock line was first introduced in 2005. To make it easy for riders to have the perfect starting point, Cane Creek engineers began developing Base Tunes with their OEM partners. Over the years, Cane Creek has learned that many riders don't change their Base Tune because they find it so well defined out of the box.
"Twin-tube technology in the DB damper affords the sophisticated tuner a broad spectrum of adjustment to ensure that any rider, on any terrain, can wring every last bit of performance from their suspension," says Director of Engineering, Jim Morrison. "But for the many riders who don't live and breathe force vs. velocity curves, the Base- Tune settings their shock arrives with feel really good and the adjusters may go un-turned."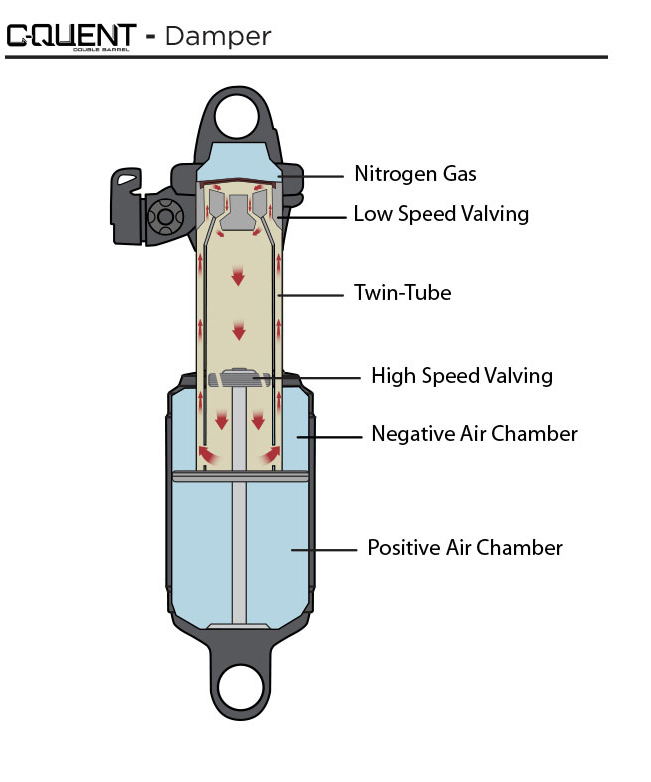 The damping mechanism on the C-Quent is a hybrid between twin-tube technology and a mono-tube design that retains the key benefits of twin-tube, less cavitation, more control, and damping consistency. Like all Double Barrel shocks, the C-Quent houses all of its low-speed damping circuitry in the valve body, allowing for the revolutionary Climb Switch to address both compression and rebound when engaged. Unlike other Cane Creek shocks; however, C-Quent controls the high-speed damping circuits via shim-stacks on the main piston. The extreme tune-ability of the DB is retained at the factory, giving rise to a lighter-weight, high-value Double Barrel with ultra consistent damping levels.
C-QUENT was designed to serve those customers who want the performance of a Climb Switch equipped, twin-tube damper, but without the added weight and complexity of adjusters, they're not interested in using. Starting with a fully adjustable DB shock that has nearly limitless tune-ability, the development team analyzes frame kinematics and utilizes field-testing to produce precise settings that meet the performance goals and desired feel for the bike. Rear suspension performance is all about how well the kinematics of the frame; work with the damping and spring characteristics of the shock.
Double Barrel shocks have a wide-range of adjustment because they are intended for not just a wide range of riders, but also a wide range of frames with different suspension kinematics and design philosophies. Once this base tune is determined, the C-Quent is assembled with High-Speed Compression, High-Speed Rebound, and Low-Speed Compression fixed at the factory. Since the C-QUENT is assembled specifically for each frame, the range and number of adjustments required for most riders are much smaller.
"When we work with our OEM customers, we take the DB's adjustment range and distil it down, so the bicycle performs exactly the way the frame engineers and product managers intended," says Morrison. "By doing so, we help the designer realize their vision of the perfect ride and the C-QUENT conveys that vision more directly to the rider than a shock with limitless adjustability."
C-Quent is currently only available through Cane Creek suspension partners on their bike models that come specified with this shock. For a list of these bike models – please contact Cane Creek.
Website: www.canecreek.com/products/suspension/c-quent
C-QUENT FEATURES:
WEIGHT – 295 grams (165 x 38mm no hardware)
DAMPING – Twin-tube compression & rebound in two high-speed and four low-speed damping circuits
ADJUSTMENTS – Preset Internal Basetune

Low-speed rebound
Climb Switch On/Off

FINISH Anodized and laser-etched
LENGTHS

165 x 38mm (6.5" x 1.5")
184 x 44mm (7.25" x 1.73")
190 x 50mm (7.48" x 1.96")
200 x 50mm (7.87" x 1.96")
200 x 57mm (7.87" x 2.24")
216 x 63mm (8.5" x 2.48")

CAN SIZES – Standard (all lengths)
MOUNTING INTERFACE – High-performance low friction bushing 1/2" universal axle
MANUFACTURING Handbuilt in North Carolina, USA