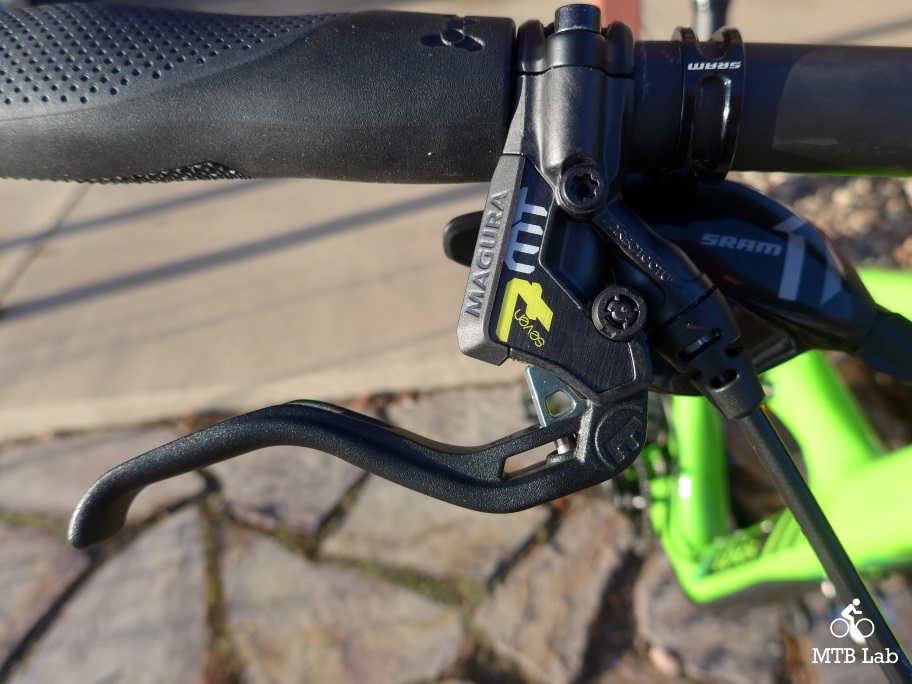 Magura's flagship four-piston MT7 brake has incredible power, superb modulation, and offers precise braking and control, with highlights to its feathering capabilities and lever feel. It uses their Carbotecture SL reservoir, an ergonomic aluminum lever with toolless reach adjustment and a forged alloy 4-piston brake caliper with an adjustable banjo. The brake retails for $310 and weighs a moderately light 268 grams.
The Magura MT series of brakes consist of the two piston MT2, MT4, MT6 and MT8, the four-piston MT5 and MT7 and the new MT Trail (MT7 front and MT8 rear). The gravity oriented four-piston brakes utilize technology and design that came from their development of their motorcycle brakes. With this new series, they increased the mechanical leverage ratio progressively for enhanced deceleration power from the base MT2 model to the top of the line four-piston MT7.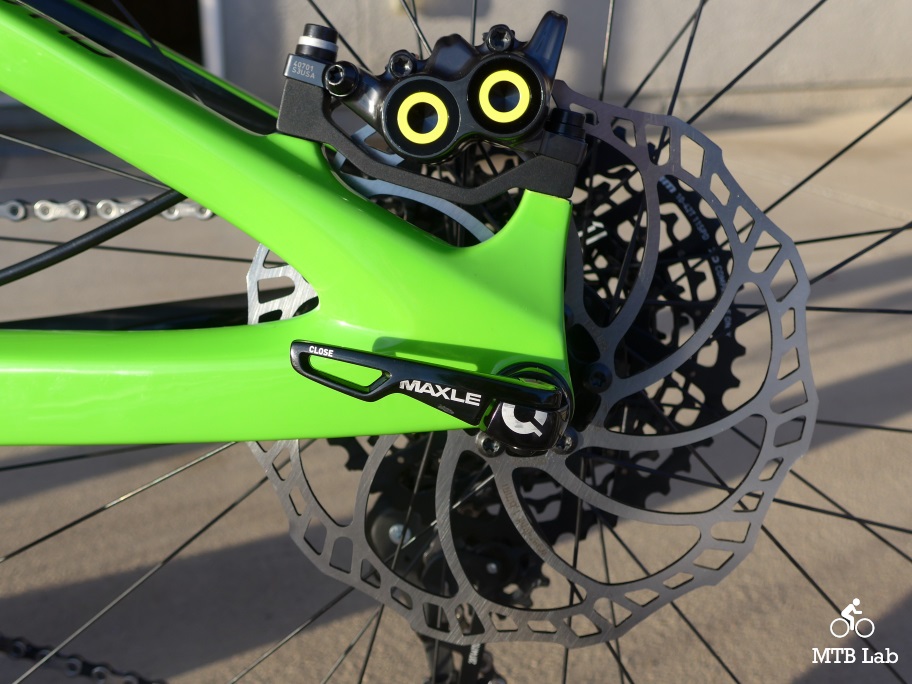 Features
The brakes use an open hydraulic system, using their Royal Blood mineral oil for hydraulic fluid.  They use a carbon or carbon blended integrated reservoir, carbon or aluminum lever and clamp, one-piece alloy caliper with magnetic pistons for the pads, and forged aluminum fitting bolts that have a special anti-corrosion coating.
They create the reservoir by injecting their proprietary Carbotecture material, which is short or mid-length carbon fibers in a thermoplastic matrix, into a mold. The fibers are aligned to optimize strength and lightness under extreme heat and high pressure using their Carboflow Process. The flip-flop designed Carbotecture body attaches to the bar with a split handlebar clamp, and it uses their EBT (easy bleed technology), which has a mirror imaged bleed port on either side of the body for a simplified installation. The MT6, MT7, and MT8 get on the fly toolless lever reach, and bite adjust technology (BAT), while the MT2, MT4, and MT5 only have reach adjustment that utilizes a Torx key. The forged one-piece aluminum caliper has PM mounts, an adjustable banjo/hose fitting, and uses two Duroplastic injections molded composite pistons for less heat transfer to the brake fluid. The pistons use their magnetiXchange system which utilizes an embedded high-powered magnet to hold the pads in place. The two-piston models use 22mm sized pistons, while the quads use a smaller 17mm size.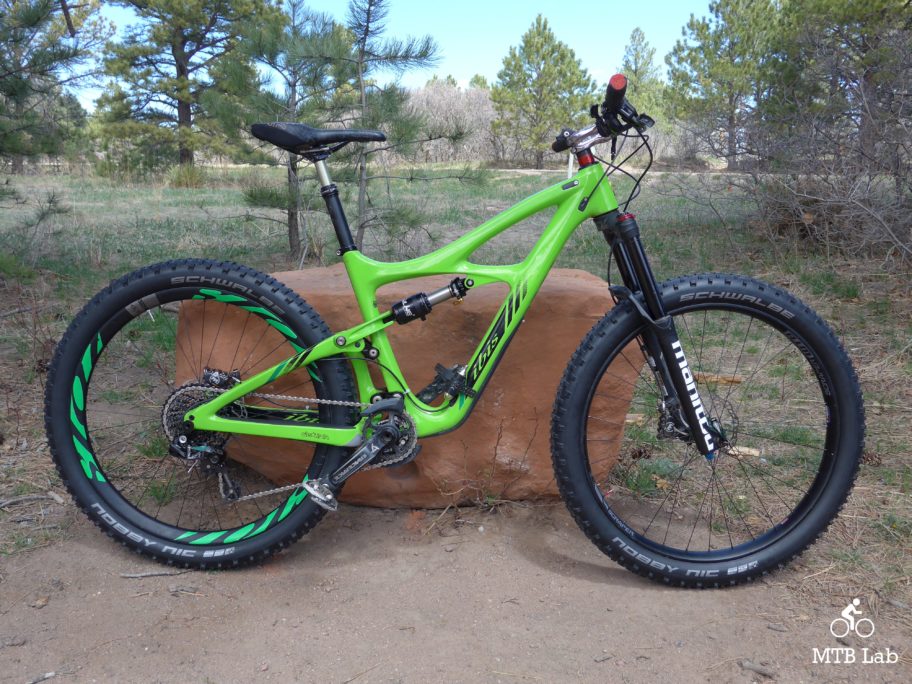 Impressions
The MT7 has a ton of power in its reserve, and anytime you needed to slow down; a quick and light stab of the lever gave you any desired deceleration. The modulation allowed excellent control in any situation, whether that was at high speeds or in slow speed technical maneuvering. I especially enjoyed the ability to feather the brakes at any speed, and the lever feel was fantastic, and it felt as though I was one with the bike. One of the hallmarks of this brake is their control factor, as they offer excellent ride and lever feel, and small lever movements give rise to fine toothed speed adjustments. Many times I found myself riding much faster than usual because I could rein in speed anytime I desired. Even dropping thousands of feet in elevation never caused hand fatigue, and I didn't feel any sponginess and fade during long downhills, no matter how hard I yanked on the lever, even when dragging the brakes for long sections. The levers are wide, comfortable, with an excellent ergonomic notch for one or two-finger usage, and the pleasing and functional shape helped decrease hand fatigue, especially during prolonged use. The toolless adjustment of lever reach and bite point worked fine, allowing a closer or farther feel, and with a different angle. For my personal taste, I left them almost entirely out, making for a close to maximum reach.
The primary benefit of the four-piston design is that it drastically improves heat management, which facilitates more consistent deceleration power and increased overall performance and less fade. While braking, as the rotor rotates past the front two pads, they heat up substantially more than the rearward set, so the rear pads stay cooler and offer greater stopping power and modulation over extended use.  This arrangement also helps lower the overall temperatures of the brake fluid for additional heat management benefits. I am a brake hog, and I noticed that the four pad set up meant I was getting longer pad life, and I haven't seen any performance degradation as the pads wear out.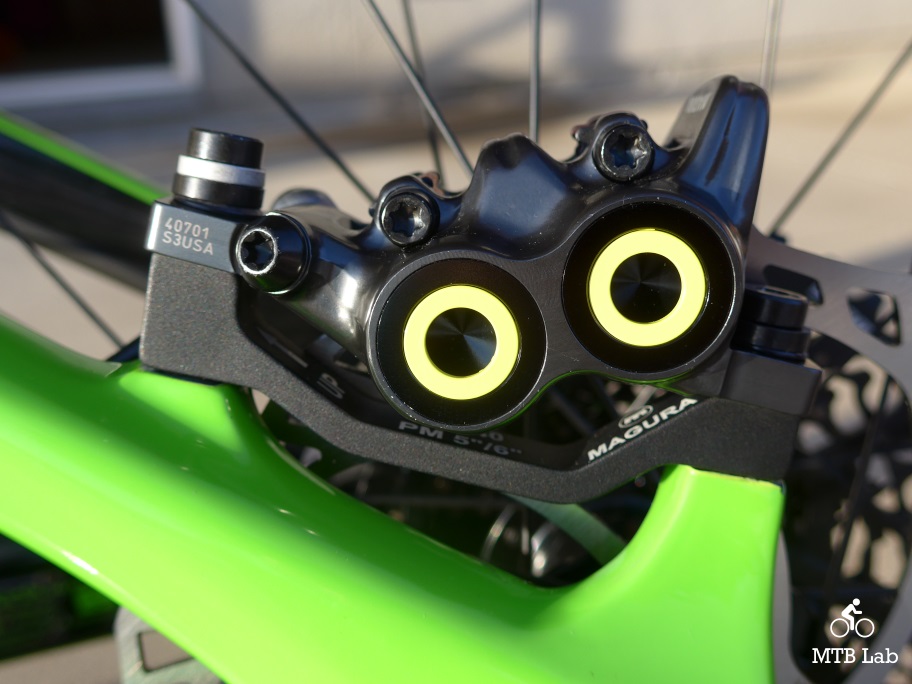 Their tactile sense is superb, allowing the system to feel like an extension of your hand. The more technical and gnarly the terrain and conditions are, the more comfortable and functional the brakes felt, and they offered fine adjustment of speed with short lever pulls. They thrived when doing high-precision moves and maneuvers, whether on mild or heinous terrain, with excellent feedback and response, giving rise to an innate sense of security and control. I loved their poise on long steep rock slabs, where they offered precise traction control.
They were quiet, and their muted usage was a major highlight, as I enjoyed not having a set of brakes squealing while I was riding down a trail. On an occasion that might make a short squeak when wet and cold, but after a few good stabs with the lever they heated up and were silent again. I never felt any pad rubbing nor drag from the caliper and rotors, and they always flowed freely, regardless of how heavily they got used. After some use, the rotor sometimes made a strange noise when braking hard, almost like they were out of true, but it was easily cured by lightly sanding the pads to remove a built up glaze. Fortunately, the performance of the brake did not suffer when this happened, so it was more of an annoyance than anything. I used both the Storm and Storm SL rotors, and though the Storm was quieter and had better power due to their increased braking surface, I preferred the better feel and feathering capabilities of the Storm SL. I have not yet tried the new Storm HC rotors, so I can't comment on those.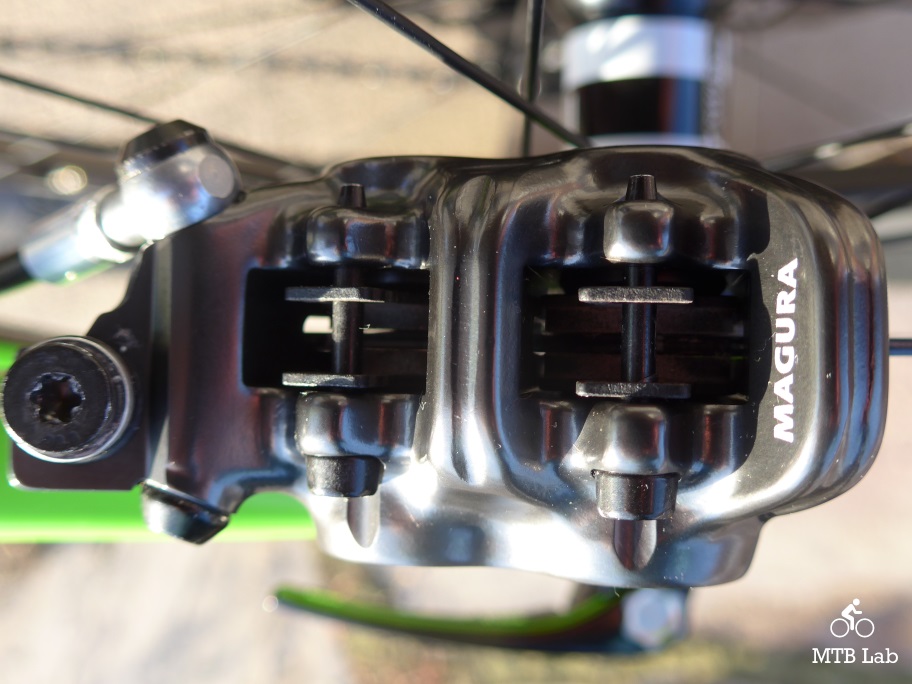 Their EPR (easy pad replacement) system, which uses top-loading pads are simple to remove, and don't require a wheel removal. Remove the retaining screw, grab the tabs on the pads and pull them out, insert a new pair, letting the magnets on the caliper's piston hold them in place, and then replace the screw. I found it easy and simple to swap out all four pads or pull them out to deglaze them. It's nice that most of the bolts (except for the bleed port) use a T25 Torx head, so only one tool was required for the brakes and rotors. Although the fancy alloy Torx fitting bolts for the calipers were light, I found that the heads would strip with extended use, so I ended up replacing them with a steel one.
In direct comparison to the new Shimano brakes, the MT7's kicked their butts and offered the most powerful brake I have ever used. The MT7 provided better modulation and lever feel, and they don't have the typical Shimano "on/off" grabbiness characteristic. There is a slight amount of lever movement until the brakes start to do their business compared to some other brands on the market. I found you could easily tune and tweak the pistons for better touch and throw if desired (more snappy and less squishy), and to be honest after a few sessions you get used to the brakes lever contact throw.
The brakes have been pretty rugged and durable as I have taken a quite a few crashes and fall overs, and they're none the worse for wear and tear. They have survived a wide range of temperatures from 0° to 95° f without any degradation in performance. These German made brakes are high-quality units, and they come with a five-year leak proof guarantee, and so far I have not had to bleed them!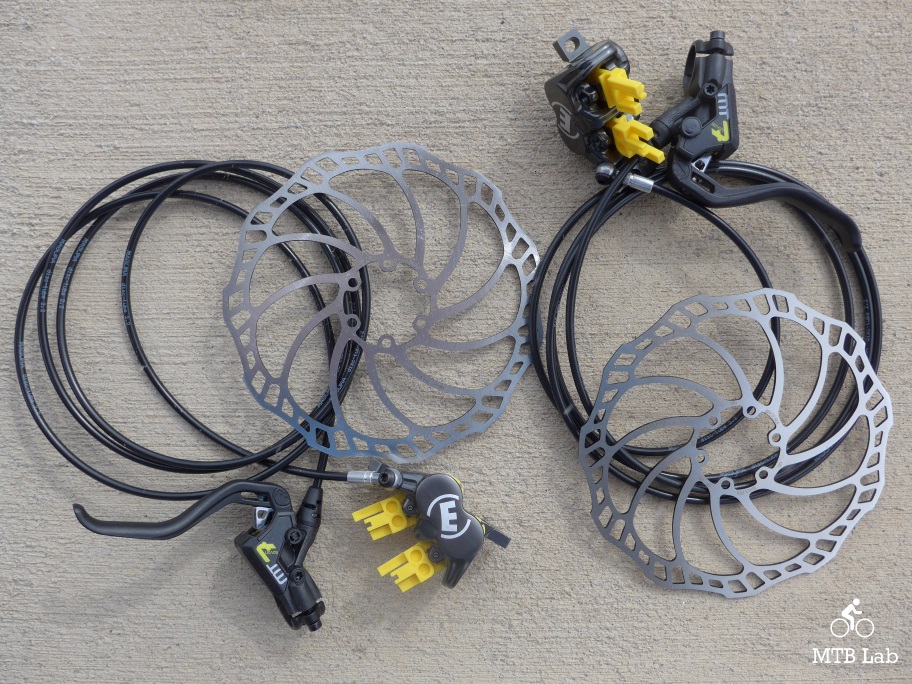 Bottom Line
The MT7 utilizes a Carbotecture SL master body, an aluminum lever with a toolless reach adjustable and a forged alloy caliper with four Duroplastic pistons which have an embedded high-powered magnet to hold the pads in place. The brakes have a superb tactile feel, which gives rise to an incredible touch, control, and communication, especially in technical terrain. The MT7's offer excellent modulation and off the chart power and heat resistance, and the rotor's spin drag free through the calipers. The caliper's design and four-piston layouts made them the quietest brake I have ridden, and even getting them scorching hot on long steep downhills never changed their silent characteristic. After some time, the pads can build up some polish and glaze, and a quick light sanding of the pads removed it, returning them to top performance and decreased noise. They're relatively light for a four-piston design and have so far been brutally tough and haven't required any bleeding.
The MT7's increased leverage ratio and four-piston design offered up the most powerful braking system I have used that's currently on the market, and I mean these suckers are potent killers and can stop on a dime anywhere.
Pros
Decently light
Ultra powerful
Deadly quiet
Superb tactile feel
Excellent modulation
Decreased pad wear with four-piston system
Cons
Expensive
Pads can glaze with use
Alloy fitting bolts heads can strip
MSRP $310 – quad piston caliper, toolless lever reach and bite point adjustment, Carbotecture SL body, and alloy clamp and lever
For more information visit Magura USA in the US and Magura.com elsewhere.