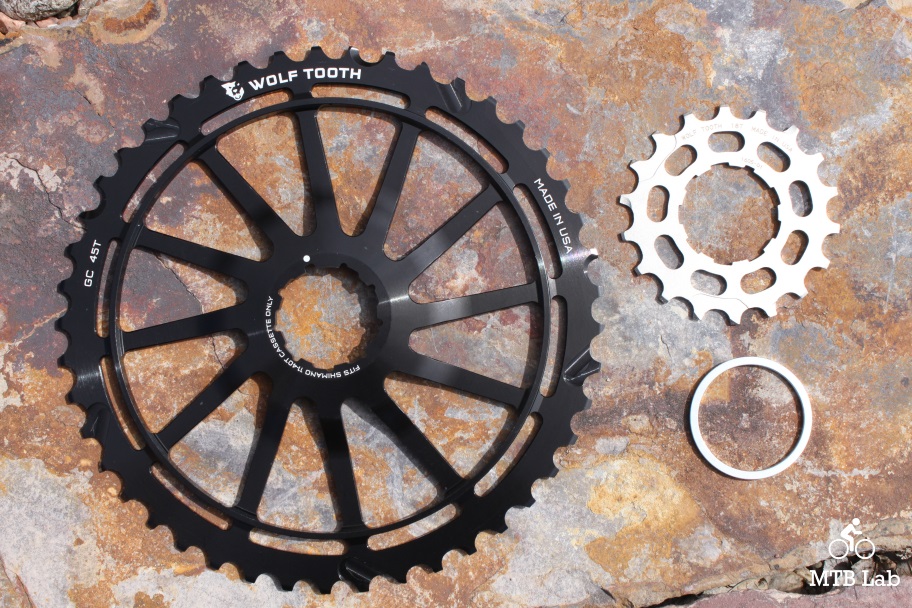 The Wolf Tooth GC45 is for Shimano XT and XTR 11-speed 11-40T and 11-42T cassettes, and its conversion kit will offer up an 11-45T gear range. The GC45 kit provides a 45-tooth extended range cog and 18t replacement cog and a spacer and will retail for $89.95. The Wolf Tooth 45T cog is made from 7075-T6 aluminum and weighs 98 grams and fits at the end of the cassettes and you remove the current cassettes inner 17T and 19T cogs and replace them with the kits included 18T cog to create an 11-speed 11-45T system.
After conversion the 11-40T cassette has a spread of 11-13-15-18-21-24-27-31-35-40-45 for a gear range increase from 364% to 409%, while the 11-42T cassette is 11-13-15-18-21-24-28-32-37-42-45 and increases from 382% to 409%.
Although designed for 1x systems, the GC45 can be configured with a 2x drivetrain if installed with a long cage rear derailleur. According to Wolf Tooth, you can also improve shifting characteristics using their Goatlink 11 hanger product, which re-positions the rear derailleur for optimal engagement. Shimano rolled out their XT 11-speed drivetrain earlier this year and will be dropping the very affordable SLX 11-speed group around mid-Summer to the marketplace. Although Shimano will eventually release an 11-46T cassette sometime later this Summer, Wolf Tooth is taking the opportunity to start selling the GC45 kit in the interim for people with existing Shimano 11-speed 11-40T and 11-42T cassettes.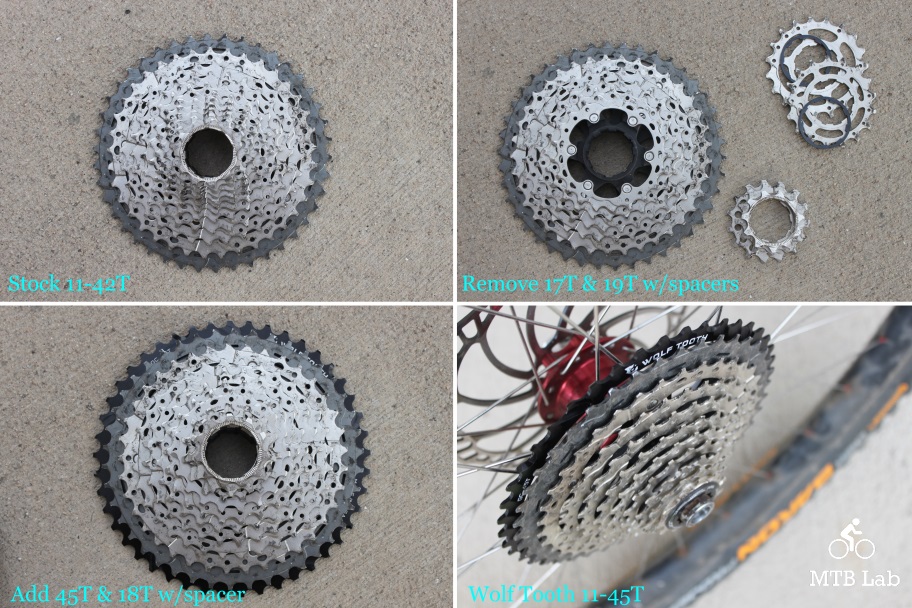 Installation
I pulled the XT 11-42T cassette off the rear hub and removed the 17T and 19T cogs and the accompanying spacers, and replaced them with the Wolf Tool 18T cog and its spacer. I then slid on the Wolf Tooth 45T cog onto the freehub body, and then the rest of the newly created XT stack, and cranked down the lockring to specs. I liked that the Wolf Tooth cog had a small white dot pointing at the thin spline, so it made it easy to line everything up on the freehub body. To help prevent the 45T cog from digging into the soft material of most freehub bodies, it has wide tabs by the spline for a better load distribution. Fortunately after installation, I didn't have to make any tuning adjustments on the rear derailleur, including tweaking the b-tension screw or the shifter barrel adjuster, nor did  I have to add extra links on the chain. Outside of using the 11-42T cassette as a starting point, it might have been pure luck not having to make any adjustments and that I already had a chain that was long enough for the 45T cog setup. If you're using the 11-40T additional tuning and chain alteration may be required?
Gearing
Stock:                 11-13-15-17-19-21-24-28-32-37-42
WT GC45 kit:   11-13-15-18-21-24-28-32-37-42-45
By swapping out the old stock 17T and 19T cogs and their spacers with the 18T and adding on the Wolf Tooth 45T, it increased the rebuilt cassettes weight by approximately 78 grams.
Measured Weight
WT 45T extended range alloy cog – 99 grams
WT 18T replacement steel cog – 25 grams
WT 18T spacer – 2 grams
Stock 17T & 19T cogs/spacers – 48 grams
Total weight gain w/ WT 45T kit –  78 grams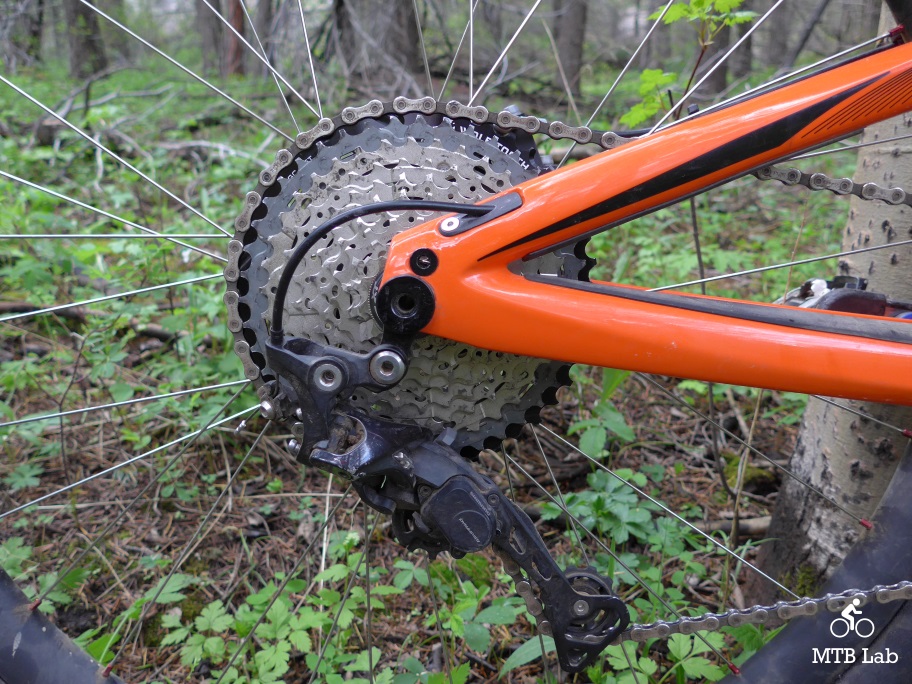 Impressions
So how does it ride and shift?
It shifted surprisingly well, though it does take a tad longer to roll up onto the 45T and it seemed a touch clunkier dropping back down to the 42T. After riding for a while, I didn't notice the shifting differences and was able to move through the gears without any issues. One of the odd sensations was getting the brain used to having the gearing all moved down one step. Meaning when I originally used the second lowest gear for cranking through technical maneuvers, that gear was now down in the third position. I didn't notice the missing gear in the high range, since now I had an 18T instead of the 17T and 19T pair, and it shifted flawlessly through all the smaller cogs or highest gearing.
I enjoyed having the new 45T for my lowest gear, especially on my 29er and it offered excellent slow speed spinning on steep terrain. Using the 45T cog felt incredible on long, arduous climbs, and I was able to spin at a sweet slow cadence, saving the legs from the usual energy sucking and lung busting predicaments. It reminded me of the old days of having a 20T chainring, minus the odd spinning issues with too small of a chainring.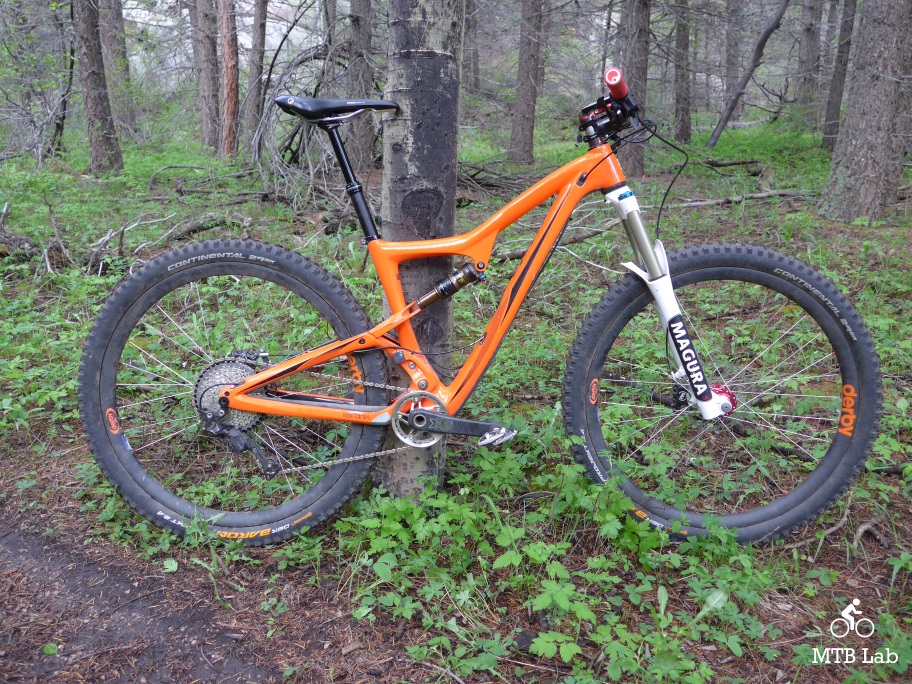 My Ibis Ripley 29er works the best with a minimum of a 30T to 32T chainring, anything less just doesn't spin as well and comprises the optimized suspension characteristics. I have taken it out for multiple days of riding, and it has shifted flawlessly, in fact; I would be hard-pressed to realize that I had this gearing installed on the bike. I cranked things under heavy loads on some pretty steep terrain, in both loose and smooth conditions, and the shifting and power transfer worked fine. With the big wheels of a 29er, I appreciated having the 45T combined with a 30T chainring, which provided a very pleasant gear ratio.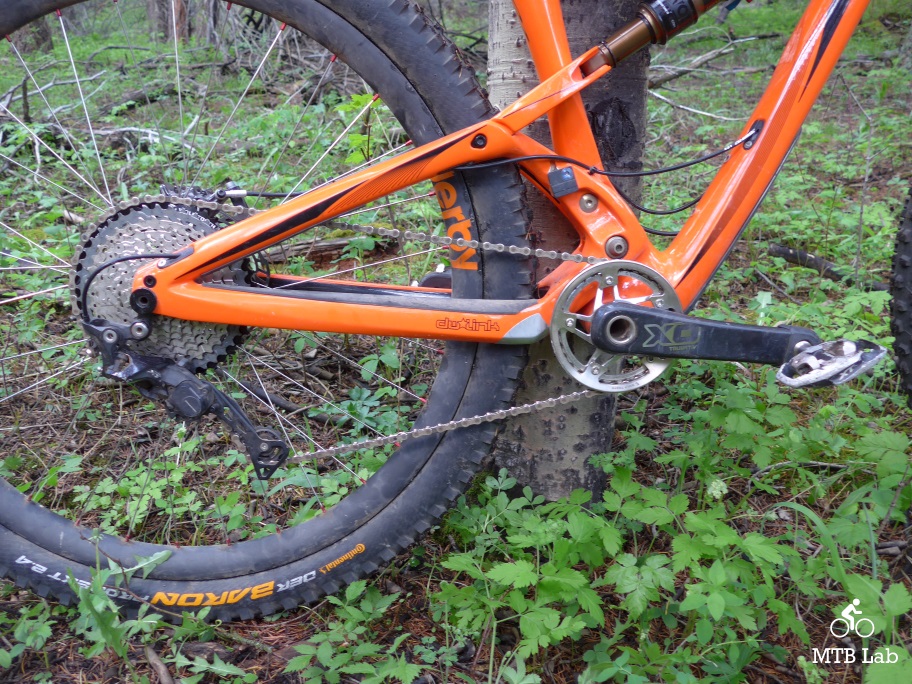 Bottom Line
The Wolf Tooth GC45 system offers an excellent extended range 11-45T 11-speed gearing, and it's especially functional for long steep climbs and 29ers. It only works with Shimano XT and XTR 11-speed 11-40T and 11-42T cassettes, but the 45T cog melds with them like it's part of their standard gearing. It closely replicates the stock cassettes gearing in the smaller cogs, and it didn't seem to be problematic replacing the 17T/19T pair with the 18T cog. The $90 GC45 kit was simple to install and only adds around 80 grams to the stock cassette weight. It offered great shifting characteristics throughout the entire gears, though I was using the stock 11-42T as a starting point, so the 42T to 45T jump was short and smooth.
Pros
Wide range 1×11 gearing
Low 45T gearing is ideal on long steep climbs – especially with a 29er
1x and 2x usage
Great shifting characteristics – at least for 11-42T conversion
Simple installation
Cons
Only works with Shimano XT and XTR 11-speed
Weight: 78-gram increase over stock XT 11-42T
No 10T for SRAM like lower gearing
11-40T might require tuning, Goatlink, and additional chain links
Specs.
MSRP: $89.95
Kit contents – GC45, 18t replacement cog, and spacer for 18t cog included
Wolf Tooth Goatlink 11 is not required but provides an improvement in free chain length (shifting crispness), bringing free chain length back to better than with an 11-42 cassette.
Material 7075-T6
Weight – 98g
Colors – Black, Red, Silver, Blue, Green
For further information refer to www.wolftoothcomponents.com