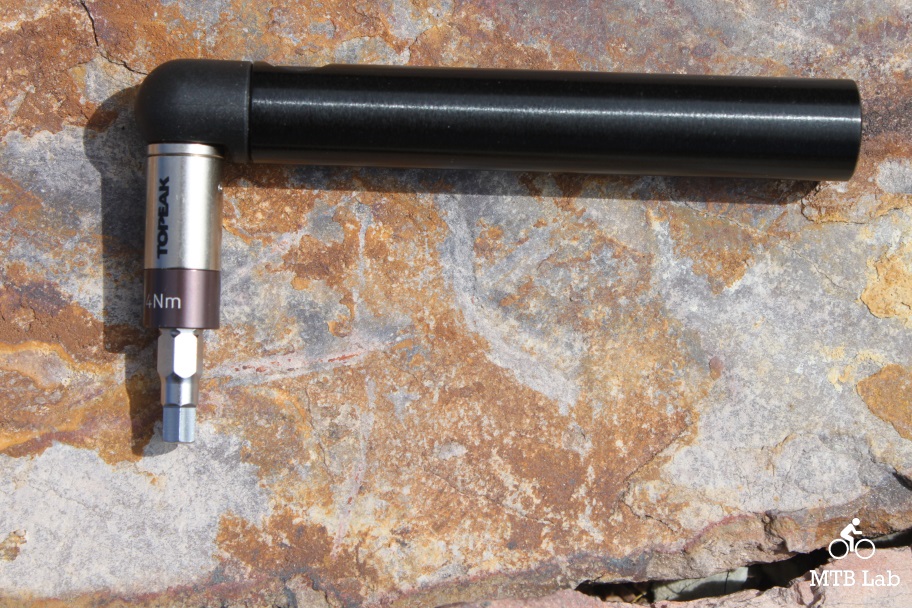 The Nano TorqBar is a mini preset torque wrench that's a precision-crafted and high-quality tool for the shop, home, and trail use. The Nano Torq product consists of the TorqBar torque wrench and the torque limiting TorqBit's, which come in preset values of 4Nm, 5Nm, and 6Nm. It utilizes an advanced torque limit release design that consistently applies precise torque values on component bolts for safety and prevents damage to various parts, especially carbon fiber products. It comes in several kit versions and retails from $30 to $80, depending upon the packages constitutes.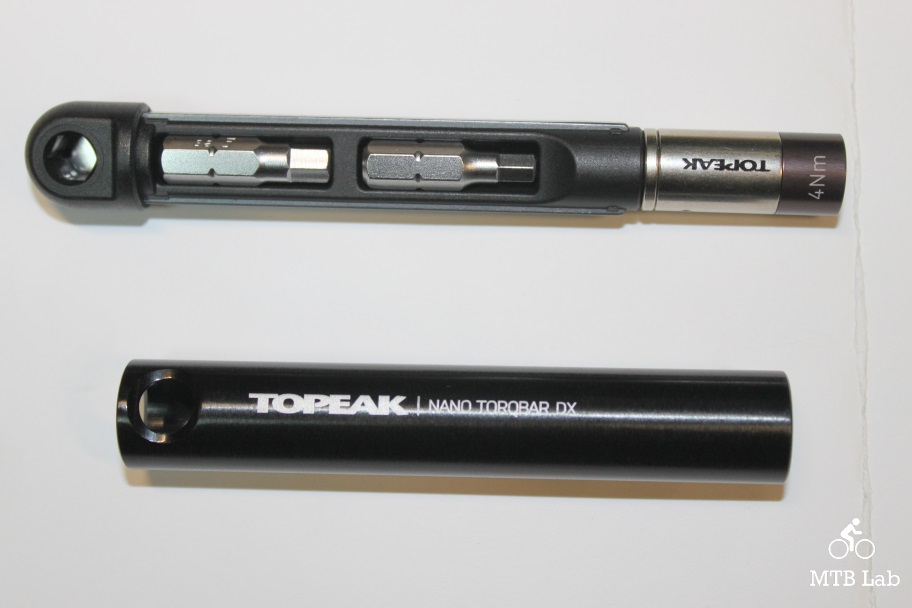 The 110mm long TorqBar handle can magnetically carry two bits internally, and a TorqBit resides on the end, making for a compact and highly portable tool.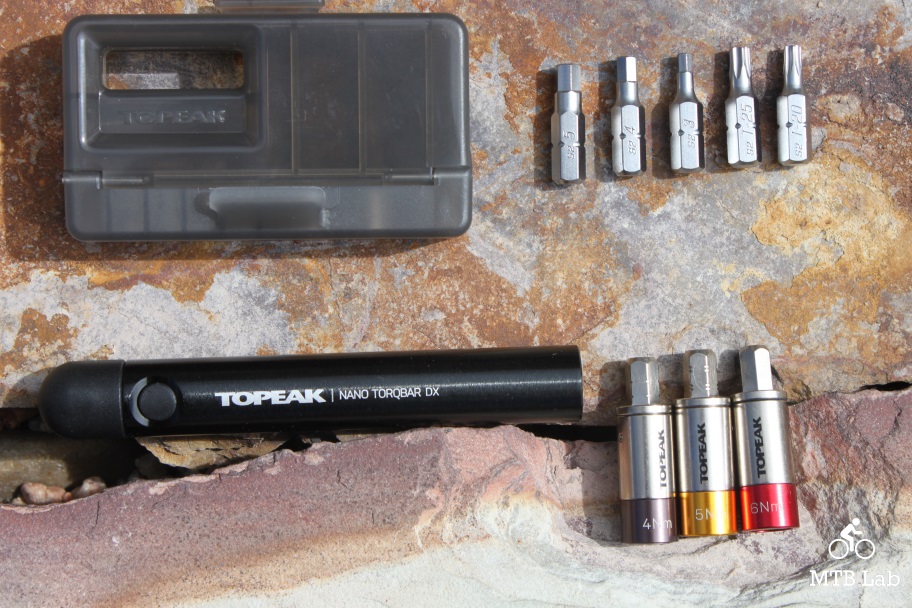 It comes in multiple kit forms, the TorqBar, the TorqBox and individual TorqBits:
TorqBar: TorqBar and TorqBit (4Nm, 5Nm, or 6Nm separately or all together) and tool bits (3/4/5mm hex & T20/T25 Torx) => full kit $80, partial kit $40
TorqBox: TorqBit (4Nm, 5Nm, or 6Nm separately or all together) and tool bits (3/4/5mm hex & T20/T25 Torx) => full kit $40, partial kit $30
TorqBit: 4Nm, 5Nm, or 6Nm separately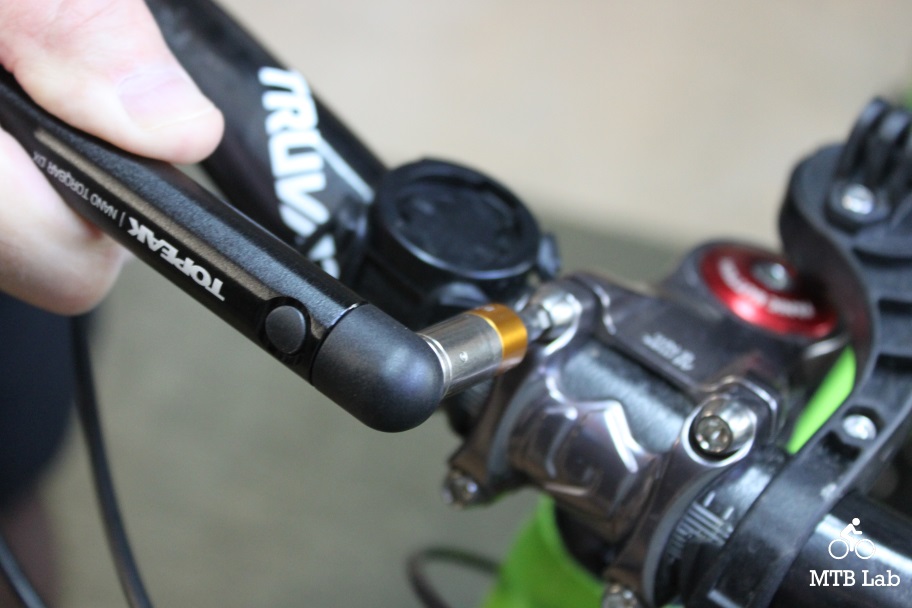 Impressions
I tested the full kit with everything, including the TorqBar and TorqBit's (4Nm, 5Nm, and 6Nm settings) and steel tool bits (3/4/5mm hex and T20/T25 Torx), and it also includes a plastic case for carrying all the various bits. The portable set up with the TorqBar, a single TorqBit, and two bits weighs 65 grams, while the entire system with the case comes in at 149 grams. I used it around my home shop and out on the trail and found it to be a highly useful tool; that's tough and well made and highly functional. I appreciated the compact size of the unit in tight spaces, where large and more bulky torque wrenches would be more difficult or impossible to use. I compared the TorqBit's accuracy against some of my other calibrated torque limiting tools, and it seemed well within any tolerances for the average precision work that I was performing.
The audible clicking noise when you reach the torque limit isn't very loud, in fact, it's way too quiet, but I could feel the subtle tactile give at the limiting point. Any further application of force does nothing other than cause more clicking noises, though the TorqBar and TorqBit will continue to rotate without doing anything, as the torque limiter prevents any additional torque application to the component. The TorqBar system takes the guess work out of applying too much or too little torque, and in low-torque applications, such as the assembly and adjustment of stems, handlebars, brakes, seatposts, etc., it allows precise and accurate tightening.
Having all the useful sizes around my home shop was practical, as I have a variety of small parts, that require 4Nm, 5Nm, and 6Nm settings. When I was out for a ride, I only brought the 5Nm TorqBit and a set of the 4 and 5mm bits, since that was the most common torque and hex sizes I needed. It would have been nice to have an additional location within the handle for another bit, such as the Torx T25 and I think the increased length of the TorqBar wouldn't be an issue? Although the magnetized bit holder inside the handle was useful, I found that it was hard to extract the bits, though if you push down on one end of the bit, you can pull them out with your fingertips. The handle had a crisp feel in the hand, and the torque limit point had a practical release point that prevented any further application. The shank of the TorqBit is magnetized and has relatively snug fit for the bits, so it securely held them in place. Like all torque limiting systems, the tool isn't to be used to break loose fasteners.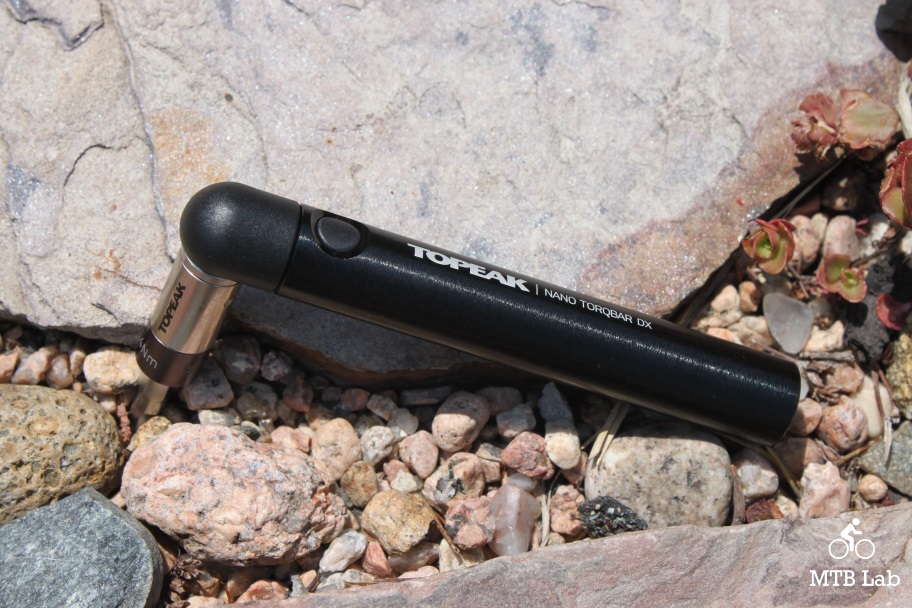 Bottom Line
The Topeak Nano TorqBar tool with its torque-limiting TorqBit is an incredibly useful shop and ride item, allowing one to apply exact torque settings to fasteners during assembly and adjustment of frames and components. The tool is idiot-proof, and the smart torque limiter only allows the calibrated application of force and no more. It clicks when that setting is reached, and even though the TorqBar handle and TorqBit will keep rotating, no further torque is applied. The TorqBar is a well-made and robust tool, and the handle can hold can magnetically carry two bits internally with a TorqBit residing on one end, making for a compact and highly portable tool for field use. The shank of the TorqBit is magnetized and fairly snug, so it securely holds the bits.
The Topeak Nano TorqBar mini torque wrench is a convenient, functional, tough, and accurate tool meant for low-torque applications and assembly of bike components and frames, especially with regards to precision carbon fiber and titanium parts.
Pros
Compact and portable
TorqBit torque limiters
Handle can carry two bits and a TorqBit
Cons
Audible clicking noise at torque limit is too quiet
Extracting bits from TorqBar handle can be tricky
Needs to hold one more bit in the handle
Functions
15
Torque Value
4 / 5 / 6 Nm
Allen Bits
3 / 4 / 5 mm
Torx® Bits
T20 / T25
Tool Material
Hardened steel
Body
Aluminum / Engineering grade plastic
Added Features
Integrated compartment for two bits
Carry case
Size (L x W x H)
12 x 1.6 x 1.6 cm /
4.7" x 0.6" x 0.6"
Weight
62 g / 2.19 oz
(Tool w/ 1 TorqBit & 2 bits)