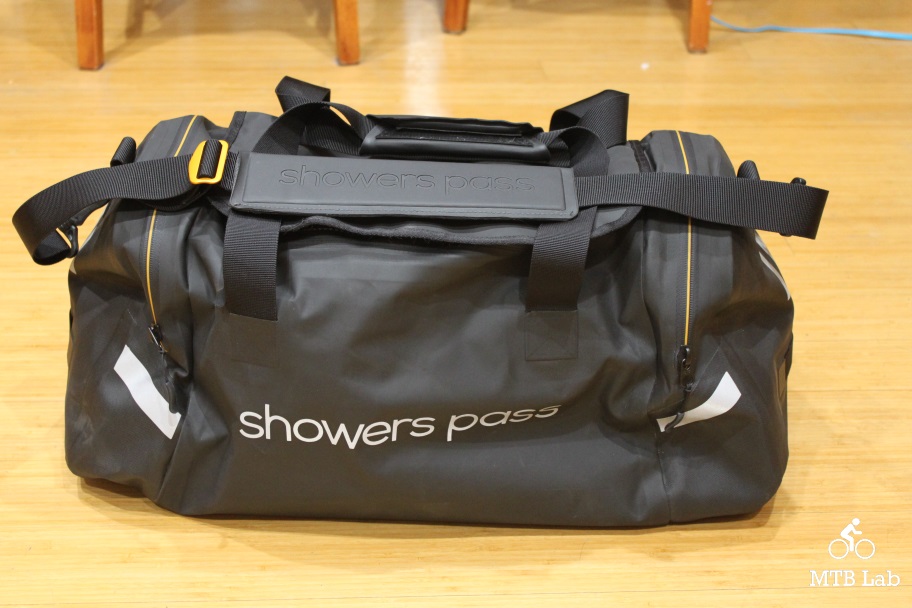 The Refuge Waterproof Duffel is an excellent waterproof gear bag, with an adequate number of compartments and pockets for the utmost in organizational purposes. The durable gear bag is functional for bicycling, outdoor adventures and traveling and it weighs a light 3.4 lbs and has a 51.3 Liter capacity. The duffel measures an airline carry-on bag friendly 23″ x 11.5″ x 10.5″ and is one of three brand new releases from their Cloudcover Waterproof bags product lineup.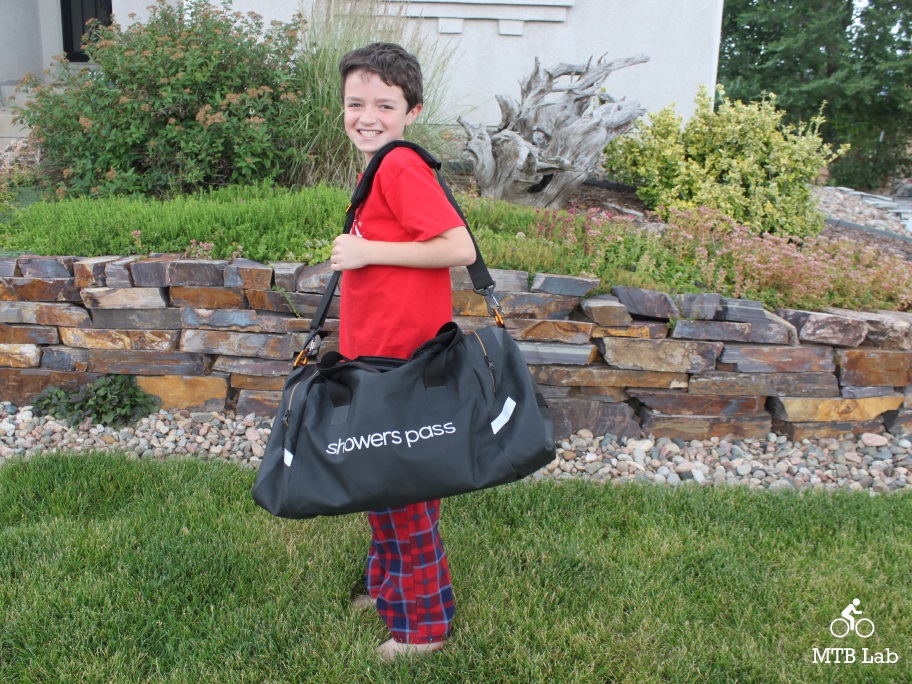 Features
The all-weather duffel uses tough and durable 840-denier 100% Ballistic Nylon, which is 100% waterproof and has a fully welded construction with a single-side TPU coating. The bag has three main storage compartments, a large center one that can hold most items including helmets and shoes and two smaller side ones for gear and apparel. It has a handful of internal sleeves and pockets for gear, water bottles and sundry items, a rollout changing mat, a carrying handle and shoulder strap, and external reflective trim and logos. The Duffel comes in three colors, Black/Lime, Black/White, and Black/Goldenrod, and retails for $189.
Impressions
Besides catering to my compulsive neat freak nature, this bag makes sure you never leave home without all your equipment. When you pack the bag, if you place everything in their allotted locations, you'll hopefully won't get in the field and realize you forget a critical piece of gear, which can always put a damper your riding adventure, and especially regarding comfort and safety.
The main compartment isn't very large, but it has a functional movable divider, and I was able to place my size nine bike shoes and mountain bike helmet into it without much issue, and I had some additional room on top of each if needed for smaller items and apparel. On one side of the main are two stretch sleeves for water bottles or sunscreen, which I found extremely functional and the other side has a handy mesh sleeve and a key clip. The movable divider is removable and nicely padded, and it secures itself in place with Velcro strips. The primary also features a bottom board which is removable and offers some stiffness and rigidity to the otherwise floppy bag. The top cover has a zippered mesh pocket that was ideal for nutrition and sundry items. I do wish the main was just a tad larger since it would be easier to carry more gear and larger shoes and helmets, though if you're an efficient and skilled light packer, it will be adequate for most short adventures. The movable divider was quite capable but was a pain to get secured adequately and perhaps an additional middle Velcro strip might help?
The two side compartments have a decent amount of volume, and I placed my apparel, armor, cameras and excess gear in each of them. One side compartment has a softly padded and zippered pocket which is ideal for fragile, valuable and small items or anything that needs to be secured.
Since all the compartments use waterproof materials and welded seams, they are isolated from each other, keeping things dry and uncontaminated from each other.
The bag has soft grip handle and an adjustable and removable padded shoulder strap, both of which made carrying the bag and any weight more comfortable and easier. With the reflective trim and logos and functional strap you might be able to do short commutes or jaunts carrying it while biking, but I never used it in that manner.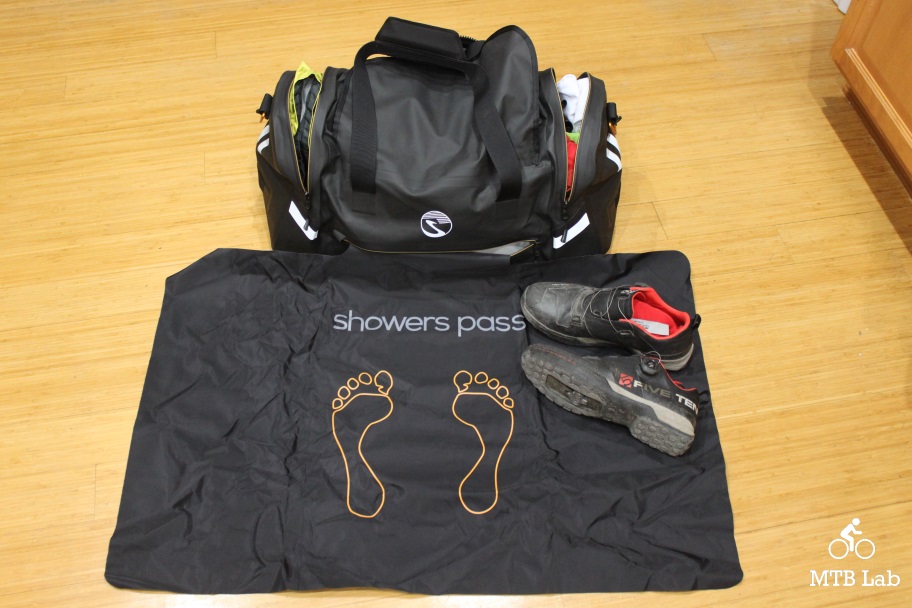 On the back side of the pack is a zippered pocket that contains a rollout waterproof changing mat that was extremely useful for changing and sitting on and laying gear out.
Though the bag is waterproof and has survived multiple rainstorms without getting internal gear wet, it isn't meant to be submerged like a whitewater drybag.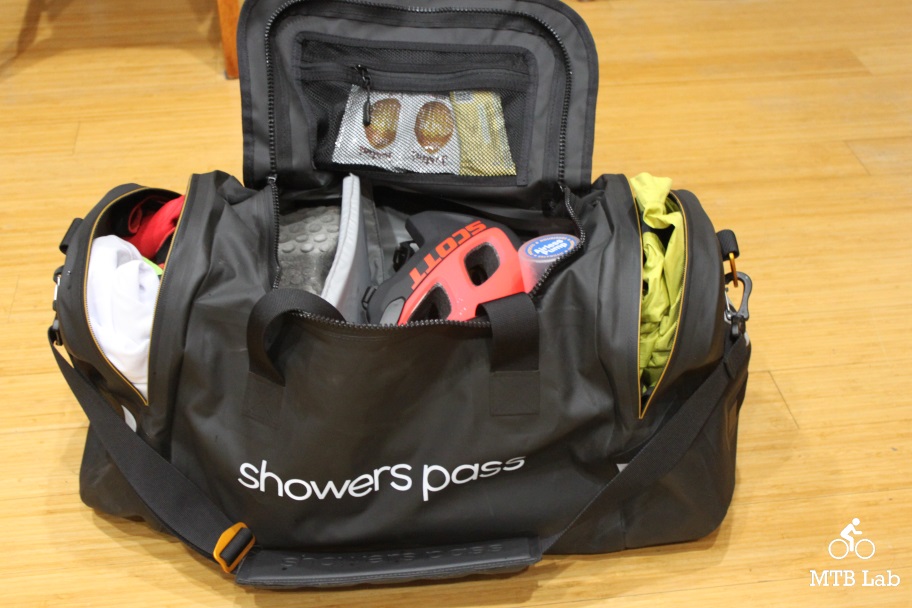 Bottom Line
The Refuge Waterproof Duffel been durable and has worked extremely well, and the organizational features are outstanding. Everything is very purposeful and is meant to carry almost every conceivable item for a bike ride, including a helmet, water bottles, shoes, apparel, electronics, and nutrition. Besides being the ultimate gear bag for a neat freak and one who likes things to be organized, it creates an environment that makes sure you never leave home without your required ride specific items when they're placed in their allocated locations. It exudes exceptional quality, excellent materials, and sturdy stitching and it has survived brief rainstorms, and nothing got wet. The integrated rollout changing mat was a welcome feature as was the main compartments movable divider. I do wish the main compartment was slightly larger and that the divider had an additional securing Velcro strip, but those are little nitpicks for this otherwise extremely solid gear bag.
I regularly use the duffel for bike riding, traveling and car camping and is my current go-to bag for just about any small adventure.
Strengths
Useful compartments, pockets and sleeves for the utmost in organizational purposes
Excellent features
Integrated  rollout changing mat
Excellent craftsmanship, stitching, and waterproof/durable materials
Carefully thought out and designed gear bag
Weaknesses
Expensive
The main compartment could be larger
Movable divider needs an additional securing Velcro strip
Specs
Outside:

100% waterproof, fully welded construction with a single-side TPU coating
840-denier 100% Ballistic Nylon is durable
Three separate waterproof compartments keep clean clothes away from dirty
Soft grip carry handle and adjustable, removable shoulder strap
3M reflective trim for high visibility from all angles
A (size) waterproof changing mat folds out from back waterproof pocket

Inside:

Main compartment wide tooth zipper is weatherproof (not recommended for submersion).
Inside of top flap features zippered mesh pocket
Ridged divider in center compartment is removable/adjustable
Two water bottle nylon pockets
One large mesh pocket with key clip
Ridged bottom board is removable
Right side compartment features fleece lined media pocketBag is self-supporting for easy packing

Available in 3 colorways: Black/Lime, Black/White, and Black/Goldenrod
Retail: $189