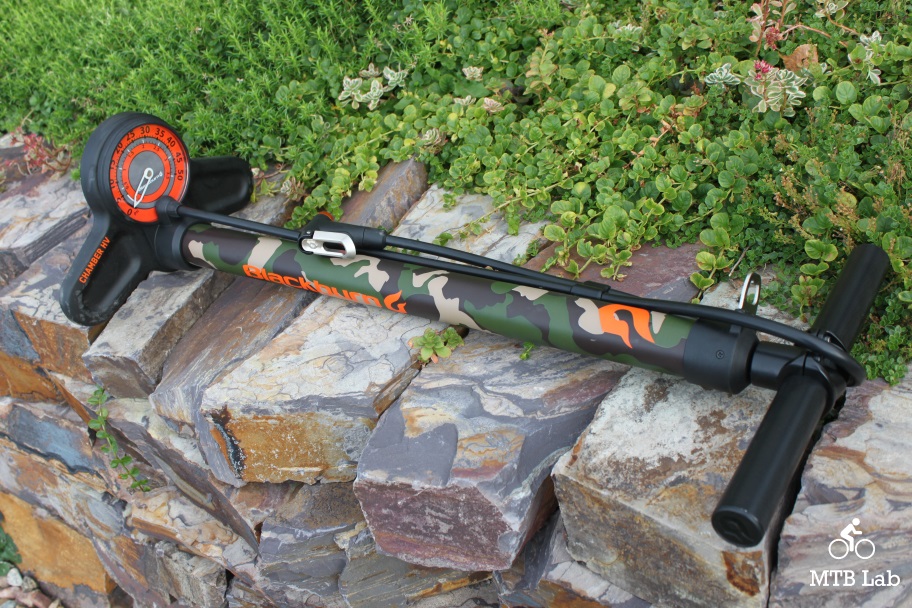 The Chamber HV floor pump is well-built and durable and is extremely functional for pumping up fat mountain bike tires due to its oversized barrel and long stroke with highlights to its large easy to read pressure gauge. The high-volume Chamber HV floor pump uses an oversized steel barrel, with a 21.5″ stroke, and can inflate tires to 50 psi/3.4 bar. It features a large 4″ diameter pressure gauge, an extra wide handle, a stable steel base, an integrated bottle opener, their Anyvalve pump head with a 47″ long hose, and it retails for $79.99.
Most floor pumps are designed for high pressure and low volume road tires, and can be somewhat ill-suited for pumping up their monstrous high-volume mountain bike brethren. Hook up a regular floor pump to inflate a big mountain bike tire, and you'll be stroking seemingly forever to get it to its anemic pressure setting. Mountain bike tires are wider and fatter than cross and road tires and require a lower overall pressure and a greater volume of air for proper inflation. Typical mtb tires might require pressures between 25-40 psi, while Plus and semi-Fat need 15-25 psi and Fat need 8-15 psi. The Chamber HV pump creates over twice as much air per stroke than their other floor models so you can quickly inflate high-volume and low-pressure mountain bike tires. Its large-diameter barrel gives more volume per stroke.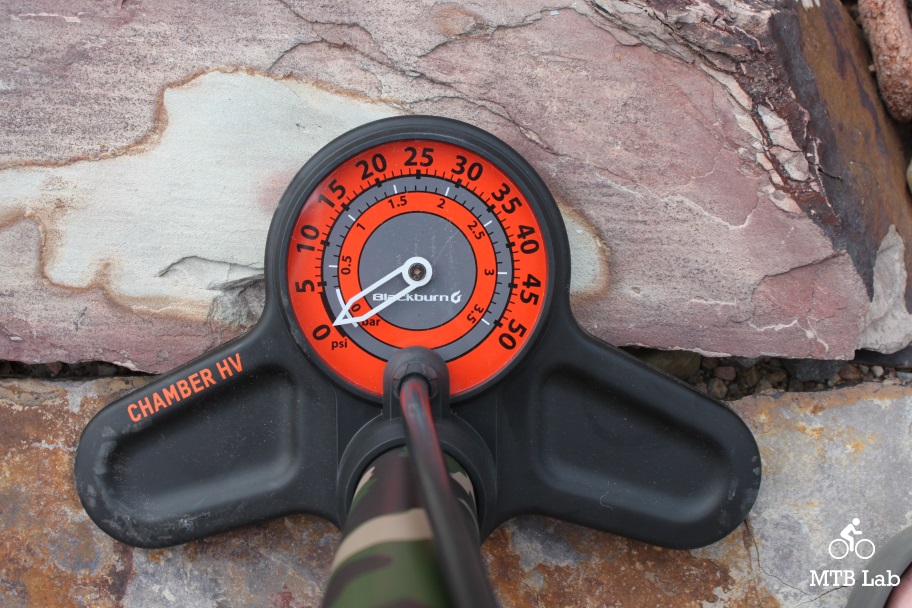 Impressions
It has been immensely functional over my test period, and topping off my fat Plus sized 2.8″ and 3″ tires only required a few quick strokes, instead of the endless number when using a standard floor pump. The extra large gauge with its narrow 50 psi range was easy to see and read, and I especially liked the fine-grained tick marks for the pressure reading and extra large font, making it easy to designate down to .5 psi. I could get several of my tubeless ready tires to seat on the rims, but it didn't usurp my handy compressor, which is still the best for getting finicky tubeless tires to pop on.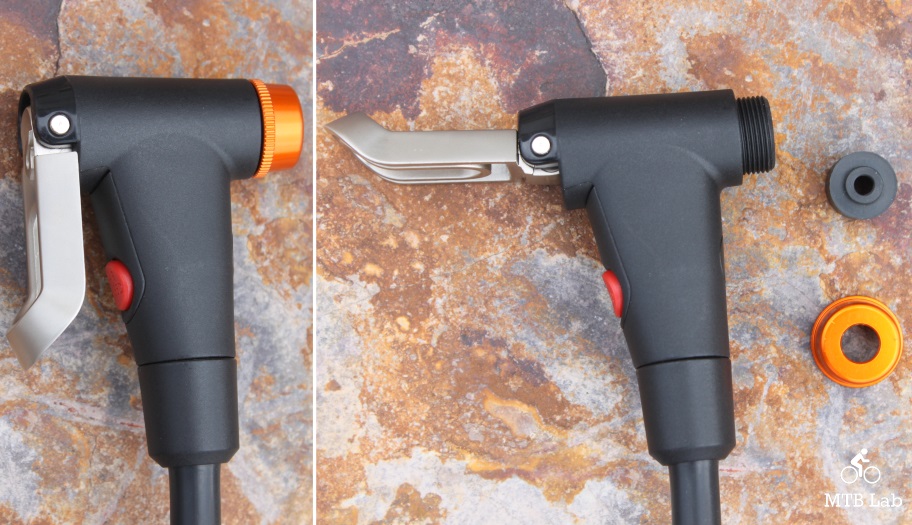 Their straightforward old school Anyvalve pump head can fit onto Presta, Schrader, and Dunlop. Just unscrew the alloy top cap and flip-flop the rubber gasket to change between Presta and Schrader, though I didn't do that very often since Presta has become somewhat ubiquitous for valves. It fit pretty tightly on the valve, so it takes a bit of force to jam it on, but once it was on it was secure and sealed well after applying the alloy lock lever. I liked the alloy lock lever since it was strong and was easy to use force for a tight seal and I didn't feel as though I was going to break anything. If needed it has a small air bleed button on the back of the head, which worked nicely to remove excess pressure.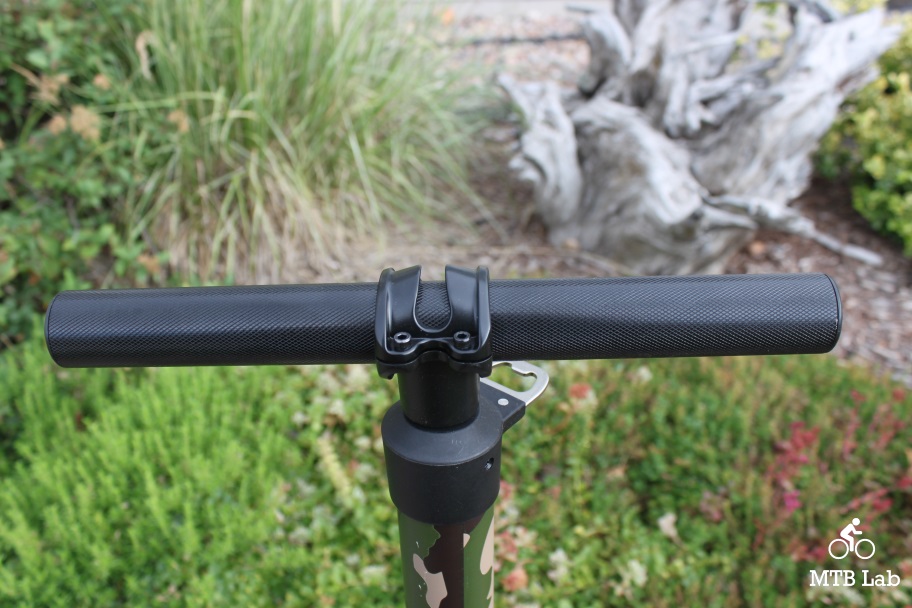 The extra-wide aluminum pump handle has a round shape and is knurled for a better grip, and it was easy to hold onto when pushing the vast amounts of air into the tires. The wide steel base offered extra support and stability, which greatly helped with pumping the long stroke monster. It didn't take to many strokes to inflate a tire from scratch, making the task much easier and less time consuming. The extra-long 47″ hose was highly functional, letting you work with a tire from a distance or upon a stand or workbench. Once you're down with it, you roll the hose over the top, and it slots into a small groove in the of the handle and then snaps into the integrated hose keeper.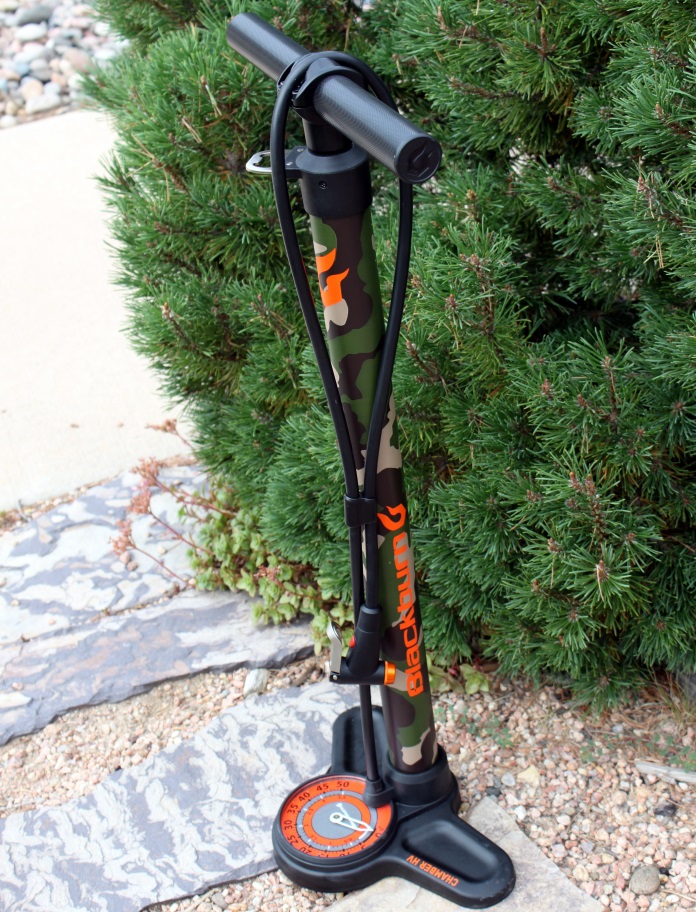 Bottom Line
The Blackburn Chamber HV is a great floor pump that is extremely well suited for inflating high-volume and low-pressure mountain bike tires. The oversized barrel creates double the amount of air for each stroke of the handle so you can quickly inflate or top off mountain bike tires. The extra large gauge is easy to read, and the gradations and large font make precise low-pressure inflations simple to perform. The knurled handle and steel base offered up leverage and stability when inflating via it's 21.5″ stroke and oversized barrel. The Anyvalve pump head sealed up tightly after securing with its beefy alloy lock lever and the air bleed button on the back was useful for pressure alterations.
Pros
Extra large easy to read gauge
Pump head – useful alloy lock lever and air bleed button
Broad and stable base
Wide knurled handle
Well built and durable
Large-diameter barrel gives more volume per stroke
Cons
Expensive
Old school pump head – manual change for Presta/Schrader valves
MSRP: $79.99 – for further information refer to blackburndesign.com