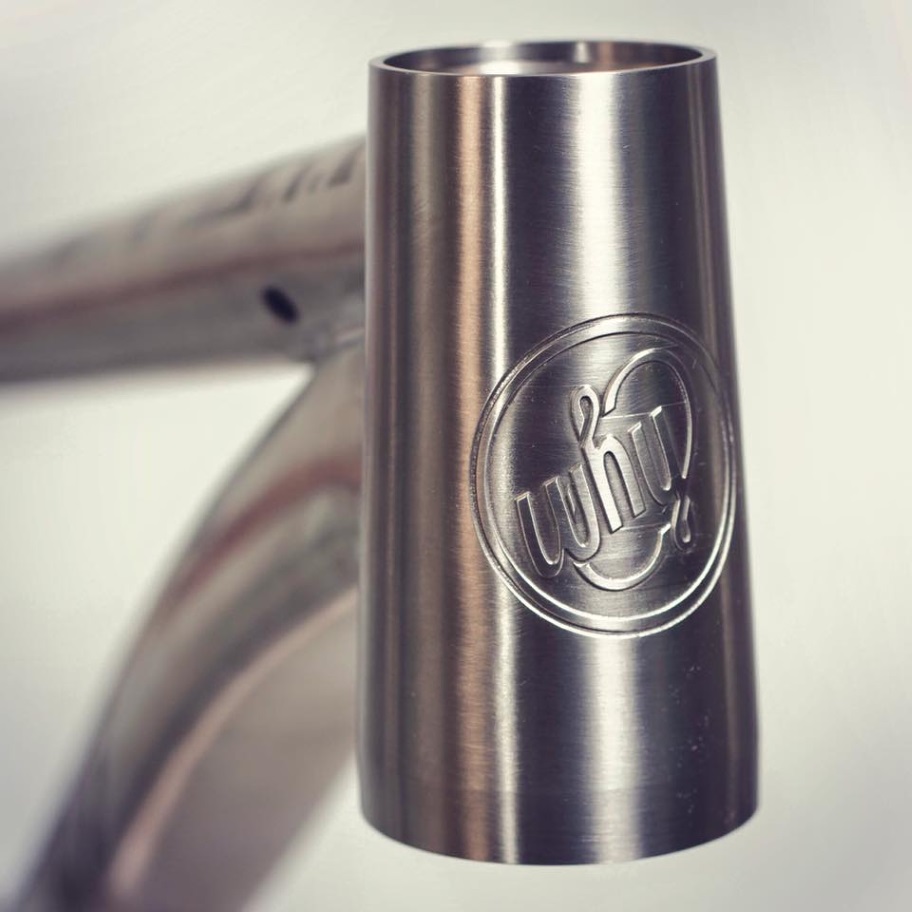 Why Cycles is here! Whatever your "why" is, we think you'll like the unique, rad bikes we've created.
We have a new kid on the block for high-end titanium bikes, Why Cycles. Adam Miller left the fat bike Borealis company in 2015 that he founded, and he has now co-founded Why Cycles with Ben Craner. They operate out of Ogden Utah and will initially produce three titanium bikes made in a factory overseas; the S7 (Supple Seven) hardtail mountain bike, the TF (Take Flight) dirt jumper, and the R+ dirt road bike. For the utmost in suppleness and feel and strength, they utilize the Grade 9 3/2.5 high strength tubing alloy. All of the bikes look stunning and gorgeous, and the welds look impeccable, have beautiful lines, and unique designs. And let's be honest, and who can't resist the sexy and silky titanium for a bike material. Drool worthy! All of Why Cycles bikes comes with an excellent lifetime warranty against manufacturer defects along with a lifetime crash replacement program.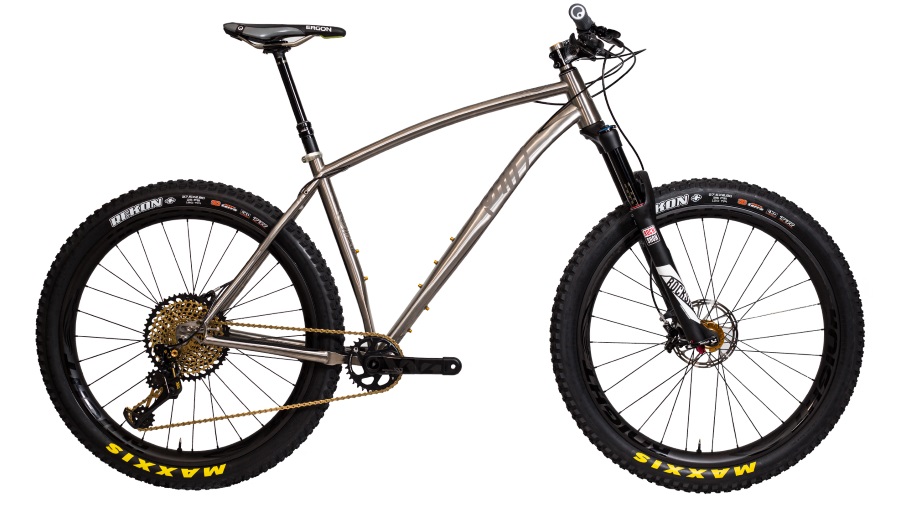 The S7 is a 27.5″ Plus sized hardtail bike with a Boost rear end, sliding droppers, threaded bottom bracket, the ability to run a belt drive, and can fit 2.8″ to 2.9″ tires. It is only 1x, has rack and fender mounts, three water bottle mounts and has the following pricing options: Frame $2250, GX1 kit $3999, Eagle X01 Kit $4999, and Eagle XX1 Kit $6399.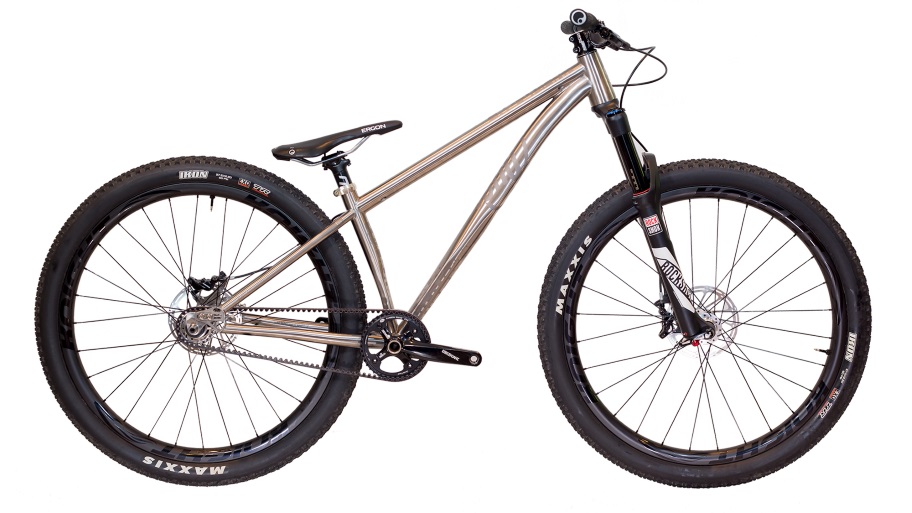 The TF 27.5″ dirt jumper with a Boost 148mm rear end, threaded BB, 120mm fork, is belt drive compatible and has price options of Frame 1850, Normal Kit 3499, and Pimp Kit 5699.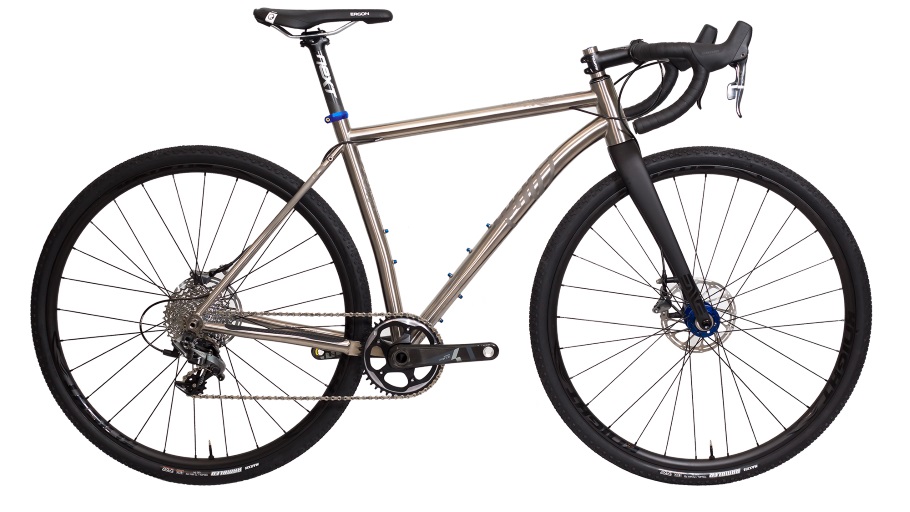 The R+ road bike (road, gravel, cyclocross) with a 142×12 rear end, 1x and 2x compatible, threaded bottom bracket, 31.6mm seat post with capabilities for routing and can fit 700×42 or 27.5″x2.1″ sized tires (optimized for 700×40). Pricing options include Frame 2050, Rival Kit 3999, and Force Carbon Kit $5699.
As a bonus, if you buy a complete bike they ship it in a trick EVOC bike bag!
For further info refer to whycycles.com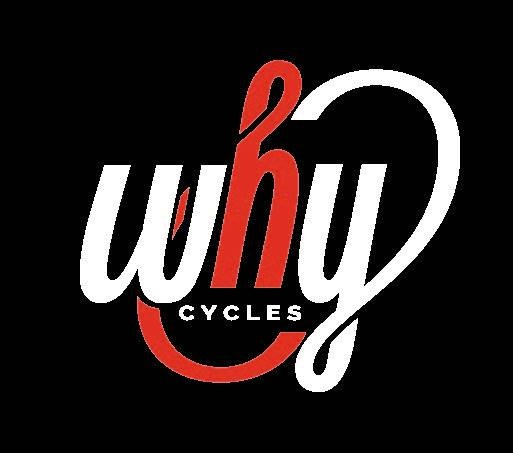 Company Info
Who is Why Cycles?
Why Cycles is made up of a group of guys who got together a couple of years ago and decided we wanted to create a bike brand that stands for more than just grams, fancy parts, and getting on that race podium. Sure, we like doing those things too, but bikes are special. We're based in the cycling mecca of Ogden, Utah, and spend our time riding bikes as many places as we can. Our founders have been around the block in the bike industry, too. We've each started our respective companies in different areas of the bike world (and burrito world, for Ben) and had success pushing the limits of materials, products, and trends in the world of bikes. Now, we created Why with the goal of making incredibly high-end products that we like to ride and that we believe will spread the joy of all types of cycling to you. Our goal is to offer the best customer service out there, and we promise to do everything we can to make that a reality. Not to toot our own horn too much, but we know what we're doing when it comes to developing extremely high-quality bike products. You can rest (and pedal) assured that your bike has been designed, tested, and manufactured to the highest possible standards in the bike industry. We designed and built bikes we want to ride, and we will stand behind our products with a no questions asked return policy and straightforward, legitimate lifetime warranty and crash replacement policy.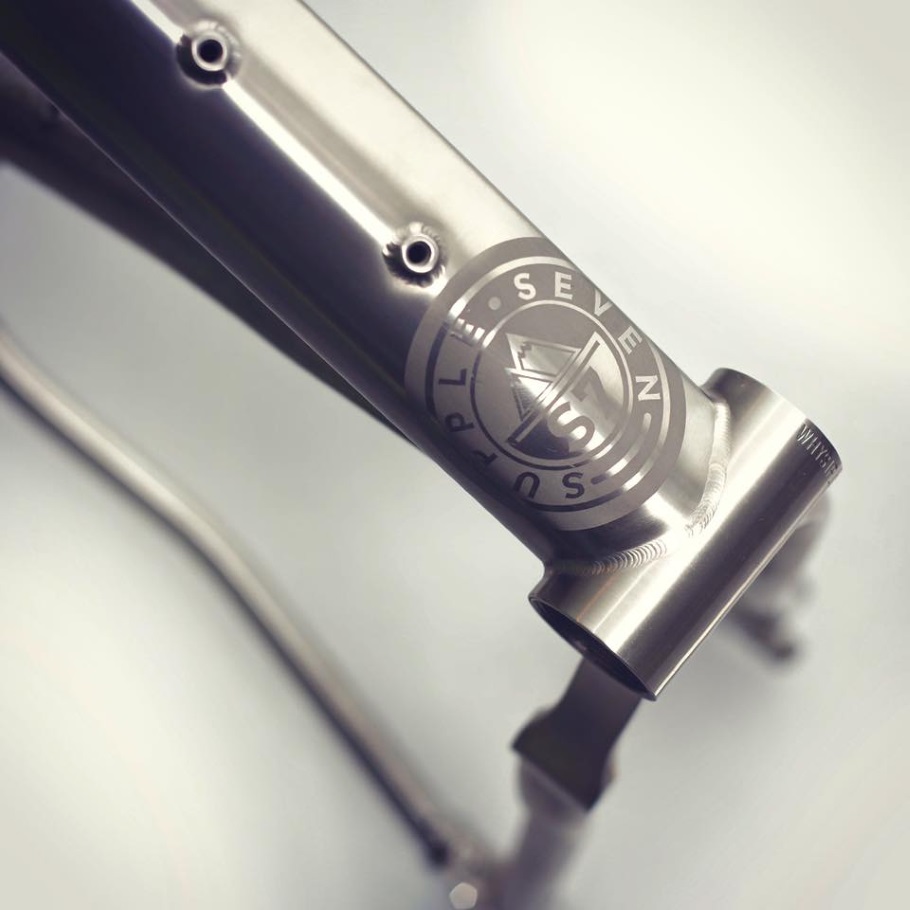 Why Why Cycles
There's nothing better than pedaling a human powered machine up a mountain, along a backwoods dirt road, or into a flowy dirt jump line to make you feel like you're flying. We make some incredibly cool, high end, uniquely rad bikes that we think you'll love. You can purchase our bikes directly from us on our website here, and we promise to offer you the best experience possible when it comes to buying, receiving, and (most importantly) riding your new Why. Your bike will even come shipped to you in the best bike travel case on the market- no more wasted cardboard and plastic packaging. It's our way of going green and making your purchase as easy as possible. Bikes are about more than meets the eye- as you look around and head out on your next two-wheeled adventure, we encourage you to ask yourself: Why do you ride? What makes cycling so special, to you? Take a look around our site or give us a call- we're here anytime to help you find the bike of your dreams to help you explore the unknowns around the corner.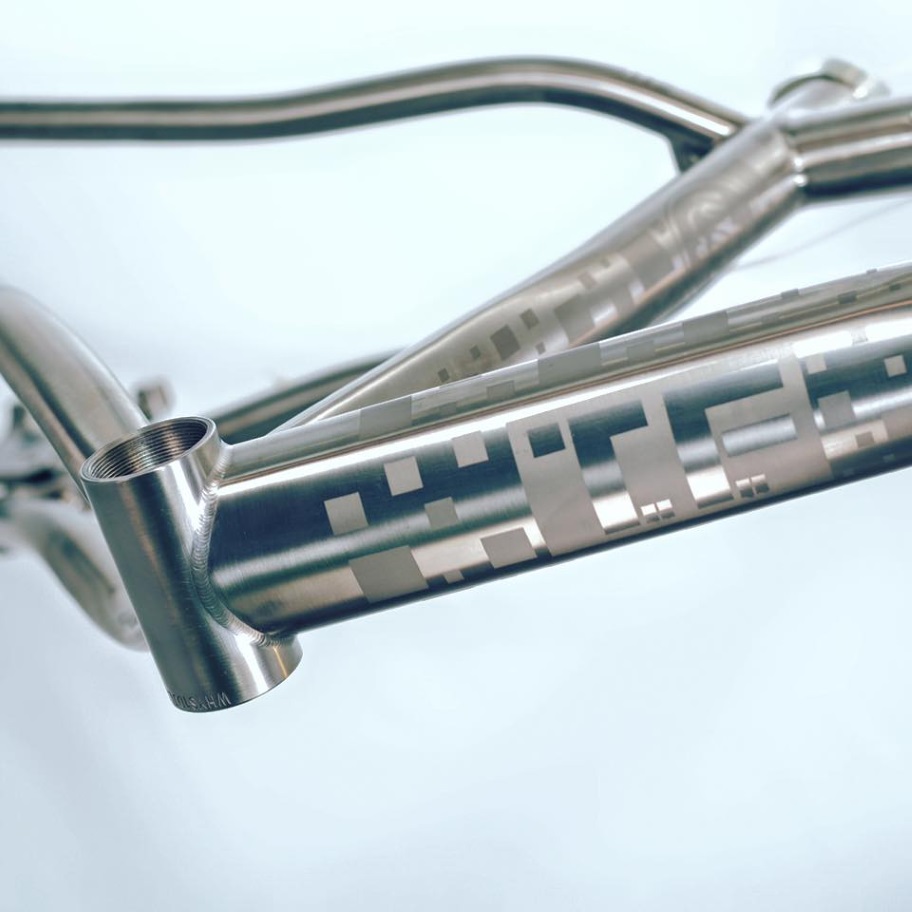 The Tech Behind Why
Our bikes are made from the best material possible for each application we choose. For now, that means titanium, but we're not stopping there…stay posted:) We use the highest quality Grade 9 3/2.5 titanium for our frame's tubing, and 6/4 titanium for parts like the head tube, bottom bracket shell, and machined bits all over the frame. Our goal was to create titanium frames with a modern twist- and we think you'll agree we've done just that. Most of our bikes feature practical design benefits- like internal cable routing, internal dropper seatpost routing, integrated headsets, and threaded bottom brackets. The wonder material has so many excellent ride quality attributes- it is 43% lighter than steel, has the best vibration damping properties of any bike material, and is mind-blowingly durable. While slightly heavier than carbon fiber, we believe that for most riders who want a high-end, comfortable, and fast bike, a properly made titanium frame is the best option.
---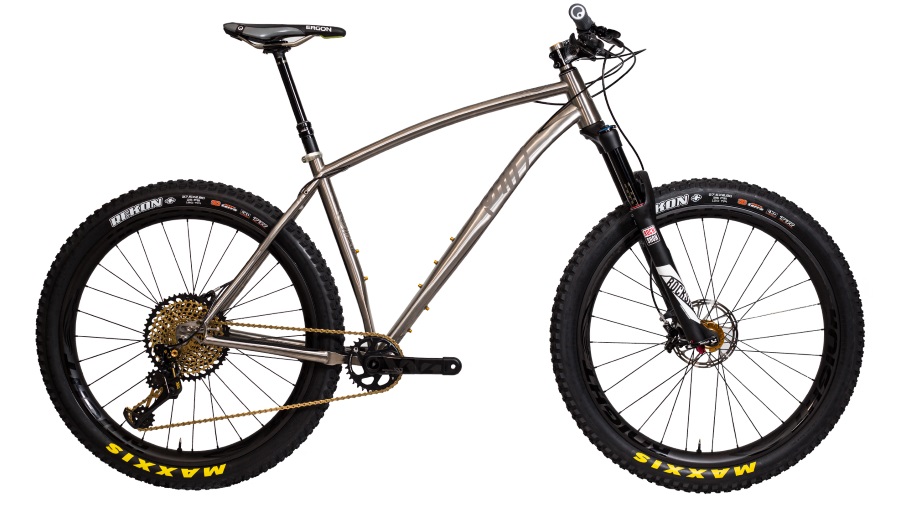 S7
The most supple hardtail trail ripper
Frame $2250, GX1 kit $3999, Eagle X01 Kit $4999, and Eagle XX1 Kit $6399
Because somewhere there's a wet, tacky trail in the mountains.The S7 was designed to be a blend of simplistic and versatile, comfortable but fast, and most of all to be the best hardtail mountain bike out there. That's quite the claim, and "best" is generally qualified in the eye of the beholder. But, we truly believe that our new S7 is an incredibly good option for those who want an all around trail riding mountain bike that will last a lifetime. Designed around 27.5×2.8" tires, with clearance for up to 2.9" tires, this comfortable, cornering machine will have you whooping for joy on trails where you never thought hardtails could go. We did not design this bike to win XC races or take down Strava KOM's on a downhill run. (Though we are sure some of you will prove us wrong here, and if you do, let us know. Swag ships to all rebels!). We designed this bike to excel at what most of us like best about mountain biking- adventuring up and down hills with friends, railing corners, tackling technical climbing sections, and looking damn fine while leaning against a tree while it's rider drinks a beer on top of a mountain.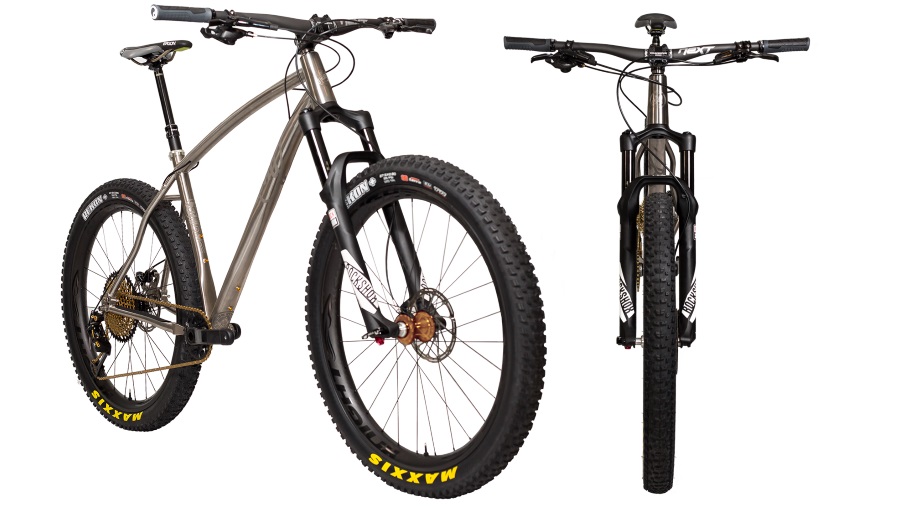 We designed the titanium frame tubing to optimize the best qualities of the material. The ovalized top tube and slightly bent seat tube allow for excellent vertical flex to soak up trail chunder, while the squared off bottom bracket juncture makes this titanium frame incredibly laterally stiff for excellent power transfer when you need to take that KOM sprint to the brewery before it closes. Full internal cable routing as well as stealth internal dropper routing keep your bike looking clean and low maintenance; sliding dropouts allow you to run singlespeed, belt drive, or geared, as well as (most importantly) tune the chainstay length to your desired ride quality. (We're happy to provide the best recommendation for this length, just give us a call). The Supple 7 lives up to its name- incredibly comfortable, fast, and with the ability to corner like you've never imagined. You'll feel like the luckiest rider on the trail with this trusty steed as your companion.
---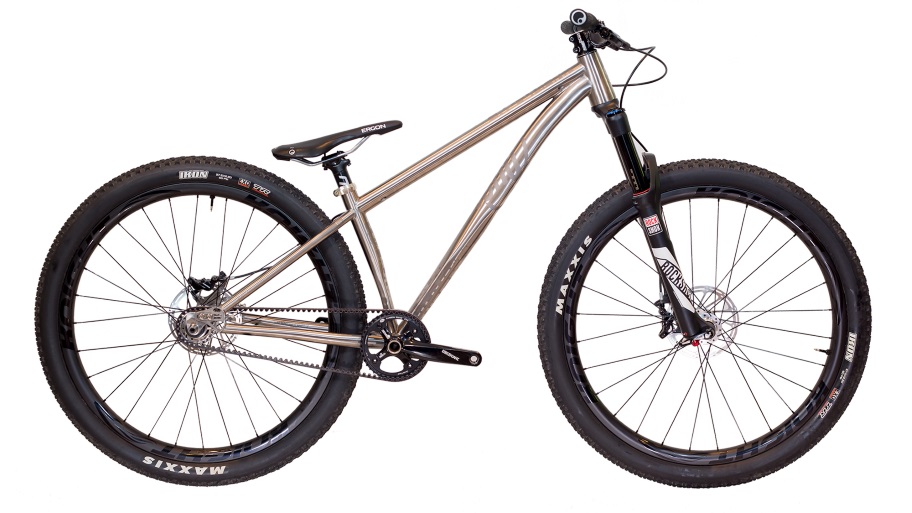 TF
Take Flight!
Frame 1850, Normal Kit 3499, Pimp Kit 5699
At Why, we all like to ride a lot of different two-wheeled vehicles. Our founders ride everything from ultra aero triathlon bikes to downhill bikes to dirt bikes, and just about everything in between. There is something incredibly special about each different type of bicycle, and each one provides a new perspective on why bikes are so incredibly fulfilling. (Ok, maybe we can leave the tri bike out of that statement…) So we decided that we wanted to ride a dirt jumper that was incredibly modern, that was designed to fly over jump lines with ease and comfort and stability and, most importantly, with fly-as-f@!& looks to make everyone else jealous.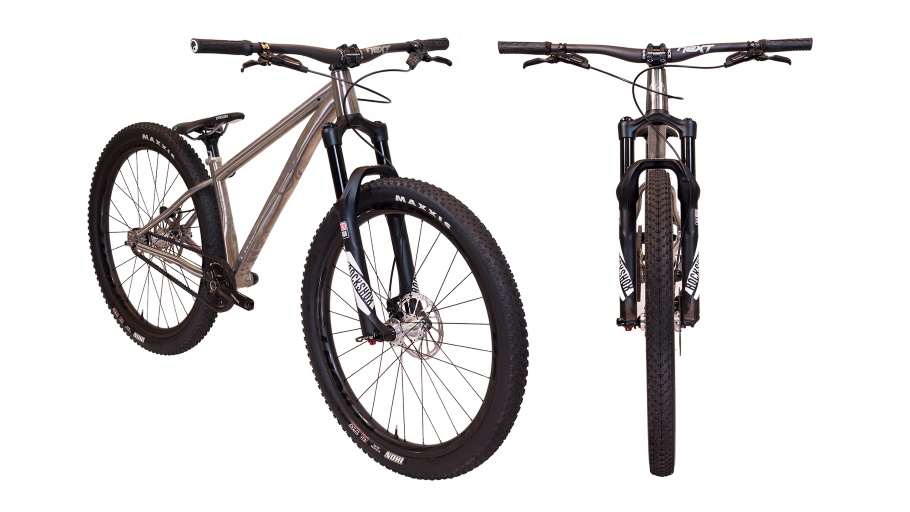 Enter the Why T.F., the Take Flight. The WTF, for short, is simply the best dirt jump bike we have ever ridden. Run the bike belt-driven, single speed, or geared, and we dare you to not hop on this bike and get a giant, cheesy grin on your face. The real kicker about the WTF? 27.5" wheels. Yes yes, dirt jump bikes are traditionally designed around 26" wheels, but we wanted to try this out. The biggest benefit to the larger wheels is the ability to run a larger bottom bracket drop and keep the pedals at the same height off the ground. The end result is fantastically improved handling and cornering ability, and it is immediately noticeable. This titanium dirt jumper is one of the most durable, fun bikes to jump in, off, and around anything you might see in your path, and we know you'll love it just as much as we will.
---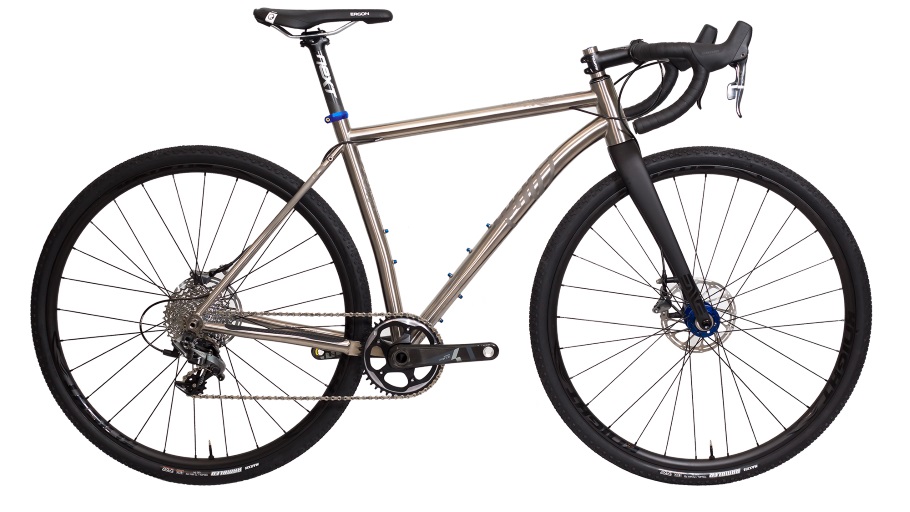 R+
Road, Cross, Gravel Expanded
Frame 2050, Rival Kit 3999, Force Carbon Kit $5699
Never look at any dirt road the same way
We designed the R+ to expand the possibilities of what drop bar bikes can do. This bike is optimized for use with 700x40c tires but has clearance for 700×42 or 27.5×2.1" wheels. The R+ is extremely versatile but was designed to be most at home on gravel roads and long pavement rides where comfort is paramount. But don't let that deter you, speed demons. This thing can hold its own on the cyclocross race track and rides like a Jaguar for those who want to slap some slick road tires on for speedy fun.
Want versatility and comfort? Order your R+ with the optional Lauf Grit gravel fork and the combined 30mm of lightweight suspension travel up front and oh-so-supple titanium frame will have you powering through ultra-endurance events and bikepacking epics like you were resting on a memory foam mattress floating on a cloud. Pair the option to run an internally routed, common size 31.6mm dropper post on this two-wheeled beast, and you'll be blown away by where this "road" bike will take you.