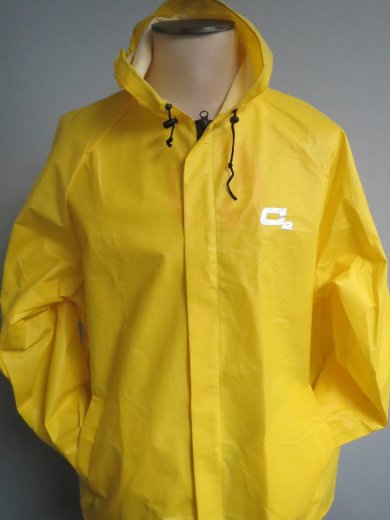 O2 Rainwear Expands its Product Line
I have been a big fan of O2 Rainwear and used their Nokomis Jacket and Pants many years ago and can vouch for their usability and toughness. The new lightweight Element Series series is comprised of a Hooded Jacket ($36), a Jacket ($36), and Pants ($26) and they have an excellent price point, and they still retain their nonwoven microporous technology which offers a material that is Waterproof, Breathable, and Windproof.
Press Release
Minneapolis, MN, August 11, 2016 – Rain Shield, makers of O2 Rainwear, has just released its new rainwear line, the Element Series. This series stays true to the qualities that have made O2 Rainwear the time-tested brand for lightweight performance rainwear.  Like the Original Series, the Element Series is made with nonwoven microporous technology and is constructed with ultrasonically welded waterproof seams.  The added feature of the Element Series is increased durability, while still maintaining comfort, compactness, and great value.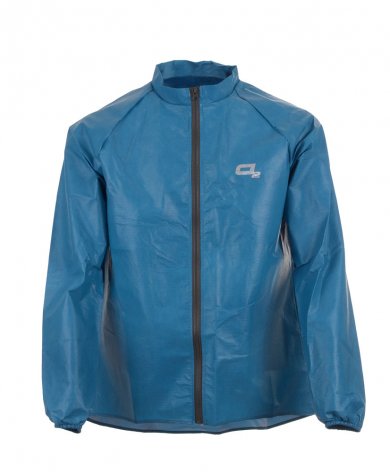 Durability isn't the only new attribute the Element Series offers. "We are very excited to be able to offer our customers new color options with a durable, breathable fabric," said Alan Ziskin, President of Rain Shield.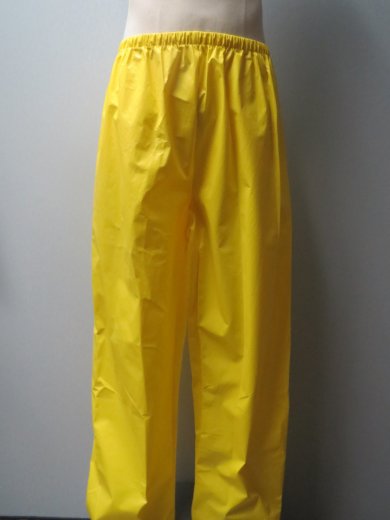 The Element Series is available in yellow, navy blue, and gray.
For more information go to  http://o2rainwear.com/
---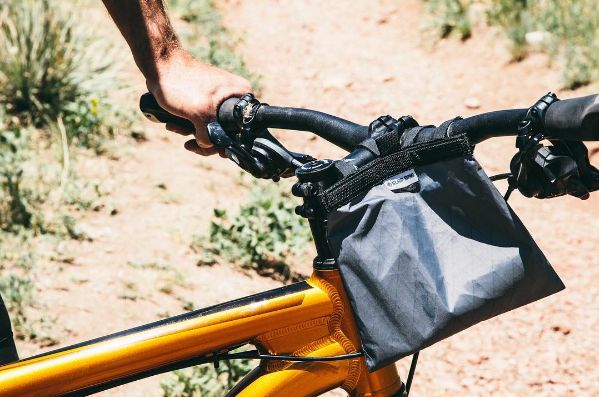 Slap Bag
Simple Little Accessory Bag
The Slap Bag passed by my inbox and sounds like an excellent product to toss on your handlebars and stem. Easily being able to toss your smartphone, keys, wallet, snacks and other items into the Slap Bag with a one-handed open and close technique is highly functional.
Product Info
Slap Bag mounts to the handlebars and stem of your road, mountain, cruiser, fixie or kids bike.  Did we mention the best part: It opens and closes with one hand.
Well, you say, what's different? Thanks for asking, The Slap Bag opens and closes with just one hand allowing you to get your essentials easily. The Slap Bag keeps your items secured inside. Using a simple pull, The Bag opens up. Just slap it closed. It's much like a slap bracelet liking two shapes (open and closed). When you are riding and need something, just pull on the tab, and it opens allowing you to grab your food, phone, etc. Slap it closed securing your items and continue on your way (or bike, ride, journey).
When you get on your bike, whether it be to ride to dinner or you are heading out on a road or mountain bike we all typically have a few things we like to take with us. Think where you put your phone on your ride. Do you put it in your pocket or jersey pocket? Is it irritating in your pocket, might it fall out? Do you pull your phone out of your jersey and it's sweaty? Think where you put your keys or wallet or food? Having those things secure and easy to access helps you ride free knowing you have what you need without being burdened.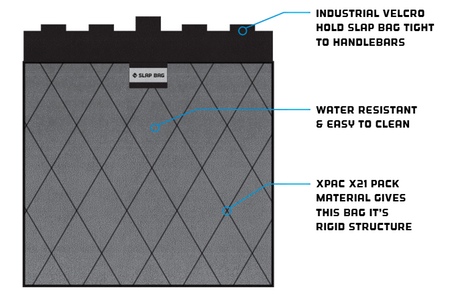 There are 4 Velcro strips to ensure the Slap Bag will mount to most any type of bike and stay securely in place.  The back edge has an aluminum bar that you can bend into place for a custom fit to every bike.  The front edge is much like a slap bracelet, and the ~90degree angle you create once you bend the bag into place activates the Patent Pending closure mechanism.  The bag itself is rigid enough not to flap in the wind yet flexible to mold around a phone or a peanut butter and jelly sandwich.
MADE IN THE USA !!
External Dimensions: 7.50″ W x 6.75″ H (3.50″ mouth when open)
Internal Dimensions:  7.25″ W x 5.75″ H (3.25″ mouth when open)
Kickstarter Launch Color = Slate Grey
Fabric: Terrain X-Pac VX-21 [this is the same fabric we used in the 2007 original prototypes, and they held up great, so we choose the same fabric for the final production ready Slap Bags]
Low stretch, waterproof construction technology, and 210 denier face fabric provide an ideal balance of weight and durability
The fabric is waterproof, but the bag closure does not create a water tight seal, consider this product water resistant.
---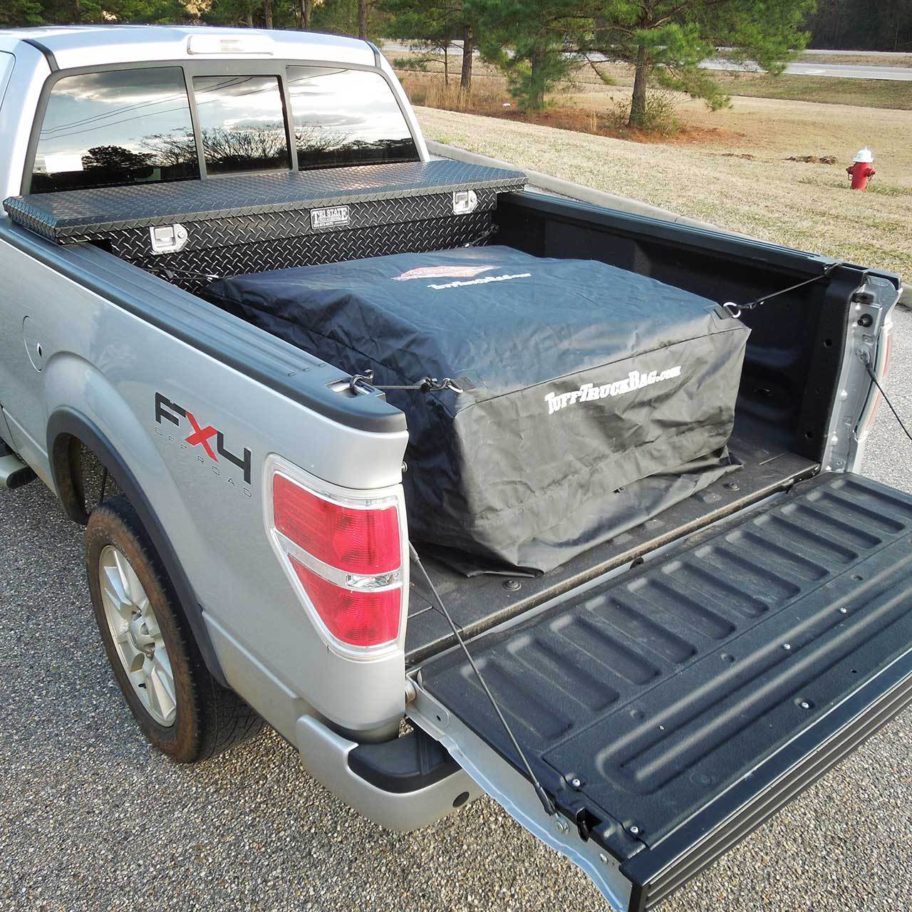 Tuff Truck Bag
The Tuff Truck Bag sounds like an ideal item to use to protect your gear from the weather and dirt, along with securing it inside a waterproof storage container. It will obviously be highly functional for use in an open bed truck, but I think it will also be useful for a bed with a topper since it can secure a load and keep things out of privy of being viewed, helping with theft issues. I like the robust materials and stitching being used, which will help with durability and contamination issues, along with the central tie down system.
Product Info
The Tuff Truck Bag is a collapsible, waterproof and dustproof cargo bag that can fit all pickup truck bed models to store, secure and protect luggage, cargo, equipment and more for camping, tailgating, and other outdoor entertainment lifestyles. Auto and truck owners may find themselves faced with this dilemma: You bought a pickup truck for its bed, why cover it up 100% of the time to store cargo? Heading outdoors or to the beach? Why take a bag that could get your items wet and sandy? The resolution is a Tuff Truck Bag. Whether you're looking for a Tuff Truck Bag for your pickup truck, or a smaller Tuff Tote bag for outdoor fun, you can be guaranteed that either choice will be well built, heavy duty, waterproof and easy to use. Price points: small tote bags $26 – truck bags $200.
[youtube width="853″ height="480″]https://www.youtube.com/watch?v=ZOalhdyXHVc[/youtube]
Specs:
Waterproof and weatherproof
40″ wide x 50″ long x 22″ tall
Holds 26 cubic feet of space
Heat fusion & epoxy sealed seams
Triple fold flap to cover and shield zipper
Heavy Duty to withstand the elements
Lightweight & collapsible for easy storage
Comes with storage tote bag
Heavy duty rings to secure the bag to any truck
4 adjustable bungee cords included
Features:
All Tuff Truck Bags are made from weatherproof, waterproof, non-breathable PVC material and feature heat fusion sealed seams along all edges.
Each Tuff Truck Bag seals tight with a heavy duty, commercial grade zipper and waterproof PVC triple fold flap that covers the zipper. Tuff Truck Bags are heat fused together with epoxy to maintain its watertight structure.
Tuff Truck Bags also have heavy duty metal rings in all 4 bag corners in order to easily fasten the bag to the truck bed using adjustable bungee cords.
4 adjustable bungee cords are included with each Tuff Truck Bag to fasten the bag to the truck bed. (works with any truck bed)
Collapsible for easy storage in homes, garages or truck boxes, black Tuff Truck Bags make it easy and convenient to maximize storage in your truck.
Great solution if you are in the market for black truck boxes. Tuff Truck Bags can be used alone or in addition to existing storage boxes.
The Tuff Truck Bag is a U.S. Patented Product and belongs to the company Tuff Truck Bags,Inc.
For additional info refer to http://www.tufftruckbag.com/