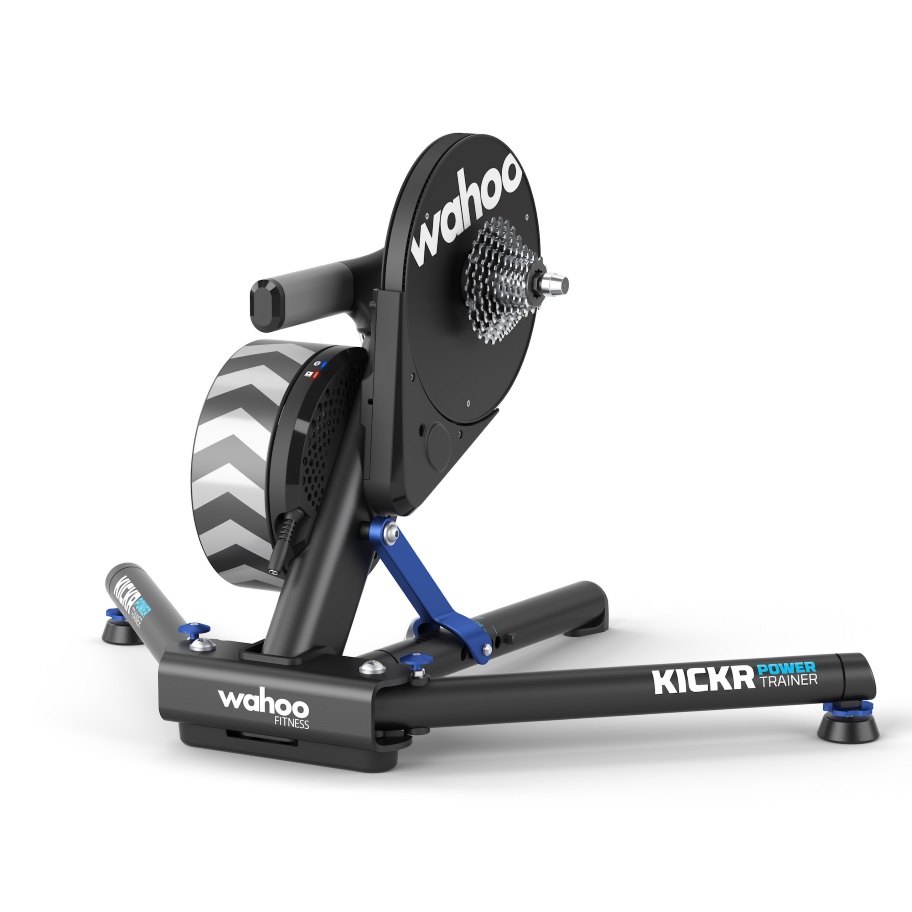 Wahoo Fitness has upgraded their highly coveted and feature filled KICKR trainer, which changed the bicycle trainer landscape, with the new KICKR Smart Trainer. The big changes with the new KICKR are a 14% reduction in noise, updated and new algorithms for enhanced responsiveness, improved power accuracy (+/-2%) due to precise modeling of the electromagnetic brake, LED's to indicate power and connectivity, a balanced and ergonomic lifting handle and the ability to replicate a leg burning 20% incline and an insane 2000 watts of power. They have also bumped the connectivity to ANT FE-C+ compatibility for third-party apps and devices, along with the previous ANT+ and Bluetooth Smart options.
It still utilizes their legendary flywheel, accommodates 24″ to 29″ wheels, is made from heavy weight carbon steel for stability, includes an 11-speed cassette and RPM cadence sensor, fits 130/135QR axles with an option for 142 thru axle.
The new additions should significantly improve an already excellent trainer, it's quieter, has a better feel, includes useful and functional features, and has leg numbing incline and maximum power outage. You can connect to a slew of third-party apps and devices to maximize your performance, training, and enjoyment.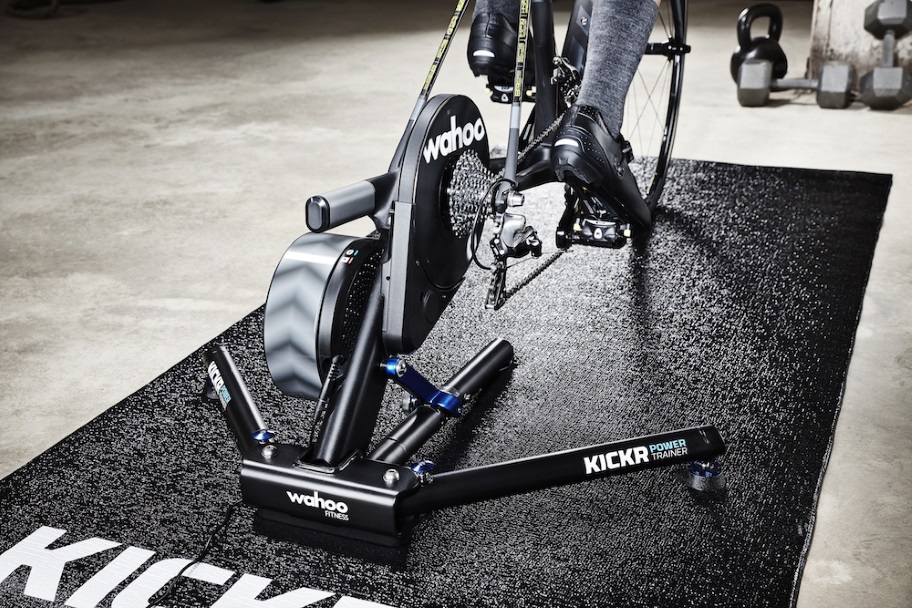 Wahoo Fitness Releases New KICKR Smart Trainer
Category-pioneering smart trainer updated to offer even more realistic ride feel and quieter operation.
(Atlanta, GA – Aug 15, 2016) – Wahoo Fitness, the leader in connected fitness devices, workout apps, and innovator behind the smart trainer category has just released a new version of the groundbreaking KICKR smart trainer. Designed to offer the ultimate indoor training experience, the new KICKR incorporates a new ergonomic design, a much quieter operation, and a further enhanced ride feel.
"The KICKR not only ushered in a new era of indoor training, it has continued to set the gold standard for performance," said Chip Hawkins, CEO of Wahoo Fitness "Now, the new KICKR raises the bar even higher, ensuring the KICKR will continue to be the yardstick by which all measured."
Projected to be the quietest direct drive flywheel trainer on the market, the new KICKR is 14% quieter than the previous KICKRs. Importantly, the new KICKR has both lower overall noise levels as well as reduced noise frequencies making for a much quieter indoor riding experience.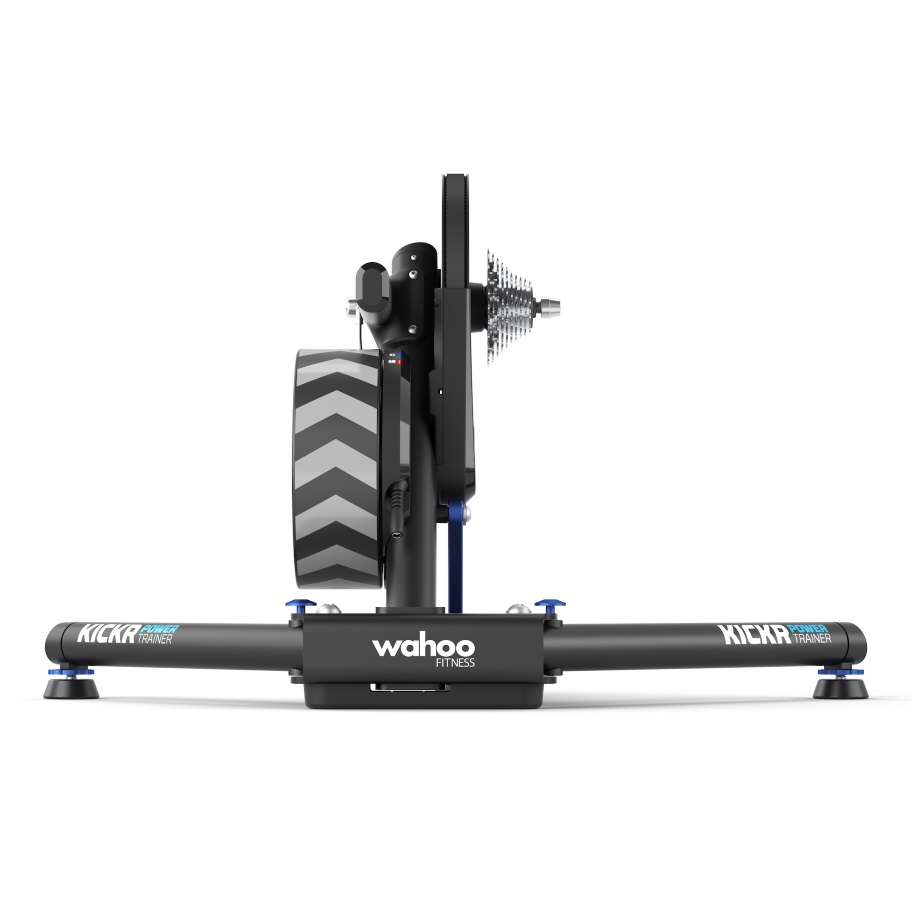 Continuing to utilize the high-inertia flywheel that allowed the original KICKR to set the standard for realistic ride feel, the new KICKR employs updated physics models and new algorithms to create a highly responsive indoor training experience that seamlessly translates grade and elevation data into realistic resistance. The KICKR is now also capable of realistically simulating gradients as high as 20 percent while producing a leg-shattering 2000 watts of resistance. These enhancements allow riders to get the most out of their indoor cycling experience.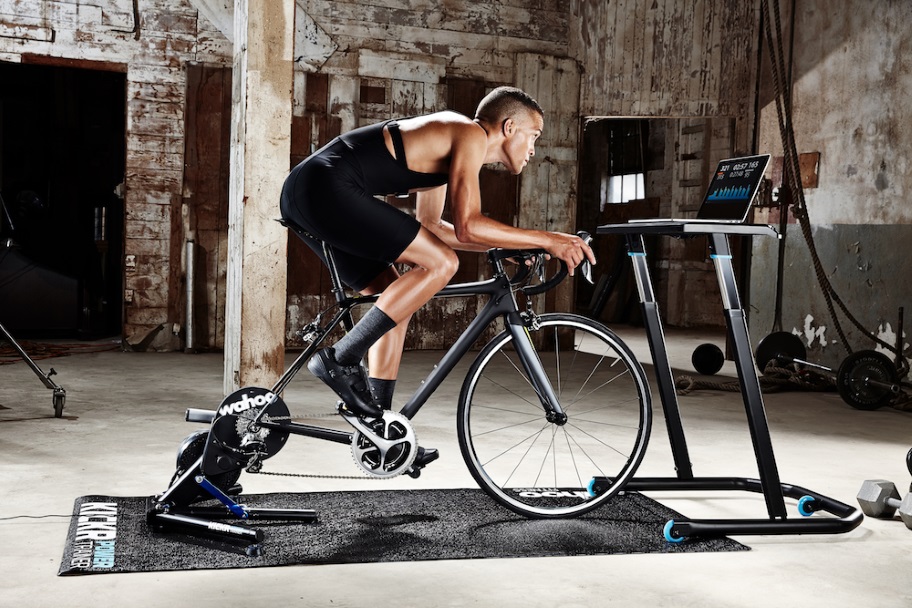 The most connected trainer on the market, no other trainer has as many 3rd party software integration options, and with the new KICKR, Wahoo has aided the connection and pairing process with convenient status LEDs. Also making its way onto the feature list is ANT FE-C+ compatibility, allowing for control of the KICKR by a number of third-party devices.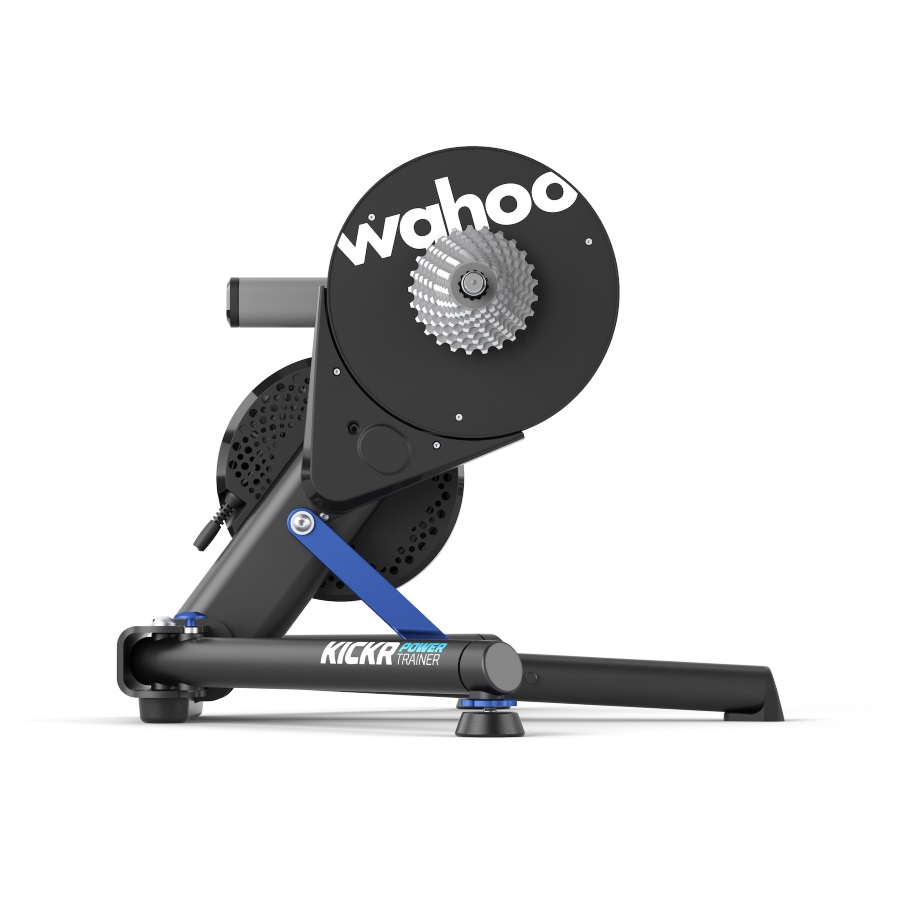 Still accommodating wheel sizes from 24 to 29 inches without the need for a wheel block, the KICKR utilizes a robust steel construction designed to stand up to years of abuse, including the day-in-day-out demands of elite athletes—from Olympians to the world's preeminent cycling team, Team Sky.
For the last three years, the KICKR has been the official trainer of Team Sky. Recently spotted at the Tour de France, the new KICKR was used by Chris Froome in his warm-up before winning the stage 18 mountain time-trial. Known for their 'marginal gains' concept, and meticulous attention to detail, Sky's Carsten Jeppesen, Head of Technical Operations said: "Wahoo's KICKR is a best-in-class product that gives us exactly what we need for both indoor training programs and race-day warmup and cooldown."
Available for purchase on August 31st, the KICKR will go on sale with an MSRP of $1,199, which includes both a cassette and Wahoo's RPM cadence sensor.
About Wahoo Fitness
Located in Atlanta, GA., Wahoo Fitness has created a full ecosystem apps, sensors, and devices for the runner, cyclist, and general fitness enthusiast. Wahoo Fitness's award-winning line of Bluetooth Smart products includes the KICKR, and KICKR SNAP, the world's first smartphone powered indoor bike trainers as well as the ELEMNT and RFLKT smartphone-connected bike computers and the TICKR family of chest-based wearables. The TICKR family, composed of the TICKR, TICKR Run, and TICKR X, combine heart rate training with advanced motion analytics. Learn more about Wahoo's full line of products at www.wahoofitness.com.