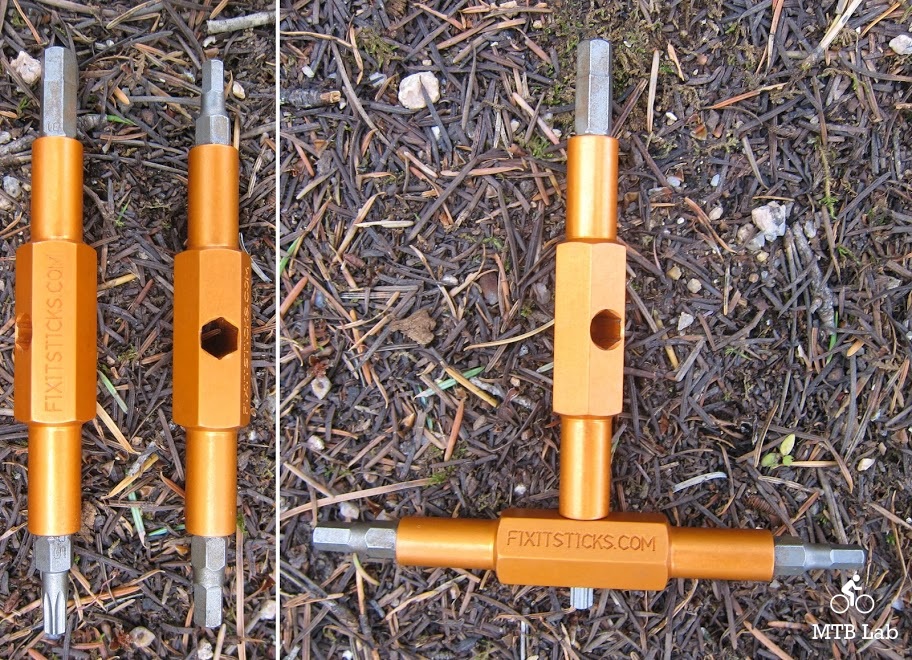 Fix It Sticks
FixIt Sticks is an innovative bike tool that was created by Brian Davis who became frustrated with the common multi-tools he carried in his pocket, and after lots of prototyping, designing and manufacturing the product came to fruition. The modular two-piece tool has four permanently pressed in stainless steel bits on each of their ends, and you mesh the pieces together to form a dual T-handle wrench. It's crafted from anodized CNC aluminum, weighs 54 grams and can apply up to 15 Nm of torque to fasteners.
It comes in a slew of options using differently attached steel bits and retails from $25 to $30 depending on the version. The $25 sets include their new The Bracket holder while the $30 ones have their fabric carrying case. I appreciated that the Fix It Sticks are customizable, and it was nice to be able to choose almost any combination of the four bits on the tools ends to match my particular bike's requirements.
Available Options
Standard A (4mm, 5mm, 6mm Hex, Slotted 5mm Wide)
Standard B (4mm, 5mm, 6mm Hex, Phillips #2)
Roadie A (3mm, 4mm, 5mm Hex, Phillips #2)
Roadie B (2.5mm, 4mm, 5mm Hex, Phillips #2)
Mountain (4mm, 5mm, 6mm Hex, Torx 25)
SRAM Inspired (2.5mm, 4mm, 5mm Hex, Torx 25)
The Original Fix It Sticks contain bits that are permanently fixed, and they also offer their Replaceable Edition for $30. The Replaceable Edition has magnetized end slots so you can swap out its bits, and it comes with 2,  2.5, 3, 4, 5, 6mm hex, T-25 and #2 Phillips sizes.
For further information refer to fixitsticks.com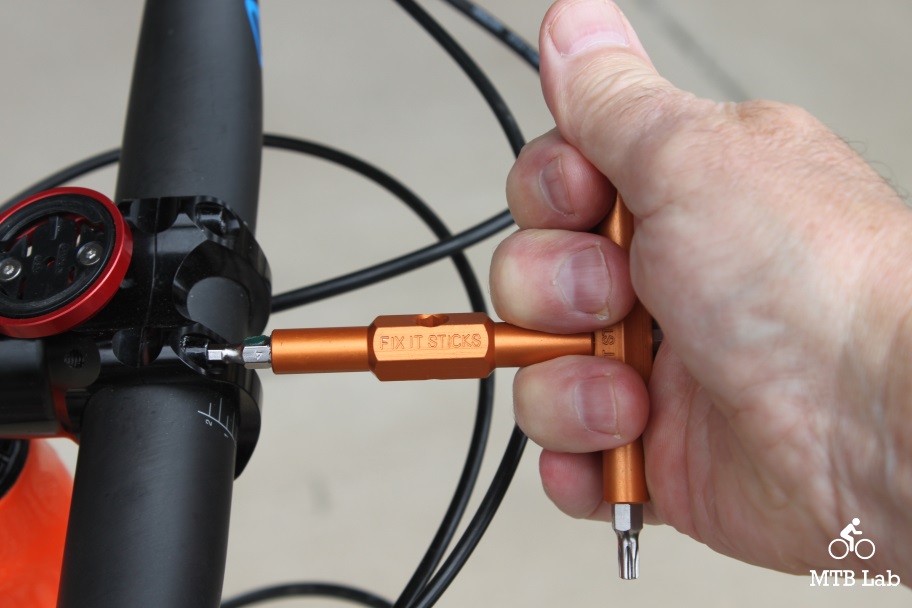 I tested the mountain bike version with 4, 5 and 6mm hex, and Torx T25 bits, which covered most of the parts and components on my bike. It breaks down nicely so you can easily stash it in a pocket or a hydration pack compartment, and then snaps together for tightening or loosening bolts, and the useful T-handle design allows you to apply leverage to bolts, screws, and fasteners. I usually carry a hydration pack while mountain biking and I still bring a full-fledged multi-tool in my pack to cover any emergency, such as breaking a chain, but I leave it stashed in the deep recesses of the pack and rarely use it for anything.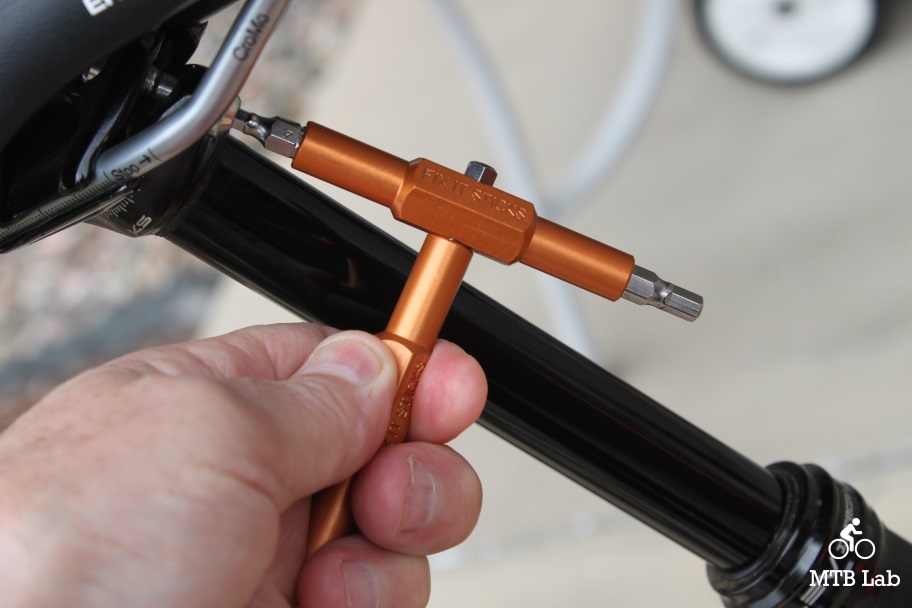 The design allows you to grasp it in a standard T-handle grip along with holding the bottom of the T which is highly effective when working in tight places, such as when working under a saddle. I have had a set of the Fix It Sticks for a long time and did get a subtle amount of galvanic corrosion (rust) due to the bimetallic assembly of the steel and aluminum, but it was simple to clean up and never caused any issues.
The Fix It Sticks is an excellent mini multi-tool that is portable, easy to use, simple and highly functional and even with its minimum of four bits, it should address most of the common trailside mechanical issues.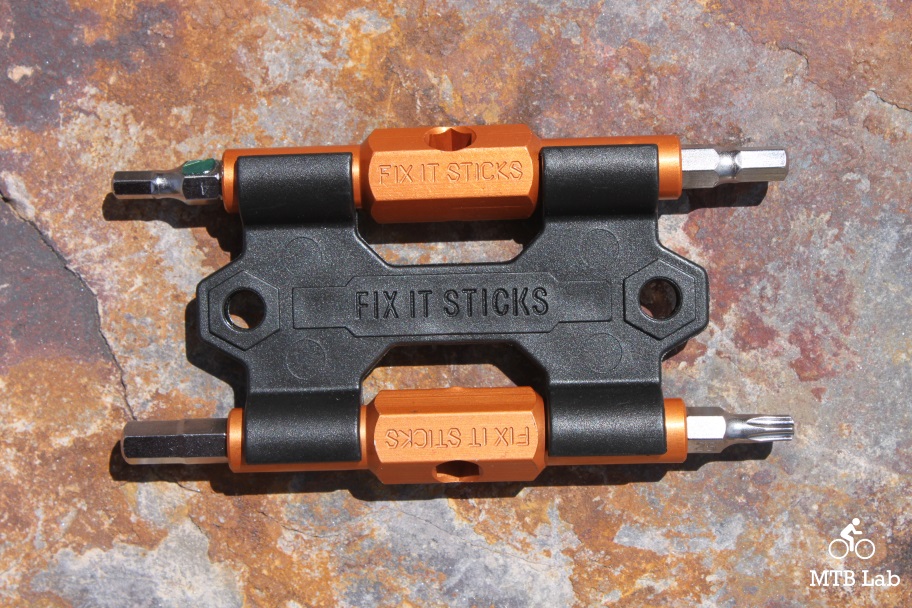 The Bracket
In June this year, Fix It Sticks released The Bracket, an 8-gram plastic tool holder that carries two of the original Fix It Sticks, and it's designed to mount under any standard water bottle cage or by itself. This design keeps you from forgetting the tool since it's always on the bike and makes it quicker to grab and easier to carry, no need to stash the tools in a pocket or pack. The Fix It Sticks quickly snap into The Bracket and deploy in seconds for repairs or tuning changes and it provides security and practical handiness. I haven't had any issues with the tools falling off, even in super rough and gnarly terrain.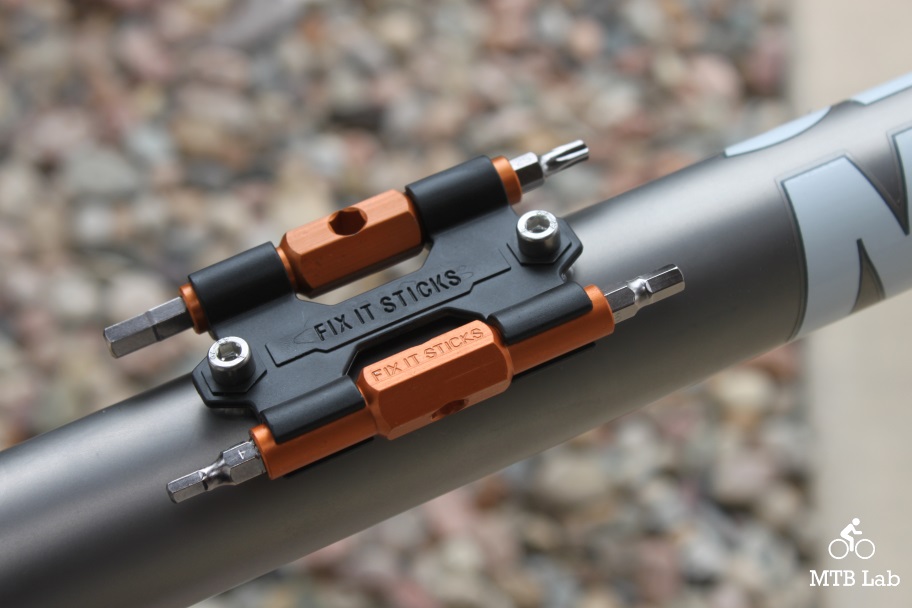 The Bracket is included with Original Fix It Sticks sets for $25 or separately for $6.