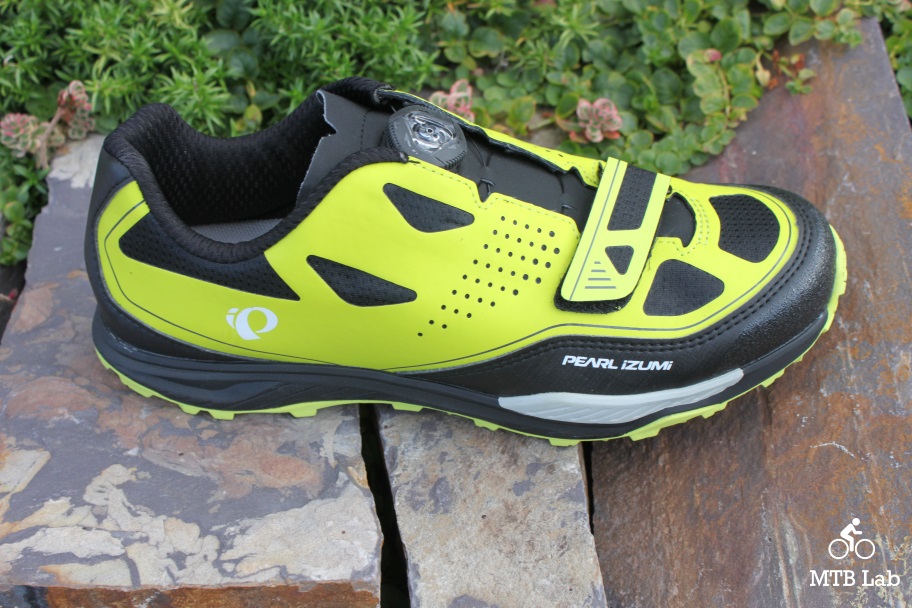 Pearl Izumi X-Alp Launch II
The  X-Alp Launch II is a do all shoe, meant for everything from All Mountain to Enduro duties along with hike-a-bike forays. It's their go-to shoe that's versatile for most any activity on a mountain bike. It utilizes a BOA Bi-directional Closure system with a Velcro strap for the toe box and has a Carbon fiber injected composite shank to provide power transfer to the pedals. For walking and hiking, it has Carbon rubber lugged outsole for traction and durability and their EVA X-Alp outsole and midsole for comfort and cushioning. It comes in Black/Shadow Grey and Lime Punch/Black colors and 39-49 Euro sizing and retails for $160.
Whether you're racing Enduro or just shredding the local lunch loop, the X-Alp Launch II delivers the high-performance versatility to get you safely – and quickly – down the trail. A carbon fiber injected composite shank improves power transfer, while the beefed up toe box provides protection from rock strikes. These shoes also feature EVA run shoe foam at the midsole for all-day ride comfort and have a carbon rubber lugged outsole that delivers secure off-bike traction when you're scrambling over rocks to scout optimal line choice.
For further information refer to pearlizumi.com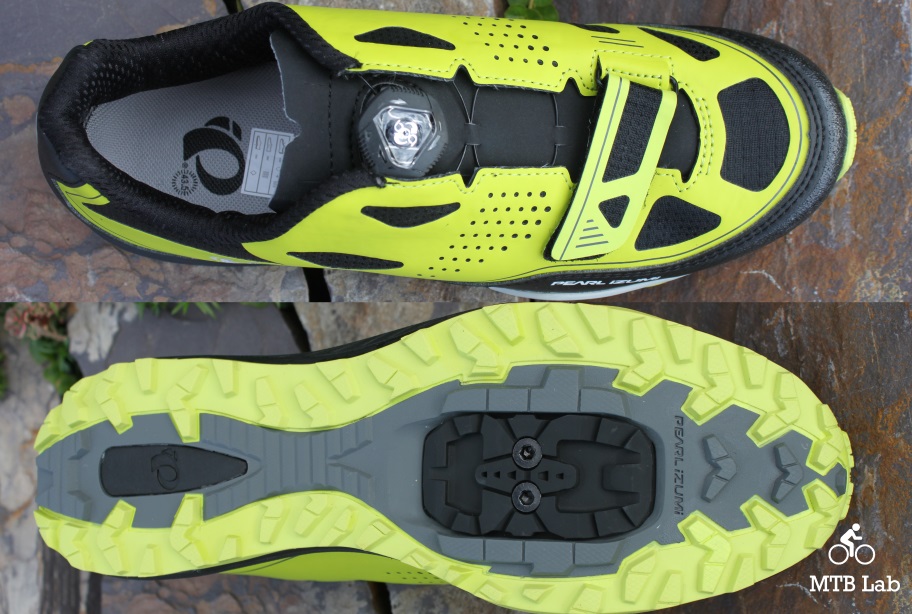 Specs
Carbon fiber injected composite shank for efficient power transfer
Bi-directional Closure: delivers a semi-custom fit by gathering equally from both sides for even foot retention, with the precision of a micro-adjustable BOA reel
Low-cut construction for a light, fast fit and feel
EVA X-Alp outsole/midsole for off the bike cushioning and comfort and on the bike power transfer
Carbon rubber lugged outsole for superior traction and durability
SPD compatible
Colors – Black/Shadow Grey, Lime Punch/Black
Sizes – full in 39-49, half in 39- 46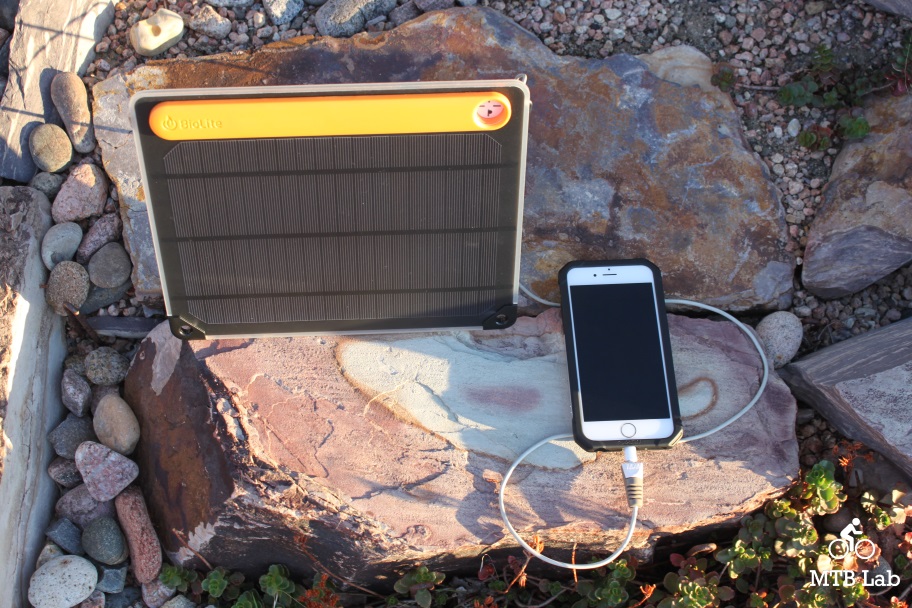 BioLite SolarPanel 5+
The SolarPanel 5+ is their newest panel and gets the addition of a 2200mAh onboard battery for storage from the 5-Watt solar array. It has a manual sundial system that makes it easy to align the panel to capture the sun's maximum energy to recharge the battery. You can charge your smartphone or device from the panel when the sun is out or utilize the battery during downtime. The SolarPanel 5+ retails for $79.95 and has a fold out brace to capture the sun and can clip onto a backpack for portability. 
Designed to Maximize Your Charge
Get the most from the sun with the lightweight & portable BioLite SolarPanel 5+. Featuring BioLite's Optimal Sun System, an integrated sundial aligns you to the sun to capture direct rays while a 360-degree kickstand simplifies positioning on uneven terrain.
The 2200mAh onboard battery stores energy for later, allowing you to charge devices when you need it most. Power phones, tablets, and BioLite gear with this ultra slim 5-Watt panel.
Kickstand – 

Position your panel from any angle or uneven terrain

Battery and Charge Strength Indicator – See the strength of the sun to measure your panel capacity
Battery Status Button – See how much juice you have stored in your 2200mAh battery
Solar Panel – High-efficiency monocrystalline panel
Sundial – Easy alignment to capture direct rays for maximum charge – USB Charge Out
5W output to charge phones, cameras, tablets, and other gear
Micro USB Charge In – Get a headstart on your power by filling up the battery at home
Corner Latches – Attach to a pack for external storage or to capture some watts on a hike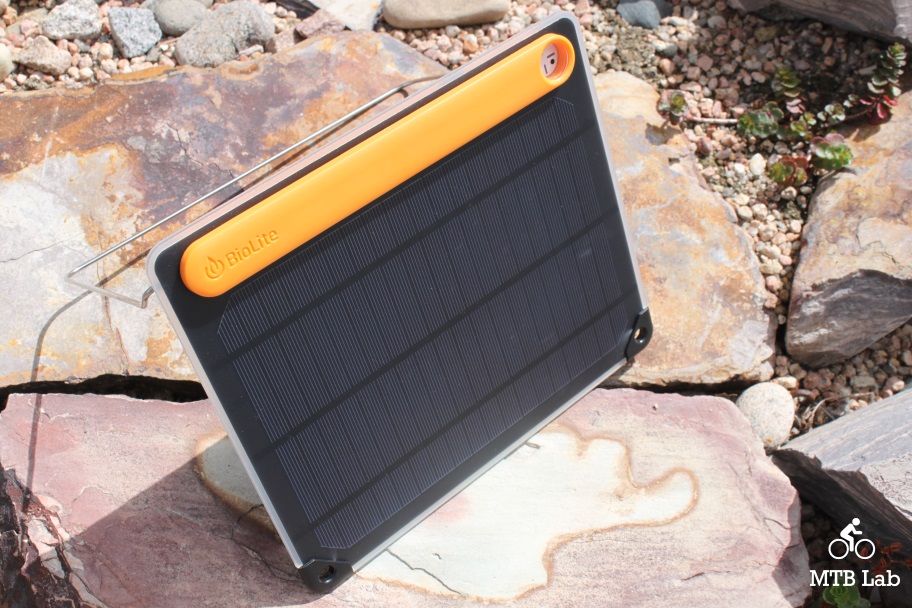 Specs
Weight – 13.76 oz (390 g)
Dimensions – 10.12 x 8.19 x 0.94″ (257 x 208 x 24 mm). Panel Only Depth: 0.26″ (6.6 mm)
Cell Type Monocrystalline
Inputs and Outputs – Micro USB In; USB Out
Weather Resistant – IPX4
In The Box SolarPanel 5+ – USB Cord, Instructions
Power Output – 5 watts per hour at peak sun
Battery – 2200mAh Li-on, 8 Wh
Warranty 1-year limited warranty on all BioLite products
For further information refer to bioliteenergy.com

BioLite PowerLight Mini
The new PowerLight Mini is their new lantern that has a 1350mAh USB rechargeable battery and retails for $44.95. The lantern can last up to 50 hours and can also be used to backup a smartphone if required. The  PowerLight Mini has a fold out brace for use at camp, or it can clip onto a jacket for walking around and comes with a kit to attach to a bike for commuting. It has multiple modes including a subdued dispersed White Lantern, a Red Night Vision, a Red and White strobe, and finally a bright White point.
See. Be Seen. Be Charged.
Go hands free with this ultraslim clippable lantern that moves with you for on-the-go light and power. Slip it onto a pocket or strap and avoid harsh glares with BioLite edge-lighting, helping you see and be seen on the trail or on your commute. A 1350mAh USB rechargeable battery provides up to 52 hours of light or a backup boost to your phone. It's a headlamp, lantern, and bikelight all in one highly compact form.
Features
Clip stand – 

Attach to pockets or rotate out for hanging and standing

Point Light – Boost of bright light for maximum visibility
Lantern Panel – Soft, even light in an ultra compact form for wearability
LED Battery Indicator – Easily see how much juice you've got left in your light
USB Charge Out – 1350mAh battery provides a backup boost to phones
Micro USB Charge In – Rechargeable Li-ion means no hunting for batteries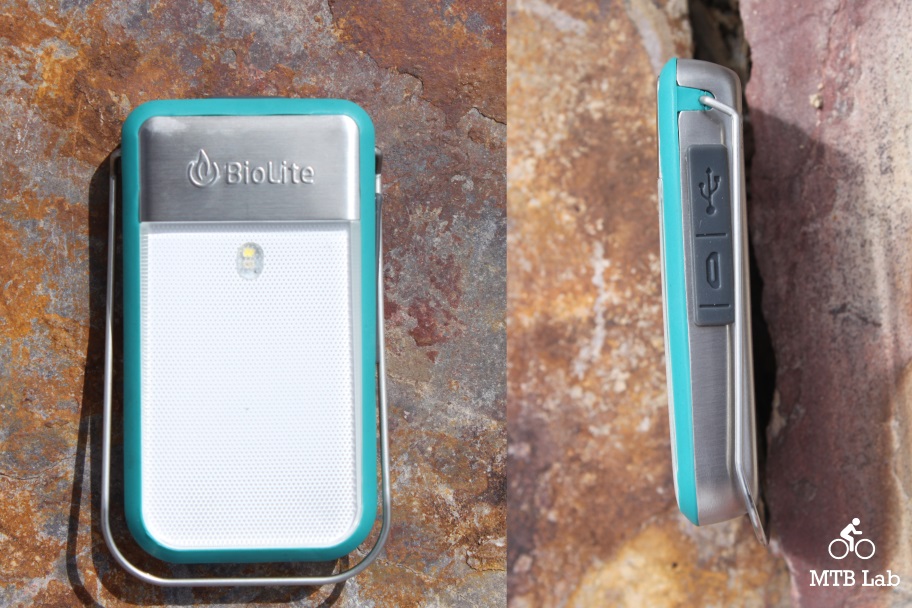 Specs
Lumens 135 Lm
Water Resistance IPX4
Inputs and Outputs Micro USB In/USB Charge Out
Burn Time (hours) 52 LO/5 HI
Battery 1350 mAh Li-on, USB Rechargeable
Lighting Modes White Lantern, Red Night Vision, Red/White Strobe, White Point
Weight 2.82 oz (80 g)
Dimensions 3.35 x 2.01 x 0.59″ (85 x 51 x 15 mm)
In The Box – Power Light Mini, Micro USB Cord, Bike Mount (30mm Diameter), Instructions
Warranty 1-year limited warranty on all BioLite products
For further information refer to bioliteenergy.com