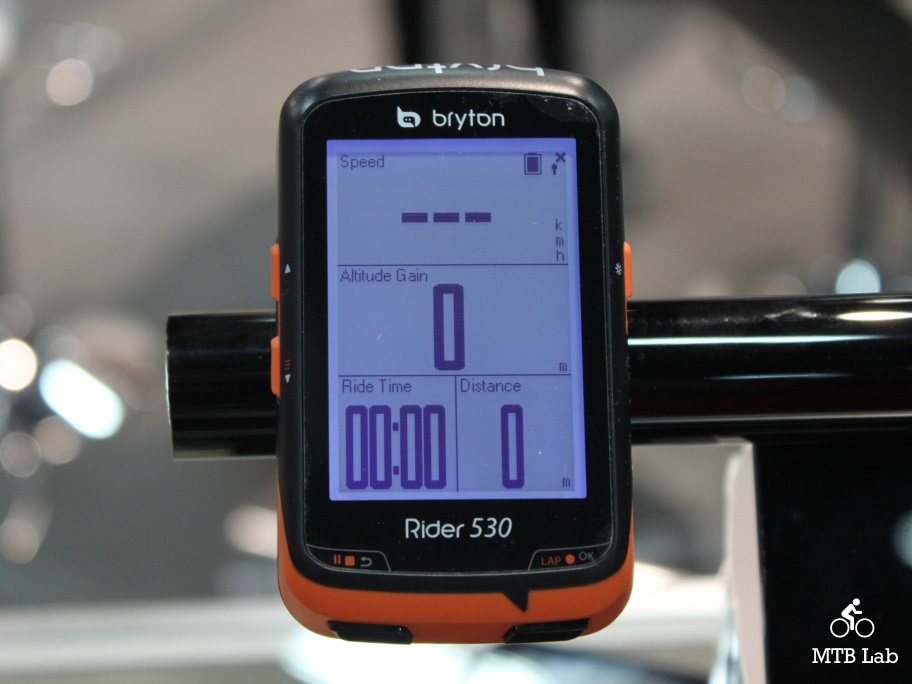 Bryton
The new Rider 530 GPS bike computer follows in the footsteps of their great little 310 brethren and gets updated with a larger 2.6″ screen that can show up to 12 data fields, and now includes navigation and track functionality. It offers excellent performance and can track distance, speed, location and elevation using a sensitive GPS chipset and a barometric altimeter. The $180 Rider 530 can synchronize wirelessly using the ANT+ network protocol and pair with compatible power meters, speed/cadence sensors and heart rate monitors. It also has Bluetooth capabilities for a smartphone but not for sensor pairings. The unit can store up to 300 hours of history with a long winded 33-hour battery life for the ultimate in long term use without recharging. The displayed data is highly configurable and has up to seven scrollable data screens. Recorded data is easily downloaded to a PC using a USB cable or via WLAN, and the data can be analyzed with Bryton training software in addition to third party utilities.
High-sensitivity GPS receiver for fast positioning.
IPX7 waterproof.
7 customizable data screen with maximum of 12 data per page.
Follow track plus turn by turn navigation.
Built-in compass provides heading information.
Built-in barometer for training with terrain.
One second recording.
Compatible with ANT+ Heart Rate monitor, speed, cadence sensors and power meter for advance training.
Anti-glare display for daytime and clear backlight for night rides.
Support for viewing stats on devices or uploading to Strava, Training Peaks, and Fit track.
Strava Auto Upload to sync your activities seamlessly from Bryton app.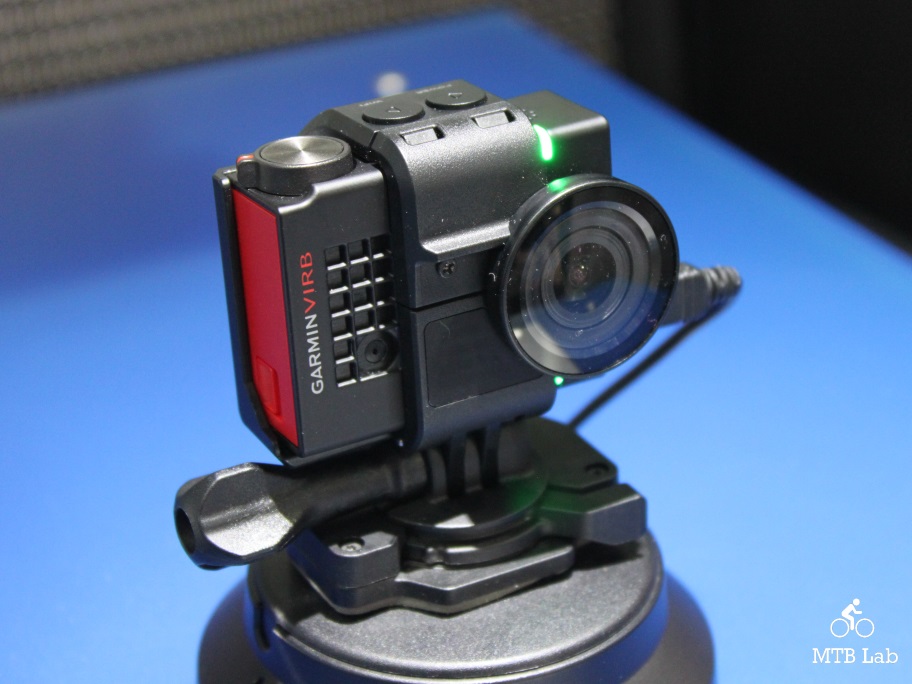 Garmin
The new VIRB Ultra 30 upgrades the VIRB XE and adds voice control capabilities, 4K video recording, a hard-shell waterproof case, a color touch screen, 3-axis image stabilization and a live-streaming on YouTube feature. The VIRB Ultra 30 continues with its brethren's feature suite, including GPS-driven data (G-Metrix), ANT+ and Bluetooth sensor support, etc. The camera weighs around 88 grams and retails for $400. With all the new additions to VIRB Ultra 30, I think Garmin has made a significant step forward and created an excellent full-featured action camera.
Ultra HD Video – Crystal clear 4K/30fps footage, 1080p/120fps, or slow motion capability at 720p/240fps
G-Metrix – Built-in GPS and external sensors with connectivity to Garmin devices to capture performance data like speed, elevation, heart rate and G-force
LCD Color Touchscreen – 1.75-inch display is easy to operate; fully functional in and out of waterproof case
Voice Control – Shoot hands-free by using voice commands to start/stop recording, take a photo or tag footage
3-Axis Image Stabilization  – Captures steady footage up to 1080p/60fps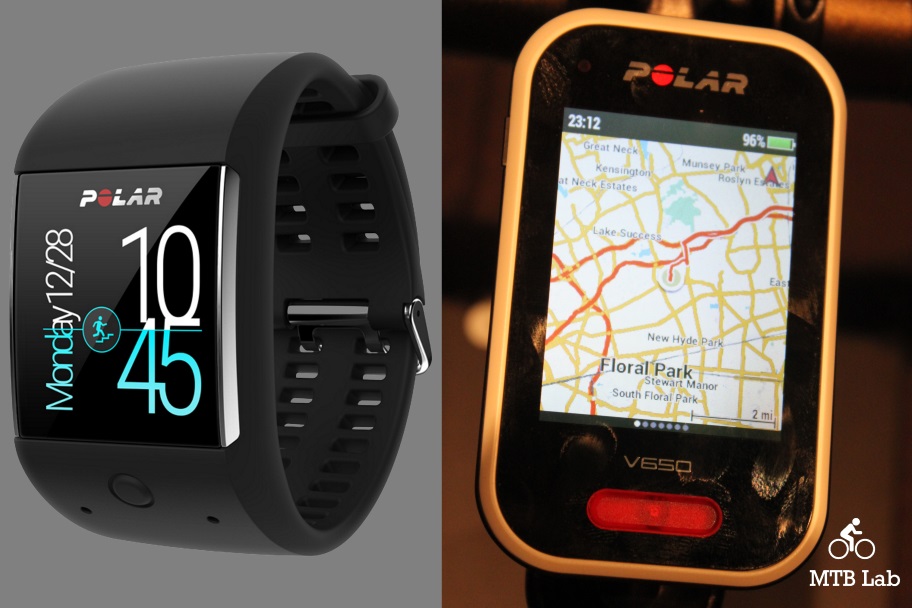 Polar
Polar M600 Smart Sports Watch
Polar's new Android Wear M600 smart watch covers the gamut of both sport and lifestyle functionality. It has integrated GPS functionality, an optical based heart rate monitor and can sync in with Android and iOS smartphones and devices. It supports a slew of third party apps including Strava and has the capability to answer text and emails along with streaming music via wireless Bluetooth headphones or earbuds. It's waterproof to 10 meters, comes in White and Black and retails for $329.99.
Wrist heart rate monitor: accurate wrist-based heart rate monitor with personalized training guidance to reach your fitness goals
GPS watch: built-in GPS Technology keeps track of your pace, distance, and altitude
Waterproof fitness tracker: customize your M600 activity tracker to fit your style with interchangeable, waterproof wristbands
Full Android wear ecosystem: notifications, social features, weather, calendar, maps, 3Rd Party Apps via google play
Smart coaching: running index, Sport profiles, hr zones, training benefit
Polar V650 GPS Cycling Computer
The V650 is easy to use GPS computer with a color 2.8″ touchscreen, Bluetooth sensor connectivity, mapping capabilities and smart LED for safety. It can track distance, speed, location and elevation and can connect with their Polar Flow web service and app.
Analyze every detail of your training with Polar V650 – the smartest cycling computer you've ever seen. With the V650 you can follow your ride with integrated GPS and get the most accurate altitude data with a built-in barometric pressure sensor. The V650 brings together all the essential features ambitious cyclists need to boost their performance and get an edge over their competitors. The V650 also gives you instant feedback after your session.
GPS bike computer tracks speed, distance, route, heart rate, cadence, and power for devoted cyclists who want to reach peak performance
Includes integrated GPS, smart LED light for optimal cycling security and 2.8" color touch screen display with ability to edit training displays
Altitude functions track ascent/descent, inclination, temperature, real time VAM (mean ascent velocity) and altitude compensated kcal
Live mapping capabilities allow users to upload maps and track their route during a ride
Pairs with Polar H7 heart rate sensor for accurate heart rate based training
Third party integration with Strava and TrainingPeaks and route import to Polar Flow web service
$249.95 or $299.95 with Polar H7 Bluetooth Smart heart rate sensor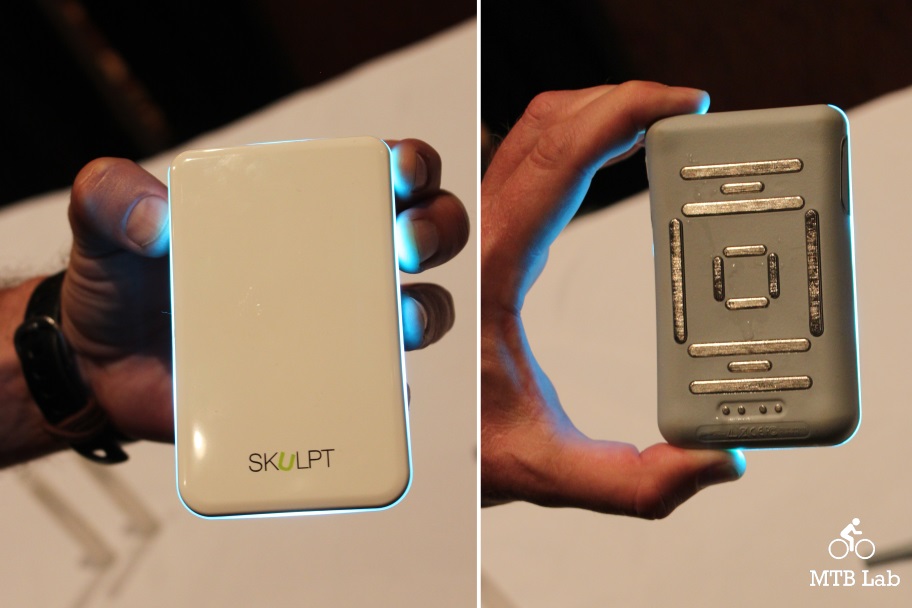 Skulpt
The Skulpt is a pretty nifty device that lets you find your body fat percentage on various muscles locations on your body. Using Electrical Impedance Myography, it uses its 12 sensors to send a small current past the subcutaneous fat and through the muscle and come up with the values.
This portable, lightweight device tracks the result of your fitness progress. It measures when you're losing fat and gaining muscle, by providing a measure of Muscle Quality (MQ) and fat percentage for individual muscles or your whole body. A matching mobile app tracks your progress over time and lets you see which are your strongest muscles or which muscles need work. The technology used in the Skulpt is called Electrical Impedance Myography (EIM). It has 12 sensors on the back with optimized configurations and frequencies.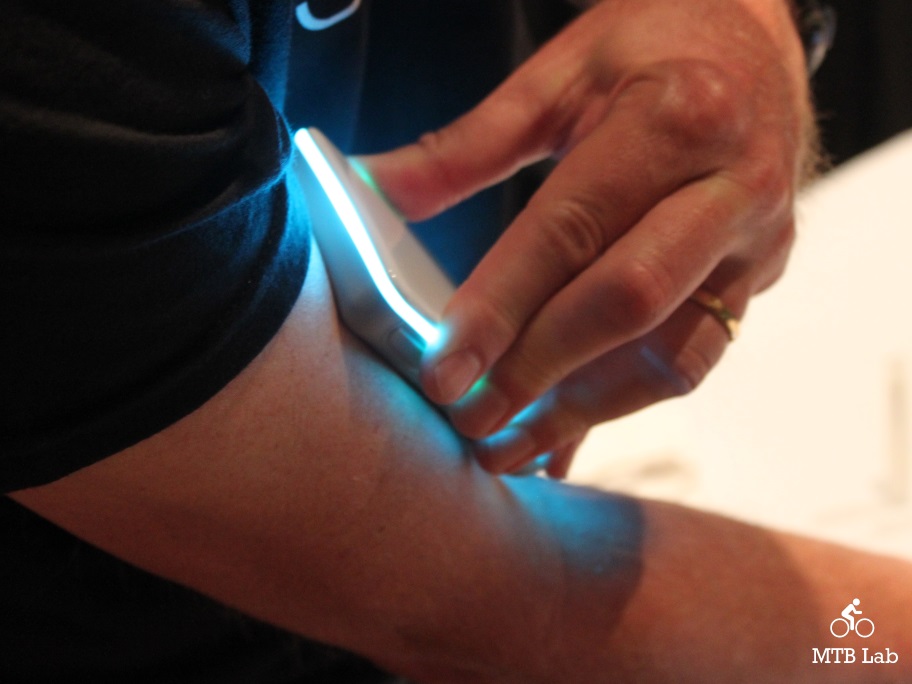 When placed on the muscle, it sends a small current past the subcutaneous fat and through the muscle. Since current flows differently in fat than in muscle, and in a fit muscle than an unfit one, the EIM technique can evaluate the quality of the muscle, and the percentage of surrounding fat.
Measures Muscle Quality (MQ) and fat percentage
Provides results for up to 24 different muscles
Measures total body fat % and MQ from 4 measurements: biceps, triceps, abs, quads
Portable, splash proof, and easy to use
Sync wirelessly via Bluetooth Smart to your smartphone