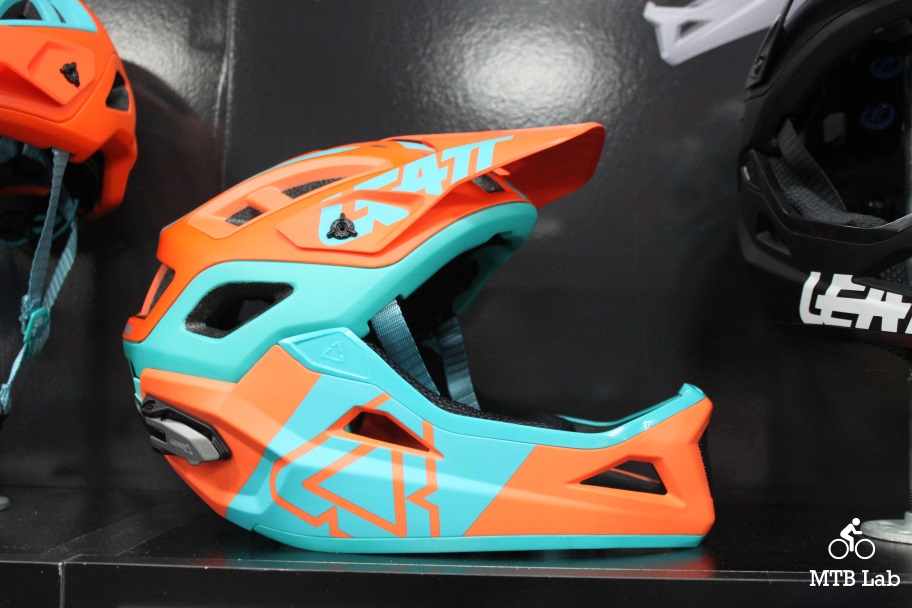 Leatt
Leatt had some innovative new helmets on display, including the 3.0 Enduro helmet with a detachable chin guard, the upgraded 5.0 DBX Composite V12, and 6.0 Carbon V23 full faced helmets. Their apparel lineup includes four jerseys (DBX 5.0 All Mountain, 4.0 Ultraweld, 3.0 Short, 2.0 Short), three shorts (DBX 5.0, 4.0, 3.0), and two jackets (DBX 5.0 and 4.0 All Mountain) which cover a broad range of prices and functions.
I like the 3.0 Enduro helmet with a detachable chin guard, as its beefier than other systems on the market, easy to take the guard on and off, and is ASTM1952 downhill helmet certified.
3.0 Enduro Helmet
The $240 bicycle Enduro helmet is a brand new, leading design in the market and is engineered to help you go from downhill to uphill riding without having to change helmets. Made of a polycarbonate outer shell, it is lightweight and, the helmet's key differentiator is that it is equipped with a removable chin bar to modify the helmet from an uphill to a downhill helmet. The helmet is also super ventilated – even at very low speeds, as it is equipped with 18 vents.
The helmet features our innovative 360 ̊ Turbine Technology and Armourgel cushioning material. Turbines made of the 3D molded Armourgel are set in the helmet, and they stiffen upon impact, deforming to absorb both vertical and rotational impact forces. This means that the faster or harder the fall, the better it works. This technology reduces up to 30% of head impact at concussion level as well as up to 40% of rotational acceleration to the head and brain.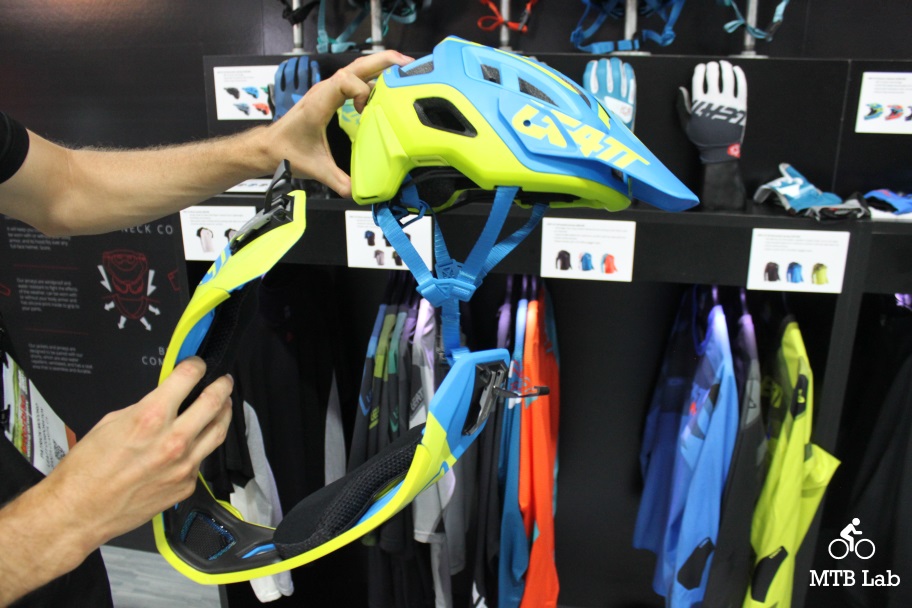 The smaller outer shell of the helmet and 3D in-molded impact foam allows for better energy absorption while its visor has a breakaway function that offers a rotational reduction in a crash. For your convenience, it has a custom fit Fidlock buckle, and it pairs perfectly with your hydration system.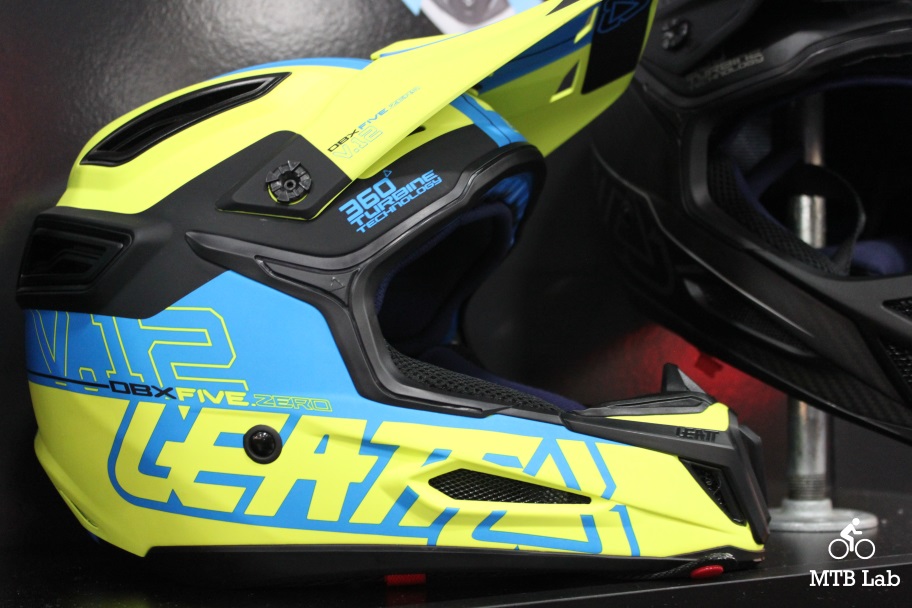 5.0 DBX Composite V12 and 6.0 DBX Carbon V23 Helmets
The composite bicycle helmets are made specifically to suit downhill and BMX riders' needs, keeping both safety and comfort in mind, while the DBX Carbon helmet is the latest, lightest innovation that has been added to the Leatt bicycle helmet range. Making use of 360 ̊ Turbine Technology integrated with Armourgel cushioning material, they offer premium protection.
The 5.0 helmet is lined with ten turbines made of 3D molded Armourgel, an energy absorbing material that hardens upon impact, which means that it works better the faster or harder you fall. This ground-breaking technology reduces the head impact at concussion level by up to 30% and the rotational acceleration to the head and brain by up to 40%.
It is further equipped with 3D in-molded V-foam and a 10% smaller shell size, transferring up to 20% less rotational forces to the neck, head, and brain. When you are out there where you feel most alive, you want your helmet to be comfortable, and that is why we have also made our helmets extremely lightweight and ventilated – even at very low speeds. For your convenience, it will pair perfectly with your neck brace, and has a Fidlock magnetic buckle for custom fitting with the turn of a dial.
The retail pricing is $400 for the Composite and $500 for the Carbon.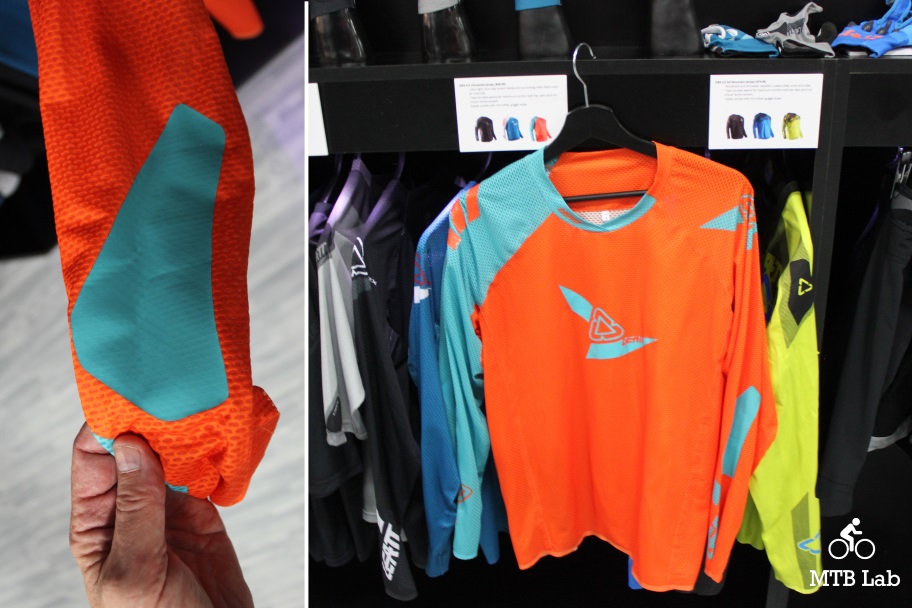 Their apparel line is cool, and I like the long sleeve DBX 4.0 Ultraweld jersey, it's decently light, highly breathable and includes some innovative brush guards on the elbow. I could see this being my go-to jersey anytime of year, with enough durability for long term wear, excellent wicking and venting properties and great comfort and cut.
DBX 4.0 Ultraweld Jersey
Made to be a lighter layer of protection than theDBX 5.0 jersey, the $70  DBX 4.0 bicycle jersey is made of ultra-light four-way stretch mesh fabric that is MoistureCool wicking and has air channels. Its athletic stretch fit makes it perfect to be worn with or without body armor, and it is neck brace compatible.
The elbows of the jersey are reinforced with brush guard, an ultra-thin flex film that is feather-light and increases scratch and abrasion resistance properties. It has tape bonded seams to make it super comfortable and has bar tack stitching for critical reinforcement. For added comfort, it has silicone print inside so that it can grip to the Leatt bicycle pants.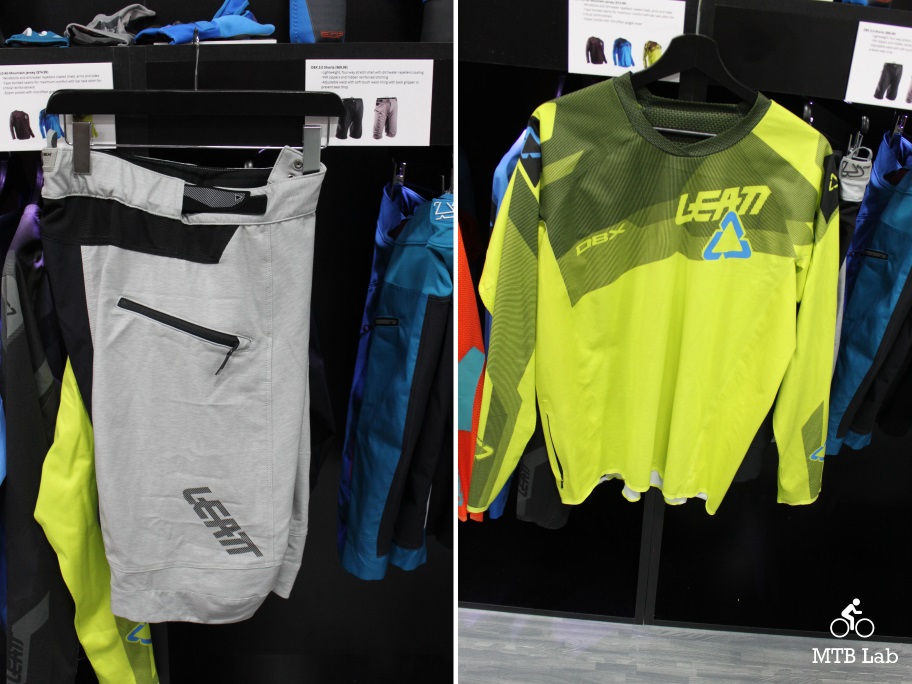 The basic 3.0 shorts had the nicest feel of their lineup, they're light, durable and have enough features to be useful for normal trail and all mountain use. The DBX 5.0 jersey is beefier and uses more robust material than the 4.0, utilizing windblock and water repellent coating on the chest, arms and sides making it ideal for inclement weather and off season use.
DBX 3.0 Shorts
The soft shell $70 3.0 bicycle shorts are made of a lightweight, four-way stretch material that has a dirt/water repellent coating. Made to be paired with the lighter bicycle jerseys such as the DBX 3.0 or 2.0 jerseys, it offers a comfortable and convenient fit that still fights the effects of the weather when riding.
For your convenience, the shorts are designed to be comfortable. It had YKK zippers and hidden reinforced stitching and a rear area made of a stretch mesh yoke that offers ventilation during riding. It also has a soft touch waist lining with a back gripper to avoid seat drop.
The shorts can also be worn with knee protectors as it has a pre-curved fit that prevents knees from snagging when riding.
DBX 5.0 All Mountain Jersey
Our bicycle jerseys were designed specifically to suit your riding needs. The long-sleeved $75 DBX 5.0 jersey is breathable yet windproof and has a dirt/water repellent coated chest, arms, and sides. It was not only designed to fight the effects of the weather but is tailored specifically to be worn with or without your body armor and to be neck brace compatible. It has silicone inside that enables it to grip to the Leatt bicycle pants, as well as a zipper pocket with a microfiber goggle wiper.
The jersey's back panel is made of breathable, super moisture wicking and quick-drying Miharo material whereas the elbows are reinforced with brush guard fabric, an ultra-thin flex film that increases scratch and abrasion resistance properties of material. The jacket has tape bonded seams for supreme comfort and bar tack stitching for critical reinforcement.
For a tailored-fit layer against all weather conditions, the DBX 5.0 jersey is the way to go.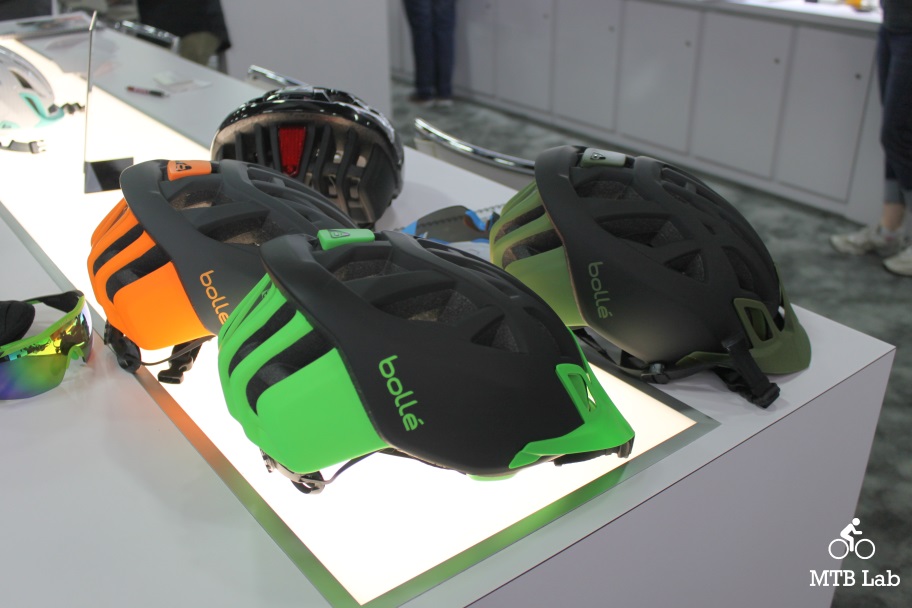 Bollé
The One helmet gets new colorways for the mountain bike version, and the new affordable Flash sunglasses utilize polycarbonate lenses while the trick B-Rock sunglasses get some minor tweaks and color changes.
The One Helmet
The One is comfortable, light, full of features and is a "Jack of all trades, master of none."
Bollé released 'The One' helmet last year, and it was their first ever cycling helmet lineup using their many years of expertise from making snow sports helmets. The One is an innovative, high-performance helmet for roadies and mountain bikers.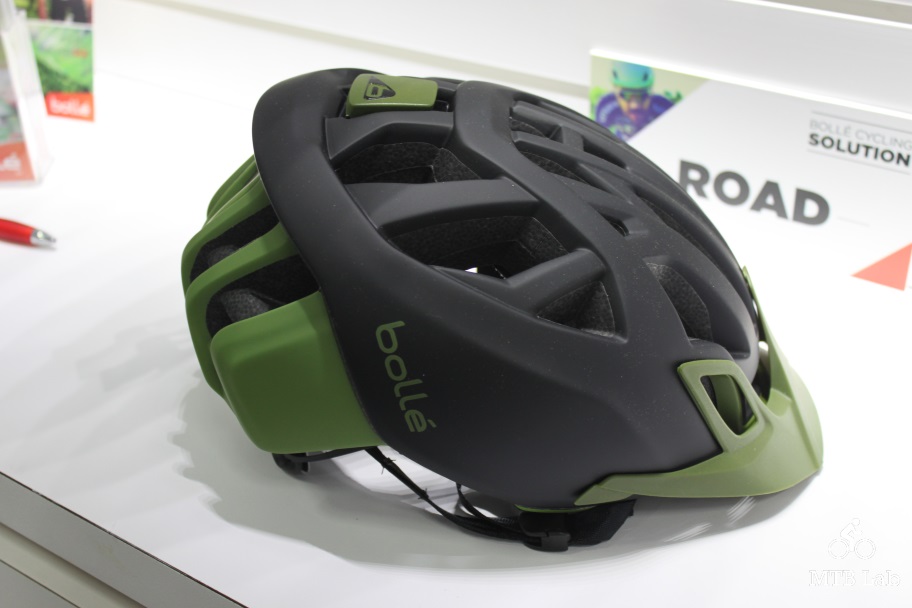 The One gets its name because it is several helmets in one, and the fully featured helmet offers many options and is highly customizable. The One helmet has 31 vents and comes with a slew of innovative features. Those include a sunglasses garage, a removable visor, an integrated LED light and plug, detachable airfoils, interchangeable all season liners and an emergency QR code. The One meets or exceeds the European and US CPSC safety standards for bicycle helmets and weighs 280 grams with its summer liner and the blinky attached.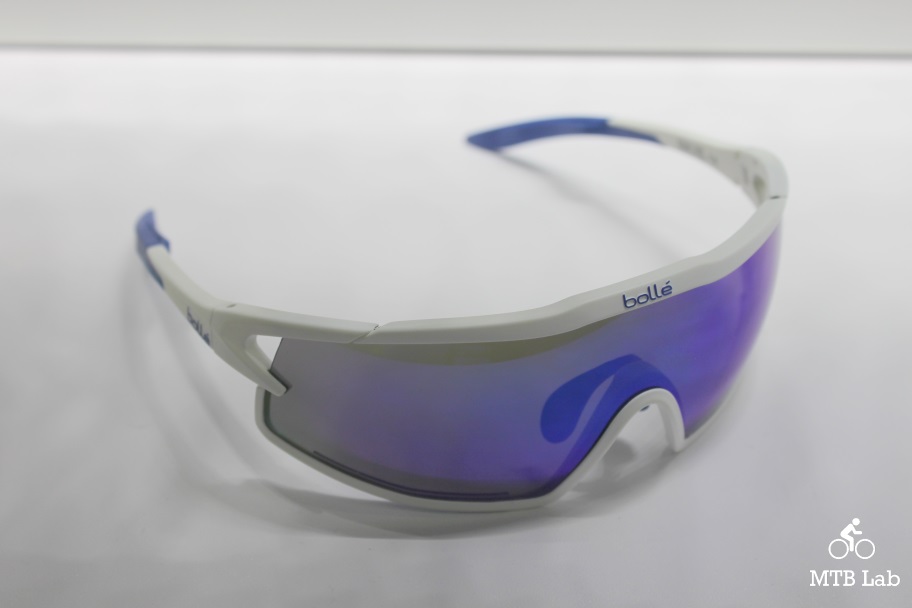 B-Rock Sunglasses
The new mountain bike specific B-Rock sunglasses use the superb glass like B-Clear lens made with the Trivex material, which is lighter and more impact resistant than polycarbonate. The lenses have a Hydrophobic and Oleophobic treatment and an anti-fog inner coating for the utmost in foul weather and overheating protection. The B-Rocks come with their B-Max technology that offers an extensive and spacious field of view, and they have the B-Flow frame venting system to prevent moisture build up.  They have their B-shape temples, Thermogrip brow and cheek pads, a sticky adjustable nose piece and bendable wire core temples for a secure and comfortable fit. Depending on the lens selected the prices to range between $180 – $200.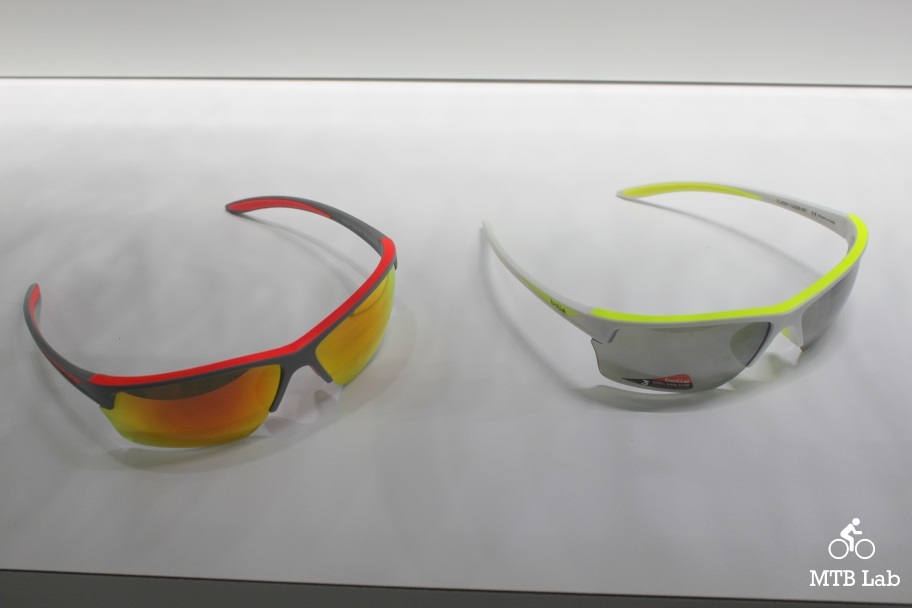 Flash Sunglasses
The new Flash sunglasses utilizes polycarbonate lenses and are available in a slew of frame and lens colors and sell for around a reasonable $99.