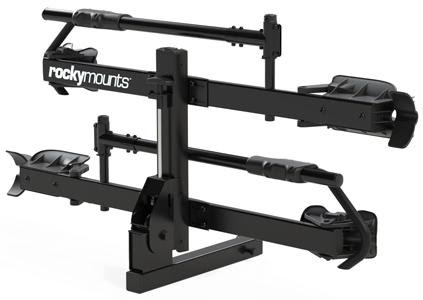 The new RockyMounts MonoRail hitch rack comes in two versions, the MonoRail Swing, which swings away from the vehicle to allow access to the rear, and its sibling, the fixed based MonoRail. Both of the models can fit 20″ to 29″ wheel sizes, have clearance for all fat bikes and feature a zero frame contact design. It uses a proprietary anti-wobble Chromoly hitch tube for stability, a locking hitch pin and a cable lock for security and can carry two bikes, with an option for a third.  They anticipate that the MonoRail Swing will retail for $529.95 while the MonoRail will be $369.95. I like the MonoRail Swing design since it will be extremely advantageous to get the bikes and the rack out of the way when accessing the rear of a truck, car or SUV. Having the ability to carry just about any bike style on the market from 20-29″ sized wheels and regular to Plus to fat wide tires makes it useful for any rider.
RockyMounts Launches MonoRail, the First-Ever Swing-Away Platform Rack
Press Release
BOULDER, Colo. – Sept. 7, 2016 – RockyMounts, the company that's stoked to carry your prized possessions, today announced the release of the bike industry's first swing-away platform hitch rack, the MonoRail Swing, and its sibling, the standard version MonoRail hitch rack. Both will debut at the upcoming Interbike International Bicycle Exposition in Las Vegas, Sept 21-23, and ship to dealers and consumers in the spring of 2017.
These new product introductions follow a prolific research and development phase led by founder and lead product designer Bobby Noyes that started in late 2013. So far this year, the company has launched six new products: the TomaHawk rooftop rack, the SwitchHitter, StreetRod, HotRod, and LoBall fork-mount racks, and most recently, the SplitRail hitch rack.
Bruno Maier, RockyMounts' president, promised more new product news from the show floor, saying, "In 2017, RockyMounts will expand beyond the rack category with an entirely new product line that we'll introduce on the first day of Interbike."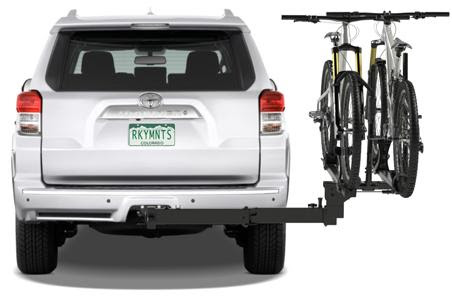 Prior to the show, however, the company is sharing news of its revolutionary new MonoRail Swing, a platform hitch rack that allows full access to the rear of a vehicle, even with bikes installed. An easy-to-reach toggle latch releases the rack and allows it to swing 180 degrees to the right.
The MonoRail Swing fits 2″ receivers and holds bikes with wheel sizes between 20-29″, with zero frame contact. It also provides clearance for all fat bikes, including those with Bluto forks and 197mm rear spacing. It has a proprietary anti-wobble Chromoly hitch tube that's lightweight and corrosion resistant, a locking hitch pin, and a cable lock. It carries two bikes standard, plus a third via an add-on that's sold separately for $149.95. It's anticipated MSRP of $529.95 includes a lifetime warranty, as with all RockyMounts products.
Its sibling, the standard version MonoRail hitch rack, is a competitively priced alternative to RockyMounts' popular new SplitRail hitch rack, and is available in 1.25″ and 2″ receiver versions. The standard MonoRail also carries two bikes, is fat bike compatible, and can be expanded to carry up to three bikes with RockyMounts' single bike add-on. Its MSRP is $369.95.
RockyMounts will launch the new racks and its yet-to-be-announced new product category in Booth 12184 at Interbike, September 21-23, 2016. For more information about RockyMounts and its products, please visit www.rockymounts.com.
About RockyMounts
RockyMounts, Inc. of Boulder, Colorado designs innovative, quiet, and fuel-efficient automobile rack systems. Since 1993, RockyMounts has enabled cyclists, mountain bikers, surfers, skiers, snowboarders, and outdoor enthusiasts to "Discover Colorful Adventure" with rock-solid racks, that unlike any other company's, come in an array of colors. RockyMounts rack systems are available in North America and internationally in Australia, Korea, Puerto Rico, and the Philippines through a network of independent bicycle dealers, rack shops, outdoor retailers, and authorized online dealers. For more information, visit www.rockymounts.com.