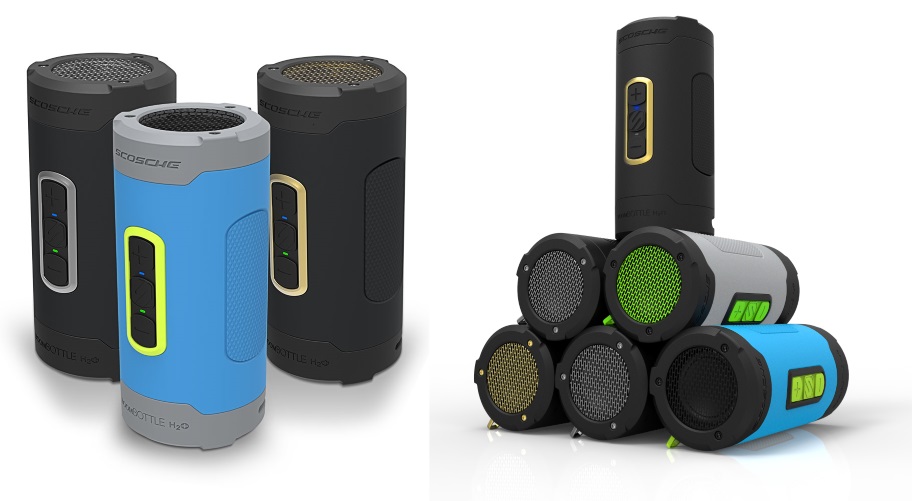 SCOSCHE's brand new BoomBottle H20+ is part of their boombottle series of outdoor speakers and offers high-quality audio with up-firing Omni-directional sound. The rechargeable speaker provides up to 11 hours of playing time, is rugged and durable, meets the IP67 dirt and waterproof specification, and fits into most bicycle water bottle cages due to its cylindrical shape. Also, it will float in water and conforms to military standards for drop testing. I have the original BoomBottle and found it to be an incredibly small and portable speaker entity and have taken it hiking and biking, though it mostly is my home shop music box for streaming tunes from my smartphone. My teenage daughter tends to permanently borrow the speaker which confirms what an excellent speaker the BoomBottle – it has great sound, is robust, easy to use and highly functional.
It comes in Space Gray/Black, Tech Sport Gray, Gold/Black and Tech Sport Blue colors and retails for $129.99.
Specifications
12W 50mm High-Quality Speaker
Passive Subwoofer
IP67 Waterproof / Dustproof
Buoyant Construction
Integrated Music Controls
11 Hour Battery Life
LED Battery Indicator
Dual-Pairing
Selectable Indoor/Outdoor EQ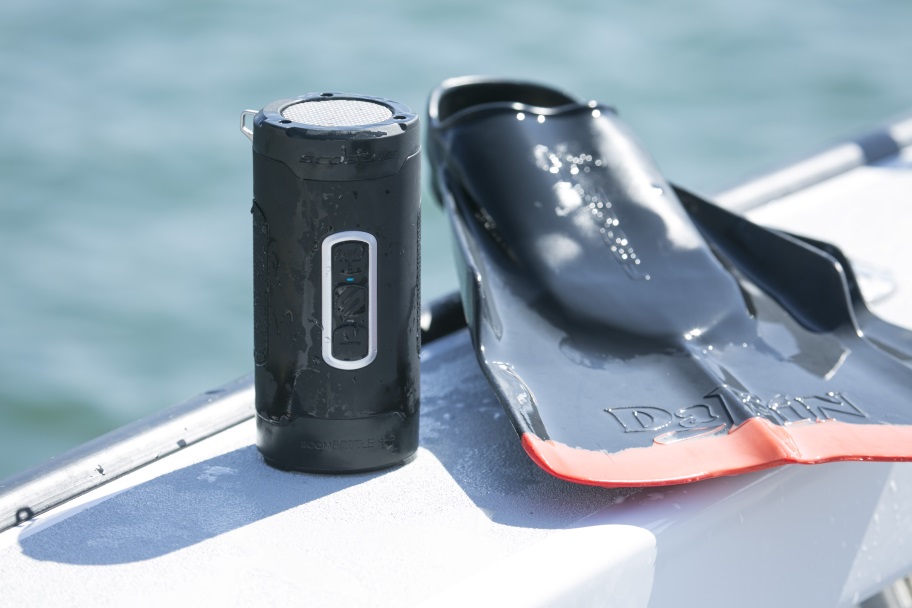 SCOSCHE Welcomes Compact, Rugged & Waterproof Wireless Speaker to its Popular Optimized for Outdoors BoomBottle Family
Press Release
OXNARD, Calif. – (Sept. 29, 2016) – SCOSCHE Industries, innovators of award-winning consumer technology and car audio products and accessories, is excited to announce the newest member of its BoomBottle family of speakers – the BoomBottle H20+ (plus).  Optimized for Outdoors and ready for adventure, the new BoomBottle H20+ features both a rugged, durable construction that has been drop tested to meet or exceed the military standard and high-quality audio with up-firing Omni-directional sound to send music in all directions.
SCOSCHE's BoomBottle H20+ features a 12W 50mm high-quality speaker and passive subwoofer to produce rich, clear sound, whether the user is relaxing on a beach or setting up camp on a mountain.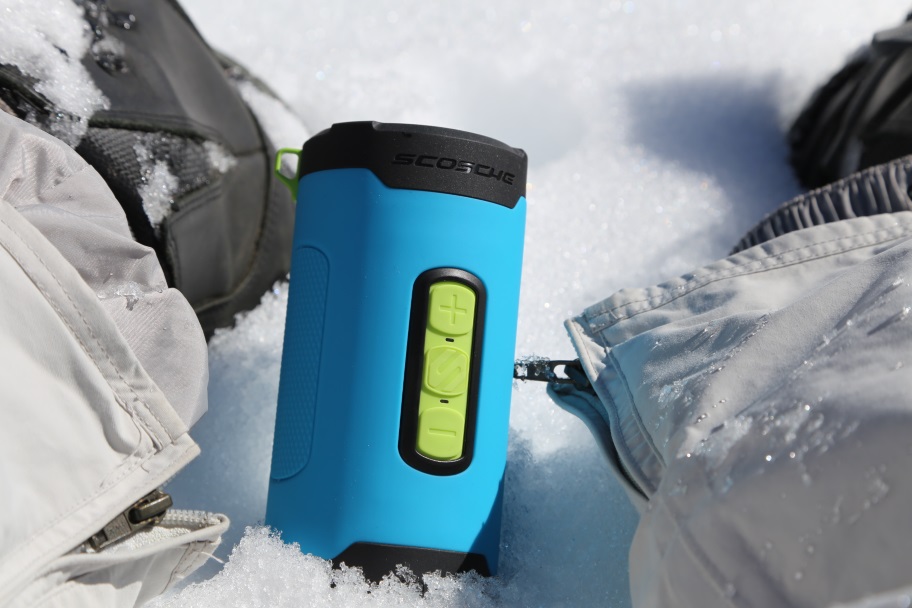 The BoomBottle H20+ is designed to withstand the elements with an IP67 dust and waterproof rating, buoyant construction that allows it to float in water, and a cylindrical design that fits easily in most bike water bottle cages and cup holders.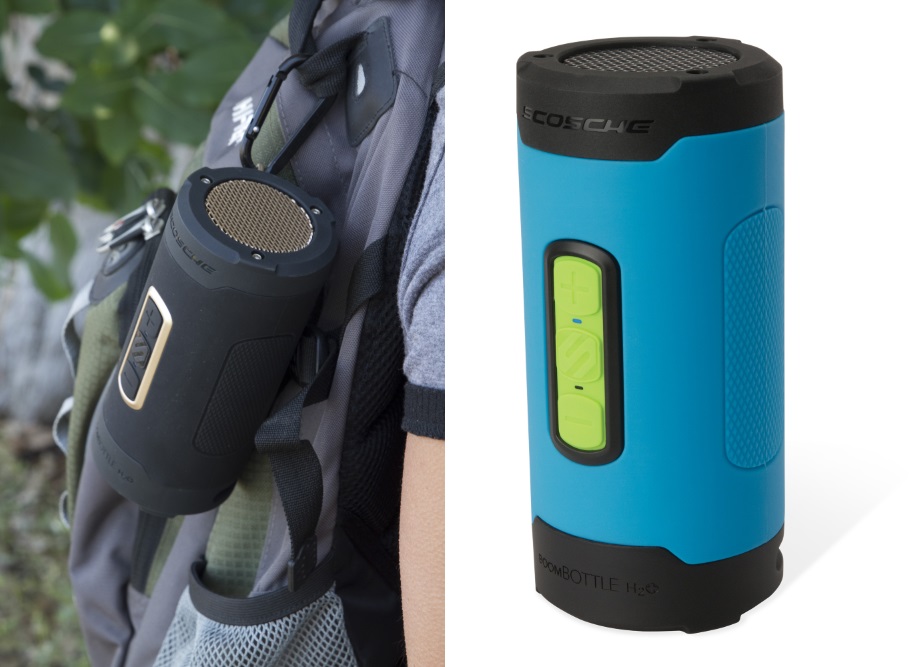 Additional essential features include dual pairing for true stereo sound (when two units are used), integrated front panel control buttons that allow users to play/pause music and skip tracks, and EQ functionality to enrich the sound quality when outdoors. The BoomBottle H20+ has a powerful, rechargeable Lithium-ion battery that provides up to 11 hours of playtime and a battery status LED indicator light which lets you know how close you are to needing a recharge. It also includes a convenient, patent pending, EZTIP™ Micro USB charge and sync cable equipped with a  reversible connector, which allows users to charge the speaker and any other Micro USB device by inserting the connector either side up.
The BoomBottle H20+ is available now in Space Gray/Black, Tech Sport Gray, Gold/Black or Tech Sport Blue for $129.99 MSRP at SCOSCHE.com and select retailers nationwide.
About SCOSCHE (pronounced skōsh):
In its 36th year of business, SCOSCHE Industries is an award-winning innovator of consumer technology and car audio products – committed to delivering superior quality, exceptional value and unmatched customer service. The designers and engineers at SCOSCHE develop products that reflect a rich heritage in audio and mobile technologies. SCOSCHE finds inspiration in the California lifestyle, culture, music and people. These influences can be seen in the accessories and products that are now in the hands, homes, offices and vehicles of people in over 50 countries. With over 100 patents/trademarks and countless industry awards received, it is easy to see why SCOSCHE is consistently at the forefront of technology and innovation.