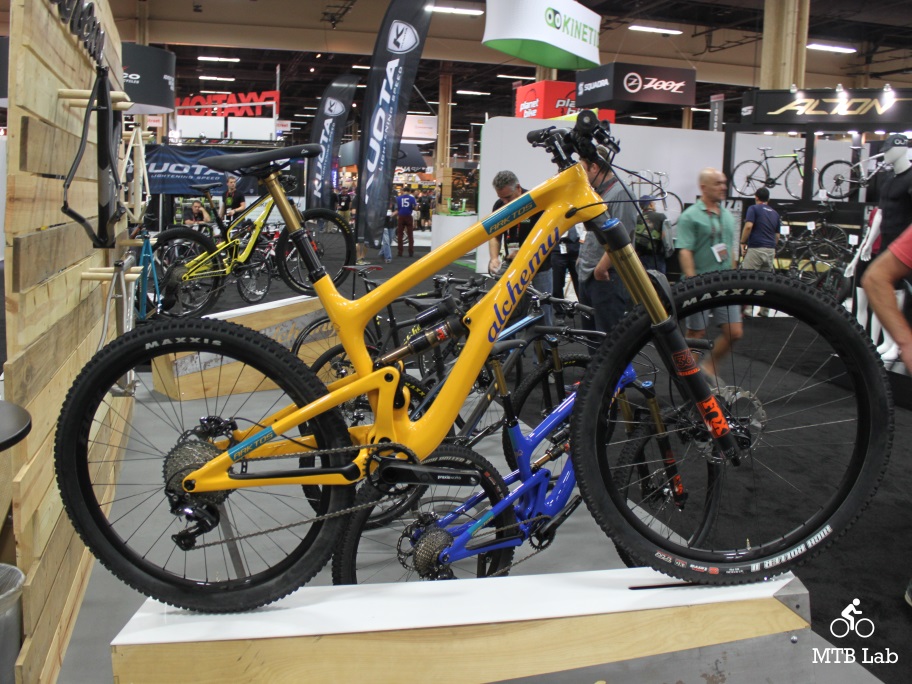 Alchemy Bicycles
Last year Alchemy Bicycles released the full suspension carbon fiber Arktos that utilized Dave Earle's innovative Sine suspension system. This year they'll have two models with the same geometry, the Arktos Custom has the front triangle manufactured in Denver and the standard Arktos which is entirely produced overseas and offers a $800 price reduction compared to its upscale brethren.  "The Arktos was so well-received last fall that we had to think about how the production of this bike would affect the production of our custom offerings," said Alchemy President Ryan Cannizarro. "By utilizing Dave Earle's overseas manufacturing expertise and supervision for the new Arktos we can continue the Alchemy tradition of offering top-tier bikes, but at a price point new to us."
The Arktos uses suspension expert Dave Earle's Sine Suspension system. The Sine's shock rate changes from regressive to progressive before switching back to a regressive rate at the end of its travel and it provides a bottomless feel, especially compared to the ramp up that's common on most air shock platforms.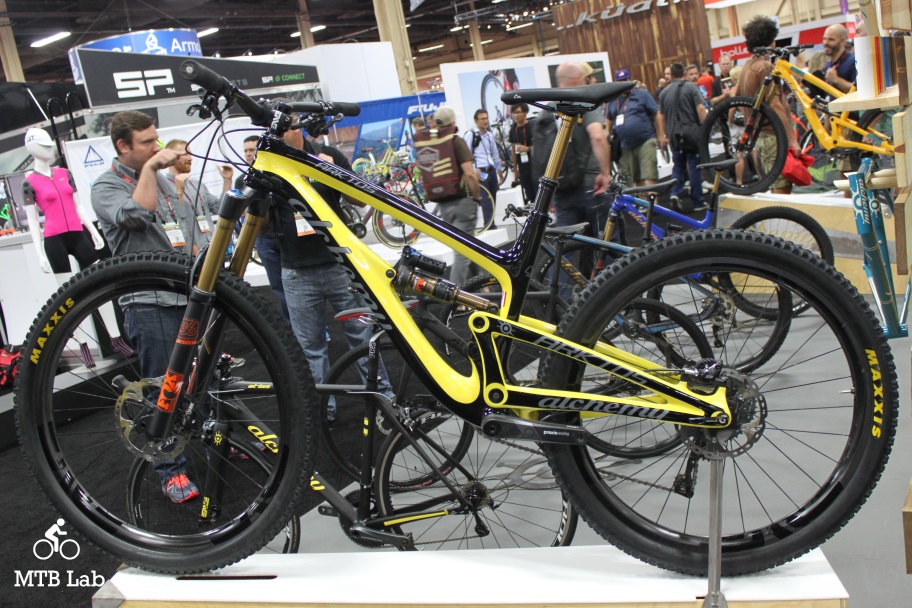 It has 6 inches of travel, 27.5″ wheels, a 66.5° head angle and 438mm chainstay length, a 1x drivetrain design and utilizes internal routing, and comes in four sizes S, M, L, and XL. The Arktos Custom frame and Fox Float X retails for $3,799 and is painted to the customer's specifications in Denver by Ethic Paint Works (two color paint scheme w/ 15 stock colors), while the Arktos comes in at $2,999 pricing and a Yellow or Blue colorway. Kits are also available on both models (Custom/Standard), including XTR Di2 ($8,999/$8,199), XTR ($7,999/$7,199), XT ($6,999,$6,199), XX1 Eagle ($8799/$7,999) and X01 Eagle ($7,399/$6,599).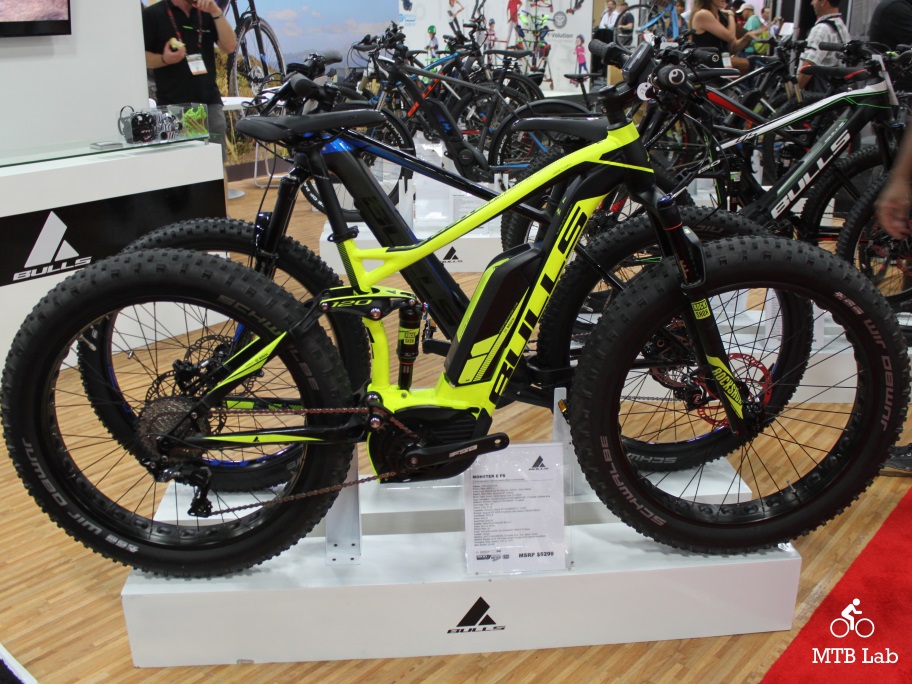 Bulls
The Bulls Monster E FS is a fat tire full suspension aluminum framed E-bike that features a RockShox Bluto RL Solo Air 120mm fork and a 120mm RockShox Monarch RT shock in the rear and has Schwalbe Jumbo Jim Snake Skin 26 x 4.0 for rubber. It weighs a ghastly 55 pounds, but the BOSCH Performance Line CX 250W combined with an 11-speed 11-40T cassette with a 15t chainring should provide plenty of oomph to get through rugged terrain, snow, sand, and gravel. It comes in two sizes and the Black and Neon Yellow color scheme and retails for $5,299. Should it be called eFatbike?
Bulls is a German bicycle manufacturer that is rolling out twenty new E-bikes this year, and they cover the gamut of commuter bikes, urban/leisure bikes, and mountain bikes. Their regular bike lineup is sold only as direct-to-consumer, while their E-bikes will only sell at retailers.
Besides the Monster, they had the E-Stream EVO 3 Carbon 27.5+ ($4,599) and the full suspension E-Stream EVO FS 3 Carbon 27.5+ ($4,899) and E-Stream and EVO 45 FS SIX50+ E FS 2.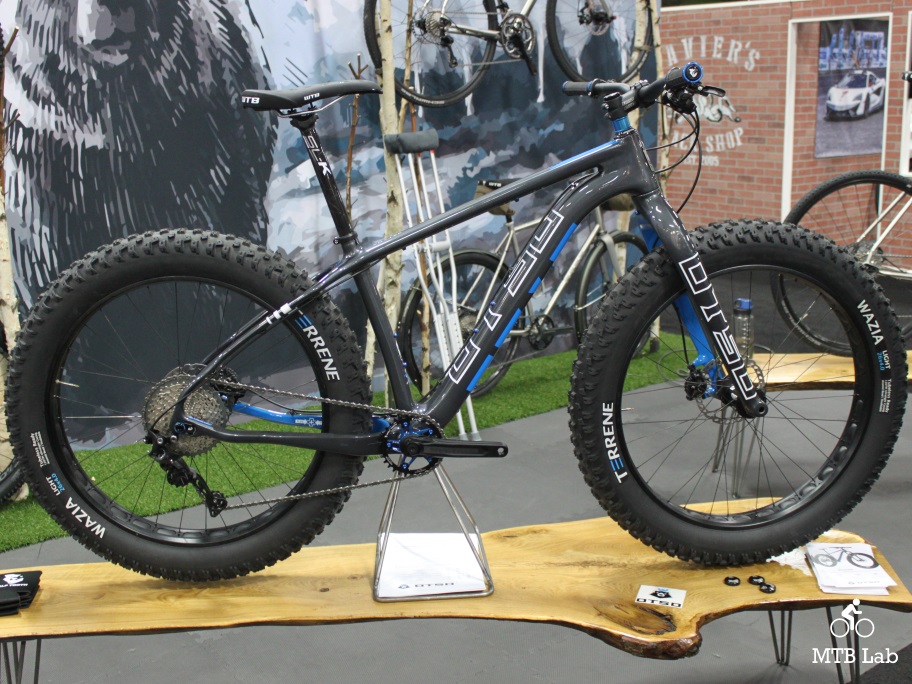 Otso Cycles
The Wolf Tooth Components crew got into the bike building world with their Otso Cyles, and the new bike company is focused on bringing innovative bikes to the mountain bike and mixed surface road markets. They're currently launching two bikes, the Voytek carbon fiber hardtail mountain bike with their Otso Plus-Fat design and the steel Warakin drop bar which is meant for cyclocross and gravel grinding.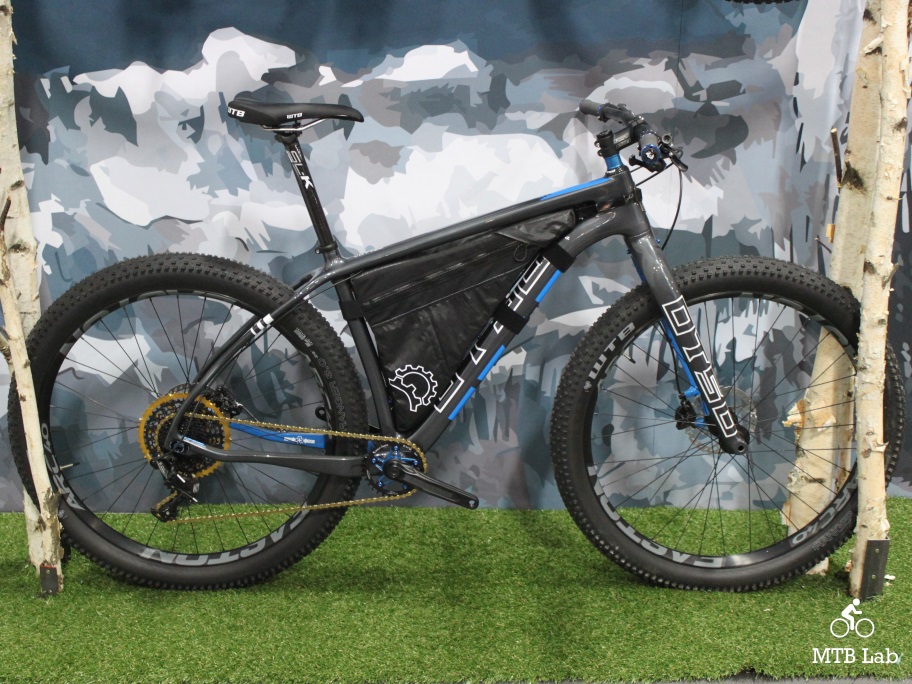 The Voytek is a carbon fiber hardtail mountain bike designed around their exclusive Otso Plus-Fat concept. It's a 27.5+ or 29+ trail bike that can also accommodate up to 26×4.6" tires. Using the 83mm bottom bracket standard they were able to create the narrowest Q-factor of any production fat-capable bike by a large margin.

They also engineered an adjustable drop out system called the Tuning Chip. This design system makes it feel like a mountain bike, not a fat tire specific bike and opens up a whole new dimension for summer or winter riding. The Voytek frameset starts at $2,299 and the kits at $3,899.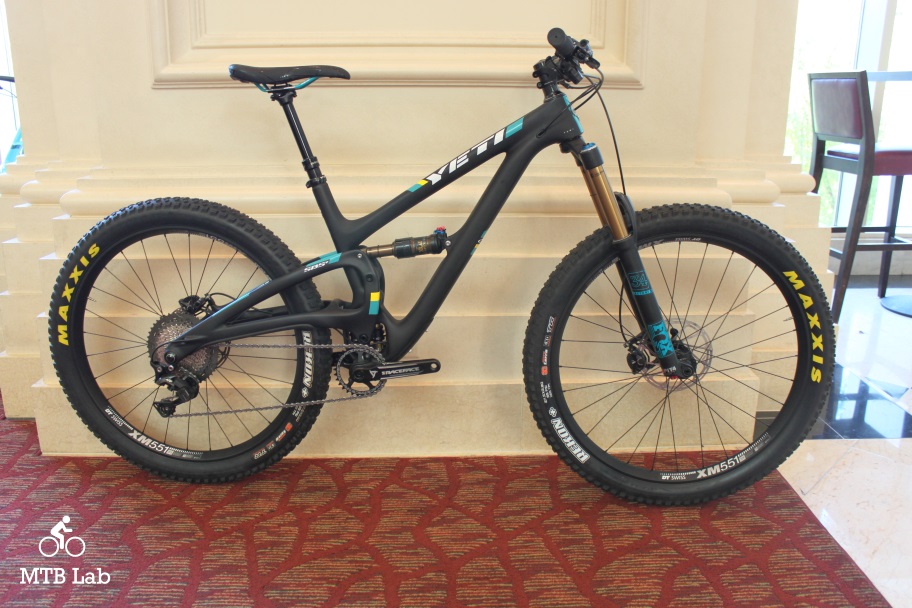 Yeti Cycles
Yeti Cycles has three new mountain bike models for 2017.  A re-designed SB5, with lower standover, internal cable routing, and improved kinematics; an SB5 Beti women's model that has the new SB5's features as well as women's specific touch points and suspension tunes, and the SB5+, a 27.5", plus-sized mountain bike, equipped with 2.8-inch tires. All three bikes utilize their Switch Infinity translating pivot.
They'll have two carbon fiber frame levels this year, the TURQ and the Carbon. The TURQ uses the highest quality carbon fiber with a perfect blend of ride quality and weight savings, offering a 250-400 grams difference compared to the Carbon, which utilizes a less high-modulus carbon. These two frame levels will feature different color options and build kits and offer more aggressive price options.
The SB5+ offers 5 inches of travel, the ability fit up to 2.8-inch tires, a 67.1° head angle, an elevated chainstay, Boost spacing, and comes in M, L and XL sizing options. The wider tires will offer improved traction and control in muddy trails, sand, loose gravel and virtually any trail condition you can throw at this bike. The SB5+ TURQ frame is $3,400, and the TURQ three kits range from $6,499 to $10,499 while the Carbon two kits range from $4,699 to $5,599.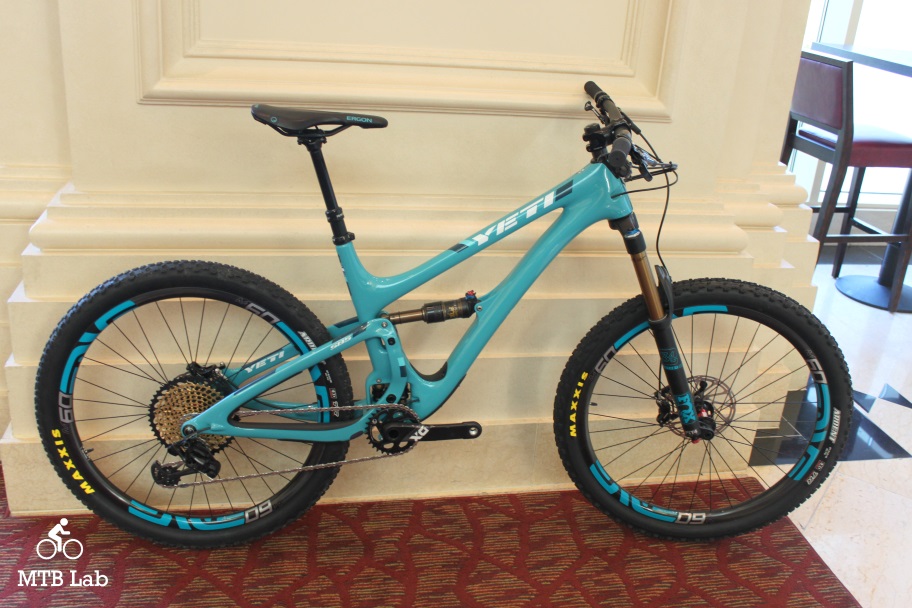 The all-new SB5 is the next iteration of their most popular all-mountain bike gets an updated and sleeker frame design, internal cable routing, BOOST spacing, lower stand-over height and metric suspension. It offers 5 inches of travel, a 66.5° head angle, an elevated chainstay and comes in XS, S, M, L and XL sizing options. The SB5 TURQ frame is $3,400, and the TURQ three kits range from $6,499 to $10,499 while the Carbon two kits range from $4,699 to $5,599.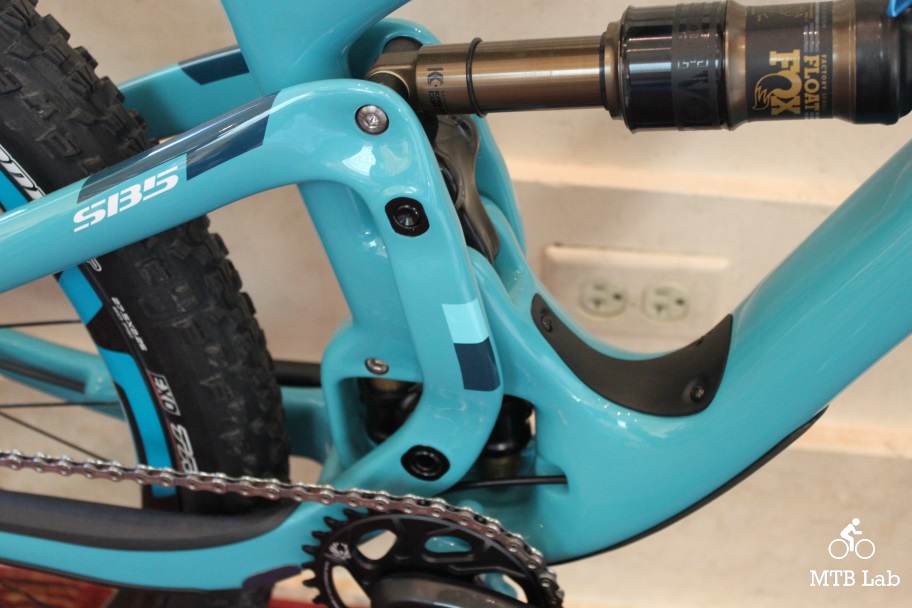 The SB5 has a small molded cover that you can open up to facilitate the stealth seatpost internal routing.