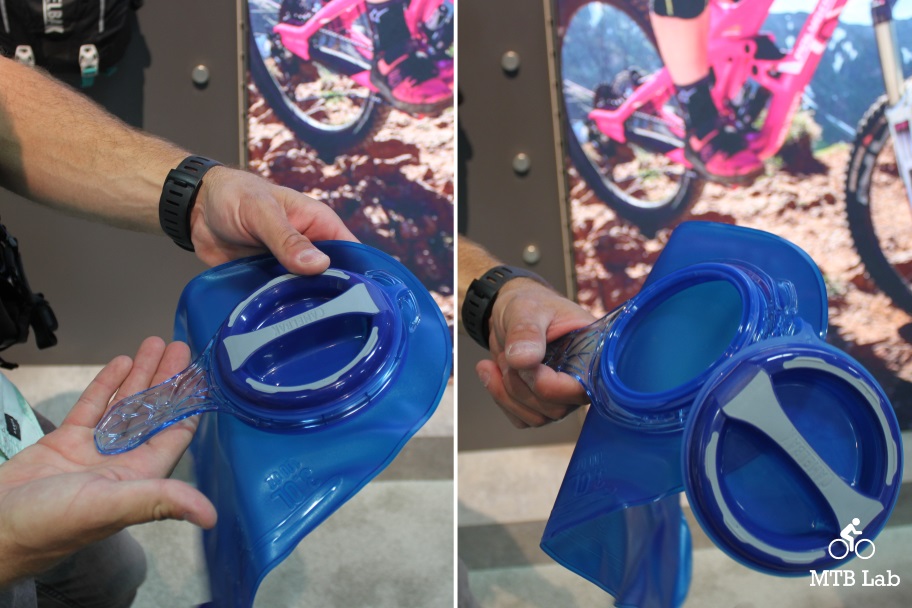 For 2017 CamelBak has the new Crux reservoir with a drastically improved opening cap and a larger diameter hose for better sipping, and the new 500ml soft Quick Stow flasks. Last years Low Rider lumbar series of packs got some minor updates along with the addition of the redesigned M.U.L.E. LR 15, H.A.W.G. LR 20 and L.U.X.E. LR 14.
Crux Reservoir
The new Crux reservoir upgrades their predecessors with some much-needed improvements, including an excellent easy open/close cap system, a larger diameter hose for faster water flow, a leak proof on/off lever and a one-handed handle for easy holding. The upgraded cap system is easy to open and close without any binding issues or sealing problems with the gasket and in addition, the cap flips completely out of the way making for simpler filling and cleaning. The hose diameter was increased and supposedly delivers 20% more water with every sip.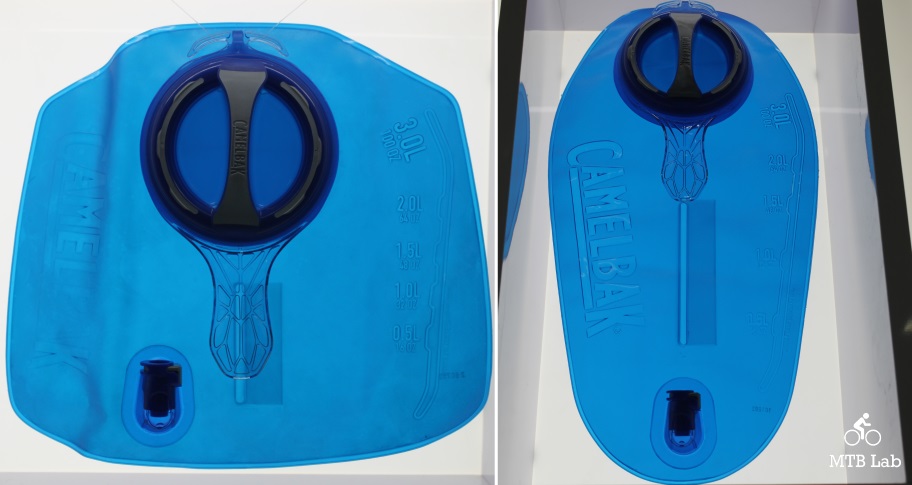 The Crux comes in four versions, the standard 3-liter ($35), the 3-liter Lumbar ($38), the 2-liter ($33) and 1.5-liter ($30) sizes. They'll also come with any of the new 2017 hydration packs.
Easy open/close leak-proof cap
Leak-proof on/off lever – water when you want it, none when you don't
20% more water per sip -faster water flow powers
Hold on – ergonomic handle for one-hand fill
Reservoir baffle – creates a low-profile fit for easy pack loading
Hydroguard – antimicrobial technology inhibits the growth of bacteria in the reservoir and tube
BPA / BPS / BPF FREE
Big Bite valve – easy bite and sip valve self-seals after each drink, eliminating annoying drips
Quick Link System – easy removal of the reservoir from your pack by disconnecting the drink tube with an auto shut-off to prevent leakage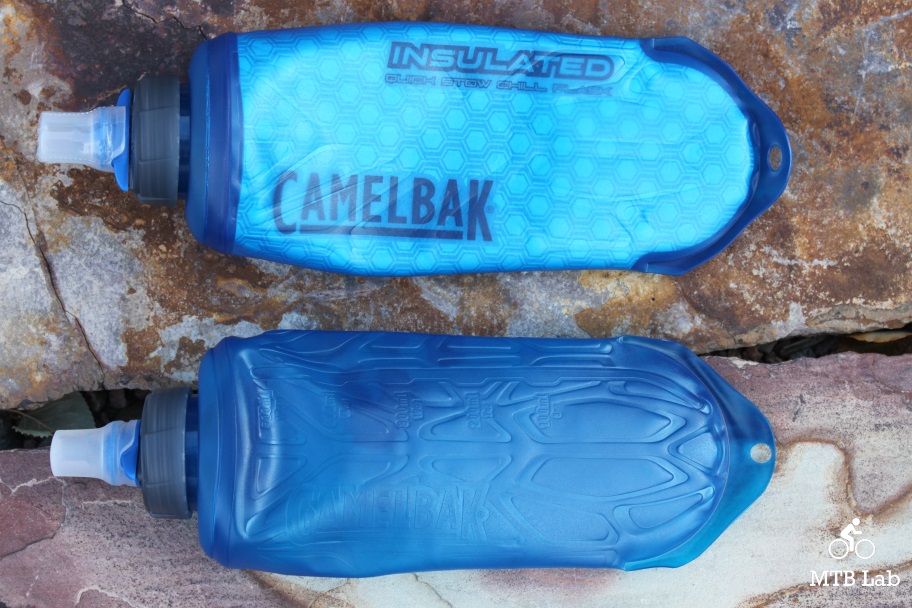 Quick Stow Flasks
The new soft Quick Stow flasks have a 500ml or 12 oz capacity and come in a standard and insulated versions and retail for $20 and $28 respectively. The flasks can be stashed in a vest, pack or belt or you carry it in your hand while running or hiking for easy hydration. I think they'll be a perfect item to carry in your back pocket of your jersey or in a small pack when a water bottle might not fit on your full suspension frameset. I like to bring these sort of units along as an additional water supply to extend my normal reservoir or just as an emergency backup.
Specs
Big Bite valve – easy bite and sip valve self-seals after each drink, eliminating annoying drips
Leak-proof shut-off valve – water when you want it, none when you don't
Large mouth opening – allows you to fill the flask easily with ice and water plus makes it easy to clean
Packable – empty flask collapses and folds ultra-compact to fit in most pockets
Easy dry hanger loop – hang flask upside down from loop for easy drainage and drying
Dishwasher safe – all parts top rack dishwasher safe
Volume indicators – oz / ml markers for tracking hydration and adding electrolytes
Insulated version – keeps cold 2x longer than standard
BPA / BPS / BPF FREE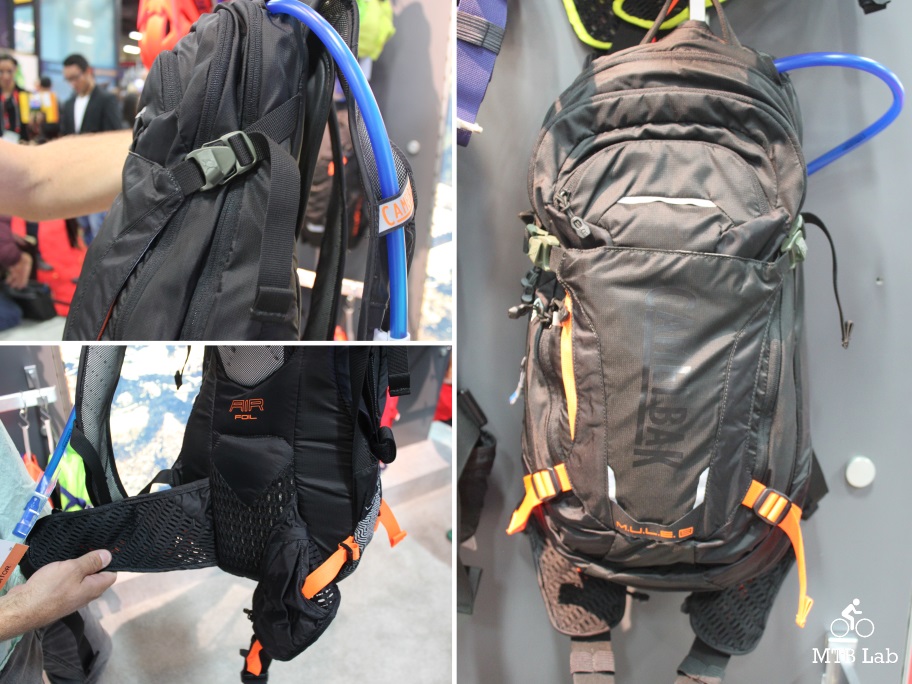 Low Rider Packs
The Low Rider packs or LR packs are light, comfortable and carry the water and content weight down on the lumbar for the utmost in stability. The pack adheres to your back as it's Velcroed in place, and it carries the weight centered properly on your hips and lumbar, and it seems to all but disappear on your back. Last years Skyline 10 LR ($130), Solstice 10 LR ($130), and Palos 4 LR ($75) packs are joined by the M.U.L.E. LR 15 ($150), H.A.W.G. LR 20 ($160) and L.U.X.E. LR 14 ($150), all of which got redesigned with the LR system.
For 2017 the LR packs get the new Crux reservoir, a new hook & secure clip for helmets, an improved stabilizing load-bearing waist belt and an updated dual reservoir compression strap system to help keep the load/water weight trimmed.
For 2017 the M.U.L.E. LR 15 (shown above) gets the big change to the Low Rider series and has 12-liter of storage capacity and includes the Crux 3-liter Lumbar reservoir and comes in four different colors.
LR Specs
Helmet carry – hook & secure an xc helmet
Airfoil back panel – our most advanced back panel provides max comfort and ventilation even on the longest rides
Rain cover – shield your pack and gear from inclement weather
Stabilizing load-bearing waist belt – wide waist belts with cargo optimize a custom fit and keep essentials close at hand
Dual reservoir compression straps – dual straps cinch the reservoir into the small of your back for a tight stable fit
Magnetic tube trap – super strong magnetic tab keeps your hydration tube within easy reach