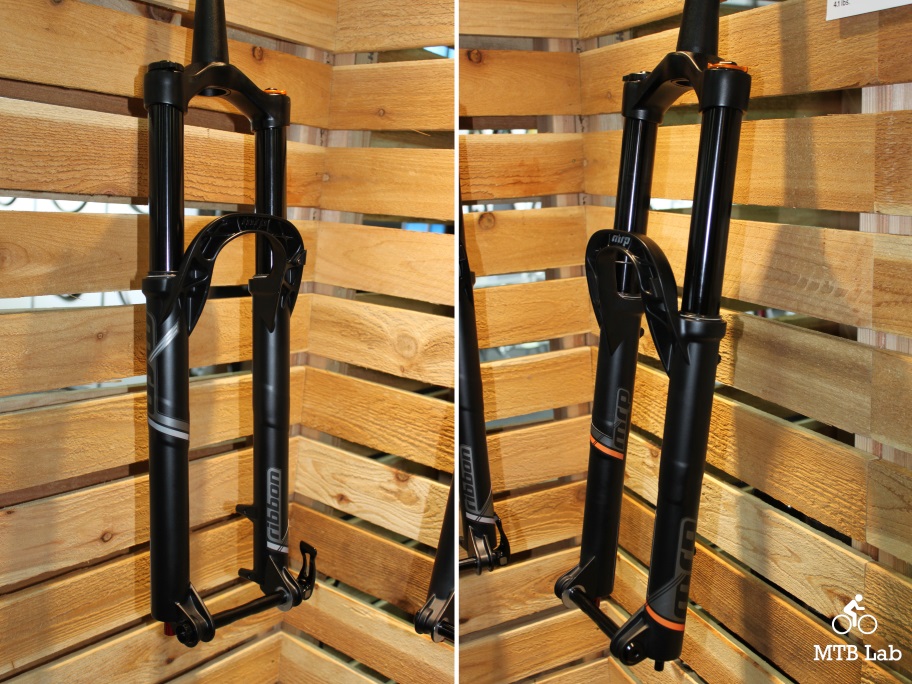 For 2017 the Grand Junction Colorado-based MRP has the new Ribbon fork with Ramp Control, pressure release valves and a bladder free damper, the Ramp Control Cartridges to retrofit compatible RockShox forks with Ramp Control technology and they added an Oval shape to their Wave chainrings.
Ribbon Fork
The new MRP Ribbon fork was designed for Trail, Enduro, and All Mountain use and features a Boost 15×110 axle, 35mm stanchions, a bladder free damper, their Ramp Control system, PSST pressure relief valves and the innovative Outcast arch design. For adjustment, it has an 8-position compression, 16-position ramp control, positive and negative air spring, and rebound. The air spring design allows you to independently adjust the positive and negative spring pressures to dial in the proper feel, while the damper side uses a twin-tube design with an IFP (internal floating piston) based system rather than the normal expanding bladder for improved durability and reliability. The crown mounted Ramp Control offers on-the-fly adjustments to alter the air spring's ending-stroke curve or ramp up in its travel, entirely independent of your damper or air spring pressure settings.
It comes in a 27.5-inch size with 140-170mm of travel and a 29-inch with 120-150mm, both of which can be adjusted internally in 5mm increments and they retail for $989. The 27.5-inch model can fit up to 2.6″ wide tires, while the 29-inch can accommodate up to Plus sized 27.5″x3″ or 29″x2.6″.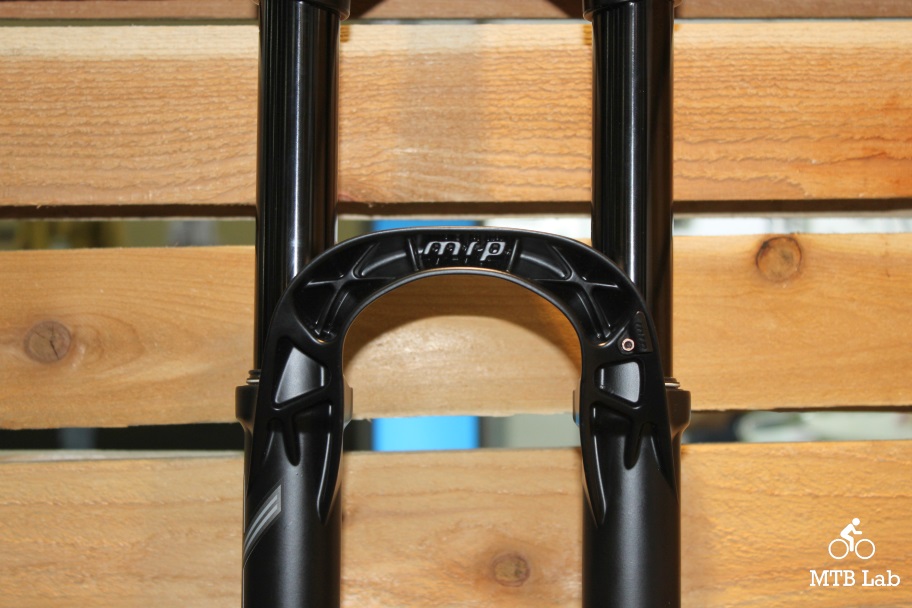 The funky Outcast arch has the cutouts pointing forward, which should help keep mud, dirt, and crud from getting stuck in the latticework.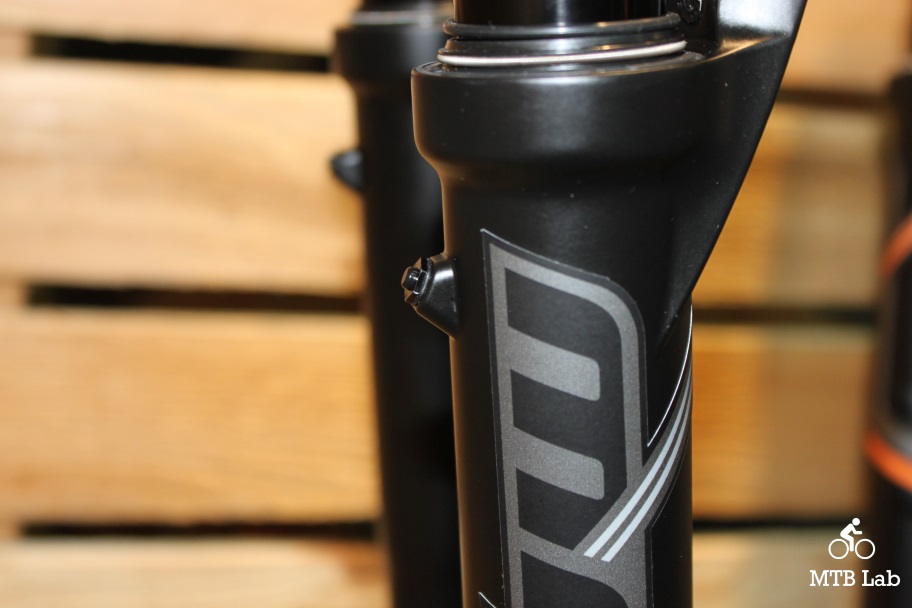 On the back of the upper fork legs are the PSST pressure relief valves which are just air bleeding buttons that allow you to expel pressure build up that is due to elevation changes, temperature changes or heavy use.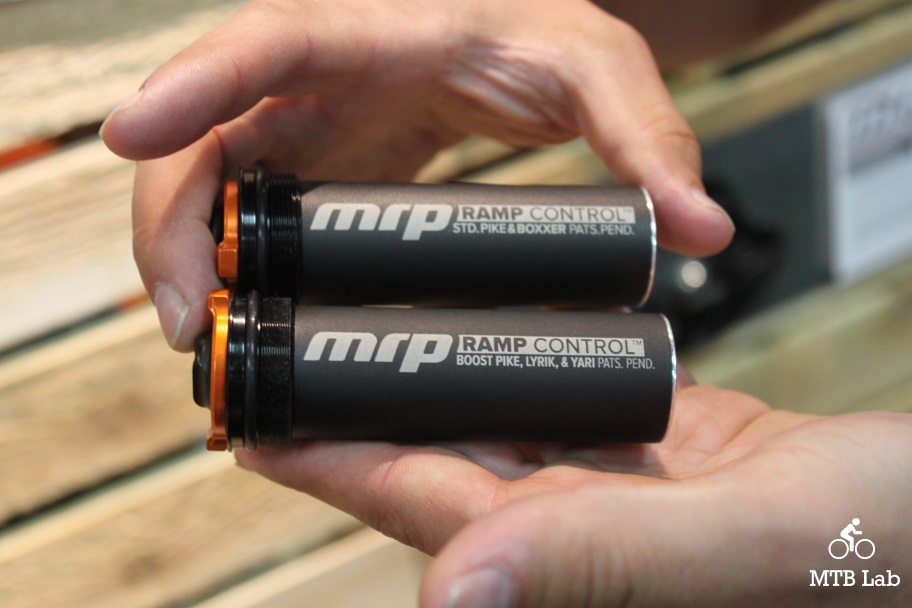 Ramp Control Cartridge
The new Ramp Control Cartridge's offer a similar Ramp Control functionality to the latest models of some RockShox forks and currently come in two versions, one for standard Pike, and BoXXer and the other for Boost Pike, Lyrik, and Yari. They feature 16 clicks of adjustment, weigh 55 grams and retail for $140.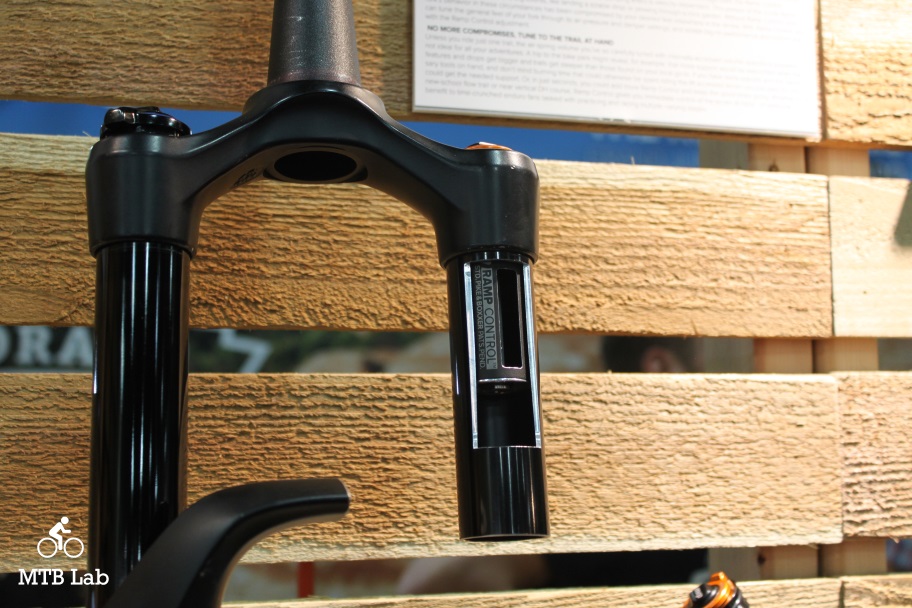 The cartridge replaces the token stack on the RockShox forks, and the system offers a speed-sensitive ending-stroke control and bottom-out force adjustability to those compatible Rock Shox forks. You can isolate and tune bottom-out with minimal changes to initial and mid-stroke.
Wave Chainring
They are now offering their Wave chainring in an oval or elliptical shape. The Wave pattern applies alternating lateral force to each chain link to actively retain links to the ring by grasping the interior of the chain for retention, but allowing room for mud, debris, and grit to escape.