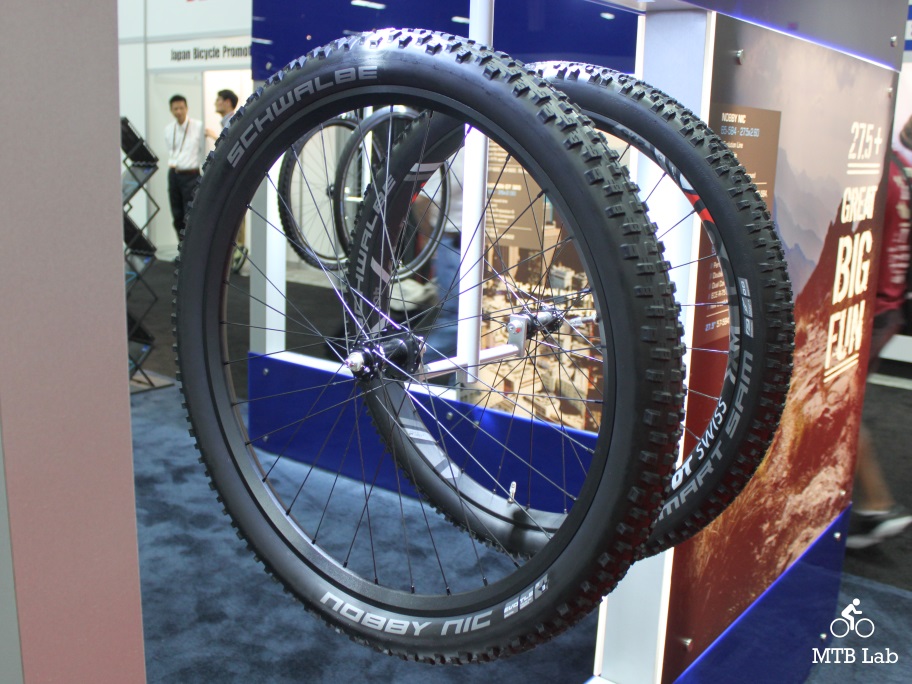 Schwalbe
The big news from Schwalbe is the introduction of the 2.6-inch width Nobby Nic, which will come in both the 27.5″ and 29″ sizes. I think the 2.6-inch width is about perfect; it's still pretty broad but not overly fat which can sometimes cause bouncing issues on technical terrain and cornering problems at higher speeds. They'll both get the cut-resistant SnakeSkin sidewall, TL Tubeless Easy design, and the Apex sidewall reinforcement and will come in either the TrailStar or PaceStar compounds, and the 27.5″ gets an additional SnakeSkin/TL Easy setup in TrailStar or PaceStar. The big 27.5+ sized 2.8″ and 3.0″ models will also get a new version with the Apex sidewall reinforcement, which should significantly add to their robustness in rocky terrain.
The Rocket Ron will also get the 27.5″ x 2.6″ sizing option.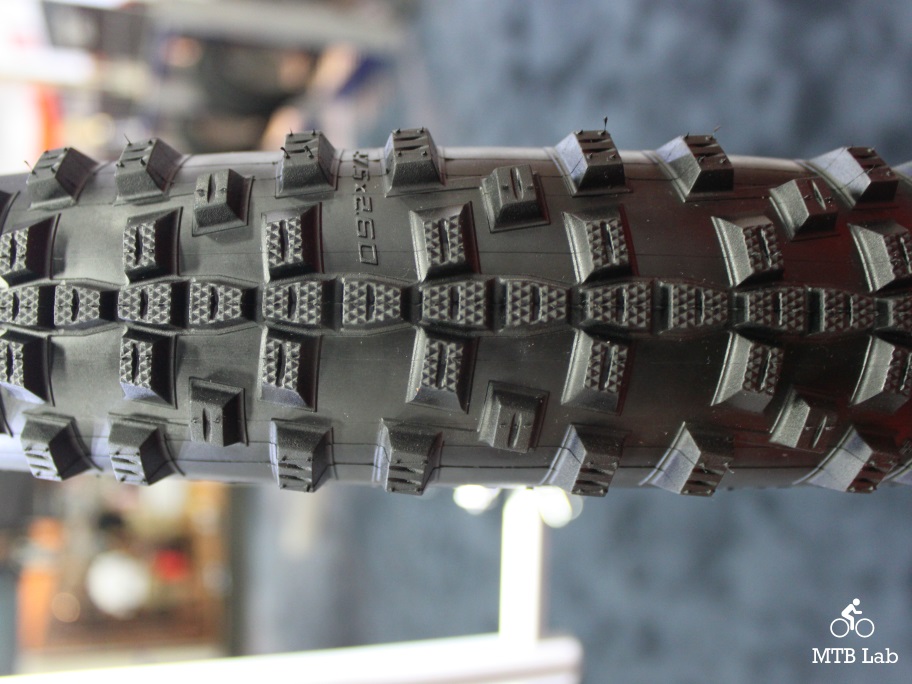 The Smart Sam gets a big upgrade this year and has a brand new tread design. The all around tire has a compact central rib that provides comfortable rolling, and the outer lugs are optimized for off-road grip. It comes in their Performance line with a dual compound, Double Defense sidewall protection, and in addition to the typical sizes, it will come in a 27.5″ x 2.6″ model.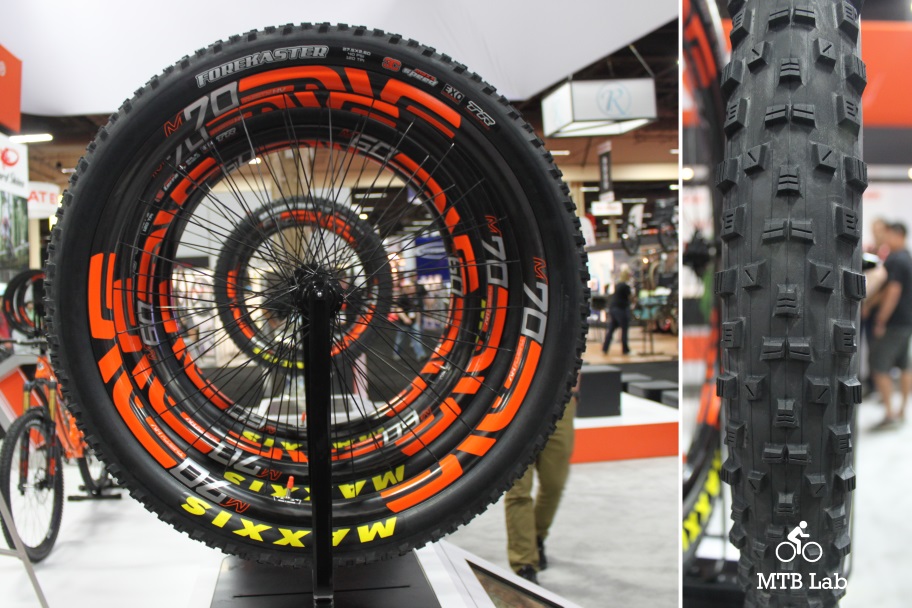 Maxxis
The tire highlights from Maxxis for 2017 are the aggressive x-country Rekon and Forekaster coming in a 27.5×2.6″ size, the new fat tire Minion FBF and Minion FBR, the Minion DHF, Minon DHR II, High Roller II in Plus sizes, and the Griffin Enduro tire.
The Maxxis Forekaster was optimized for off-season riding, and it uses mid-height tread blocks that are evenly spaced to allow easy penetration through loose and sloppy trail conditions and provide mud-clearing capabilities. It has wide cupped knobs that run down the center to provide excellent braking in less than ideal conditions. It has a dual compound, is tubeless ready and has EXO protection and now comes in 27.5″ size with 2.2″, 2.35″ and 2.6″ widths, along with the previous 29″x2.2″ and 2.35″.
The fast rolling Rekon+ comes in a reinforced variety called Silk Shield, which features a bead-to-bead puncture protection layer to prevent pinch flats and decrease squirm when running the lower pressures that are typical in Plus sized tires. It has wide knobs down the middle that provide control under braking, and L-shaped side knobs to assure support when carving loose turns. It will come in 27.5″x2.6″ and 2.8″ versions.
The new Griffin has its roots in bike parks, but it will be ideal for Enduro and All Mountain use where its tall knobs, high-speed tread pattern, and heavy ramping will provide excellent braking in any conditions. It will come in 26″, 27.5″, and 29″ sizes with a 2.3″ width.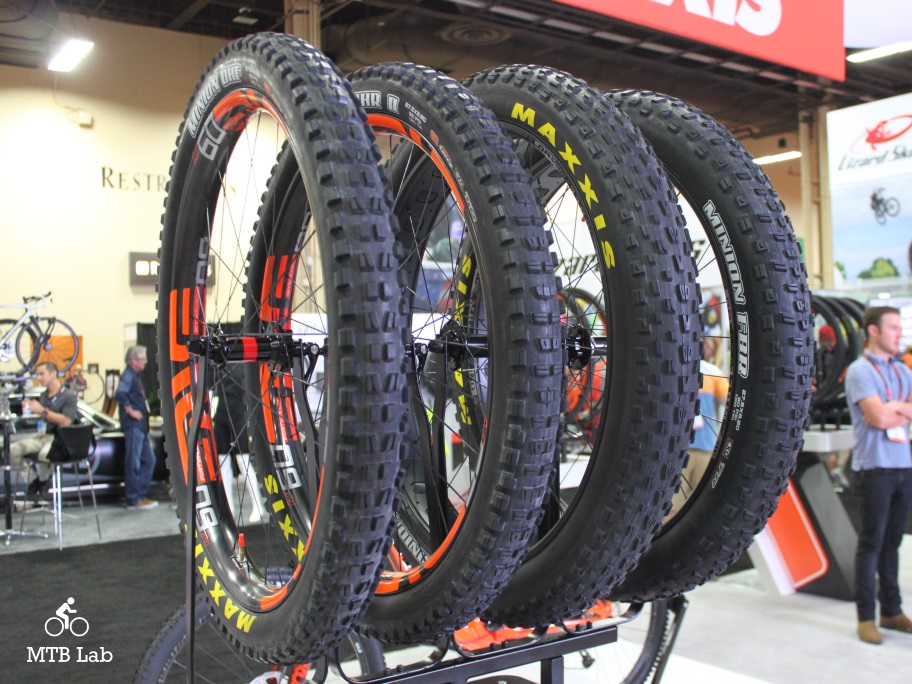 The Minion series gets a new fat tire model pairing with the front specific Minion FBF (2nd from right) and rear specific Minion FBR (far right). The FBF offers excellent cornering and braking characteristics along with low rolling resistance, while the FBR provides cornering and traction from the paddle-like knobs that run down the center. They'll come in a 27.5″ size with a 3.8″ width and the typical 26″ size with 4″ and 4.8″ widths.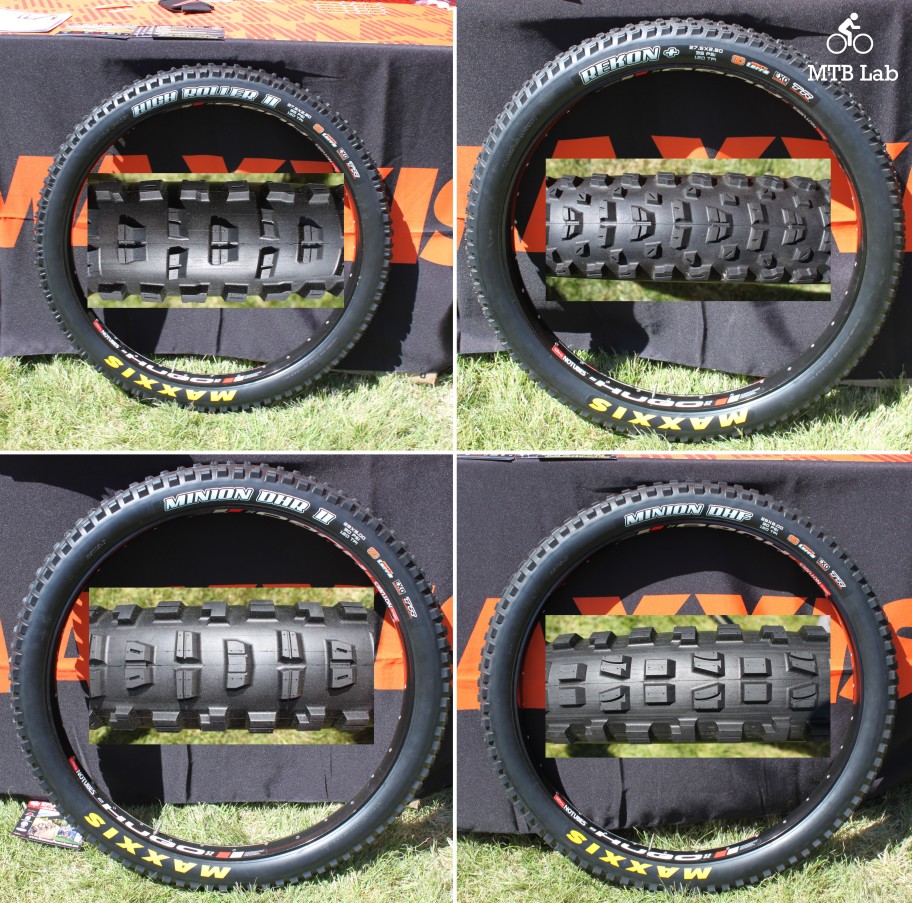 Maxxis has a slew of Plus sized tires coming out, including the Minion DHF, Minion DHR II, High Roller II. The Minion are huge and have large knobs and seem more like a motocross tire than a Plus sized bicycle tire. Looking forward to trying some of these beasts out this fall and winter. They'll be available in 27.5″x2.8″ sizes.