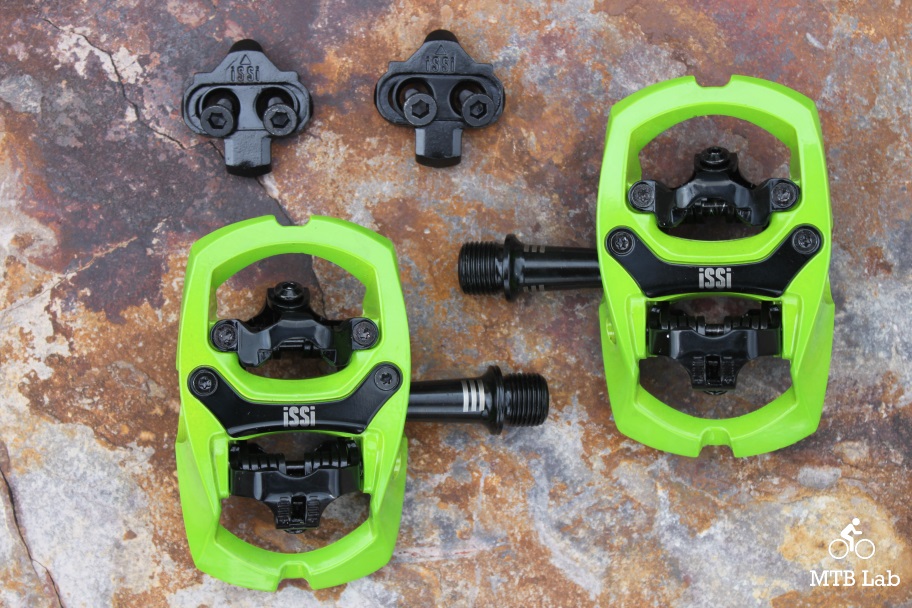 The price and weight of the iSSi Triple Trails are neck and neck with the Shimano XT Trails, but I'd give them a big nod for their stronger tension in their springs, a slew of color options, and the larger platform for the shoe interface.
They're a relatively new brand in the pedal marketplace, but iSSi makes four models, the iSSi Road, the city/touring iSSi Flip, and the mountain bike iSSi Trail and iSSi II. The iSSi II can function for both Road and Off-Road, so it's a minimalist workhorse. All of the models come in a slew of fun colors, from standard Black and Silver to wild neon tones.
The most interesting one to me and the most applicable to the die hard mountain biker is their Trail model, which comes in two versions, the Triple Trail which features three sealed bearing for $125 and the Double Trail with a sealed bearing and a bushing for $100. The Trail model has a wider platform than it's brethren and offers a solid and stable pedal contact for shoes and protects the mechanisms from rocks and terrain obstacles. The Trail pedals are compatible with SPD and Wellgo 98a cleats, use Chromoly spindles with a 52.5mm length, have adjustable spring tension, a 4º cleat float, and 14.6º release angle. Last year they made some significant changes to the pedals including new tension springs and a sharpening of the rear claws profile for a more consistent release action, a new heat treating process to the claws for durability, decreasing the release angle from 20° to 14.6° and improved vertical force cleat retention.
Both the Trail III and Trail II come in eight color schemes, including Intense Black, Bright Silver, iSSi Pink, Sky Blue, Lime Green, Hi-Vis Orange, Really Red, and Hi-Vis Yellow. The Trail II comes in two additional spindle lengths besides the default 52.5mm including a 58.8mm (+6) and 64.5mm (+12), though you can get optional spindle kits for the wider lengths for Triple Trails. My test Lime Green Triple Trail weighed in at 404 grams which almost exactly match my Shimano XT Trail pedals at 405 grams.
For further info refer to iSSi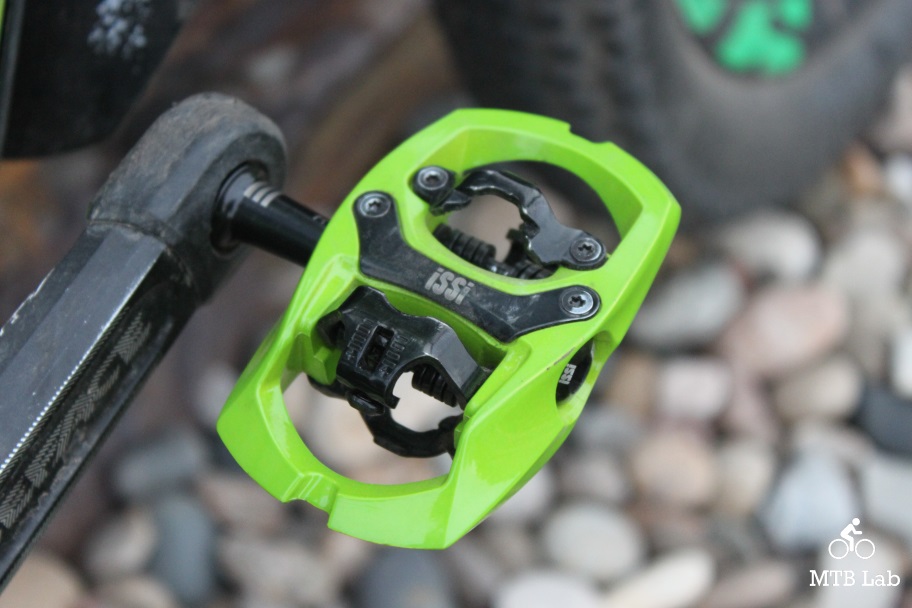 Impressions
The pedals come out of the box with the lightest spring tension already set, which is somewhat comparable to the lower-middle setting on my Shimano XT SPD's. The spring tension has seventeen soft indentations for adjustment, and it's simple to alter with a 3mm hex key, and there is a functional relief slot on the pedal body for easy access to the set screw. I played around with the spring tension during several rides and preferred it at just a few notches past default, though if desired you can crank it up to some prodigious tension settings.
The Trail II use a combination of bearings and bushings, while the Triples use three sealed bearings, utilizing two on the outboard and one on the inboard of the axle and pedal interface. Shimano's system uses bearings, cones, races, which allow you to do a perform a complete rebuild, though playing with the preload and the tiny 3/32 bearings can be tricky and is a pain. The Triples system offers no adjustment for preload, so when things start to feel rough and worn, you just replace everything with a new spindle kit.
The included cleats that came with the pedals are iSSi branded, but I couldn't tell the difference between things when I switched back and forth with some of my other shoes that had Shimano's SPD's cleats installed on them. The first thing I noticed while using the iSSi pedals was a significantly stronger spring tension overall when directly compared to the SPD's along with a more optimal spring curve. When I found my sweet spot for my SPD's, I accidently came unclipped far too frequently, and it was usually at an inopportune moment. I always disliked having my foot getting popped out when I was making a technical maneuver, applying loads of torque to my shoe and while slamming through a rocky section or particularly rugged terrain. I rarely had that sensation happen with the iSSi pedals, which was a welcome change.
The Trails from iSSi and Shimano have the same platform area, but the iSSi offer more purchase up front and less in back where the body angles downwards, and this design provides improved stability and control for the shoe and pedal interface. The iSSi have a slightly taller body and retention claws, so I tended to hit the claws more than the body, while with my SPD's tended to get beat up on their sides.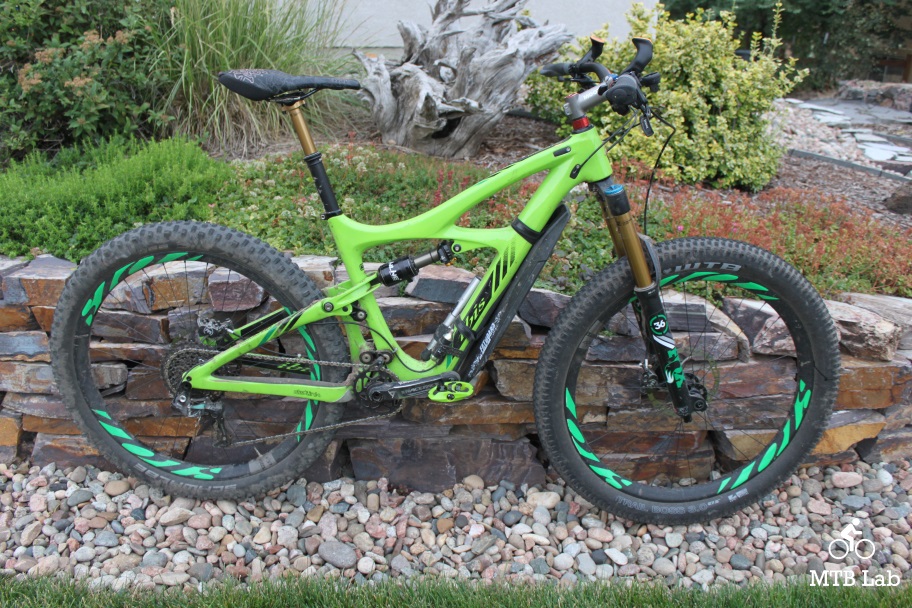 Bottom Line
The price and weight of the Triple Trails are neck and neck with the Shimano XT Trails, but I'd give them a big nod for their stronger tension in their springs, a slew of color options, and the larger platform for the shoe interface. I did like that they matched up with my Ibis Mojo HD3, something the basic Black SPD's don't offer. During my couple of months of use, they have been bashed and crashed through rock gardens, sand, and grit, and haven't shown any outlandish signs of wear and tear, though I haven't had them long enough to qualify them for their long term durability. I don't think they provide as smooth of a release as the SPD's, but they offer better mud clearing and deal with sand a tad better, though I haven't gotten to try them in snow as yet. They clip in with a clear and loud snap, and they felt secure and stable with a functional amount of float that was just stiff enough without being sloppy.
Pros
Eight color options
Higher spring tension and optimal spring curve
Three spindle lengths available
A more stable and wider platform
SPD cleat compatible
Cons
Taller/thicker
Less float than SPD's
Release isn't as smooth as SPD's